• Hayley Atwell is an English Golden Globe-nominated actress best known for her roles in Captain America, Agent Carter, and A View from the Bridge.
• Her parents divorced when she was two, and she spent summers in the US with her father.
• Hayley began her career on stage and screen and made her breakthrough with the role of Peggy Carter in Captain America: The First Avenger.
• She has a net worth of $3 million and is currently single.
• Hayley is active on social media, with over 600,000 followers across Instagram and Facebook.

Known for movies
Short Info
| | |
| --- | --- |
| Net Worth | $3 million |
| Date Of Birth | April 5, 1982 |
| Mark | Warm smile |
| Fact | Studied at the Guildhall School of Music and Drama (2002-2005). |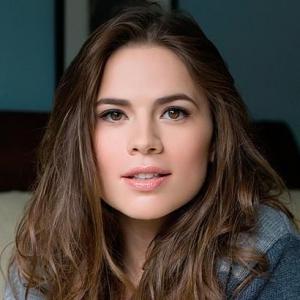 Who is Hayley Atwell?
Born as Hayley Elizabeth Atwell on the 5th April 1982 in London, England, she is a Golden-Globe Award-nominated actress, probably best known to the world as Peggy Carter in the "Captain America" films, and the lead role in the TV series "Agent Carter". Aside from the screen, Hayley has also worked on stage and radio.
Early Life, Parents, Siblings, and Education
Hayley is the only child born to Grant, a part Native American originally from Kansas City, Missouri, and his wife, Alison, who is British. Hayley's parents divorced when she was only two years old, and her father returned to the US to pursue his Native American roots, while Hayley and her mother remained in the UK. Despite the separation, Alison and Grant remained in touch, and Hayley would spend summers in the US, but as time passed, she developed a closer relationship with her mother. Hayley went to Sion-Manning Roman Catholic Girls' School in London, and later she took A-levels at the London Oratory School. Hayley received an offer from Oxford University to read theology and philosophy, but her A-Level results weren't good enough, so she took two years off from education, and chose to travel with her father, finding a place as a help for a casting director. She returned to school by enrolling at Guildhall School of Music and Drama, staying for three years before graduation.
https://twitter.com/angiescarpino/status/1024870086849355776
Career Beginnings
Hayley's on-screen career had already started; she was chosen for Pringles potato crisps television commercial, with the earnings from which she used to pay for her school. She then focused on her education, and after graduated started auditioning for stage, TV and film roles.
She began on stage, with the role of Io in the play "Prometheus Bound", and has continued in parallel by also appearing in screen roles, but her most successful so far has been the role of Catherine in the play "A View from the Bridge", performed at Duke of York's Theatre, which was her West End debut. Hayley made her screen debut in 2005, with the part of Sabrina Guinness in the television film "Whatever Love Means", while in 2007 she had her first starring role, as Angela Stark in Woody Allen's romantic drama film "Cassandra's Dream", next to Colin Farrell and Ewan McGregor.
Rise to Prominence
The following year, Hayley played Bess Foster in the film "The Duchess", while she was also chosen for the part of Lady Julia Flyte in the Miramax film "Brideshead Revisited", for which initially the producers and casting director told Hayley to lose some weight, but after she was advised by fellow actress Emma Thompson, Hayley decided not to succumb to their comments, and eventually producers accepted Hayley for who she is, an actress, not a model. She continued her acting career, making her way to the top of Hollywood by in the next few years having several notable roles, such as Aliena in the romantic drama film "
The Pillars of the Earth
" (2010), while in 2011 she made her breakthrough with the part of Peggy Carter in the sci-fi action adventure film "Captain America: The First Avenger", starring Chris Evans, Hugo Weaving and Samuel L. Jackson. She played Peggy Carter in sequels "Captain America: The Winter Soldier" in 2014, and the film "Avengers: Age of Ultron" (2015), while she also had the lead role in the TV series "Agent Carter" (2015-2016).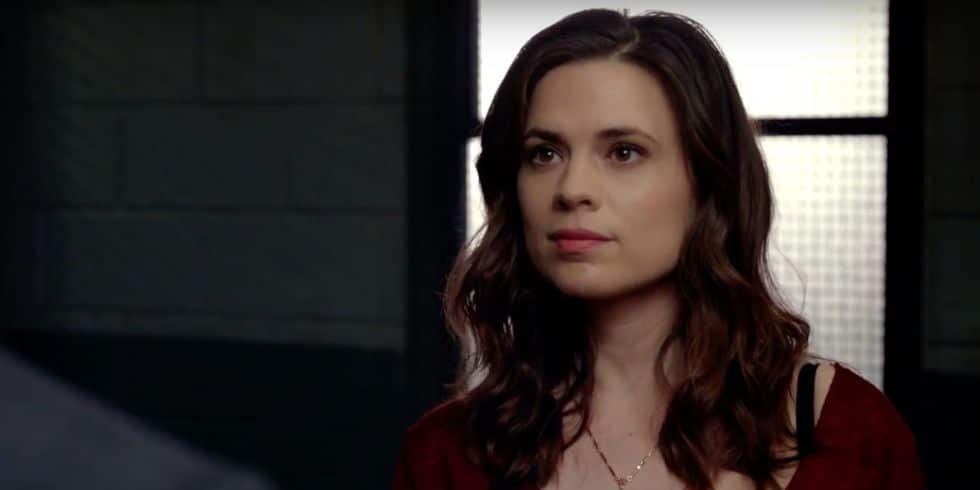 Continual Success
Hayley was now an accomplished actress with a Golden Globe Award-nomination attached to her name, and it became easier for her to acquire new roles. The talented actress was chosen for the part of Hayes Morrison in the TV drama series "Conviction" (2016-2017), starring next to Eddie Cahill and Shawn Ashmore, while most recently she was selected as Evelyn Robin in the film "Christopher Robin", scheduled for release late in 2018. She is also working on several other projects, including films "The Long Song", and "Blinded by the Light", however, these projects are yet to receive a release date.
Do You Know How Rich Successful Actress, Hayley Atwell Is?
Since entering the entertainment industry, Hayley has appeared in over 40 film and TV titles and has also showcased her acting talent on stage. So, have you ever wondered how rich Hayley Atwell is, as of mid- 2018? According to authoritative sources, it has been estimated that Hayley's net worth is as high as $3 million. Some of the most successful projects on which she worked are of course  the "Captain America" films, grossing over $1 billion at the box office.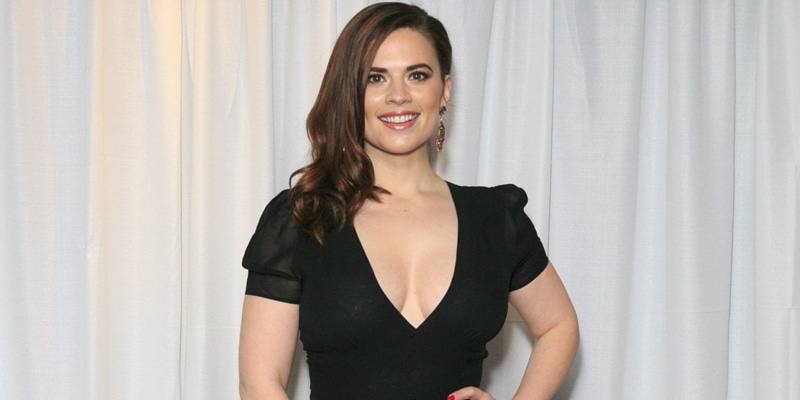 Do You Know About Hayley Atwell's Personal Life, Dating, Husband?
During her time at Guildhall School, she met and befriended television writer Gabriel Bisset-Smith, and it was in 2012 that the couple started a romantic relationship, which didn't last long, but the two remained good friends. Hayley has also dated Paul Wilson, Stephen Merchant and Evan Jones, all apparently of relatively short duration, and so she is still single.
Is Hayley Atwell on Social Media?
Hayley can be found on such social media platforms as Instagram and Facebook, on which she has a total of around 600,000 followers, with whom she has shared details from her career, but also her personal life. Her official Instagram page has over 505,000 followers, who are enjoying daily posts from this talented actress. She is also quite active on Facebook, on which she has just over 100,000 fans, using the site to promote her work, such as the most recent announcement of the film "Christopher Robin". So, if you aren't already a fan of this successful actress, then this is a fantastic opportunity for you, just skip over to her official pages.
General Info
| | |
| --- | --- |
| Full Name | Hayley Atwell |
| Net Worth | $3 million |
| Date Of Birth | April 5, 1982 |
| Height | 1.69 m |
| Education | Guildhall School of Music and Drama, London Oratory School, Sion Manning Roman Catholic Girls' School |
Family
| | |
| --- | --- |
| Parents | Grant Atwell, Allison Cain |
Accomplishments
| | |
| --- | --- |
| Nominations | Laurence Olivier Award for Best Actress, British Independent Film Award for Best Supporting Actress, Laurence Olivier Award for Best Actress in a Supporting Role, Golden Globe Award for Best Performance by an Actress In A Mini-series or Motion Picture Made for Television, Gemini Award for Best Perfo... |
| Movies | Captain America: The First Avenger, Avengers: Age of Ultron, Captain America: The Winter Soldier, Ant-Man, Cinderella, Agent Carter, The Duchess, The Sweeney, Brideshead Revisited, Cassandra's Dream, Testament of Youth, Jimi: All Is by My Side, How About You, The Line of Beauty, I, Anna, Mansfield P... |
| TV Shows | Agent Carter, Any Human Heart, The Prisoner, The Pillars of the Earth, Black Mirror, Conviction, Sally Lockhart Series |
Social profile links
Marks
| # | Marks / Signs |
| --- | --- |
| 1 | Curvaceous figure |
| 2 | Warm smile |
Quotes
| # | Quote |
| --- | --- |
| 1 | [on Alexi Kaye Campbell's play "The Pride"] They are two scenes that are either side of the sexual revolution, and two very different ways that society deals with homosexuality. In 1958, it was still illegal and then in 2013, we've just had this wonderful milestone of legalising gay marriage. So it's about how society shapes gay identity and it explores the idea of a subculture which society has imposed upon the gay community, one of promiscuity, and it says there is another side which is about intimacy and love between two people. |
| 2 | The scary thing is what that will do to a generation of young people [in Russia] who are having these thoughts and feelings towards members of their own sex but they're given no reference point that this is OK. This is just part of who they are and I think you'll get a lost generation of children growing up feeling that their country is telling them that this fundamental aspect of who they are is wrong. It's incredibly troubling because it's happening, not just in Russia, but in countries like Georgia and Cameroon and the statistics in this country of homophobic attacks is frightening. |
| 3 | We heard about the protest in Whitehall in support of Russian gay rights and we went along and it was very moving and we felt it was very positive. |
| 4 | I think it will be a balance of creative and commercial choices, going forward. People say critical acclaim and box office success don't go hand in hand and that may be true but I don't really think I'd live much on the salary of a full-time theatre actor. I mean, I could, but I really like going out to dinner... |
| 5 | [on her character in Captain America: The First Avenger (2011)] Peggy was in a position where if she was a damsel in distress, she wouldn't be of that position. And when she says, "I know what it's like to have a few doors slammed in my face," I think because she's this attractive woman who's beautifully made up, she had to fight a little bit harder to get where she is to prove that she's capable. And I think that's great because there's a kindred spirit between her and Steve, there's an equality about them and I love that. |
| 6 | [on Brideshead Revisited (2008)] What attracted me was I loved the vivid characters that had obviously come from a very rich novel and Jeremy Brock and Andrew Davies had put that into the script. The character definitions and the stage directions were very rich and as rich as the dialogue so I felt that there was a hell of a lot of passion behind it. I'm attracted to flawed characters. I think they're really interesting to play. I was really intrigued who this enigmatic Julia was and what was bubbling and going on beneath the surface. So it was probably that. |
| 7 | My first job was a Greek tragedy, and ever since, one job just seemed to roll onto the next. I've been terribly lucky. |
| 8 | Nude scenes can be very liberating. I feel very human. This is me, with all my little imperfections. |
Facts
| # | Fact |
| --- | --- |
| 1 | Shares a birthday with her Cinderella co-star Lily James who is only 7 years her junior, coincidentally both actresses are alumnus from the Guildhall School of Music and Drama. |
| 2 | Can do ventriloquism with her mouth closed. |
| 3 | Is an only child. |
| 4 | Daughter of Grant Atwell, from Missouri, and Allison Cain, from London. Her parents separated when she was 2-years-old. |
| 5 | Is of dual British and American citizenship. |
| 6 | Although she played Lily James's mother in Cinderella (2015), she is only seven years her senior in real life. |
| 7 | Auditioned for the role of Dr. Carol Marcus in Star Trek Into Darkness (2013) which went to Alice Eve. |
| 8 | Good friends with Emma Thompson and Chris Evans. |
| 9 | Her father is a shaman. |
| 10 | At age 8, she became a committed vegetarian after seeing Loyd Grossman put a live lobster into boiling water. |
| 11 | As a teenager, she went on anti-vivisection and Free the Dolphins marches. |
| 12 | At age 9, she walked over hot coals at a 'Power Into Action' workshop that she attended with her mother. |
| 13 | Studied at the Guildhall School of Music and Drama (2002-2005). |
Pictures
Movies
Actress
| Title | Year | Status | Character |
| --- | --- | --- | --- |
| Howards End | 2017 | TV Mini-Series pre-production | Margaret Schlegel |
| Conviction | 2016-2017 | TV Series | Hayes Morrison |
| Chicken/Egg | 2016 | Short | Lauren |
| The Complete Walk: Cymbeline | 2016 | Short | Innogen |
| Agent Carter | 2015-2016 | TV Series | Peggy Carter |
| Lego Marvel's Avengers | 2016 | Video Game | Agent Peggy Carter (voice) |
| Ant-Man | 2015 | | Peggy Carter |
| Avengers: Age of Ultron | 2015 | | Peggy Carter |
| Cinderella | 2015/I | | Ella's Mother |
| Agents of S.H.I.E.L.D. | 2014 | TV Series | Peggy Carter |
| Testament of Youth | 2014 | | Hope |
| Captain America: The Winter Soldier | 2014 | | Peggy Carter |
| Jimi: All Is by My Side | 2013 | | Kathy |
| Marvel One-Shot: Agent Carter | 2013 | Video short | Peggy Carter |
| Avengers Assemble | 2013 | TV Series | Peggy Carter |
| Life of Crime | 2013 | TV Mini-Series | Denise Woods |
| Black Mirror | 2013 | TV Series | Martha |
| Falcón | 2012 | TV Series | Consuelo Jiménez |
| Restless | 2012 | TV Movie | Eva Delectorskaya |
| The Sweeney | 2012 | | DC Nancy Lewis |
| Playhouse Presents | 2012 | TV Series | The Banker |
| I, Anna | 2012 | | Emmy |
| Captain America: Super Soldier | 2011 | Video Game | Peggy Carter (voice) |
| Captain America: The First Avenger | 2011 | | Peggy Carter |
| Tomato Soup | 2010 | Short | Movie Star |
| Any Human Heart | 2010 | TV Series | Freya Deverell |
| The Pillars of the Earth | 2010 | TV Mini-Series | Aliena |
| The Prisoner | 2009 | TV Mini-Series | Lucy 4-15 |
| Love Hate | 2009 | Short | Hate |
| The Duchess | 2008 | | Bess Foster |
| Brideshead Revisited | 2008 | | Julia Flyte |
| How About You... | 2007 | | Ellie Harris |
| The Shadow in the North | 2007 | TV Movie | Rosa Garland |
| Cassandra's Dream | 2007 | | Angela Stark |
| Mansfield Park | 2007 | TV Movie | Mary Crawford |
| Masterpiece Classic | 2006 | TV Series | Rosa Garland |
| The Ruby in the Smoke | 2006 | TV Movie | Rosa Garland |
| Fear of Fanny | 2006 | TV Movie | Jane |
| The Line of Beauty | 2006 | TV Mini-Series | Cat Fedden Catherine Fedden |
| Whatever Love Means | 2005 | TV Movie | Sabrina Guinness (as Hayley Attwell) |
Soundtrack
| Title | Year | Status | Character |
| --- | --- | --- | --- |
| Agent Carter | 2016 | TV Series performer - 1 episode | |
| Cinderella | 2015/I | performer: "Lavender's Blue" | |
Thanks
| Title | Year | Status | Character |
| --- | --- | --- | --- |
| Marvel Studios: Assembling a Universe | 2014 | TV Movie documentary thanks | |
Self
| Title | Year | Status | Character |
| --- | --- | --- | --- |
| Return of the Spider Monkeys | 2016 | Documentary | Narrator (voice) |
| Good Morning America | 2016 | TV Series | Herself |
| The View | 2016 | TV Series | Herself |
| This Week in Hollywood | 2016 | TV Series | Herself |
| Lip Sync Battle | 2016 | TV Series | Herself - Competitor |
| Marvel's Captain America: 75 Heroic Years | 2016 | TV Movie documentary | Herself |
| Edge of Darkness | 2015 | Short | Herself - Narrator |
| Jimmy Kimmel Live! | 2015 | TV Series | Herself - Guest |
| Liberty of London | 2013-2014 | TV Series documentary | Herself - Narrator |
| Marvel 75 Years: From Pulp to Pop! | 2014 | TV Movie documentary | Herself |
| Marvel Studios: Assembling a Universe | 2014 | TV Movie documentary | Herself |
| The Jonathan Ross Show | 2013 | TV Series | Herself - Guest |
| Breakfast | 2008-2011 | TV Series | Herself - Guest |
| Daybreak | 2011 | TV Series | Herself |
| Made in Hollywood | 2011 | TV Series | Herself |
| Marvel LIVE! World Premiere of Captain America: The First Avenger | 2011 | Video short | Herself |
| The Late Late Show with Craig Ferguson | 2011 | TV Series | Herself - Guest |
| The 68th Annual Golden Globe Awards | 2011 | TV Special | Herself - Nominee: Best Actress in a Mini-Series or a Motion Picture Made for Television |
| Frühstücksfernsehen | 2010 | TV Series | Herself |
| A Six Hour Film Shot in 92 Days: The Diary of 'The Prisoner' | 2010 | Video short | Herself |
| Beautiful Prison: The World of 'The Prisoner' | 2010 | Video short | Herself |
| Up Close with Carrie Keagan | 2008 | TV Series | Herself - Guest |
Archive Footage
| Title | Year | Status | Character |
| --- | --- | --- | --- |
| The Prisoner | 2009 | TV Mini-Series | 4-15 Lucy |
Awards
Nominated Awards
| Year | Award | Ceremony | Nomination | Movie |
| --- | --- | --- | --- | --- |
| 2015 | Saturn Award | Academy of Science Fiction, Fantasy & Horror Films, USA | Best Actress in a Television Series | Agent Carter (2015) |
| 2011 | Golden Globe | Golden Globes, USA | Best Performance by an Actress in a Miniseries or a Motion Picture Made for Television | The Pillars of the Earth (2010) |
| 2011 | Gemini | Gemini Awards | Best Performance by an Actress in a Leading Role in a Dramatic Program or Mini-Series | The Pillars of the Earth (2010) |
| 2011 | OFTA Television Award | Online Film & Television Association | Best Actress in a Motion Picture or Miniseries | The Pillars of the Earth (2010) |
| 2011 | Scream Award | Scream Awards | Best Science Fiction Actress | Captain America: The First Avenger (2011) |
| 2011 | Scream Award | Scream Awards | Breakout Performance - Female | Captain America: The First Avenger (2011) |
| 2009 | Empire Award | Empire Awards, UK | Best Newcomer | |
| 2009 | ALFS Award | London Critics Circle Film Awards | British Supporting Actress of the Year | The Duchess (2008) |
| 2008 | British Independent Film Award | British Independent Film Awards | Best Supporting Actress | The Duchess (2008) |
| 2007 | Golden Nymph | Monte-Carlo TV Festival | Television Films - Best Performance by an Actress | Fear of Fanny (2006) |
Source:
IMDb
,
Wikipedia