Who is Simone Susinna?
Simone is an Italian actor and model, probably best known for his role as Marcello'  Nacho' Matos in the film "365 Days: This Day" (2022), in addition to several other roles he's had so far in his career.
Wiki: Age, Childhood, and Education
Simone Susinna was born on 14 November 1993 in Lineri, Catania, Italy. His mother is Carmeloe Grazia Susinna, while there is no information on his biological father. He has a brother named Danilo Susinna, who has made a mark as a real estate professional at Re/Max' Real Estate Maximums. Simone's pursuit of education led him to earn a Bachelor's degree in Dramatic Arts, but there's no information on which university he got his degree from.
Career
Simone began modeling early on due to his attractive features, and moved to Milan at just 18 years old to pursue modeling gigs. He was full of enthusiasm at the beginning, gaining opportunities through his friend Luca Napoli. At just 20, he gained recognition through Giorgio's Winter Collection, and earned recommendations from brands such as Fashion Milano-Richmond and Dolce and Gabbana, and eventually secured a spot at DT Model Management. He's also done photo shoots for a number of magazines, including D'Scene Magazine, Lewis Magazine, F*cking Young, Rollacoaster Magazine, Wall Street Italia, among others.
Simone's rising popularity led him to explore new chances. He was selected as a contestant in the reality TV show "L'isola dei famosi", the 12th edition, which aired from 31 January to 12 April 2017. In the show, celebrities compete in a survival-based setting, the premise involving a group of contestants, often well-known figures from various fields, being stranded on an isolated island or remote location. They're required to navigate challenges, form alliances, and tackle physical and mental obstacles in order to survive and progress in the competition.
Throughout the show's duration, contestants must adapt to the harsh conditions of the environment, which may include limited resources, adverse weather, and basic living conditions. They engage in various tasks and trials to earn rewards, such as food and comfort. The ultimate goal is to outlast their fellow contestants, and secure the title of the winner.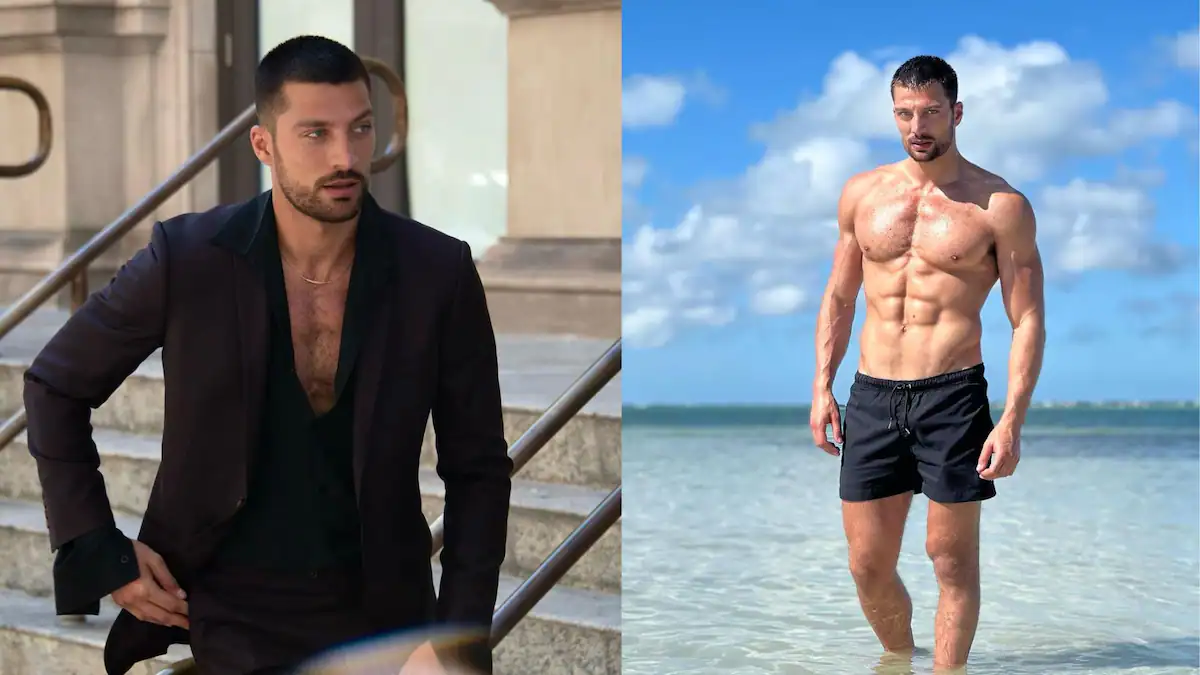 Contestants are gradually eliminated through a combination of public voting and internal competitions. Those who fail to meet the challenges or receive fewer votes risk elimination. Simone Susinna's opponents included Raz Degan, who emerged as the winner of the competition. Eva Grimaldi secured third place, followed by Nancy Coppola in fourth, and Filomena "Malena" Mastromarino in fifth place.
By competing in a nationally televised reality show, Simone not only expanded his fan base but also garnered attention from the entertainment industry. His performance in the show demonstrated his versatility beyond modeling, and this exposure opened doors to further opportunities in both the modeling and acting industries.
Success as Nacho in "365 Days" Franchise
Securing the role of Nacho in "365 Days: This Day" (2022), Simone Susanna joined stars Anna-Maria Sieklucka and Michele Morrone in this continuation of the passionate romantic drama. The story follows Laura and Massimo's marriage, which faces challenges as Laura grows bored and forms a connection with Nacho, Massimo's gardener. Laura's encounter with Massimo's ex-girlfriend triggers heartbreak, leading her to escape to an island with Nacho. Their newfound happiness is disrupted when Nacho's connection to a rival mafia emerges, resulting in Laura's kidnapping by Massimo's twin brother.
Continuing his portrayal of Nacho, Simone Susanna reprised his role in the third installment of the popular erotic thriller franchise. "The Next 365 Days" (2022), based on the third book by Blanka Lipińska. The film delves further into the tumultuous relationships and desires of the characters. Despite the negative reviews the film has received, it has helped boost Simone's career.
Most recently, Simone Susinna continued his on-screen journey by starring alongside Magdalena Boczarska in "Heaven in Hell" (2023), in which Simone takes on the role of Maks, a young man who crosses paths with Olga, a successful woman with a significant age gap between them. As their relationship unfolds, fate and challenges put their connection to the test. The film was directed and written by Tomasz Mandes and Mojca Tirs.
Net Worth
According to authoritative sources, Simone Susinna's net worth is estimated at over $500,000, as of mid-2023.
Personal Life, Dating, Married, Single, Girlfriend
He was linked with Venezuelan model Mariana Rodriguez from 2015 to 2017. However, it was in 2023 that he became officially involved with Brazilian singer Anitta. The couple's connection first ignited dating rumors in June 2023, when they were spotted together in Mykonos. Subsequently, their Instagram posts and comments revealed their affection, with Simone addressing Anitta as "Amore Mio" and Anitta expressing "Te Amo" (I Love You), confirming their romance. Since then, there have been quite few posts of the two on their Instagram accounts.
Appearance and Body Measurements
Simone Susinna has blue eyes and brown hair. He stands at a height of 6ft 2ins (1.88m), while he weighs approximately 170lbs (78kgs). His vital statistics are 42-35-39.