• Amanda Busick is a broadcast pit reporter, and digital host for Fox Sports.
• She was born in Greensboro, North Carolina in 1986 and is a Christian.
• She interned with WFMY News 2 in 2007 and has since worked with several networks.
• Amanda is an active user on several social media platforms and has a net worth of over $1 million.
• She is currently living in Los Angeles and is single without any kids.
 
Who is Amanda Busick?
Amanda was born in Greensboro, North Carolina USA, in 1986, but her exact date of birth is not known to the public – she holds American nationality and follows the Christian religion. Amanda is popular for working for Fox Sports as their broadcast pit reporter and digital host.
Early life and education
Amanda was born in a middle-class family, and spent her childhood in North Carolina with her parents and siblings, however, she never talks about them and therefore nothing is known of them. Judging by one of her Instagram posts, Amanda's father died a long time ago, and she still thinks of him on every Father's Day.
After she matriculated from a local high school, Amanda enrolled at North Carolina State University, and graduated with a bachelor's degree in entrepreneurship in 2008. She has a big passion towards formula racing, and states how she inherited it from her mother Donna Busick.
Career
Amanda began her internship with WFMY News 2 in July 2007, while in her final year at university – she worked with the station for three months, and at the end began working for the Carolina Hurricanes ice hockey team in their Fan Development and Storm Squad, and after that for RLR Associates LTD as an assistant of sports broadcasting.
In February 2010, she landed a job as a host and an executive producer for Raleigh Lifestyle TV, and stayed in that position until July 2012, when she signed a contract with Spreecast and became their content writer and an on-camera host. From 2012 to 2014 Amanda worked for Silver Chalice as their assignment manager and field reporter – she was the one to interview college coaches and players, she made connections with SIDs, ADs, and conference commissioners while she was also a content creator for weekly and long-term programming schedules. She quit the job in August and immediately began working for ESPN as their stage manager, while simultaneously working for Time Warner Cable news.
In 2015 Amanda began working for NHRA: Championship Drag Racing as their Broadcast Pit Reporter and Digital Host of FIA Formula E Championship, and has been working for them ever since. She is the main reporter during racing, while she also hosts the "Sunday Nitro Live" show which airs right before the race on FS1. She was there to report from all 24 races which were held in 2018, and was the main interviewer for "Walk 1,000 Feet" which is a broadcast feature focused on drivers' personalities.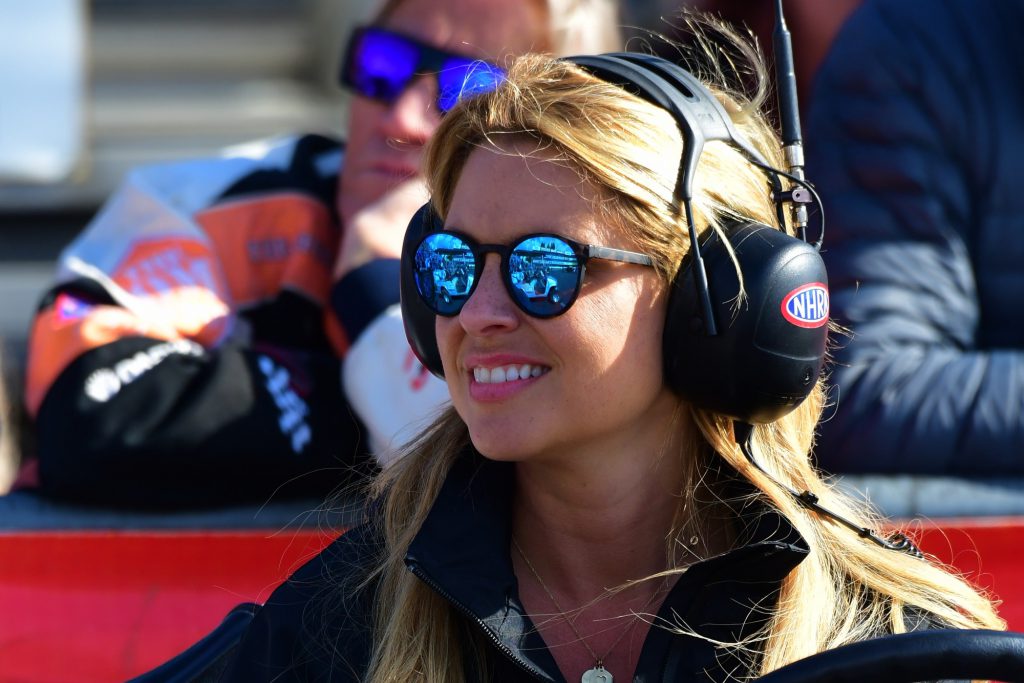 Behind the curtains
Amanda's career might sound as a successful one to readers, but she's had quite a ride to get to where she is today. She left her home in 2010 to pursue her dream of becoming a sports reporter, but it took her two years to convince a digital college sports property to give her a chance to work as a production assistant – she worked at a restaurant at night during those two years just to have enough money to live. When she finally signed her first steady contract in 2014 and thought that everything was going to work out, her mom had an accident at the beginning of 2015 and Amanda had to move to Boston to take care of her – she began working as a meat seller and was living in a one bedroom 440 square feet apartment with her mom.
Just as she made peace with the fact that this was her life now and she is not going to make her dreams come true, she got a phone call in July 2015 from a sports media mentor who offered her a job in drag racing. She used to watch drag races during her childhood in North Carolina, but she knew nothing about the sport back then – she took three months to research and study about drag racing and officially became part of the NHRA team in November 2015, which she considered as a second chance to fulfill her dreams. She ended her storytelling with these words – 'Trust your instinct, trust the process, be relentless, find the people who believe in you and show yourself some kindness along the way.'
Other interests
Amanda is very fond of exercising and she visits the gym often – one can find pictures of her training on her Instagram account, and some exercising tips in the pictures' description. She is an expert judge of college basketball, a ranch dresser and does Yoga on a daily basis – she is a proud aunt to Madeleine Mac.
Personal life
Amanda is one of those people who like keeping their personal matters to themselves – there are no rumors regarding her love life and she has never spoken about a past or present boyfriend. She appears to be single at the moment, has never married, doesn't have any kids, and is currently living in Los Angeles.
Appearance and net worth
Amanda's current age is 32 or 33 as of early 2019. She has long blonde hair, brown eyes, is 5ft 7in (1.7m) tall and weighs around 121lb (55kg).
According to authoritative sources, Amanda's current net worth is estimated to be over $1 million while she is said to be making up to $100,000 per year.
Social media presence
Amanda is quite active on several social media platforms which is something to be expected from someone who works in the broadcasting industry – she launched her Twitter account in February 2009 and has so far gathered over 10,000 followers and tweeted more than 10,000 times. She has an Instagram account which is followed by around 9,200 people while she posted over 650 pictures – she has a Facebook page as well which is followed by nearly 9,000 fans.
,
Wikipedia