Ayesha Erotica
The experimental music artist Ayesha Alexis Auciello, popularly known as Ayesha Erotica, is a producer, singer-songwriter, and highly controversial online personality, born on 11th August 1996, in Orange County, California, USA. Despite never going mainstream, Ayesha has certainly garnered plenty of attention by way of online scandals – such as her use of racial slurs – and outlandish antics.
Ayesha, who was born male but transitioned to female in 2013, launched her career as a SoundCloud hyperpop artist in 2016 with the release of her debut album, "Big Juicy". In the same year, she released "barely legal" and established herself as Ayesha Erotica. Notable singles include "Literal Legend", which became popular on social media in 2018.
Disaster struck for the singer in 2018, while she was working on her sophomore album "Horny.4u", which she described as a "horny Christian pop album". One song from the project, "We Can Do It!", was leaked on a discord server, whereas another, "Vacation Bible School", was officially released.
In late 2018, a netizen uploaded a masterpost with all of Ayesha's social media accounts, as well as her real name, in a possible attempt to get her doxed. Ayesha mistakenly blamed fellow SoundCloud artist Quinn Fatal, and doxed him and his family in retaliation. As revenge, Quinn leaked many of Ayesha's music demos; shortly afterwards, she cancelled "Horny.4u", and retired from music.
The artist's last features, which were released in 2019, includes singles with the likes of Petey Plastic, CXLE, and PLASTIC. Rumors of Ayesha returning to music abounded when she was photographed with artists Petey Plastic and That Kid in July of the same year; however, she debunked the allegations, writing: "I met 2 friends and they asked for pictures… Please respect my boundaries! And for the 100000000th time please stop using pictures of me!"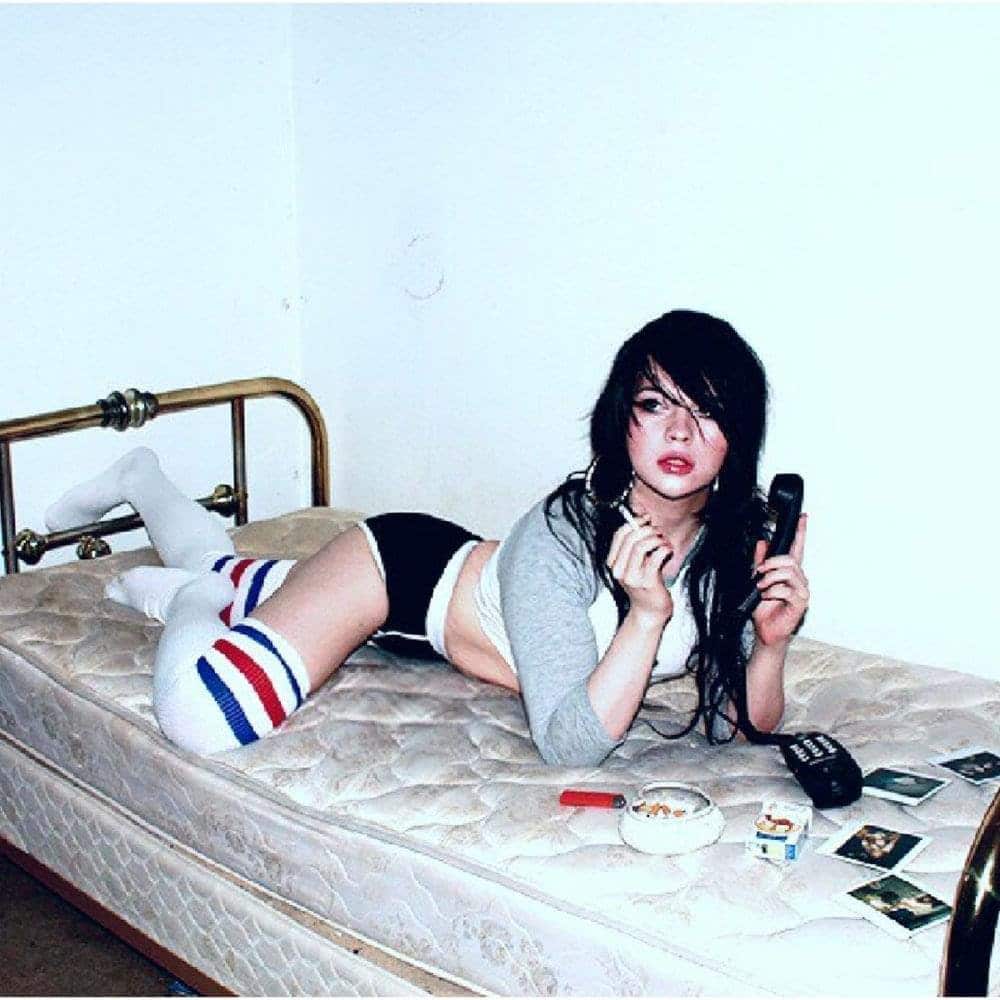 Four long years passed in which Ayesha became old news and most of her former fans flocked to new artists. However, in July 2023, the singer once again became the talk of the town when she appeared on Instagram Live with online personality Chase Icon. On the same day, Chase uploaded a photo of herself with Ayesha on social media, announcing that the latter would be regaling fans with a live performance in mid-August.
To keep the online buzz going, the very next day Chase shared a snippet of a single entitled "The Set Up", featuring Ayesha. No release date was given for the single, but the conversation surrounding new music from Ayesha was enough to maintain the hype until her mid-August live debut performance in the Los Angeles nightclub "HEAV3N". During said performance, Ayesha sang her own material, new upcoming music with her partner Yvncc, and "Dial Tone" with That Kid.
Personal Life/Controversies
Regarding Ayesha's personal life, most online sources don't have much information about the singer's dating history. However, the topic was previously discussed in her dedicated Reddit community, with one user saying in early 2021: "She has multiple exes that we know about because she had mentioned them while she was active… Finn, Kevin, Carlos and Brendon."
Little is known of these four men, as no further details were given. However, Ayesha's current boyfriend, Yvncc (who also goes by Double Rufus on social media), appears to be an aspiring alternative artist. With 15,000 Instagram followers, Yvncc appears to be in his mid-20s; most of his posts are about upcoming tours, as in September 2023, he shared a list of performances that he had lined up as an opening artist for the band Terror Reid on their House of Terror tour.
In early October, Yvncc shared an uncaptioned photo of himself with Ayesha which received thousands of likes. As recently as June 2023, the artist was also uploading photos with a woman named Phoebe James that seemed to imply that they were in a relationship, with one post captioned: "She's like a doll. I'm in LUV".
Taking it back to Ayesha's racist scandal, in December 2019 one of her previous songs was leaked on SoundCloud in which the singer sang a racial slur five times; according to fans, it wasn't Ayesha's first time saying the word in her music. The topic didn't gain much traction when the song first leaked, but a couple of years later, TikTokers used the song to back up their claims that the artist was racist.
Ayesha finally addressed the situation via Instagram Live in 2023, saying: "There's not really an excuse, it was just bad behavior." According to Reddit, the song or songs in question were demos for an African-American artist named Miss Prada.
"You have to understand either way, that it's very insensitive to the black community as well as other minorities that she made fun of," one user pointed out, adding that at one time, Ayesha allegedly used a "blaccent" and openly said the n-word.
Nevertheless, other Reddit users dismissed the incident, with one claiming that Ayesha was only 16 years old at the time the demos were recorded. "She was nearing homelessness and needed the money, its still extremely bad that she said those things, but fellow poor people know that money is more important than actions at times," a fan defended.
Whatever the case, most of her fanbase is clearly willing to overlook Ayesha's usage of racial slurs. The singer recently made a new Instagram, which already has 40,000 views, and added an introductory post of herself for any newbies to her page. Some of the favorite things the artist listed about herself include chihuahuas and McDonalds; she added: "I don't really have family in my life, so the friends I do have I sincerely cherish and wanna do right by."
Currently, Ayesha is in a band named Freakalicious, which is an eclectic mish-mash of electro, pop, rap, and R&B. Black artists have clearly been influential to the singer, as she listed Nicki Minaj, Mary J. Blige, Lil Kim, and Mariah Carey as her vocal references.
Lastly, the Californian also confessed that she is trying to quit vaping and smoking, but doesn't see it happening anytime soon.