• Bess Katramados is well-known for being the second wife of wrestler Paul "Big Show" Wight and mother of his two children
• She is of Greek descent, born in 1973 in Illinois, USA, though her exact date of birth is unknown
• She had a successful modelling career, but put it aside to become a housewife, and now works as her husband's personal fitness trainer
• Bess and her husband have an estimated net worth of $22 million and live in a mansion in Miami
• She enjoys swimming in her backyard pool, and accompanies Paul to various charity events

Known for movies
Short Info
| | |
| --- | --- |
| Net Worth | around $20 million |
| Date Of Birth | February 8, 1972 |
| Spouse | Bess Katramados, Melissa Ann Piavis |
| Mark | Finishing move: Showstopper (Inverted Leg Drop Bulldog) |
| Fact | Along with partner Kane, he will take part in the Road to Wrestlemania tournament to decide the #1 Contender for the WWE Championship. [February 2006] |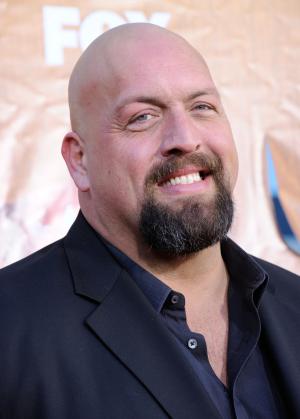 Bess Katramados is well-known for being wrestler Paul "Big Show" Wight's second wife, who has given birth to two children. Even though Bess had a prosperous career as a model, she decided to put it aside and become a housewife, spending all her time with her husband and kids. Let's find out more about her biography, age, measurements, etc.
Early life and family
Bess Katramados was born in 1973 in Illinois USA, and holds American nationality – her precise date of birth is still unknown, and nothing at all about her family, except that she come from a family of Greek descent.
She's never mentioned anything about her parents or any siblings, neither has her husband, Paul "Big Show" Wight. It is only known that Bess spent her childhood and youth in Illinois, as she studied and started working there, and her family didn't move from this state.
Educational background
Bess matriculated from her local high school in 1991. Nothing is known about any further education, as she's never shared any details about a college or university she studied in.
Career
Bess started modelling at a young age. She had several contracts with agencies, mostly in Illinois, though she had some work in other states. However, she quit her modelling career to dedicate herself to her family life, as she married Paul "Big Show" Wight and decided to become a housewife. It is known that she later became his personal fitness trainer, as she understood the structure of his workouts and dived deeper into methodology of his training plan. She also accompanied him to many fights supporting him during the show, as she likes what he is doing and appreciates his career.
Personal life, husband Paul "Big Show" Wight
Bess met Paul in 2001 while he was still married to Melissa Ann Piavis, his first wife. In February 2002 Big Show finalized the divorce process from Melissa, and married Bess just five days after all papers had been officially signed. Bess has given birth to a daughter and a son, whose names are still unavailable as both Bess and Big Show deliberately hide all private details of their family life. It is also known that Bess became a step-mother to Paul's older daughter, Cierra Wight, as he had partial custody.
Bess doesn't show off much now, living a private life in their family mansion in Miami, Florida. Some sources say Bess and Paul divorced in 2007, however, that turned out to be false, as they were together on WWE HOF (World Wrestling Entertainment Hall of Fame) Live in March 2015, giving interviews to reporters Michael Cole and Maria Menounos.
Who is Paul "Big Show" Wight?
Paul Donald Wight II ('Big Show' aka 'the Giant') was born on 8 February 1972 in Aiken, South Carolina USA, so under the sign of Aquarius and holding American nationality.
He is a world famous wrestler and actor, signed to World Wrestling Entertainment (WWE) since 1995. At the start of his career Paul worked as a call operator, and enjoyed bounty hunting, when he suddenly met Danny Bonaduce, a TV personality, who introduce Big Show to Hulk Hogan and other wrestling stars of those years. Though Paul had a perfect appearance for becoming a wrestler, he had no experience and had no idea how it worked, so he couldn't get into the ring. However, with the help of several trainers such as Johnny Polo and Larry Sharpe, he performed in his first bout on 3 December 1994.
Due to his exceptional height he soon gained prominence, and won more fights with experience, reputedly the largest and the strongest wrestler in the world. It is worth mentioning that Paul suffers from acromegaly which is an endocrine system disease which made him weigh over 220 lbs (100 kgs) by the age of twelve and being 6ft 2ins (1.88 m) tall; as of 2019, Paul is 7ft 2ins (2.18 m) tall. His unique appearance makes him a welcome guest star in various TV series; he played himself in such TV shows and sitcoms as "Conan" (2017, Season 7, Episode 63), "Clash Time" (2011-present), "Supah Ninjas" (2011-2013) and several others.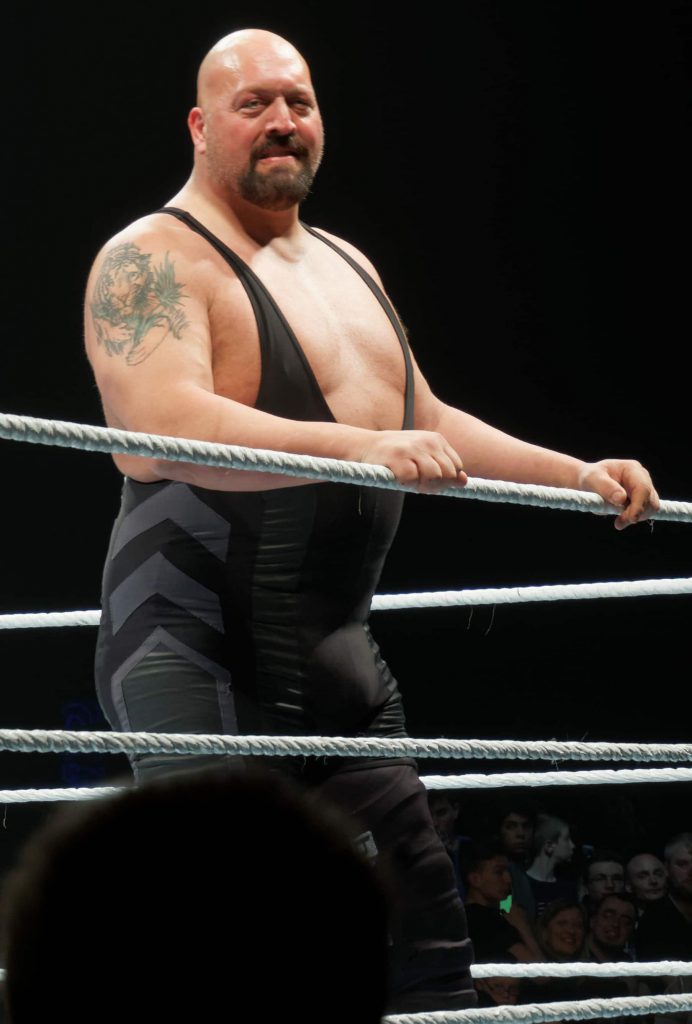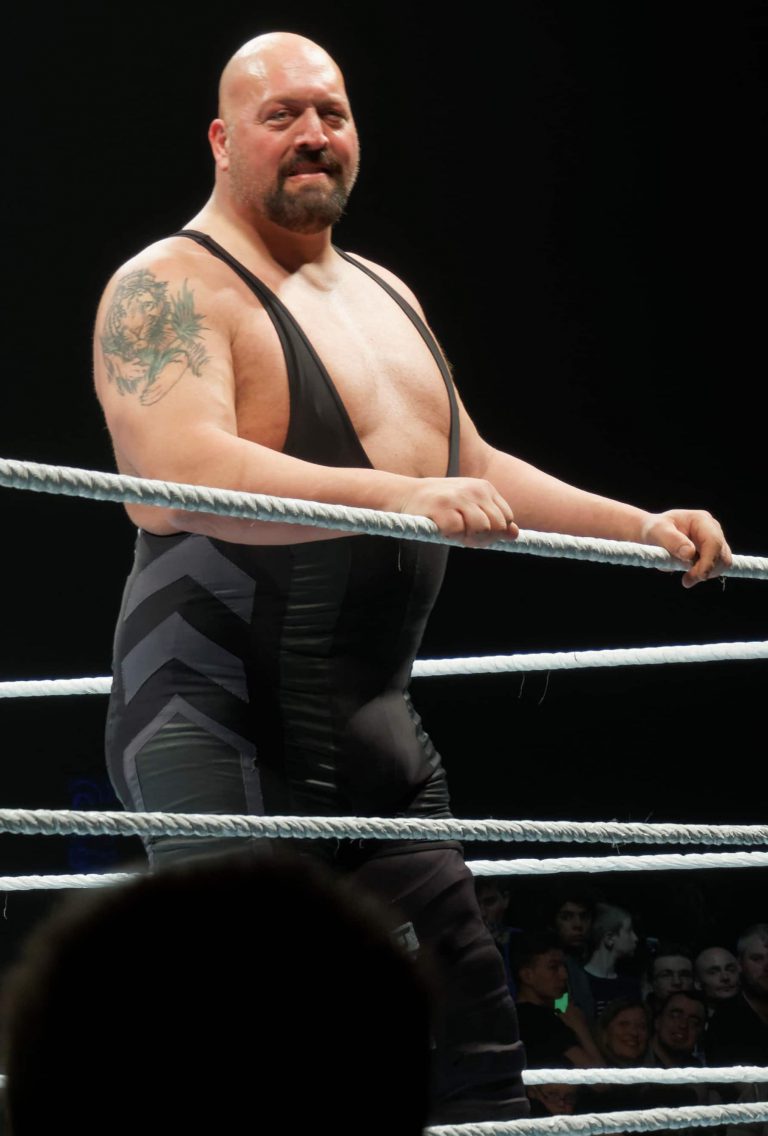 Paul's health issues
Bess is always near Paul especially when he recovers from courses of medications which prevent the development of his acromegaly, which makes not only his body but his organs grow very frapidly. His disease also caused strains in some of his joints.  She helps him to get well after surgeries he has to undergo. She also takes care of his nutrition so he doesn't lose too much weight during the recovery period, as it is important for his qualification.
Hobbies and interesting facts
Though Bess is busy taking care of her husband and kids, in her spare time she likes swimming in the pool which is located at the backyard of their huge mansion in Miami; the pool is covered with glass ceiling, and she can enjoy it any season and any weather. She also accompanies Paul on various charity events which WWE and he personally support or host.
Social media presence
Bess tries to be as far from social media as she possibly can, so she can't be found on any platform. She used to have a Twitter profile which she quit using in 2009 after posting about her travelling around the US for several months.
In NYC…. Loving the cool weather !!

— Bess Wight (@hotdishshow) October 6, 2009
As to Paul, he is more active on social media, as it is a part of his contract with WWE – to promote himself as a brand name. Thus, his Instagram account has over 1.2 million subscribers, though he doesn't post there often. He also has a Twitter account which is read by over 2.63 million users, however, one can't find a single photo of his family there, as he keeps his private life in secret and never shares any family moments with his audience. He can often be seen with other kids hugging him, but they are all his wards from various charity foundations he actively participates in.
Thanks for the cool merchandise from my good friend Joe @deathsaves. Check them out at https://t.co/tzLR9oGKaR! #DeathSaves pic.twitter.com/QafncqeHYH

— "The Big Show" Paul Wight (@WWETheBigShow) December 24, 2018
Appearance, clothing style
Bess has long black hair and blue eyes. She is approximately 5ft 8ins (1.72m) tall, weighs around 140lbs (64 kgs), and her vital statistics are 33-28-32. As to her clothing style, she prefers glamour looks and often wears high heels; she also prefers black color of clothes.
Net worth and salary
According to authoritative sources, Bess and Paul share an impressive amount of money; their approximate net worth is estimated to be around $22 million. Paul's annual salary is reported to be around $1.2 million, which lets them live a luxurious lifestyle in their mansion in Miami they bought in 2007 for $3.7 million. As Paul is still active in his wrestling career, and also keeps on starring in various movies (such as "Fighting with My Family" (2019) and "Vendetta" (2015)), their net worth is only going to grow in future.
General Info
| | |
| --- | --- |
| Full Name | Big Show |
| Net Worth | around $20 million |
| Date Of Birth | February 8, 1972 |
| Height | 2.13 m |
| Weight | 200 kg |
| Profession | Actor, Professional Wrestler |
| Education | Wichita State University, Southern Illinois University Edwardsville |
| Nationality | American |
Family
| | |
| --- | --- |
| Spouse | Bess Katramados, Melissa Ann Piavis |
| Children | Cierra Wight |
| Parents | Paul Wight Sr. |
Accomplishments
| | |
| --- | --- |
| Awards | WWE United States Championship, ECW World Heavyweight Championship, WWE Hardcore Championship |
| Movies | Vendetta, Knucklehead, Little Hercules in 3-D, Jingle All the Way, Reggie's Prayer, The Jetsons & WWE: Robo-WrestleMania! |
Social profile links
Marks
| # | Marks / Signs |
| --- | --- |
| 1 | Towering height |
| 2 | Trademark (or sometimes finishing) Move: Colossal Clutch (Camel clutch) |
| 3 | Trademark Move: Headbutt |
| 4 | Trademark Move: Bearhug |
| 5 | Finishing move: WMD - Weapon of Mass Destruction (Right-handed knockout hook) |
| 6 | Finishing move: Chokeslam |
| 7 | Finishing move: Showstopper (Inverted Leg Drop Bulldog) |
| 8 | Trademark move: Alley-Oop (Reverse Powerbomb) |
| 9 | Trademark move: Sidewalk Slam |
| 10 | Trademark move: Open-Handed Slap |
| 11 | Double Team Finishing Move (with Kane): Double Chokeslam |
| 12 | Trademark move: Big Boot |
| 13 | Finishing move: Final Cut (Inverted headlock spinning elbow drop) |
Quotes
| # | Quote |
| --- | --- |
| 1 | I am the biggest, nastiest bastard to ever set foot in the WWF, and I am damn proud of it. |
Facts
| # | Fact |
| --- | --- |
| 1 | Will face Hulk Hogan at the Fed Ex Forum on 4/27 in what Hogan is calling "the match that should have happened at Wrestlemania." [April 2007] |
| 2 | Along with partner Kane, he will take part in the Road to Wrestlemania tournament to decide the #1 Contender for the WWE Championship. [February 2006] |
| 3 | Pinned Gene Snitsky at Unforgiven. [September 2005] |
| 4 | The Big Show is just fresh off his feud with former WWE Smackdown champion Brock Lesnar and looks to be on a path to nowhere. [August 2003] |
| 5 | With tag team partner, Kane, will face Carlito and Chris Masters to defend the World Tag Team Championships at Wrestlemania 22 in Chicago on April 2. [March 2006] |
| 6 | Lost the WWE United States Championship to John Cena at Wrestlemania XX. Has now left Smackdown and the WWE after chokeslamming (then) General Manager Kurt Angle off a 25foot ledge. [March 2004] |
| 7 | Current WWE United States Champion [February 2004] |
| 8 | Retired from ECW after the December to dismember PPV. [December 2006] |
| 9 | Made his return to WWE after losing over 100 pounds. [February 2008] |
| 10 | Won the Extreme Championship Wrestling (ECW) World Heavyweight Championship from Rob Van Dam, with the help of Paul Heyman, making Big Show the first and only person to hold each Heavyweight title from all three wrestling companies (WWE, WCW and ECW). [July 2006] |
| 11 | Will face Kurt Angle at No Mercy in October. [September 2004] |
| 12 | Set to face Kurt Angle and WWE Champion John Bradshaw Layfield this Sunday at the Royal Rumble. [January 2005] |
| 13 | Along with partner Kane, defeated Trevor Murdoch and Lance Cade for the World Tag Team Titles. [November 2005] |
| 14 | Has been drafted to "Raw" from "Smackdown" in this year's Draft Lottery. [June 2005] |
| 15 | Has been resigned to Smackdown by new General Manager Theodore Long [August 2004] |
| 16 | Set to fight Akebono of Japan in Wrestlemania 21. [March 2005] |
| 17 | Shocked fans at WWE vs. ECW Head to Head by turning on Raw and joining the upcoming ECW brand. [June 2006] |
| 18 | Is set to take on Kurt Angle, Luther Reigns and Mark Jindrak at WWE armageddon 2004 in a handicap match! [December 2004] |
| 19 | Pro Wrestling Illustrated awarded him Wrestler of the Year and Rookie of the Year in 1996. |
| 20 | 12th WWE Grand Slam Champion and 24th Triple Crown Champion. |
| 21 | Has a daughter named Cierra with first wife Melissa. |
| 22 | Has won both pairs of the WWE Tag Team Championships a total 8 times. His partners include The Undertaker (2), Kane (2), Chris Jericho (2) and The Miz (2). |
| 23 | Three-time WCW World Tag Team Champion with Lex Luger, Sting and Scott Hall. |
| 24 | 1996 WCW World War 3 Winner. |
| 25 | The only person to win the World Wrestling Entertainment (WWE) Championship, World Championship Wrestling (WCW) World Heavyweight Championship and the Extreme Championship Wrestling (ECW) World Heavyweight Championship. In the case of the ECW Championship, it was while it was a brand of the WWE. |
| 26 | Previous managers: Jim Strauser, The Taskmaster, Jimmy Hart, Shane McMahon, Paul Heyman, Joy Giovanni. |
| 27 | Arrived in World Championship Wrestling as The Giant and quickly joined The Dungeon of Doom with Jimmy Hart. |
| 28 | Three-time member of the nWo. |
| 29 | In 2000, part of his gimmick was to impersonate other wrestlers. Among his most memorable personas were: The Showster, Showkishi, Shonan The Barbarian, & The Big Showbowski. |
| 30 | In his early days with the WWF, was known as 'Big Nasty' Paul Wight. His nickname was soon after changed to 'Big Show'. |
| 31 | Has a poor WrestleMania win-loss record of 4-8. His first win came at WrestleMania 22 in 2006, when he and Kane retained their World Tag Titles against Chris Masters and Carlito. |
| 32 | Notable title wins include: WCW World Heavyweight title (2); WCW World Tag Team titles (3); WWF/E title (2); WWE Tag Team titles (3); WWF Hardcore title (3); WWE World Heavyweight title; WWE United States title; WWF/E World Tag Team titles (5); ECW World Heavyweight title; WWE Intercontinental title. |
| 33 | Trained by Larry Sharpe. |
| 34 | Paul Wight played college basketball at Wichita State University. |
| 35 | Shoe size 18, width 6EEE |
| 36 | Shares birthdays with professional wrestler Jim Neidhart and wrestling managers "Sensational" Sherri Martel and "Classie" Freddie Blassie. |
| 37 | Was 6' 2" and 200 lbs at 12, and 6' 8" and 240 lbs at 14. |
| 38 | According to himself he's 7' 1" tall and weighs 450 lbs (as of early 2001). As of late 2006, his weight has swelled to over 500 lbs. |
| 39 | Is a member of TKE international fraternity. |
| 40 | One of 9 wrestlers to win both the WWF/WWE and the WCW world heavyweight titles. |
| 41 | Is the youngest person to ever win a world title in either WCW or WWE, when he won the WCW World Heavyweight Championship at age 23, defeating his real life friend Hulk Hogan for the Title during his Rookie year in 1995. |
| 42 | Captured the WCW world title at the end of April 1996 from Ric Flair. After losing it to Hollywood Hogan in August, became a member of the feared New World Order. He was kicked out at the end of December for asking Hogan to give him a Title shot. |
| 43 | WCW originally promoted him as being the 'long lost son' of André the Giant. |
| 44 | Played basketball for one season with Wichita State University. |
| 45 | Like André the Giant, suffered from acromegaly (giantism) until he underwent an operation in the early 90s to remove the tumor that caused it. A side effect, though, was that his metabolism slowed down considerably causing him to gain a hundred pounds in a year. |
Pictures
Movies
Actor
| Title | Year | Status | Character |
| --- | --- | --- | --- |
| WWE Royal Rumble | 2017 | TV Movie | The Big Show |
| WWE: Story Time | 2016 | TV Series | Big Show |
| Countdown | 2016/II | | The Big Show (uncredited) |
| WWE Fastlane | 2016 | TV Movie | The Big Show |
| Stone Cold Podcast: Live! | 2016 | TV Series | The Big Show |
| WWE 2k16 | 2015 | Video Game | The Big Show (voice) |
| WWE Live from MSG 2015 | 2015 | TV Movie | The Big Show |
| Swerved | 2015 | TV Series | The Big Show Big Show |
| WWE Battleground | 2015 | TV Movie | The Big Show |
| Vendetta | 2015 | | Victor Abbott (as Paul 'Big Show' Wight) |
| WWE NXT | 2010-2015 | TV Series | The Big Show |
| WrestleMania | 2015 | TV Movie | The Big Show |
| TLC: Tables, Ladders, Chairs and Stairs | 2014 | TV Movie | The Big Show |
| WWE 2k15 | 2014 | Video Game | The Big Show (voice) |
| John Cena: Greatest Rivalries | 2014 | Video | The Big Show |
| WWE Main Event | 2012-2014 | TV Series | The Big Show |
| WrestleMania XXX | 2014 | TV Movie | The Big Show |
| WWE 2k14 | 2013 | Video Game | The Big Show The Giant (voice) |
| WWE: The Top 25 Rivalries in Wrestling History | 2013 | Video | The Big Show |
| Supah Ninjas | 2011-2013 | TV Series | Two Ton Harley |
| Psych | 2013 | TV Series | Big Ed Dixon |
| The Top 100 Moments in Raw History | 2012 | Video | The Big Show |
| WWE '13 | 2012 | Video Game | The Big Show (voice) |
| No Way Out | 2012 | TV Movie | The Big Show |
| Clash Time | 2012 | TV Series | The Big Show |
| WWE '12 | 2011 | Video Game | The Big Show (voice) |
| Vengeance | 2011 | TV Movie | The Big Show |
| Burn Notice | 2011 | TV Series | Griffin Black |
| Capitol Punishment | 2011 | TV Movie | The Big Show |
| WWE Tough Enough | 2011 | TV Series | The Big Show |
| WWE SmackDown vs. RAW 2011 | 2010 | Video Game | The Big Show (voice) |
| Knucklehead | 2010 | | Walter Krunk (as The Big Show) |
| WWE Superstars | 2009-2010 | TV Series | The Big Show |
| Royal Pains | 2010 | TV Series | Donald Green / The Garbage Collector |
| MacGruber | 2010 | | Brick Hughes (as The Big Show) |
| E.C.W. | 2006-2010 | TV Series | The Big Show |
| WWE SmackDown vs. RAW 2010 | 2009 | Video Game | The Big Show (voice) |
| Little Hercules in 3-D | 2009 | | Marduk |
| The Tonight Show with Conan O'Brien | 2009 | TV Series | The Big Show |
| WWE Live in the UK: April 2008 | 2008 | Video | The Big Show |
| Hulk Hogan: The Ultimate Anthology | 2006 | Video | The Giant |
| ECW December to Dismember | 2006 | TV Movie | The Big Show |
| ECW One Night Stand | 2006 | TV Movie | The Big Show |
| The Smackdown! Special | 2005 | TV Movie | The Big Show |
| WWE SmackDown! vs. RAW 2006 | 2005 | Video Game | The Big Show (voice) |
| WrestleMania 21 | 2005 | Video Game | The Big Show (voice) |
| WWE: Byte This! | 2005 | TV Series | The Big Show |
| WWE SmackDown! vs. RAW | 2004 | Video Game | The Big Show (voice) |
| Star Trek: Enterprise | 2004 | TV Series | Orion Slaver #1 |
| WWE Day of Reckoning | 2004 | Video Game | The Big Show |
| New Japan Pro-Wrestling 30th Anniversary 1997-1999 | 2002 | Video | The Giant |
| One on One | 2002 | TV Series | Miles |
| WWE WrestleMania X-8 | 2002 | Video Game | The Big Show (voice) |
| WWE Jakked | 1999-2001 | TV Series | The Big Show |
| Invasion | 2001 | TV Movie | The Big Show |
| OVW: Christmas Chaos | 2001 | Video | The Big Show |
| Chyna Fitness: More Than Meets the Eye | 2000 | Video | The Big Show |
| No Way Out | 2000 | TV Movie | The Big Show |
| Fully Loaded | 1999 | TV Movie | The Big Show |
| WCW Superstar Series: Goldberg - Who's Next? | 1999 | Video | The Giant |
| WCW/NWO Thunder | 1998 | Video Game | The Giant |
| WWE Metal | 1998 | TV Series | The Big Show (1999-2002) |
| WCW Thunder | 1998 | TV Series | The Giant |
| WCW/NWO World War 3 | 1998 | TV Movie | The Giant |
| The Waterboy | 1998 | | Captain Insano (as Paul 'The Giant' Wight) |
| WCW Monday Nitro | 1995-1998 | TV Series | The Giant |
| WCW/NWO Road Wild | 1998 | TV Movie | The Giant |
| WCW/NWO Bash at the Beach | 1998 | TV Movie | The Giant |
| WCW/NWO Slamboree | 1998 | TV Movie | The Giant |
| WCW/NWO Uncensored | 1998 | TV Movie | The Giant |
| McCinsey's Island | 1998 | | Little Snowflake (as Paul White) |
| WCW/NWO Souled Out | 1998 | TV Movie | The Giant |
| WCW World War 3 | 1997 | TV Movie | The Giant |
| WCW Fall Brawl: War Games | 1997 | TV Movie | The Giant |
| WCW Road Wild | 1997 | TV Movie | The Giant |
| WCW Spring Stampede | 1997 | TV Movie | The Giant |
| WCW SuperBrawl VII | 1997 | TV Movie | The Giant |
| NWO Souled Out | 1997 | TV Movie | The Giant |
| WCW Starrcade 1996 | 1996 | TV Movie | The Giant |
| WCW World Championship Wrestling | 1996 | TV Series | The Giant |
| Jingle All the Way | 1996 | | Huge Santa (as Paul 'The Giant' Wight) |
| WCW Halloween Havoc | 1996 | TV Movie | The Giant |
| Reggie's Prayer | 1996 | | Mr. Portola |
| Clash of the Champions | 1996/II | TV Movie | The Giant |
| WCW Hog Wild | 1996 | TV Movie | The Giant |
| WCW Bash at the Beach | 1996 | TV Movie | The Giant |
| WCW Slamboree '96: Lethal Lottery | 1996 | TV Movie | The Giant |
| WCW SuperBrawl VI | 1996 | TV Movie | The Giant |
| Clash of the Champions | 1996/I | TV Movie | The Giant |
| WCW Slamboree: A Legends' Reunion | 1995 | TV Movie | The Giant (uncredited) |
Self
| Title | Year | Status | Character |
| --- | --- | --- | --- |
| WWF Vengeance | 2001 | TV Special | The Big Show |
| Survivor Series | 2001 | TV Special | The Big Show |
| Weakest Link | 2001 | TV Series | Himself |
| WWF Rebellion | 2001 | TV Special | The Big Show |
| WWF No Mercy | 2001 | TV Special | The Big Show |
| WWF Unforgiven | 2001 | TV Special | The Big Show |
| WWF Judgment Day | 2001 | TV Special | The Big Show |
| WWF Insurrextion | 2001 | TV Special | The Big Show |
| WWF Backlash | 2001 | TV Special | The Big Show |
| WrestleMania X-Seven | 2001 | TV Special | The Big Show |
| WWF No Way Out | 2001 | TV Special | The Big Show |
| Royal Rumble | 2001 | TV Special | The Big Show |
| The Cindy Margolis Show | 2000 | TV Series | Himself |
| WWF Judgment Day | 2000 | TV Special | The Big Show |
| WWF Insurrextion | 2000 | TV Special | Showkishi |
| WWF Backlash | 2000 | TV Special | The Big Show |
| WrestleMania 2000 | 2000 | TV Special | The Big Show |
| Saturday Night Live | 2000 | TV Series | Himself |
| Royal Rumble | 2000 | TV Special | The Big Show |
| The Unreal Story of Professional Wrestling | 1999 | TV Movie documentary | Himself |
| WWF Armageddon | 1999 | TV Special | The Big Show |
| Survivor Series | 1999 | TV Special | The Big Show |
| WWF Rebellion | 1999 | TV Special | The Big Show |
| WWF Unforgiven | 1999 | TV Special | The Big Show |
| Summerslam | 1999 | TV Special | The Big Show |
| King of the Ring | 1999 | TV Special | The Big Show |
| WWF Over the Edge | 1999 | TV Special | The Big Show |
| WWF Backlash | 1999 | TV Special | The Big Show |
| WrestleMania XV | 1999 | TV Special | 'The Big Show' Paul Wight |
| WWF St. Valentine's Day Massacre | 1999 | TV Special | Paul Wight |
| WCW/NWO Starrcade | 1998 | TV Special | The Giant |
| WCW/NWO Halloween Havoc | 1998 | TV Special | The Giant |
| WCW/NWO The Great American Bash | 1998 | TV Special | The Giant |
| Figure It Out | 1997 | TV Series | Himself |
| WCW Uncensored | 1997 | TV Special | The Giant - Team WCW |
| WCW Fall Brawl | 1996 | TV Special | The Giant |
| WCW The Great American Bash | 1996 | TV Special | The Giant |
| WCW Uncensored | 1996 | TV Special | The Giant |
| WCW Halloween Havoc 1995 | 1995 | TV Special | The Giant |
| WCW Fall Brawl: War Games | 1995 | TV Special | The Giant |
| Clash of the Champions | 1995/II | TV Special | The Giant |
| WCW Bash at the Beach | 1995 | TV Special | The Giant |
| WrestleMania | 2016 | TV Special | The Big Show |
| WWE Hall of Fame | 2016 | | Himself (as The Big Show) |
| The Edge and Christian Show That Totally Reeks of Awesomeness | 2016 | TV Series | Himself - The Big Show |
| WWE Smackdown! | 1999-2016 | TV Series | The Big Show The Big Show - Team Lesnar |
| WWE Royal Rumble | 2016 | TV Special | The Big Show |
| Lip Sync Battle | 2016 | TV Series | Himself - Guest |
| Sting: Into the Light | 2015 | Video documentary | The Big Show |
| WWE Summerslam | 2015 | TV Special | The Big Show |
| WWE Money in the Bank | 2015 | TV Special | The Big Show |
| Daniel Bryan: Just Say Yes! Yes! Yes! | 2015 | Video documentary | The Big Show |
| WWE Extreme Rules | 2015 | TV Special | The Big Show |
| WWE Fastlane | 2015 | TV Special | The Big Show |
| W.W.E. 24 | 2015 | TV Series documentary | Big Show |
| WWE Royal Rumble | 2015 | TV Special | The Big Show |
| WWE Tribute to the Troops | 2014 | TV Special | The Big Show |
| The Monday Night War: WWE vs. WCW | 2014 | TV Series documentary | Big Show |
| WWE Night of Champions | 2014 | TV Special | The Big Show |
| Teen Choice Awards 2014 | 2014 | TV Special | Himself |
| Ladies and Gentlemen, My Name is Paul Heyman | 2014 | Video | Himself (as The Big Show) |
| Bonus Content | 2014 | TV Series | Himself |
| WWE Royal Rumble | 2014 | TV Special | The Big Show |
| Survivor Series | 2013 | TV Special | The Big Show |
| WWE Battleground | 2013 | TV Special | The Big Show |
| WrestleMania 29 | 2013 | TV Special | The Big Show |
| Elimination Chamber | 2013 | TV Special | The Big Show |
| Royal Rumble | 2013 | TV Special | The Big Show |
| Attitude Era | 2012 | Video | Himself / Big Show |
| Survivor Series | 2012 | TV Special | The Big Show |
| nWo: The Revolution | 2012 | Video documentary | Himself (as The Giant) |
| Hell in a Cell | 2012 | TV Special | The Big Show |
| Rock vs. Cena: Once in a Lifetime | 2012 | Video documentary | The Big Show |
| Larry King Now | 2012 | TV Series | Himself - Guest |
| Undertaker: The Streak - 20-0 | 2012 | Video documentary | The Big Show |
| Extreme Rules | 2012 | TV Special | The Big Show |
| WrestleMania XXVIII | 2012 | TV Special | The Big Show |
| Elimination Chamber | 2012 | TV Special | The Big Show |
| Royal Rumble | 2012 | TV Special | The Big Show |
| TLC: Tables, Ladders & Chairs | 2011 | TV Special | The Big Show |
| WWE Tribute to the Troops | 2011 | TV Special | The Big Show |
| The 2011 American Country Awards | 2011 | TV Special | Himself (as The Big Show) |
| Survivor Series | 2011 | TV Special | The Big Show |
| WWE Money in the Bank | 2011 | TV Special | The Big Show |
| WWE Over the Limit | 2011 | TV Special | The Big Show |
| WWE Extreme Rules | 2011 | TV Special | The Big Show |
| The Tonight Show with Jay Leno | 2011 | TV Series | Himself - At WrestleMania |
| WrestleMania XXVII | 2011 | TV Special | The Big Show |
| Nickelodeon's Kids Choice Awards 2011 | 2011 | TV Special | Himself |
| The Big Show: A Giant's World | 2011 | Video | Himself (as The Big Show) |
| Royal Rumble | 2011 | TV Special | The Big Show |
| WWE TLC: Tables, Ladders & Chairs | 2010 | TV Special | The Big Show |
| WWE Tribute to the Troops | 2010 | TV Special | The Big Show |
| Survivor Series | 2010 | TV Special | The Big Show |
| WWE Bragging Rights | 2010 | TV Special | The Big Show |
| WWE Hell in a Cell | 2010 | TV Special | The Big Show |
| Breaking the Code: Behind the Walls of Chris Jericho | 2010 | Video | Himself / The Big Show (as Big Show) |
| WWE Night of Champions | 2010 | TV Special | The Big Show |
| WWE: Summerslam | 2010 | TV Special | The Big Show |
| The 7PM Project | 2010 | TV Series | Himself |
| WWE Money in the Bank | 2010 | TV Special | The Big Show |
| WWE Fatal 4-Way | 2010 | TV Special | The Big Show |
| Late Night with Jimmy Fallon | 2010 | TV Series | Himself |
| WWE Over the Limit | 2010 | TV Special | The Big Show |
| WWE Extreme Rules | 2010 | TV Special | The Big Show |
| Extreme Makeover: Home Edition | 2010 | TV Series | Himself |
| WrestleMania XXVI | 2010 | TV Special | The Big Show |
| WWE Elimination Chamber | 2010 | TV Special | The Big Show |
| WWE TLC: Tables, Ladders & Chairs | 2009 | TV Special | The Big Show |
| Survivor Series | 2009 | TV Special | The Big Show |
| Dinner: Impossible | 2009 | TV Series | Himself - WWE Superstar |
| WWE Bragging Rights | 2009 | TV Special | The Big Show |
| WWE Hell in a Cell | 2009 | TV Special | The Big Show |
| WWE Breaking Point | 2009 | TV Special | The Big Show |
| WWE: The Rise and Fall of WCW | 2009 | Video | Himself |
| WWE Summerslam | 2009 | TV Special | The Big Show |
| WWE Night of Champions | 2009 | TV Special | The Big Show |
| WWE: Extreme Rules | 2009 | TV Special | The Big Show |
| WWE Judgment Day | 2009 | TV Special | The Big Show |
| WWE Backlash | 2009 | TV Special | The Big Show |
| E:60 | 2009 | TV Series | The Big Show |
| The 25th Anniversary of WrestleMania | 2009 | TV Special | The Big Show |
| WWE Hall of Fame 2009 | 2009 | TV Special | Himself |
| WWE No Way Out | 2009 | TV Special | The Big Show |
| WWE Royal Rumble | 2009 | TV Special | The Big Show |
| WWE Tribute for the Troops | 2008 | TV Special | The Big Show |
| Survivor Series | 2008 | TV Special | The Big Show |
| WWE Cyber Sunday | 2008 | TV Special | The Big Show |
| WWE No Mercy | 2008 | TV Special | The Big Show |
| WWE Unforgiven | 2008 | TV Special | The Big Show |
| The 2008 Hero Awards | 2008 | TV Special | Himself |
| WWE Night of Champions | 2008 | TV Special | The Big Show |
| WWE One Night Stand | 2008 | TV Special | The Big Show |
| WWE Backlash | 2008 | TV Special | The Big Show |
| WrestleMania XXIV | 2008 | TV Special | The Big Show |
| Larry King Live | 2008 | TV Series | Himself |
| WWE No Way Out | 2008 | TV Special | The Big Show |
| Survivor Series | 2006 | TV Special | The Big Show |
| WWE Cyber Sunday | 2006 | TV Special | The Big Show |
| WWE Unforgiven | 2006 | TV Special | The Big Show |
| Summerslam | 2006 | TV Special | The Big Show |
| WWE Great American Bash | 2006 | TV Special | The Big Show |
| WWE Saturday Night's Main Event | 2006 | TV Series | The Big Show |
| WWE vs. ECW: Head to Head | 2006 | TV Special | The Big Show |
| The American Dream: The Dusty Rhodes Story | 2006 | Video | Himself |
| WWE Sunday Night Heat | 1999-2006 | TV Series | The Big Show |
| WWE Backlash | 2006 | TV Special | The Big Show |
| WrestleMania 22 | 2006 | TV Special | The Big Show |
| WWE Hall of Fame 2006 | 2006 | TV Special | Himself |
| WWE Royal Rumble | 2006 | TV Special | The Big Show |
| WWE New Year's Revolution | 2006 | TV Special | The Big Show |
| WWE Tough Enough Download | 2005 | Video documentary | The Big Show |
| WWE Tribute to the Troops | 2005 | TV Special | The Big Show |
| WWE Armageddon | 2005 | TV Special | The Big Show |
| Survivor Series | 2005 | TV Special | The Big Show |
| WWE Taboo Tuesday | 2005 | TV Special | The Big Show |
| WWE A.M. Raw | 2005 | TV Series | Himself (2005-) (as The Big Show) |
| Late Night with Conan O'Brien | 2000-2005 | TV Series | Himself |
| WWE Unforgiven | 2005 | TV Special | The Big Show |
| WWE Velocity | 2005 | TV Series | The Big Show |
| WWE Judgment Day | 2005 | TV Special | The Big Show |
| WrestleMania 21 | 2005 | TV Special | The Big Show |
| WWE Hall of Fame 2005 | 2005 | Video documentary | Himself |
| WWE No Way Out | 2005 | TV Special | The Big Show |
| WWE Royal Rumble | 2005 | TV Special | The Big Show |
| WWE Armageddon | 2004 | TV Special | The Big Show |
| Survivor Series | 2004 | TV Special | The Big Show |
| WWE No Mercy | 2004 | TV Special | The Big Show |
| WWE Great American Bash | 2004 | TV Special | The Big Show |
| WWE Hall of Fame 2004 | 2004 | TV Special | Himself |
| Hollywood Squares | 2003-2004 | TV Series | Himself |
| John Cena: Word Life | 2004 | Video documentary | The Big Show |
| WrestleMania XX | 2004 | TV Special | The Big Show |
| MADtv | 2004 | TV Series | Himself |
| 10 Things Every Guy Should Experience | 2004 | TV Series documentary | Himself |
| WWE No Way Out | 2004 | TV Special | The Big Show |
| The Monday Night War: WWE Raw vs. WCW Nitro | 2004 | Video documentary | Himself (as The Giant) |
| Royal Rumble | 2004 | TV Special | The Big Show |
| Player$ | 2004 | TV Series | Himself |
| Survivor Series | 2003 | TV Special | The Big Show |
| WWE No Mercy | 2003 | TV Special | The Big Show |
| WWE: Brock Lesnar: Here Comes the Pain | 2003 | Video | Himself (as The Big Show) |
| WWE Vengeance | 2003 | TV Special | The Big Show |
| WWE Judgment Day | 2003 | TV Special | The Big Show |
| WWE Backlash | 2003 | TV Special | The Big Show |
| WrestleMania XIX | 2003 | TV Special | The Big Show |
| WWE No Way Out | 2003 | TV Special | The Big Show |
| Royal Rumble | 2003 | TV Special | The Big Show |
| WWE Armageddon | 2002 | TV Special | The Big Show |
| Survivor Series | 2002 | TV Special | The Big Show |
| WWE No Mercy | 2002 | TV Special | The Big Show |
| WWE Vengeance | 2002 | TV Special | The Big Show |
| King of the Ring | 2002 | TV Special | The Big Show |
| WWE Judgment Day | 2002 | TV Special | The Big Show |
| WWF Insurrextion | 2002 | TV Special | The Big Show |
| TV total | 2002 | TV Series | Himself |
| WWF Backlash | 2002 | TV Special | The Big Show |
| Royal Rumble | 2002 | TV Special | The Big Show |
Archive Footage
| Title | Year | Status | Character |
| --- | --- | --- | --- |
| The Road Is Jericho: Epic Stories & Rare Matches from Y2J | 2015 | Video | The Big Show |
| WWE Raw | 2006-2015 | TV Series | The Big Show |
| WWE: Goldberg - The Ultimate Collection | 2013 | Video | The Giant |
| WWE: The Very Best of WCW Monday Nitro, Vol. 2 | 2013 | Video | The Giant |
| WWE Saturday Morning Slam | 2012 | TV Series | The Big Show |
| The 50 Greatest Finishing Moves in WWE History | 2012 | Video | The Big Show |
| WWE: Superstar Collection - Daniel Bryan | 2012 | Video | The Big Show |
| WWE: The Best of WCW Clash of the Champions | 2012 | Video | The Giant |
| Supah Ninjas | 2012 | TV Series | Two Ton Harley |
| WWE Superstars | 2010-2012 | TV Series | The Big Show |
| Best Pay Per View Matches of 2011 | 2011 | Video | The Big Show |
| Stone Cold Steve Austin: The Bottom Line on the Most Popular Superstar of All Time | 2011 | Video | The Big Show |
| WWE: OMG! - The Top 50 Incidents in WWE History | 2011 | Video | The Big Show |
| WWE Smackdown! | 2005-2011 | TV Series | The Big Show |
| WWE: Greatest Stars of the New Millenium | 2011 | Video | The Big Show |
| WWE: Best Cage Matches | 2011 | Video | The Big Show |
| WWE NXT | 2011 | TV Series | The Big Show |
| WWE All Stars | 2011 | Video Game | The Big Show |
| Raw the Best of 2010 | 2011 | Video | The Big Show |
| WWE: Top 50 Superstars of All Time | 2010 | Video | The Big Show |
| The John Cena Experience | 2010 | Video documentary | The Big Show |
| Smackdown: The Best of 2009-2010 | 2010 | Video | The Big Show |
| WrestleMania XXVI: The World Television Premiere | 2010 | TV Special | The Big Show |
| WWE: Satan's Prison - The Anthology of the Elimination Chamber | 2010 | Video | The Big Show |
| WWE: The Undertaker's Deadliest Matches | 2010 | Video | The Big Show |
| The Best Pay Per View Matches of the Year 2009-2010 | 2010 | Video | The Big Show |
| WWE: The Best of RAW 2009 | 2010 | Video | The Big Show |
| E.C.W. | 2006-2008 | TV Series | The Big Show |
| Viva la Raza: The Legacy of Eddie Guerrero | 2008 | Video | The Big Show |
| WWE: Hell in a Cell - The Greatest Hell in a Cell Matches of All Time | 2008 | Video | The Big Show |
| WWE Summerslam: The Complete Anthology, Vol. 4 | 2008 | | The Big Show |
| WWE - Undertaker 15-0 | 2008 | Video | The Big Show |
| Rome Is Burning | 2008 | TV Series | Himself |
| WWE Royal Rumble: The Complete Anthology, Vol. 3 | 2008 | Video | The Big Show |
| WWE Royal Rumble: The Complete Anthology, Vol. 4 | 2008 | Video | The Big Show |
| WWE: John Cena - My Life | 2007 | Video | The Big Show |
| Hannity & Colmes | 2007 | TV Series | The Big Show |
| ECW Extreme Rules Vol. 1 | 2007 | | The Big Show |
| WWE One Night Stand | 2007 | TV Special | The Big Show |
| Video on Trial | 2006 | TV Series | Himself |
| WWE WrestleMania: The Complete Anthology, Vol. 4 | 2005 | Video | The Big Show |
| WWE Sunday Night Heat | 2005 | TV Series | The Big Show |
| The Self Destruction of the Ultimate Warrior | 2005 | Video documentary | The Giant |
| Tombstone: The History of the Undertaker | 2005 | Video documentary | The Big Show |
| The Great American Bash | 2005 | TV Movie | The Big Show |
| WWE Velocity | 2005 | TV Series | The Big Show |
| Sting: Moment of Truth | 2004 | Video documentary | The Big Show |
| Hard Knocks: The Chris Benoit Story | 2004 | Video documentary | The Giant The Big Show |
| WWE Armageddon | 2003 | TV Special | The Big Show |
| WWE Bloodbath: Wrestling's Most Incredible Steel Cage Matches | 2003 | Video | The Big Show |
| Hollywood Hulk Hogan: Hulk Still Rules | 2002 | Video documentary | The Big Show |
| WWE: Undertaker - This Is My Yard | 2001 | Video | The Big Show |
| WWF: Action! | 2001 | Video | The Big Show |
| WWF: Hardcore | 2001 | Video | The Big Show |
| Lita: It Just Feels Right | 2001 | Video documentary | The Big Show |
| The Rock - The People's Champ | 2000 | Video | The Big Show |
| WWF: Hell Yeah - Stone Cold's Saga Continues | 1999 | Video | The Big Show |
| WCW Monday Nitro | 1995 | TV Series | The Giant |
Source:
IMDb
,
Wikipedia