• Bijuu Mike is a popular YouTuber who gained fame for his anime videos, voice acting and "Let's Play" videos
• Mike was born in South Dakota, USA and has an older sister
• Mike's most successful videos are on Yandere Simulator and Baldi's Basics in Education and Learning
• Mike is married to Melissa since 2015 and they don't have any kids
• His net worth is estimated at $1.2 million and he earns around $19,000 per month from his YouTube channel
 
Bijuu Mike is a popular YouTuber, who gained fame for his anime videos he uploaded regularly on his YouTube channel, for voice acting and commenting in a very comic way. The audience also like watching his "Let's Play" videos, and he has an army of followers now who share the same interest for anime, RPG games and Japan. Let's find out more about his personal life, wife, real name and other interesting details.
Early life and family
Michael "Bijuu Mike" Lucas was born on 26 October 1992, in South Dakota, USA, so under the sign of Scorpio and holding American nationality.
Mike rarely shares details about his life, keeping it low-key, so little is known about the members of his family, except that he has an older sister, whose name is not revealed yet. He also shared that his grandmother, who recently passed away, was great at painting and creating things, and he has a doll named Clarence from her, which he still has in his room, and it reminds him about how kind and creative she was; the doll often appears in Mike's videos, and became his mascot. Mike moved a lot while he was in middle school, leaving his friends with difficulty each time he had to move.
Educational background
Mike matriculated from his high school in 2010, then didn't see any sense in going to college, as his life dream was to make YouTube his living and not to work for people who didn't care about him, as his family had done, with little reward. So Mike decided to be the first one in his family to change this situation, and work for himself to support his family, wife and his future kids.
Career
The main reason Mike created a YouTube channel was his desire to entertain people and make them laugh and feel happy.  At the very beginning he didn't really believe he would get so far on YouTube, but he was very hopeful, wanting to surprise his audience.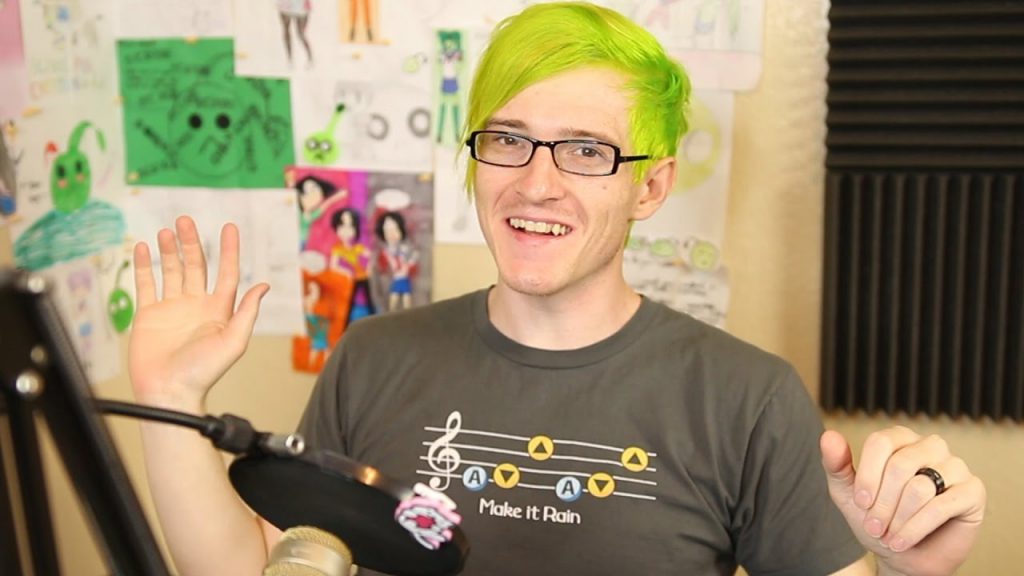 He started his YouTube channel on 18 June 2013, though taking him more than a year to decide whether he wanted to make YouTube his working place or not, posting his first video in June 2014. His fame grew when he started posting videos on Yandere Simulator, a stealth action video game which has been developed since 2013, and wasn't released over the Beta-tests. However, Mike was able to show the newest things the developers added to the game, as he was invited to test it before it was officially released.
Rise of popularity
On 14 August 2015 he posted a video entitled "YANDERE SIMULATOR (Dumpsters, Buckets, Bathing, and Electrocution)" which instantly amassed thousands of views, lifting Mike's channel to a whole new level of popularity. In a year it already had 800,000 views, and as of 2019 more than 1.5 million, and the number is still growing. He posted more "Yandere Simulator" themed videos, and uploaded such successful shortcuts as "Osana CHEATS on SENPAI! | Yandere Simulator – How to Catch A Cheater" which gained more than 3.4 million views, "Pushing Senpai In The Fountain + New Osana Pool Elimination! | Yandere Simulator" which amassed over 1.4 million view, and many other videos on new features and builds added to the game during its ongoing development process.
The "Baldi's Basics in Education and Learning" game
Mike also got access to a super freaky and popular game which is still not released to the wide audience, "Baldi's Basics in Education and Learning". The game was developed in a few days for the annual game contest "Meta-Game Jam" in 2017, and gained amazing popularity due to its creepy plot and through such popular YouTubers as Markiplier and PewDiePie, who highlighted the game on their channels. Mike's videos on this game gained millions of views, and became even more popular than his Yandere Simulator videos. Thus, his video entitled "WE SOLVED THE THIRD QUESTION?! | Baldis Basics In Education And Learning (Anti Impossible MOD)" has almost eight million views, which makes this video the most popular on Mike's channel.
Other games Mike played and some controversies
He also played and shared his videos on "Minecraft", "Roblox", "Hello Neighbor" and "A Little About Me", and likes MMORPG games – Phantasy Star Online and Halo. He once shared that if YouTube didn't work, he would still do videos as he enjoys it so much, or he would become a voice actor for anime.
Mike is a big friend of another YouTuber, DanTDM – he sometimes jokes that they are real brothers as they are very similar. Mike often gets letters from "angry parents" who caught their kids playing the games Mike promotes on his YouTube channel.
?? https://t.co/EcUk6Blfd1 ?? Bug hunter time

— BijuuMike (@BijuuMike) September 19, 2019
Such parents blame him for planting nasty and cruel things into the minds of their kids, however, Mike made a special video for such parents in which he said the Internet is full of cruel things, and he is the last one to blame; instead of writing him letters in which they ask him to stop posting videos on such games as Yandere Simulator, Mike asked such parents to watch over their kids better as he considers they are the only people who are responsible for what their kids watch, read and do.
Personal life, wife Melissa
Mike has been married to Melissa since 2015, after dating for a year and a half; they often share their mutual photos on their Instagram accounts, not hiding their relationship – they don't have any kids.
In one of his videos Mike stated he doesn't want any kids for now; he also said he doesn't understand people who have too many kids (saying 'too many' Mike meant over seven-eight siblings in one family), considering 'people have to stop at some point" and not overpopulate the planet. He spends a lot of time with his wife, and often go travelling around the world, recently visiting Japan and enjoying the trip very much, doing a lot of vlogging there. It is known that Mike is in very good relationship with his parents-in-law – his mother-in-law, Jessica Marylinn Espinoza, has recently graduated from California State University in Bakersfield, getting an MS in Counseling Psychology, and Mika and Melissa were at her graduation ceremony to congratulate her on this important occasion.
Hobbies and interesting facts
Mike is left-handed. He is a huge anime fan. As he puts a lot of efforts and soul to his content, his fans are often touched with his dedication and give him their love back, thus, he often gets personal thoughtful presents from his talented followers, such as hand-made figures, arts, souvenirs and many other anime things, expressing their appreciation for everything Mike does. For example, his fan named Samantha presented him a figure of Sonico Waifu (a character from "SoniAni: Super Sonico the Animation"), some hand-painted posters and gift cards with the main characters of anime series.
Mike is a huge fan of Lindsey Stirling, a world famous violinist.
His favorite soup is the one with udon noodles and green peas; he also likes cupcakes and other desserts with chocolate and cream cheese.
He doesn't drink alcohol often, just once in a few months.
One of his favorite music bands is "Sleeping with Sirens", a rock band from Orlando, Florida; their album "Feel" impressed Mike very much and he highly recommended it to all his fans.
He also likes such bands as "My Chemical Romance", "Bullet For My Valentine", "Paramore" and some Japanese bands as "Art Conceal".
His inspiration is Gary Vaynerchuk, an entrepreneur born in Belarus, who manages VaynerMedia and VaynerX (digital marketing and social media companies), living in the US now.
He once broke his leg while he was doing a front flip off of a wall from a trampoline – he thought he was going to land it, but didn't.
Social media presence
Mike is very active on various social media platforms, as they help him to promote his YouTube channel; thus his Instagram account has over 54,000 subscribers, his Twitter is read by over 62,000 people, and his Facebook page is followed and liked by over 3,000 users. However, the biggest number of his followers is on his YouTube channel, which has amassed over 2.1 million subscribers. His wife Melissa also has an account on Instagram, though it has only 2,200 subscribers; nevertheless, Mike's fans can see a lot of personal and home photos of her and Mike on her profile.
Appearance, clothing style
Mike has naturally brown hair which he has dyed various neon colors since 2016; he likes red and green.
Mike has dark brown eyes, but wears glasses all the time. Mike is 5ft 11ins (1.8 m) and weighs around 176lbs (80kgs) – his vital statistics aren't available. As to his clothing style, he prefers wearing a black beanie on his videos; he also likes wearing plaid shirts, T-shirts and jeans. His favorite shoes are sneakers. He doesn't have any tattoos or piercings, though he thought about it earlier; once he was very close to piercing his lower lip and even bought the ring, but never did it. He also admitted that even his family often ask him when he is going to have a tattoo, but he still doesn't have any ideas for one and doesn't feel he needs it right now, but doesn't exclude the possibility in the future.
Net worth and salary
Mike has made his YouTube channel his main income source. According to authoritative sources, his net worth is estimated to be around $1.2 million – he benefits from his YouTube channel around $19,000 per month. As of 2019, Mike is an official YouTube partner, and pursues his career on this platform.
Source:
IMDb
,
Wikipedia