Esmeralda Pimentel
The Mexican-American model and actress María Esmeralda Pimentel was born on 8th September 1989, in The Bronx, New York City, USA, but grew up in Mexico's Guzmán City. Her father is of Dominican descent and was born in La Vega, whereas her mother is from Jalisco.
Career
Despite being considered a foreigner, Esmeralda participated in the Nuestra Belleza Jalisco beauty pageant, and came in at second place, representing the municipality of Zapotlán. Months later, she competed in Nuestra Belleza México alongside the Nuestra Belleza Jalisco winner, Lupita González. This time, both young women represented Jalisco; Esmeralda won third place, losing out to Elisa Nájera.
At just 19 years old, Esmeralda began modelling for Mexican clothing brands and doing TV commercials. The brunette beauty also joined the Centro de Educación Artística de Televisa (CEA), attended by countless telenovela stars in Mexico, and began studying drama. Two years later, she landed a minor role as Ada in "Verano de amor" thanks to the show's producer, Pedro Damián.
Two years later, Esmeralda played Sandra in an episode of the anthology series "Como dice el dicho". 2012 was a big year for the Bronx native, as she played antagonist Mara Magaña in "Cachito de cielo" and Kenia Jasso Navarro in "Abismo de pasión". The latter telenovela, which was produced by Angelli Nesma and starred David Zepeda and Angelique Boyer, was a huge artistic opportunity for Esmeralda, and is generally considered her acting debut; she would later win a Premio Bravo in the Best New Actress category, thanks to her performance as Kenia.
In 2013, Esmeralda was once again cast as the show's villain in "De que te quiero, te quiero", a Lucero Suárez production starring Juan Diego Covarrubias and Livia Brito. Her role as Diana Mendoza Grajales de Cáceres lasted a year, and was immediately succeeded by a starring role in "El color de la pasión".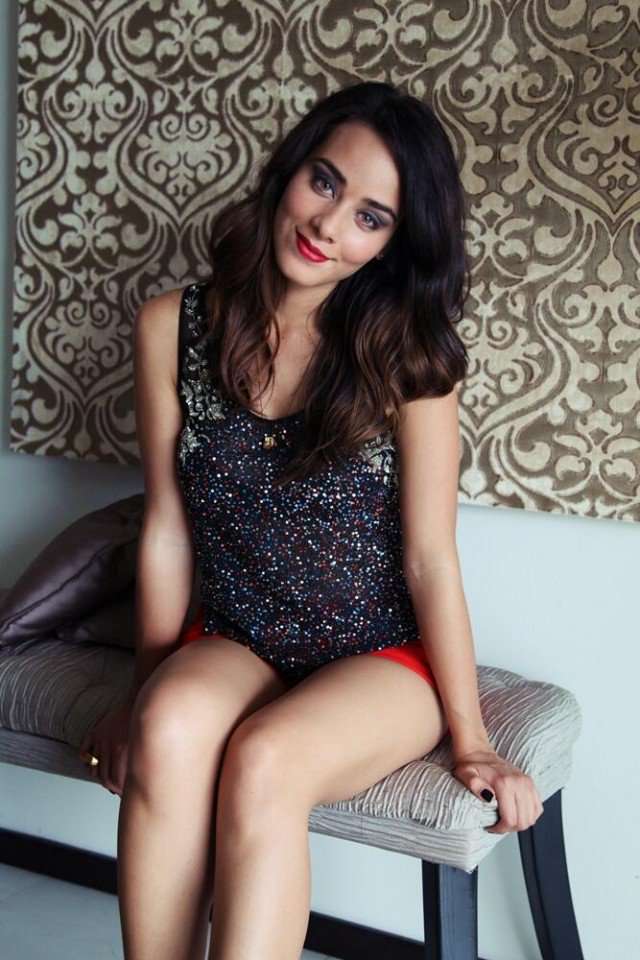 As well as telenovelas, Esmeralda joined the cast of "Gossip Girl Acapulco", which lasted one season; and the comedy series "Cásate conmigo, mi amor,"; and "Nueva vida". However, Esmeralda excelled in telenovelas such as the 2015 Lucero Suárez production "La vecina", in which she had a starring role as Sara Granados Esparza.
Esmeralda and Lucero joined forces yet again in 2017 with the making of "Enamorándome de Ramón", her third starring role, loosely based on the Venezuelan telenovela "Tomasa Tequiero" and had an interesting ensemble cast, mixing new faces with established Mexican actors such as José Ron.
Over the last few years, Esmeralda has had supporting roles in the telenovelas "La bella y la bestia", "La templanza", and "El candidato". Some of her most recent projects are the 2022 telenovela "Donde huebo fuego", in which she plays Olivia Serrano, and the 2023 miniseries "Montecristo". It's important to note that Esmeralda has also had a fledgling film career, with four roles to date.
Part of the reason Esmeralda's career has slowed down in recent years is due to her departure from Televisa, the Mexican TV company that produces most of the country's telenovelas. Like many actors and actresses before her, Esmeralda wished to explore other projects and have more creative freedom. Instead of staying in Mexico, the "Cachito de cielo" star moved to Madrid,Spain in 2022 to try and forge a career in Spanish cinema, which is no easy feat.
Things appear to be going well for Esmeralda in Spain, as she recently presented the Premios Forqué with actor Adrián Lastra and filmed for the upcoming movie "En otro lugar", starring Miguel Ángel Muñoz and Pablo Puyol.
#CINE🎬: ¡¡Recordamos!!
'En otro lugar', con Miguel Ángel Muñoz, Adriana Torrebejano, Esmeralda Pimentel y Pablo Puyol, ya está en cines. Esta comedia romántica está dirigida por Jesús del Cerro. https://t.co/HBJawCw1Iy pic.twitter.com/yYGIh6v10f

— Teleaudiencias (@teleaudiencias) June 9, 2022
Personal Life
Although Esmeralda moved to Spain for work, she also found love with the actor and former footballer Jesús Mosquera, known for his lead role in the series "Toy Boy". The couple haven't shied away from displaying their relationship on social media, and often upload cute photos or videos for their thousands of followers to see: however, they have yet to pose together at a red carpet event, despite attending many premieres and awards ceremonies together.
Jesús was born on 23rd February 1993 in the coastal town of Fuengirola in sunny Málaga, and played central defender at Málaga CF. His football career started at the tender age of 12; four years later, he relocated to the other side of Spain to play on the Athletic Bilbao team. Aged eighteen, Jesús returned to Málaga and was part of Málaga CF's reserve team. Before quitting football, he also played on the Betis B and Antequera teams.
It remains unclear what exactly Jesús did between quitting football and acting, but in any case, the handsome Spaniard was discovered at a gym and auditioned for a small role in "Toy Boy", his breakout show. Despite initially expecting a bit part, Jesús was cast as the lead when producers recognized his "raw potential for stardom".
The Atresmedia series ran for two seasons and followed a young, carefree stripper named Hugo Beltrán (played by Jesús) who wakes up on a sailboat after a night of drunken debauchery – next to the burned corpse of a man believed to be his older lover's husband. After spending seven years behind bars, Hugo is approached by a young lawyer representing a major law firm who offers her help to reopen the case and prove his innocence.
Although many fans of Jesús feared that the COVID-19 pandemic's crippling effect on the Spanish entertainment industry would end the actor's career before it began, they breathed a sigh of relief when he was cast as Carlos Quintana in the 2022 Sky Original series "Il grande gioco". Even if Jesús still has a long way to go, he's certainly making a name for himself, and his high-profile relationship with Esmeralda could come as a much-needed boost to keep his name in headlines between projects.
Esmeralda's net worth is difficult to calculate, as Televisa pays its telenovela actors an average fee of up to $125 per day of shooting, of course, not the case for established stars such as Angelique Boyer, who earns $47,000 a month. For now, we can safely estimate that the gorgeous brunette has a small fortune of close to $1 million – a fortune which could very well grow in the next few months, if her career takes off in Spain.