Who is Mads Lewis?
Mads is an American actress, singer, and social media influencer, who gained fame through her TikTok presence, and her role in the web series "Chicken Girls".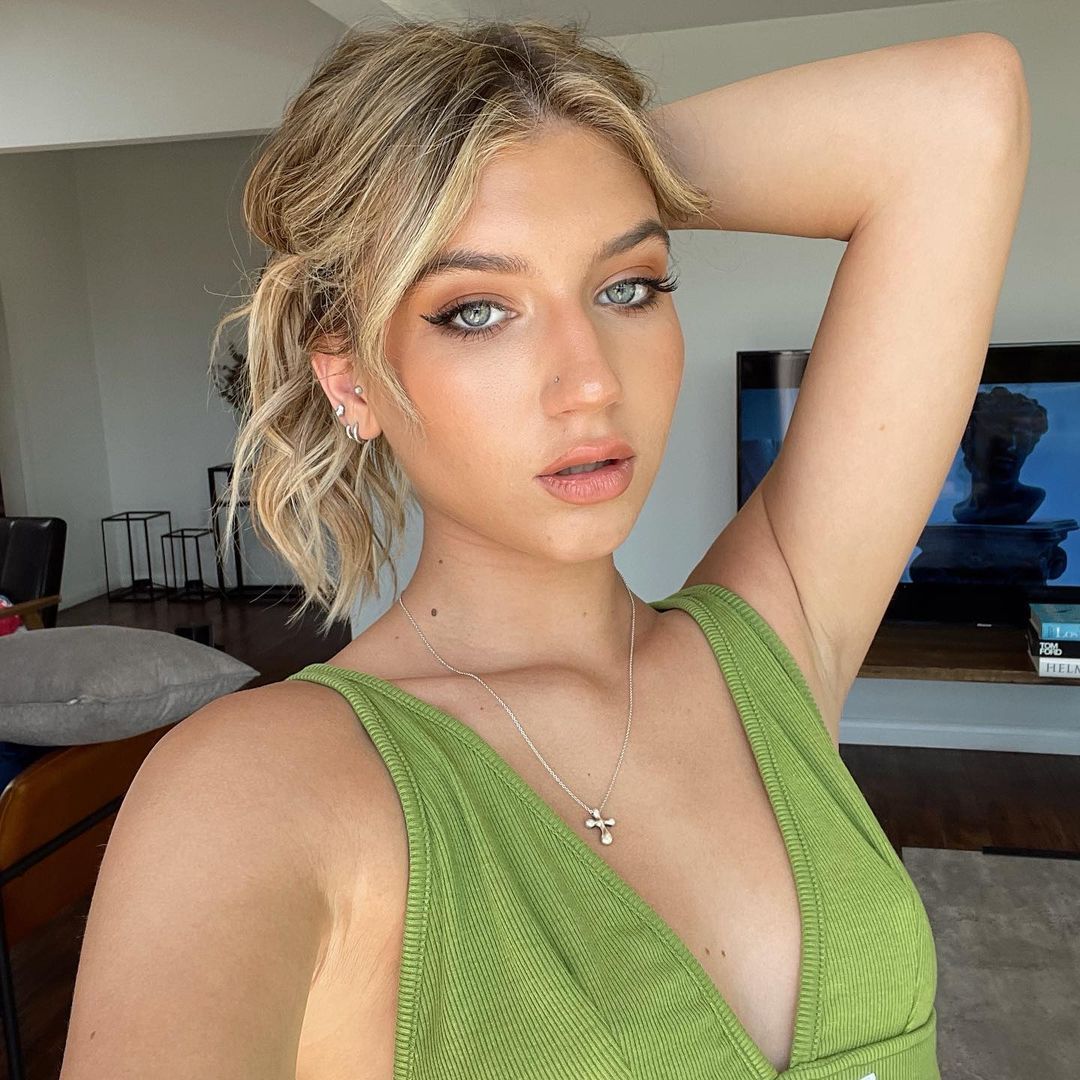 Mads Lewis Wiki: Age, Childhood, and Education
Madison Lewis was born on 24 December 2002, in Phoenix, Arizona, USA, the daughter of Steve and Tiffany Lewis, with her father working in construction and her mother as a fashion designer. Mads Lewis was homeschooled, and grew up with two siblings, her sister Riley and a brother named Dakota.
Social Media Star
Mads Lewis launched her social media career in 2014 by collaborating with her siblings on entertaining videos that they uploaded to Musical.ly. Her popularity steadily grew from there, and as Musical.ly transferred into TikTok, in just a matter of months, she achieved a milestone of one million subscribers on the network. Her fame has consistently grown, now with over 12.6 million TikTok followers, frequently sharing her photos on Instagram on which she boasts more than six million followers.
Acting Career Beginnings
In addition to her success as a social media personality, Mads Lewis is an accomplished actress. Her early online popularity and interest in acting led her to her debut as Lady Maybeline in the film "Alexander IRL", which stars Brent Rivera and Nathan Kress and follows the story of two brothers, Alexander and E.J., who become involved in a series of adventures after a party gone wrong.
Rise to Stardom
The same year, Mads was cast as Birdie in the TV series "Chicken Girls", which features Annie LeBlanc and Hayden Summerall in leading roles. The series centers around a group of friends navigating the challenges of high school, friendships, and relationships; her portrayal of Birdie played a pivotal role in propelling her to stardom as an actress.
The premiere for Chicken Girls the movie was AHHHMAZING. Thank you so much @brat for making the night so special. It was so great seeing all our work come to life on the big screen. Season 3 is going to be 🔥 YOU ALREADY KNOW! pic.twitter.com/K4xLOjoWma

— Mads Lewis (@mads_lewis) June 29, 2018
In 2018, Mads Lewis reprised her role as Birdie in "Chicken Girls: The Movie". The film follows the students at Attaway High, where a new principal enforces strict rules, banning singing and dancing to prioritize studies. However, when the Spring Fling is threatened with cancellation, Rhyme and her friends, including Birdie, work together to overcome the obstacles and ensure the event's return. Birdie's character contributes to the storyline by joining Rhyme and her friends in their efforts to save the Spring Fling, showcasing her dedication to making a difference in the school's atmosphere.
In 2019, Mads contributed to "Intern-in-Chief", a film within the "Chicken Girls" franchise, which features stars such as Jules LeBlanc, Kianna Naomi, and Kennedy Walsh. The plot revolves around Rhyme and Effie, who opt for a change from their usual summer job at the Crown Lake Country Club, seizing the opportunity to work as fashion interns at the high-end magazine "Très Chic". This decision leads to a summer filled with exciting and memorable experiences for them in this "Chicken Girls" spin-off.
Mads Lewis continued her involvement in the franchise with "Chicken Girls: College Years" in 2022. In this TV series, she reprises her role alongside stars such as Indiana Massara and Sterling Monett, delving into the next chapter of Rooney and Birdie's lives as they embark on their college journey.
As the story unfolds, Rooney begins her freshman year at Provincetown, immersing herself in the sorority scene. Meanwhile, Birdie faces financial challenges, discovering that her financial aid won't cover her tuition, leading her to search for a job.
Other Projects
In addition to her work in the "Chicken Girls" franchise, she's appeared in other projects. Mads Lewis played the role of Melissa in one episode of the TV series "Solve" (2019),  which features various stars in different episodes, and revolves around solving mysteries and puzzles in each installment.
In 2022, Lewis appeared in an episode of the TV series "Home Economics", The show explores the relationships between three adult siblings who have significantly different financial circumstances, starring Topher Grace, Jimmy Tatro and Caitlin McGee, with Topher serving as the executive producer of the show as well.
In 2023, Mads portrayed the character Karen in an episode of the crime-drama series "CSI: Vegas", a part of the "CSI: Crime Scene Investigation" universe which began airing in 2021. The series stars William Petersen, Jorja Fox, Paula Newsome and Mandeep Dhillon, and follows the investigative work of the Las Vegas Crime Lab, as they solve complex crime cases through forensic investigations.
To speak further of her accomplishments, Lewis is currently working on the upcoming thriller film entitled "Breed of Greed", which is at the post-production stage. The film is directed by Ralph Hemecker and written by Andrew Boszhardt, Otto Eckstein and Ralph Hemecker – the main stars in the movie include Chelsea Gilligan, Sam Ashby and Adrian Enscoe.
YouTube Stardom
Mads has launched a YouTube channel together with her boyfriend Hayden, and they have more than 480,000 subscribers. Some of their most popular videos have garnered a significant following.
One of their standout videos is "Vlog #1 (LA Jolla)", which has amassed over 20,000 views since its upload, in which they take viewers on a journey to La Jolla, providing an exciting glimpse into their trip and the beautiful locations they explore.
"Vlog #5 (Matching Tattoos)" is another fan favorite with 14,000 views, in which they share their unique tattoo experience.
Their visit to Universal Studios is documented in "Vlog #2", which has garnered 13,000 views, and perfectly captures their adventures at the famous theme park.
Bahamas is the backdrop for "Vlog #4" a video that has attracted 12,000 views. In this vlog, they share their unforgettable Bahamas adventure, giving viewers a taste of the beautiful scenery and experiences they had during their trip.
Net Worth
According to authoritative sources, Mads Lewis's net worth is estimated at $2 million, as of late 2023.
Personal Life, Dating Boyfriend, Single
Mads' dating life has been a topic of public interest. She had an on-and-off relationship with Jaden Hossler (Jxdn), a Sway House alum, which officially ended in the spring of 2021. Their break-up was partially due to Jaden's feelings for Nessa Barrett, his collaborator on "La Di Die".
After her break-up from Jaden, Mads began dating Christian Plourde (Sevryn), another content creator and singer. They kept fans guessing about their relationship for a while, before making it official in 2021. However, they separated in early 2022.
Mads later sparked romance rumors with another Sway House alum, Josh Richards, who coincidentally used to date Nessa. Additionally, she dated gym trainer Kevin Meja for over a year.
As of May 2023, Mads is in a relationship with TikToker Hayden Yezak; they confirmed their relationship through Instagram posts, and creating a joint YouTube channel, making their romance public.
Appearance and Body Measurements
Mads Lewis has blonde hair and blue eyes. She stands at a height of 5ft 7ins (1.7m), weighs approximately 120lbs (55kgs), with vital statistics of 36-24-36, and bra size 33C.