Who is Ila Kreischer?
Ila is the daughter of Bert Kreischer, a well-known comedian, and LeeAnn Kreischer – nee Kemp – an actress and podcast host. Ila has grown up in the heart of Hollywood, navigating the complexities of being in the public eye while also carving out her own identity.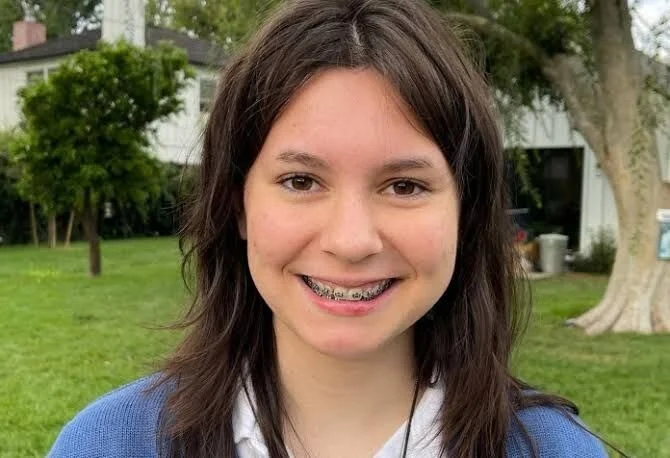 Early Life and Family
Ila was born on 19 July 2006, in Los Angeles, California. Growing up, Ila was surrounded by the glamour that often accompanies the world of showbiz. Her father Bert is a comedian and a phenomenon in the entertainment industry. His stand-up comedy and natural charisma have earned him a spot in the limelight. On the other hand, Ila's mother LeeAnn is an accomplished writer, actress and podcast host.
Ila was named after her late aunt; she suffers from a sensory processing disorder, which makes everyday activities such as putting on socks or brushing teeth difficult for her. Ila is the younger of two Kreischer daughters, her older sister, Georgia was born in 2004. At 19 years old, Georgia is slowly entering the world of show business herself, accompanying her father on his comedy tours, and appearing in his podcast.
Education and Hobbies
Amid the allure of Hollywood, Ila's upbringing was grounded in values that mirrored her parents' success. Attending Walter Reed Middle School, she appears to pursue her studies with diligence and dedication. While her classmates might have been intrigued by her family's fame, Ila's focus remained on her own growth and learning.
Beyond school, Ila is passionate about her creative and athletic pursuits. With a love for painting and an evident affinity for golf, she has a diverse range of interests.
Arrest
In 2022, an incident involving Ila Kreischer attracted significant attention on various online and social media platforms, when on 23 June news broke out that Ila had been arrested. The reason for her apprehension was quite unexpected, especially given her background and the environment she grew up in. She was taken into custody at her all-girls Catholic school for engaging in gambling activities.
The specifics of the incident, such as what kind of gambling was involved or how it was discovered, remained unknown. It was later revealed that Ila wasn't actually arrested, she just received a detention from her school. However, the event still captured the attention of numerous online platforms and social media users.
Bert Kreischer Wiki Bio
Bert Kreischer was born on 3 November 1972, in Tampa, Florida. While his early life was relatively uneventful, his college years at Florida State University (FSU) would set the stage for his future in entertainment. In 1997, while still at FSU, an article published by "Rolling Stone" magazine dubbed him the 'top partyer at the Number One Party School in the country'. This recognition not only made him a local legend, but also caught the attention of Hollywood.
The article served as inspiration for the 2002 movie "Van Wilder", although Bert wasn't directly involved in the film. However, the buzz around his partying reputation provided him with opportunities in stand-up comedy, where he began to hone his craft and develop his unique style, a blend of storytelling, observational humor, and self-deprecation. His ability to connect with audiences through personal anecdotes, often highlighting his wild adventures and family life, quickly made him a favorite on the comedy circuit.
Over the years, Bert has released several comedy specials, including "Comfortably Dumb", "The Machine", "Secret Time", and "Hey Big Boy", each offering a glimpse into different phases of his life, from his carefree bachelor days to the challenges and joys of fatherhood.
Beyond stand-up, Bert has ventured into other areas of entertainment. He hosted the reality show "Hurt Bert" on FX in the early 2000s, in which he took on various daring challenges. He also hosted "Bert the Conqueror" on the Travel Channel, depicting thrilling adventures at amusement parks and other entertainment venues across the US.
In recent years, Bert has become a prominent figure in the podcasting world – "Bertcast", features in-depth interviews with fellow comedians, actors and other personalities. The relaxed and candid nature of the podcast has garnered a dedicated fanbase, further solidifying Bert's position in the entertainment industry.
THE BIG GAME!!!Tomorrow watch the big game with me, Warren Sapp , & Tom Segura -LINK BELOW!!!https://smarturl.it/2Bears1Sapp

Posted by Bert Kreischer on Saturday, February 6, 2021
Additionally, Bert is part of the "2 Bears, 1 Cave" podcast alongside fellow comedian Tom Segura. The duo's chemistry and humorous takes on various topics have made the podcast a must-listen for comedy enthusiasts.
In 2023, arguably Bert's most popular stand-up routine "The Machine", which went viral in 2016, was adapted into a full-length movie. The story follows Bert during a college semester he spent in Russia, where he ended up entangled with the Russian mafia. Aside from Bert, who plays himself, the movie also stars Mark Hamill, Jimmy Tarto and Iva Babić.
Behind the laughs and wild stories, Bert is a dedicated family man. He often incorporates tales of his wife, LeeAnn, and their two daughters Georgia and Ila into his comedy, painting a picture of a loving, albeit unconventional, family life.
Bert's relationship with his family serves as both an inspiration and a grounding force. Despite his larger-than-life persona on stage, his anecdotes about fatherhood and marriage showcase a relatable and endearing side that resonates with many.
As of 2023, Bert's net worth has been estimated at more than $14 million.
LeeAnn Kreischer Wiki Bio
LeeAnn was born on 19 August 1971, in Georgia. She studied Communications at West Georgia College, before moving to New York City to pursue an acting career. As she found herself worn down by 'the Big Apple', LeeAnn would move to Los Angeles, where she met Bert.
Her relationship with Bert is a significant aspect of her public persona. The couple's love story is both heartwarming and filled with humorous anecdotes. The couple met at a bowling alley, and dated for about a year before they 'eloped'. They've been married for over two decades, tying the knot in 2003.
Following her first pregnancy, LeeAnn gave up on acting to focus on motherhood. However, she never fully left Hollywood, as she transitioned into screenwriting, and also served as a producer for several of Bert's comedy specials; he often gives a lot of credit to LeeAnn for helping him build such a successful career.
LeeAnn has also made a name for herself in the entertainment industry through her podcast, "Wife of the Party", which delves into a range of topics, from family life and parenting challenges, to personal growth and interviews with fellow comedians and personalities.
"Wife of the Party" showcases LeeAnn's talent for storytelling, her insightful perspectives, and her ability to connect with listeners on a personal level.
LeeAnn is also actively involved in charity work and community service, and often uses her platform to raise awareness about various causes, and to rally support for those in need. Her genuine desire to make a difference and give back to the community is evident in her initiatives and collaborations.
LeeAnn is a woman of diverse interests. From her love of reading and literature, to her passion for cooking and home projects, she embodies a multifaceted personality. These interests not only provide a balance to her life, but also offer content for her podcast and social media, in which she often shares recipes, book recommendations, and DIY projects.
As of October 2023, her net worth has been estimated at over $1.7 million.