• Jesse Bongiovi is a winemaker and entrepreneur, son of Jon Bon Jovi
• He attended University of Notre Dame and graduated with a degree in political science and business economics in 2017.
• He is currently in a relationship with an American woman and is yet to marry.
• He is a lover of animals, enjoys sports and travelling and watching movies.
• His father Jon Bon Jovi is an American singer-songwriter, guitarist and actor, who has released 15 studio albums and is a philanthropist.
 
Who is Jesse Bongiovi?
Jesse James Louis Bongiovi was born in Los Angeles, California USA, on 19 February 1995 – his zodiac sign is Aquarius, and he holds American nationality. He's a winemaker and entrepreneur, while he's probably only widely known for being a son of Jon Bon Jovi, a famous American singer-songwriter, guitarist and actor.
Early life and education
Jesse was raised in Los Angeles alongside his older sister Stephanie Rose and younger brothers Jacob Hurley and Romeo Jon, by their father and their mother Dorothea Hurley who holds a 4th-degree black belt in karate; Jon Bon Jovi and Dorothea met while attending the same high school, and married on 29 April 1989.
Jesse was mostly interested in football while attending high school – he played for his school's team and was amongst the best players there, and was interested in a couple of other activities during his teenage years, including acting with his school's drama club, dancing and singing.
Upon matriculating in 2013, Jesse enrolled at University of Notre Dame's College of Arts and Letters in Indiana on a football scholarship; he graduated with a Bachelor's degree in political science and business economics in 2017.
Jesse's career
Jesse hasn't shared many details concerning his career with the public, but it's known that he has become a winemaker, and often promotes his wine Hampton Water Rosé on his social media accounts.
It was believed that he would pursue a football career upon graduation, but after his wine business turned out to be more successful than he expected, he chose to dedicate his time solely to that business.
One can say that Jesse's also an Instagram star, as he's followed by close to 55,000 people on the network, and has uploaded nearly 100 pictures, the majority of which feature him during his everyday life.
Love life and relationships
Jesse prefers to keep the details of his love life to himself, but has still allowed his fans to have a glimpse into it.
Although there are rumors circulating the internet claiming that Jesse's gay, it's widely known that he's today in a relationship with a non-celebrity American lady who can be seen featured in many of his Instagram pictures.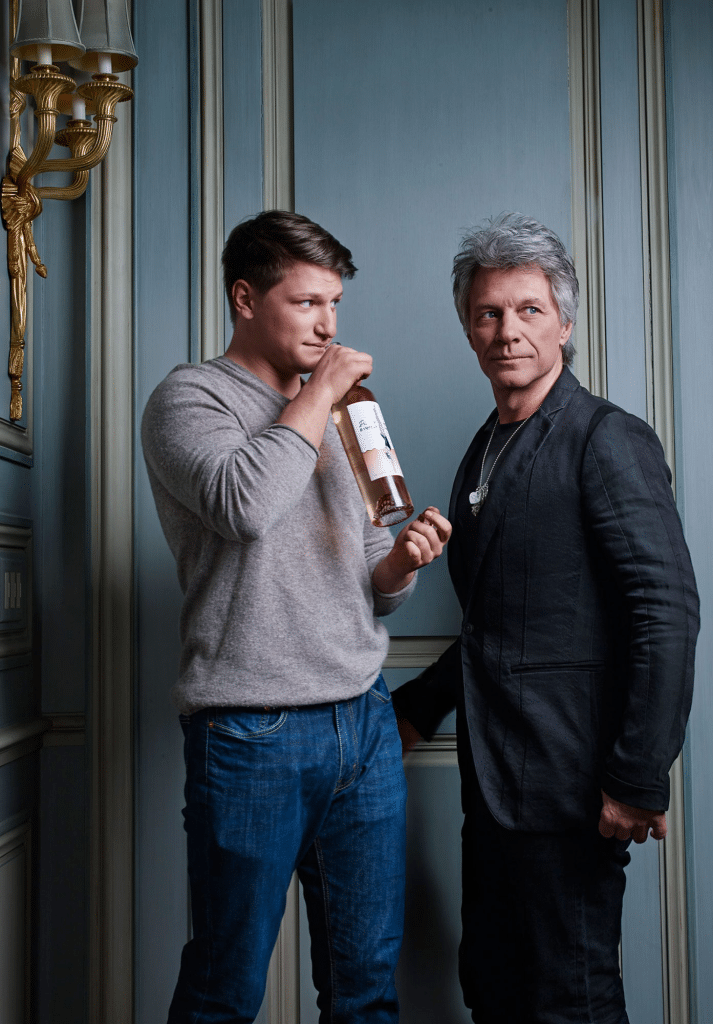 The two often go partying together, and also enjoy taking part in various other activities such as skiing and snowboarding during winter, and going yachting in the summer.
A couple of Jesse's fans have claimed that he and the mysterious woman have perhaps exchanged vows, but this hasn't been confirmed.
As of May 2022, Jesse's in a relationship, hasn't married and doesn't have children.
Hobbies and other interests
Jesse's physically quite active, and has multiple training sessions at the gym every week, while he's also following a strict diet; he plays various sports with his friends in his spare time, with his favorite being soccer.
He's passionate about travelling and has been to several US states for both work and pleasure, while it's said that Jesse has travelled to Italy on multiple occasions, wanting to learn more about how they make wine there.
He's a lover of animals, and has a pet dog.
Jesse loves to watch football and baseball, and has attended many live National Football League (NFL) and Major League Baseball (MLB) games.
He's also into watching movies in his spare time – his favorite actor and actress are Al Pacino and Helena Bonham Carter, while a couple of his favorite films include "Scent of a Woman", the trilogy "The Godfather" and "Fight Club".
Age, height and net worth
Jesse's age is 27. He has short brown hair and brown eyes, his height is 5ft 8ins (1.75m) and he weighs around 155lbs (70kgs).
As of May 2022, his net worth has been estimated at over $1 million, while his father Jon Bon Jovi's net worth stands at more than $400 million.
Who is his father Jon Bon Jovi?
John Francis Bongiovi Jr. was born in Perth Amboy, New Jersey USA, on 2 March 1962 – his zodiac sign is Pisces, and he holds American nationality. He and his band Bon Jovi, have released 15 studio albums, while Jon Bon Jovi has also released two solo albums. He also has more than 100 acting credits, which include appearances in his own music videos.
Jon Bon Jovi was raised in Perth Amboy alongside his brothers Matthew and Anthony, by their mother Carol (nee Sharkey) who was a Playboy Bunny prior to becoming a florist, and their Italian-American father John Francis Bongiovi Sr. who was a US Marine (Carol was also once a Marine). Jon Bon Jovi spent his summers with his grandparents in Erie, Pennsylvania, and made money by selling newspapers. He studied at St. Joseph High School in Metuchen, New Jersey prior to transferring to Sayreville War Memorial High School, from which he matriculated with a in 1980; there's no record of his going on to college.
He was 13 years old when he joined his first band, Raze as a guitarist, and was 16 when he and American musician David Bryan formed Atlantic City Expressway; Jon Bon Jovi then became the frontman of John Bongiovi and the Wild Ones, and they performed together in various clubs around New Jersey.
It was in March 1983 that Bon Jovi was formed, initially comprising Jon Bon Jovi, David Bryan, Tico Torres and Alec John Such, while Richie Sambora joined not long afterwards. They became famous after the release of their third album "Slippery When Wet" on 18 August 1986, which has since sold more than 30 million copies worldwide; its singles "Livin' on a Prayer" and "You Give Love a Bad Name" both topped the Top 10 Singles Chart.
The band Bon Jovi has become one of the best-selling US rock 'n' roll bands, having sold more than 100 million records around the world, as they've released 14 studio, three live and five compilation albums; in 2006, they were inducted into the UK Music Hall of Fame, and then into the US Rock 'n' Roll Hall of Fame in 2018.
Jon Bon Jovi released his debut solo album "Blaze of Glory" in 1990, and its eponymous lead single topped the Billboard Hot 100 Chart, and won Jon Bon Jovi a Golden Globe Award. He released his second album "Destination Anywhere" in 1997, and then chose to focus on his band Bon Jovi and collaborations with other artists, rather than on his solo career.
He has many acting credits, mostly playing extras and supporting characters. A couple of popular movies in which Jon Bon Jovi has appeared include the 1995 comedy "Moonlight and Valentino", the 1998 drama "No Looking Back", and the 2006 comedy "National Lampoon's Pucked"; he has also made a guest appearance in an episode of various hit series, such as the romantic comedy drama "Sex and the City", the political drama "The West Wing", and the comedy drama "Las Vegas".
He's a philanthropist, and founded The Jon Bon Jovi Soul Foundation in 2006, mostly focused on helping homeless people. Jon Bon Jovi opened his JBJ Soul Kitchen on 19 October 2011, and it provides food for those who might not be able to afford it.