• Katie Beasley is a 30-year-old Caucasian journalist, television host and news reporter.
• She is best known for her position as the traffic reporter in FOX 5's "Good Day Atlanta".
• She graduated magna cum laude with a Bachelor of Arts degree in broadcast news journalism in 201•
• She is married to John Milliner and the couple have two children.
• Her estimated net worth is close to $400,000.

Known for movies

Who is Katie Beasley?
Born under the sign of Aries on the 13th of April 1989, in Canton, Georgia USA, Katie Beasley is a 30-year-old Caucasian journalist, television host and news reporter. She is perhaps best known to the world for her significant presence on the TV screen and across news outlets due to the nature of her work, most notably as the traffic reporter in FOX 5's "Good Day Atlanta" at 4:30 AM. She's also had a number of other successes over the course of her sometimes lucrative journalism career since 2011.
Early Life and Education: Growing up in Georgia
Katie was raised in her birthplace by her father David Beasley and her mother Tammy Beasley, both of still unknown professions. She has two younger siblings, a sister called Kelly Beasley and a brother named Davis Beasley, who unfortunately passed away when he suicided in 2016. When it comes to her earliest interests, there isn't much information across authoritative sources that could clarify specifics about this part of her life, though she is believed to have harbored a passion for journalism.
As for her education, she first attended Creekview Middle School and High School in her birthplace, from where she matriculated in 2007. One interesting fact regarding this period is that she entered high school as an almost certified journalist, having hosted her middle school's news during her time there. She then decided to further her studies by enrolling into the University of Georgia, from where she graduated magna cum laude with a Bachelor of Arts degree in broadcast news journalism in 2011.
Career: A swift limelight
Unlike most journalists, Katie didn't take too long to obtain significant fame in her line of work. While a good majority of her colleagues tend to change their job at least three to four times before hitting the jackpot, she only had to do it once. Upon finishing college, she obtained the co-anchor position in News 12's "First at 5" TV program in Augusta, Georgia, then later she also became the lead reporter and a photojournalist for the same channel. While there, she obtained several awards for journalism, such as three Georgia Association of Broadcasters Awards, a Georgia Association of Broadcasters Merit Award, and a Georgia Associated Press Award.
She was eventually offered a position at FOX 5 in the second half of 2012, and starting in January 2013, she began reporting on traffic at 4:30 AM for the news outlet in "Good Day Atlanta". Once she made a name for herself on the channel, she also received her very own "SKYFOX Traffic", which lasts all morning and allows the viewers to keep a constant eye on Georgia's traffic. This is the position she has today as well, and she has thus far not expressed any plans about changing the media outlet she works for.
Love Life: Her wedding and daughter
As for her romantic involvements prior to the current one, there is almost no information across all of the credible sources that could accurately describe this part of her life. That said, it is public knowledge that Katie married her long-term boyfriend, her college sweetheart in fact, named John Milliner. The two are thought to have dated for at least four years prior to their private ceremony at an unspecified location on the 25th of May 2013. Together, they have two children, a daughter named Ava James, who was born on the 5th of October 2015 in Forsyth County, and a son named Cole who was born in November 2018. Thus far, there has been no controversy surrounding their union, and the family apparently resides happily together in Atlanta.
Changed by loss
Katie's aforementioned brother is sadly no longer with her, because he took his own life in late November 2016. As can be read here, Katie stated that one can never be too sure about the mental health of their loved ones, saying 'He was a free spirit and I was always kind of jealous of that mindset. I felt like he didn't have a single worry in the world and looking back, I couldn't have been more wrong.' Ever since the day of the tragedy, Katie has been a staunch supporter of mental health awareness information, and is extremely dedicated to doing her utmost towards the goal of saving as many depressed Americans as possible.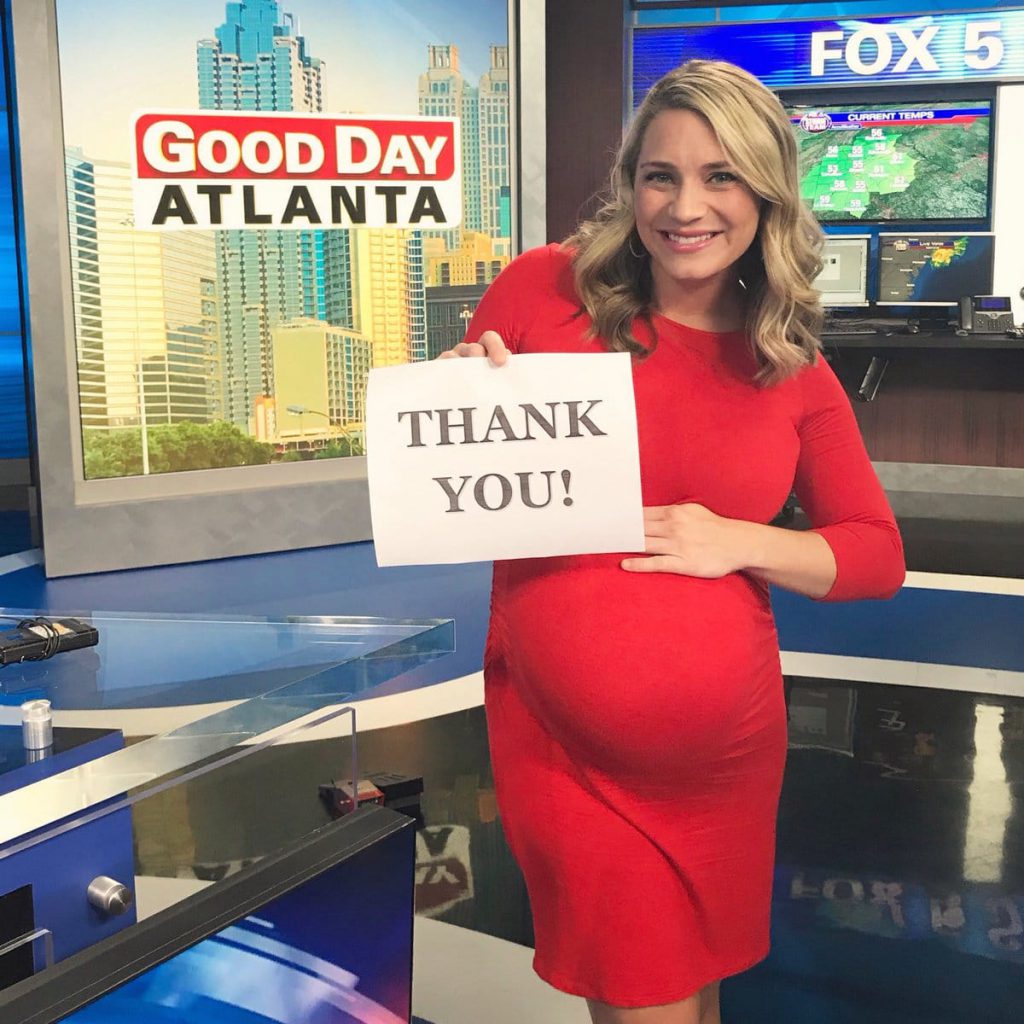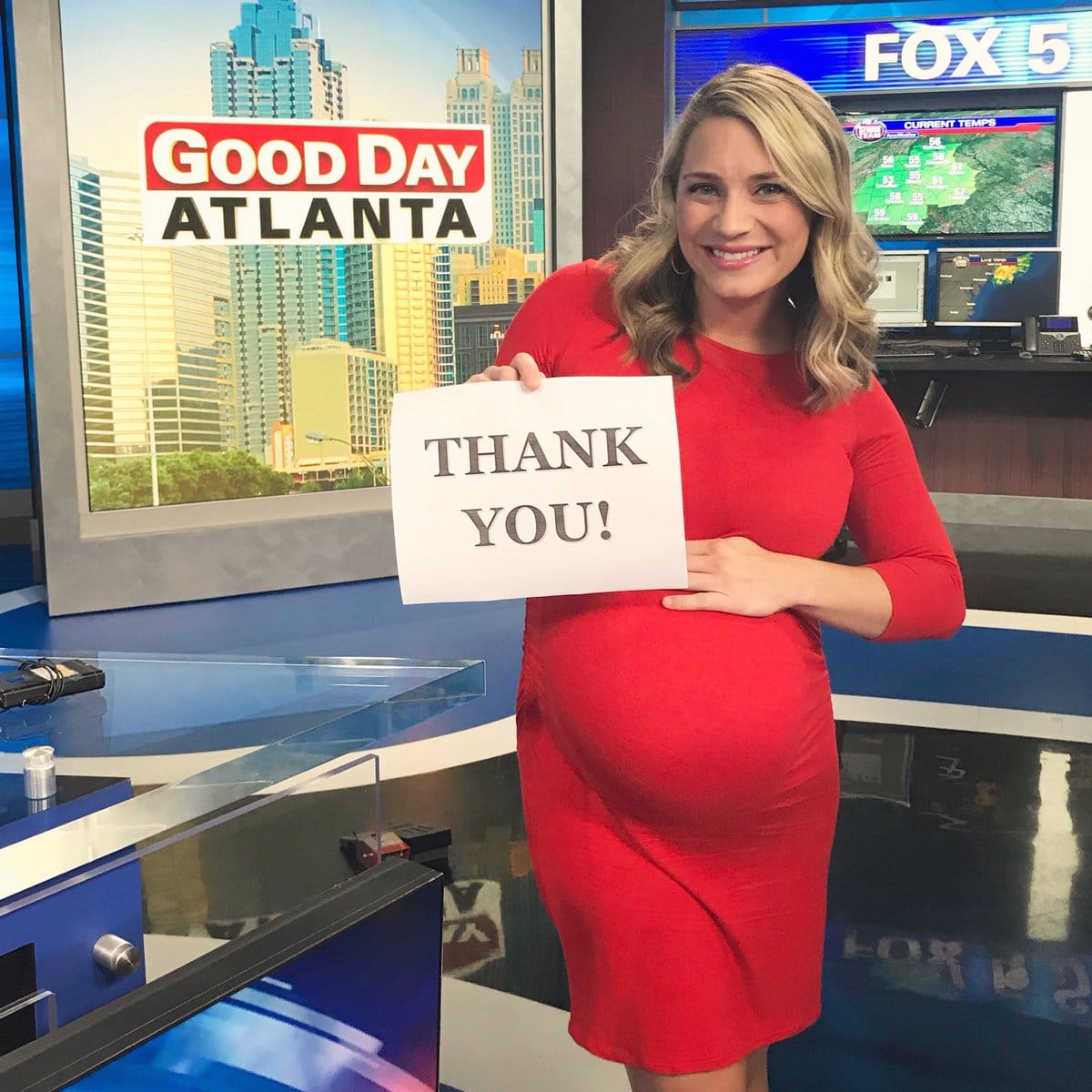 What is Katie Beasley's Net Worth?
Have you ever wondered how rich Katie Beasley is, as of early 2019? According to various authoritative sources, it has been estimated that the total of Katie's accumulated wealth is close to $400,000. She made her fortune by lending her journalistic expertise to a few media outlets over the course of her career, most prominently to FOX 5 as the traffic reporter for "Good Day Atlanta" at 4:30 AM. Seeing as her career is continuing oh develop, the said amount is bound to grow in the years to come.
Body Measurements
When it comes to her physical specifications, there is at the moment not enough information across credible sources to verify her exact height, weight, clothing sizes and vital statistics, but her body shape is generally described as fit. However, it is known that Katie's hair is light blond, as well as that her eyes are light blue and her complexion mostly has a rather bright tone.
Good Morning! Happy Tuesday. I don't drink coffee every day…but today I need it. ?? And my coffee is basically a vanilla milkshake K-cup. I just can't do black coffee. ?? pic.twitter.com/Dd1kJ10T8c

— Katie Beasley (@KatieBFOX5) February 5, 2019
Facts
Movies
Miscellaneous
| Title | Year | Status | Character |
| --- | --- | --- | --- |
| Jack Dee Live at the Apollo | 2010-2011 | TV Series production coordinator - 6 episodes | |
| Dara O'Briain: This Is the Show | 2010 | Video documentary production co-ordinator | |
| Sean Lock: Lockipedia Live | 2010 | Video documentary production coordinator | |
| Michael McIntyre's Comedy Roadshow | 2010 | TV Series production coordinator - 6 episodes | |
| Edinburgh Comedy Fest Live | 2010 | TV Series production coordinator - 2 episodes | |
| Dinner Date | 2010 | TV Series production coordinator - 1 episode | |
| University Challenge | 2007 | TV Series production secretary - 1 episode | |
| Punch | 2004 | Short production coordinator | |
Source:
IMDb
,
Wikipedia