• Micah Materre is a news anchor and reporter for the WGN TV station.
• She is originally from Chicago, USA and graduated from Drake University with a Bachelor's in Journalism.
• Her father Louis was the owner of paint stores and fought in the Korean War.
• She has two children with her husband Kelvin Michael Jackson and has won an Emmy award.
• She is active on a variety of social media platforms, including Twitter, Instagram, and Facebook.
 
Who is Micah Materre?
Micah was born in Chicago, USA on 9 November 1962, so under the zodiac sign of Scorpio and holding American nationality. Micah came under the spotlight when she began working as a reporter and news anchor for the WGN TV station.
Hey, join us in 5 minutes for the WGN News. On early tonight @8:00. My flour power story airs is on!! Find out why YOU should be eating whole grain!!!

Posted by Micah Materre on Wednesday, November 23, 2016
Early life and education
Micah spent her entire childhood in Chicago with her parents Louis and Vera Jeanne Bradley – her mother worked as a school administrator while her father owned paint shops before he became an insurance broker.
Micah's passion towards journalism became larger as she grew older, and after she matriculated from a local high school, she went on to attend Drake University and graduated four years later with a bachelor's degree in journalism.
Louis Materre, Micah's father
Louis was the owner of very popular paint stores located on the South Side of Chicago – he ran the stores for almost 30 years before he sold them and changed his profession to insurance, launching his own Materre Insurance Agency and running it for over 20 years. Louis died in April 2018 at the age of 91 – 'he had this way about him, this great personality, and people just loved 'Big Louie.' You could talk to him about everything, because there was no subject he didn't know something about', Micah spoke about him.
Louis fought in the Korean War from 1952 to 1954 when he was discharged and awarded the Korean Service Medal with two bronze service stars for his service in the Army. He met his wife Vera Jeanne in 1960, six years after leaving the Army – they immediately fell for each other and exchanged their vows just six months later.
He decided to retire in 1988, and then spent his time listening to jazz music, playing golf and travelling a bit – the winters in Vegas playing golf with his friends Johnny Pate and Joe Williams who are both jazz legends – 'he loved golf, he loved the game so much you could find him on the links in March with remnants of snow still on the ground. He could put together an awesome foursome that were a force to be reckoned with. But his favorite times on the course were with his sons and his daughter', Micah stated.
Louis left beautiful memories to Micah, her two brothers Louis Jr. and Daryl F., and her sister Gloria L.
family..precious. pic.twitter.com/cmmiPPiF55

— micah materre (@mmaterre) July 7, 2015
Career in the broadcasting industry
Micah was ready to start her career in 1983 when she began working for WBEZ radio in Chicago as their radio broadcaster – she stayed with the station for over five years before moving to WJBK TV station based in Detroit. She worked for the station as their chief anchor and general assignment reporter which was her first job in the field, and where she wanted to be. She worked for the station for more than eight years – then she was hired by WGN TV station in January 1998 and worked as their "Morning News" show anchor. and their medical reporter. She was promoted to co-anchor the WGN "Midday News" in January 2003, and later became an anchor of their "News at Nine" in 2009.
Micah won an Emmy Award in 2014 in the "Chicago Midwest" category, while she is also the winner of the Trailblazer Award, which she received in 2018 for supporting the success of women – she dedicated the award to all the strong women in the broadcasting industry. Her personal favorite story which she covered during her career was the beginning of Barack Obama's first presidency.
To honor her success and her skills, Micah has been featured in numerous magazines including the "New York Times Magazine", "Glamour", "Good Housekeeping", "Today's Chicago Woman", "Michigan Avenue Magazine", and many others.
Other interests
Other than being an anchor and a reporter, Micah is also working as a commentator, and as an honorary chairperson to multiple organizations throughout Chicago. She is one of the members of the Board of Directors of the Chicago Children's Choir while she's also part of the Tutoring Chicago's Advisory Board. The National Association of Black Journalists, Alpha Kappa Alpha Sorority Incorporated and Links Incorporated are all civic organizations of which Micah is a member.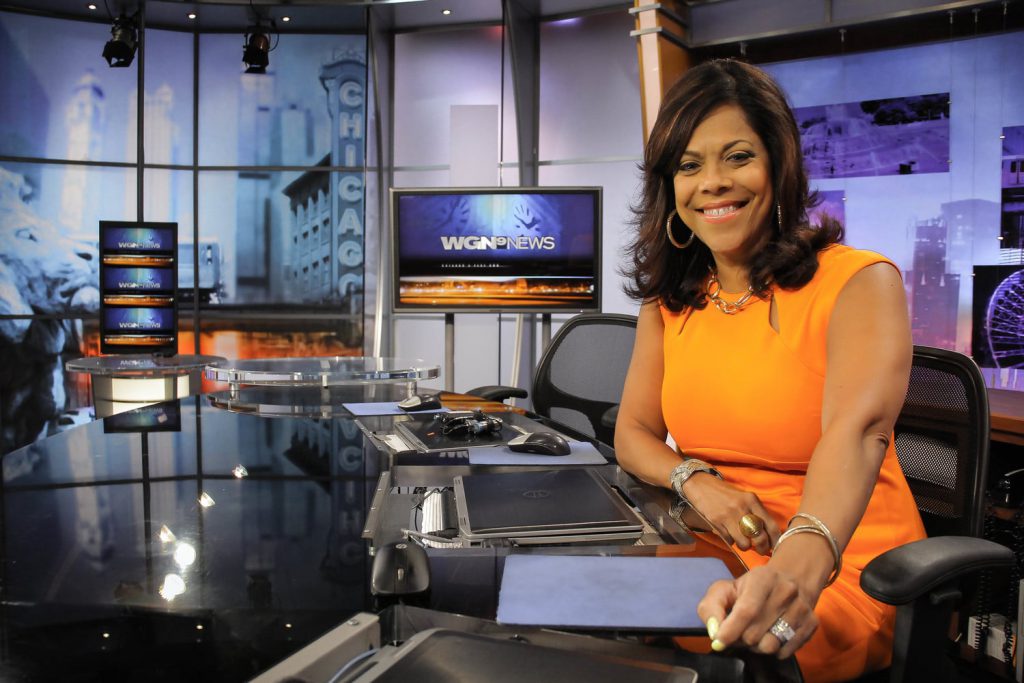 The hardest part of her job
During an interview with "matermea", Micah explained what the hardest part of her job is  balancing the hours, as she wants to be the best parent she can be to her children – 'I'm trying to juggle my schedule around their schedules. I want to be there because I don't want them to have an absentee mother or father.'
Personal life
Micah is a married woman who exchanged her vows with Kelvin Michael Jackson – they became engaged in June 1995 and married in the same month. The couple has two kids together, a daughter Louise and a son McKenzie who are both left-handed, as is their father. Kelvin graduated from Wayne State University, and currently works as a photographer and an editor for WJBK TV station.
Appearance and net worth
Micah is currently 56 years old. She has long brown hair and brown eyes, is 5ft 6in (1.68m) tall and weighs around 121lb (55kg).
According to authoritative sources, Micah's current net worth is estimated to be over $1 million while it is said that an average salary of a news anchor and reporter in the US is around $60,000 per year.
Fun Fact
Although she is not an actress, Micah appeared as a news reporter in the "Low High" short mystery movie shot in 2017.
Social media presence
Micah is quite active on several social media platforms, which amazes some people who don't understand how she manages to keep up with everything – she launched her Twitter account in September 2012 and has so far gathered over 2,200 followers and tweeted nearly 2,000 times. Her Instagram account is followed by nearly 800 people, while she's uploaded only 11 pictures so far – she has a Facebook page as well which is followed by nearly 7,000 people.
Source:
IMDb
,
Wikipedia