• Olwen Kelly is an Irish model, actress and yoga enthusiast.
• She is best known for her role in "The Autopsy of Jane Doe", a horror film in which she portrayed a corpse.
• Olwen started her career as a model before transitioning to acting in Hollywood.
• She is in a relationship with an unnamed partner and they live together in London.
• Olwen has a net worth of around $500,000 as of mid-2019.
 
Who is Olwen Kelly?
Olwen Kelly is an Irish model, actress and yoga enthusiast. She is best known for her role in "The Autopsy of Jane Doe", a horror film in which she portrayed a corpse.
Olwen Kelly Age, Early Life, Family, and Education Background
Olwen Catherine Kelly was born in 1988 in Dublin, Ireland, so Irish by nationality and belonging to Caucasian ethnicity; Olwen's exact date of birth is not known. Her parents brought her up alongside her four siblings, three brothers and a sister. She has neither shared the names of her parents and siblings, nor their professions as she chooses to keep such details to herself.
https://www.instagram.com/p/BynSmMllGJL/
Olwen developed an interest in acting from a tender age. Regarding her education, Olwen was not art-inclined at first while in school, and in fact for her tertiary education, she attended the NUI Maynooth College where she studied Science.
Olwen Kelly Professional Career and Rise to Stardom
Immediately after graduating Kelly relocated to London in 2012, with the sole intention of pursuing a career in the entertainment industry. Armed with the looks, Kelly started her career as a model signed to the Dublin Model Agency. She made a name for herself in the modeling industry, appearing in various publications, campaigns, and advertisements for top brands such as Next, Maxx, and TK among others.
After working for a few years in the modeling industry, Kelly decided to try her luck in the acting world, and switched to Hollywood, where she made her acting debut in 2014 appearing in the movie "Darkness on the Edge of Town". Two years later, she was at it again, this time appearing in the series "Why Life Sucks When You're in Your 20's: It's Contagious".
It was the same year that Olwen' breakthrough finally came, when she got the role of the cadaver in "The Autopsy of Jane Doe".
The storyline follows the tale of father and son coroners, who are faced with horrors for dissecting the corpse of an unknown woman. This role saw Olwen rise to stardom, for her prowess to stay still for hours on end while filming. The movie became a commercial success, with Olwen getting international recognition for executing her corpse role perfectly.
When asked how she could manage to stay perfectly still for sometimes eight straight hours every day, Olwen said that she had been practicing meditation and yoga relentlessly which helped a lot. She has followed this huge success with other projects, the most recent ones being in 2018 when she featured in "Winter Ridge" and "The Obscure Life of the Grand Duke of Corsica".
Although Olwen is not among the most famous actresses, her career received a boost when she appeared in "The Autopsy of Jane Doe", and she seems to be headed for more success in her acting career.
Olwen Kelly Personal Life, Married or Dating, and Children
Olwen is among those people who like keeping their personal and professional lives separate. However, it is known that she has never been married, but is currently in a relationship with her boyfriend whose name she has not yet disclosed.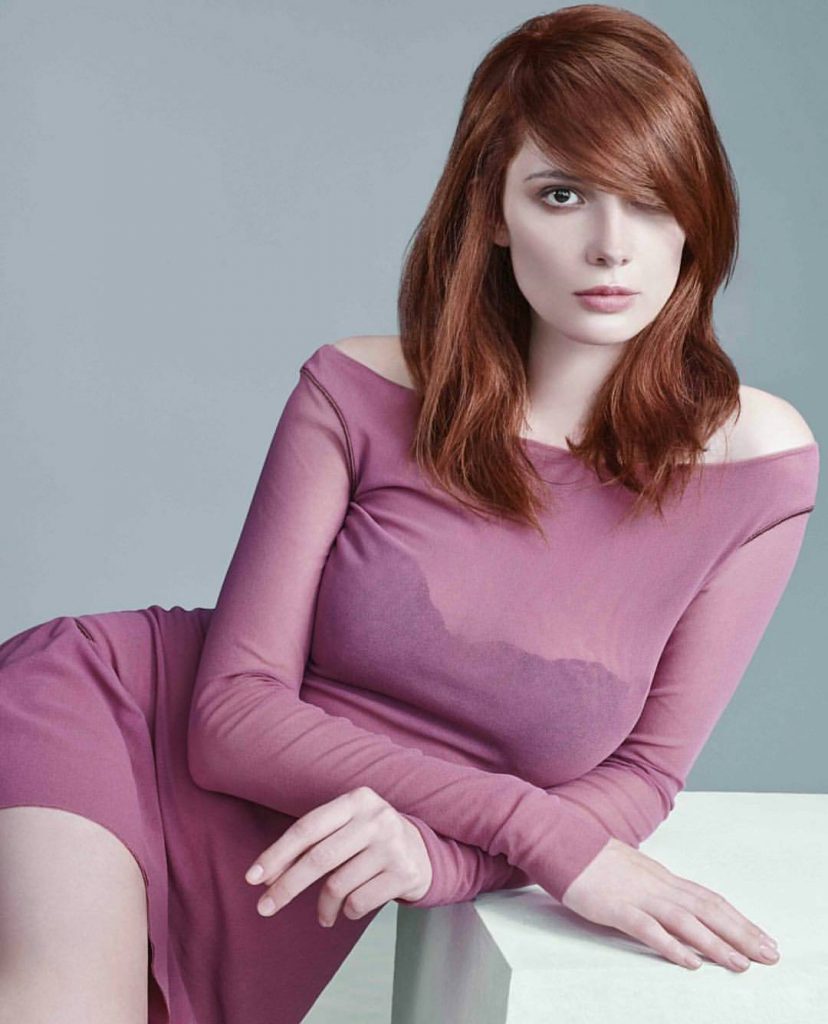 According to Olwen, she met her mysterious boyfriend in London, in a Hackney dive bar called The Dolphin while having a drink. The couple has been dating for some time now. His identity might come to the limelight when the lovebirds decide to tie the knot. The couple lives together in London; Olwen is of straight sexual orientation and has no children yet.
When she is not shooting for a movie or honoring her modeling gigs, Olwen loves traveling. She also enjoys spending quality time with her family and friends. Olwen also posts a lot of photos on her social media pages, though they are rarely of her boyfriend. Olwen is also an animal lover, and owns a cockapoo dog.
Some Interesting Facts about Olwen Kelly
Here are some quick facts about Olwen Kelly.
She started out as a model: although she always wanted to be an actress, she was not lucky enough to land an acting role immediately after college. She started out as a shop attendant in a retail shop while trying to make ends meet. However, her great physical features helped her to start earning above the minimum wage as a model. Although she has now made her impression on the acting industry, Olwen still accepts modeling gigs.
#AboutLastNight Harry Potter and the Chamber of Secrets with @RoyalPhilSoc @RoyalAlbertHall was amazing. Highly recommended. @jk_rowling #snapeforlife #RoyalAlbertHall #JKRowling pic.twitter.com/BUjhPu9tqp

— OlwenCatherineKelly (@OlwenCatherine) April 28, 2018
She is the eldest child in her family, the firstborn of five children. With all the responsibilities that fall on first children, Olwen must have been very courageous to choose a career in the creative industry, even when she knew that income was not guaranteed.
She got a unique breakout role: for most actors, their huge moments are often associated with dramatic roles that normally require them to play a living person. However, this was not the case for Olwen, as her breakout role involved her laying still throughout the entire shoot and not speaking to her fans. Talk of winning in silence!
She isn't the only creative person in her family: although Olwen has managed to keep details of her family under wraps, it is known that her mother was a singer back in the '80s and early '90s, so from whom she could have inherited her creative gene.
Olwen Kelly Body Measurements and Features
Olwen is 5ft 9ins (1.79m) tall and has a well-maintained body of average weight, and vital statistics of 34-24-36 inches. Her eyes are dark brown while her hair color is red.
How Much is Olwen Kelly's Net Worth?
Olwen has managed to accumulate a good amount of net worth working as a model and an actress, and although she has not been acting for many years, her career looks bright. Authoritative sources estimate Olwen Kelly's net worth to be around $500,000 as of mid-2019.
Source:
IMDb
,
Wikipedia