Who is Sam Frank?
American social media star and model Samantha 'Sam' Frank was born under the zodiac sign Aries on 5 April 2003, on Long Island, New York State USA. She's today popular on various social media networks, including on the video sharing service YouTube; Sam launched her self-titled channel on 14 May 2014, and it's today subscribed to by more than 75,000 people, while all her 91 videos combined have been watched over 10 million times. She mostly posts shorts, as her account numbers only two normal-length videos; most of Sam's content features her taking on various internet challenges, working out at the gym, and travelling around the US.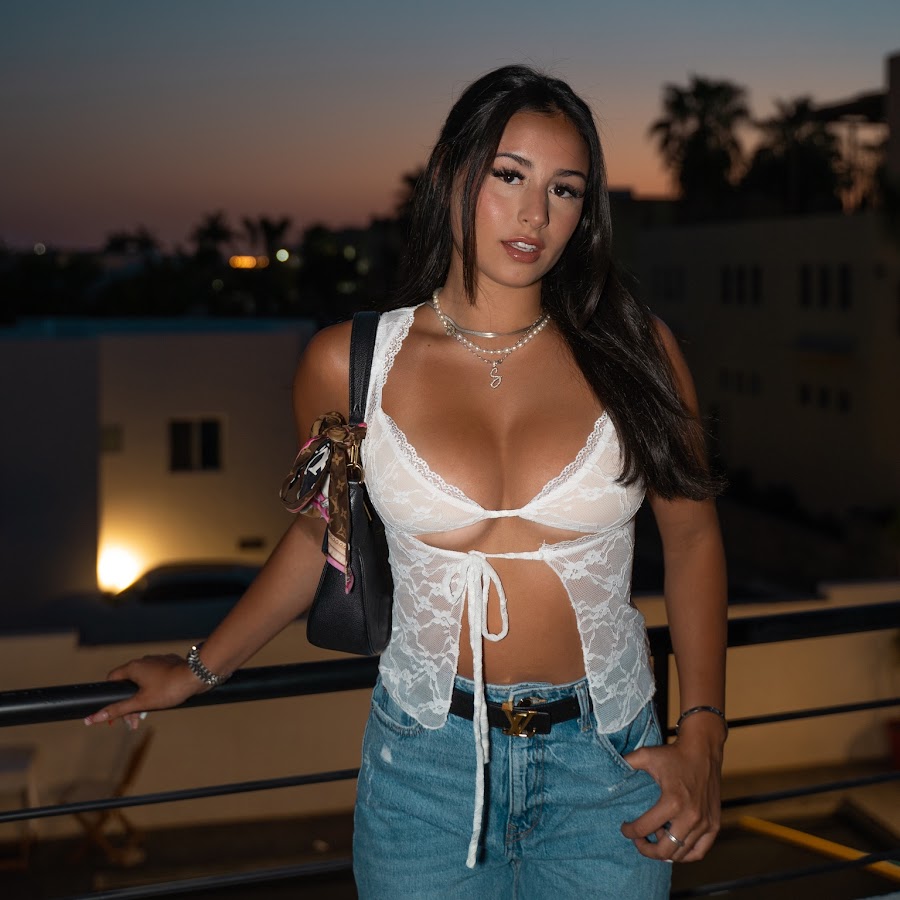 Education and early life
Sam was raised on Long Island by her mother and father about whom she's yet to speak in public; it's believed that her parents are dissatisfied with her career on the internet, and that Sam's not on good terms with them because of this, however, she's yet to address these rumors. She has six half-siblings.
Sam studied at a local high school on Long Island and it was during her four years there that she became passionate about dancing; she was a member of the school's cheerleading squad ,and they attended several national cheerleading competitions. Sam was also into acting, appearing in a couple of school plays, and she enjoyed playing tennis and volleyball with her peers.
She matriculated in 2021, and then focused on her career on the internet rather than enrolling at college.
Most watched YouTube videos
Sam's perhaps mostly popular on YouTube for the videos in which she's showing off her slim figure, as well as her large breasts and buttocks, and her fans also seems to like her for her sense of humor, for sharing the details of her everyday life with them, and for giving them advice on working out and dieting. We'll cover three of the most popular videos amongst these, as they've helped Sam expand her fanbase on the internet.
Her most popular video "putting myself to the test…" has been watched over 4.6 million times since 10 August 2023, and numbers nearly 180,000 likes; it features Sam trying to live without her phone, which she only managed to do for two hours.
Her second most popular video "Putting Starbucks to the Test…" has been watched over 1.7 million times since 9 August 2023 and numbers nearly 80,000 likes; it features Sam going to several Starbucks shops, just to see if they will spell her name correctly on their coffee cups.
Sam's #3 most viewed video "I Wasn't Expecting That" has been watched over 1.3 million times since 1 August 2023, and has amassed over 55,000 likes; it features her being interviewed about the interviewer's best friend, whom Sam finds hot.
Presence on the internet
Sam's active on a number of social media networks and these are today her main source of income. Her main Instagram account's followed by over 700,000 people, and she's posted nearly 200 pictures and videos onto it, most of her content featuring her showing off her breasts and buttocks. Sam has three other Instagram accounts: her 'notsamxfrank' account numbers over 23,000 followers and 85 pictures and videos, the 'samfrankreels' account has over 12,000 followers and only 15 pictures and videos, and her 'samxc63s' account numbers over 20,000 followers and close to 100 pictures and videos. She uploads more or less the same content on all of these accounts.
Close to 120,000 people are following Sam on Twitter today; she launched the account in September 2021 and has since posted nearly 700 times. Most of Sam's tweets are pictures which feature her during her everyday life, whether she's spending time with her boyfriend N3on, shooting her YouTube videos, or working out at the gym.
Over 370,000 people are following her on TikTok today and all her videos combined have amassed over 4.3 million likes; these usually feature her being interviewed on various podcasts, lip syncing and spending time with her friends.
Sam's also active on OnlyFans; she's uploaded over 1,600 videos and 2,500 pictures onto the network, and all of her content combined has amassed nearly 9,000 likes.
Finally, Sam's also active on Facebook but doesn't allow her fans to interact with her on this network.
Love life and boyfriend
Sam only occasionally speaks about her love life in her YouTube videos, and we know about two men whom she's been with. She once dated famous YouTuber Jack Doherty, and this helped her expand her fanbase on the internet; Jack's YouTube channel's subscribed to by over 12 million people today – most of his videos are comedy content.
Sam's today in a relationship with American YouTuber and social media star Mikyle Rafiq – aka N3on – his channel's subscribed to by over 600,000 people and close to 200,000 people are following him on Instagram.
There are no other men whom Sam's perhaps been with, that we know about; she's in a relationship with N3on as of October 2023, hasn't married and doesn't have children.
Interesting facts and hobbies
Sam's physically quite active, mostly because it's important for her career to stay in shape; she works out at the gym nearly every day, and also enjoys doing yoga and going jogging.
She's a fan of fast cars, and her favorite brand is Porsche.
Some of Sam's fans believe that she's enhanced her breasts, but Sam's yet to address these rumors.
She likes to sun tan at the beach, which is perhaps why summer's her favorite season.
Sam's into travelling, and has been to several European countries and US states; her dream travel destination's Vietnam.
Anne Hathaway's one of Sam's favorite actresses, and a couple of her favorite films are "The Intern", "Alice in Wonderland" and "The Witches".
Height, age and net worth
Sam's age is 20. Her eyes and hair are brown, she weighs around 125lbs (57kgs) and is 5ft 5ins (1.65m) tall.
Sam's net worth's been estimated at over $1.5 million, as of October 2023.