Who is Carole Middleton?
British businesswoman Carole Elizabeth Middleton (nee Goldsmith) was born under the zodiac sign Aquarius on 31 January 1955, in Perivale, London, England. She's perhaps only known to the public for being the mother of Catherine, Princess of Wales who's a member of the British royal family, as she's been married to William, Prince of Wales since 29 April 2011; their wedding had a global audience of over 300 million people. Catherine gave birth to their son (Prince) George on 22 July 2013, their daughter (Princess) Charlotte followed on 2 May 2015, and she gave birth to their second son (Prince) Louis on 23 April 2018.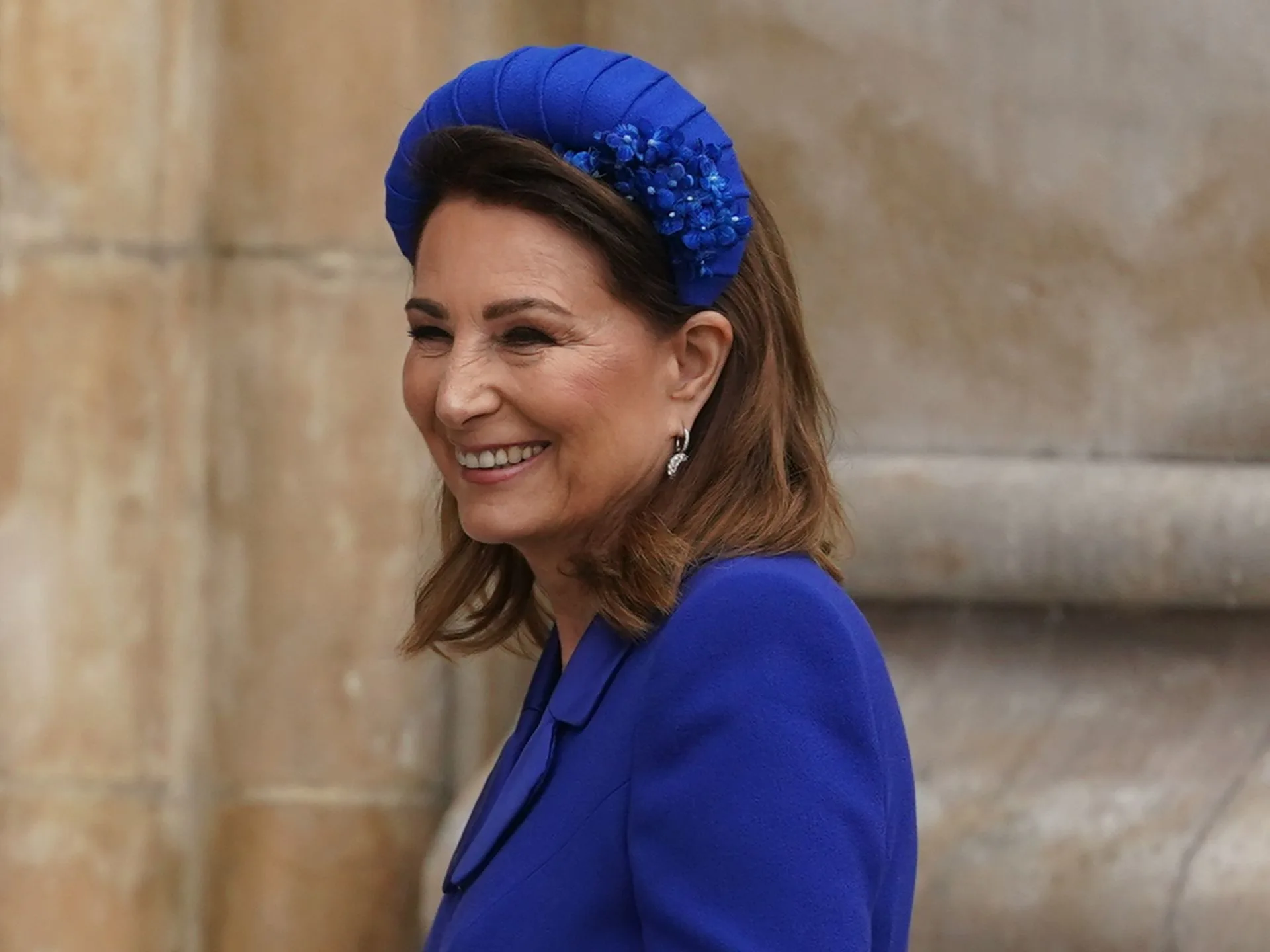 Education and early life
Carole was raised in Perivale alongside her younger brother Gary Goldsmith, who's today a multi-millionaire IT recruiter, by their mother Dorothy (nee Harrison) who died in 2006 aged 71, and father Ronald who passed away aged 72 in 2003; Ronald's family were coal miners and he was a builder, while Dorothy worked at a jewelry store.
The family eventually settled in Southall, West London where they had purchased a small house; Carole studied at a local elementary school and was interested in a couple of activities, including appearing in school plays and dancing.
She progressed to a state high school in 1969, dropped out aged 16, but Carole was then persuaded by her parents to return to school, and she matriculated with all four A Levels in 1974. Her initial plan was to become a teacher, but Dorothy and Ronald were unable to pay her college tuition; Carole thus began working as a shop assistant at a John Lewis store, and she then worked for British Airways as a secretary,becoming a flight attendant in 1980.
Carole's career
Carole launched her own company Party Pieces in 1987; it initially made and sold party bags, and over time expanded to making and selling decorations and party supplies. At first, Carole created her party bags at her kitchen table and hundreds of leaflets were distributed in the streets to advertise the business.
Following the success of Party Pieces, Carole's husband quit working at British Airways and joined her company in 1989; its headquarters were moved to Ashampstead Common in farm buildings in 1995.
When the business collapsed in 2022, Party Pieces owed more than £2.6 million to creditors; Carole and her husband thus decided to sell the company in May 2023.
Michael and Carole Middleton have each had careers & paid their taxes – working first for British Airways, before setting up Party Pieces in 1987.

They are private citizens, who are over pension age in the UK – & entitled to a peaceful retirement without the media hounding them! pic.twitter.com/W6yz952lYn

— Pooja (@Pooja33719735) May 30, 2023
It's widely believed that Carole's currently working on a new business, quite similar to her previous, but this is yet to be addressed by her. There are also those who claim that she's currently living off her husband's wealth, as he's inherited millions of pounds from his aristocrat grandmother Olive Christiana Middleton, but this hasn't been confirmed either.
Carole seems to be unemployed as of September 2023.
Most popular YouTube videos
Carole doesn't have a YouTube channel, but a number of videos about her and her daughter Catherine, Princess of Wales have been posted by other users, most serving to provide an insight into their everyday lives. We're about to mention three of the most viewed YouTube videos about Carole and her family, as these have contributed to Carole's internet popularity.
Her #1 video "William, Kate, George and Charlotte spend Christmas with the Middletons" was uploaded by AP Archive on 30 December 2016, and has since been watched over 4.5 million times; it features Catherine, William and their children as they're spending Christmas with the Middletons.
Carole's second most popular video "Royal fans spot Meghan Markle's 'reaction' to Kate Middleton" was uploaded by news.com.au on 6 June 2022 and has since been viewed over 3.1 million times; it features Meghan Markle's reaction when she saw her sister-in-law at St Paul's Cathedral.
Her third most viewed video – "Royal Family Unite at Kate's Christmas Carol Service" – was posted by The Royal Family Channel on 15 December 2022 and has been watched over 2.5 million times; it features the members of the royal family as they're attending Kate's Christmas Carol Service.
Love life and husband
Carole's more or less open when it comes to sharing the details of her love life with media; it's known that she's been married for more than 40 years now. She and British businessman and former flight dispatcher Michael Francis Middleton exchanged vows at the Church of Saint James on 21 June 1980; after Michael inherited money from his aristocratic family, he bought a Victorian house in Bradfield Southend.
Catherine was their first child, born on 9 January 1982, and Carole went on to give birth to their second daughter Philippa Charlote Matthews on 6 September 1983; their son James William Middleton followed on 15 April 1987.
From 1984 through 1986, Carole and Michael lived in West Berkshire, Bradfield Southend; they then bought a Tudor-style manor in Bucklebury, Berkshire in 1995, and a flat in Chelsea, London in 2002. They sold their home in Chelsea in 2019 for close to £2 million.
There are no other men whom Carole's perhaps been with, that we know about; she's married to Michael Middleton as of September 2023 and they have three children together.
Interesting facts and hobbies
Carole doesn't have her own Instagram account but is one of the people running the 'Middleton Family' account; it's today followed by more than 36,000 people, and there are over 260 pictures and videos uploaded onto it, with most featuring Carole, her children and the royal family during their everyday lives.
Carole's a philanthropist, and together with her husband has donated money to multiple charities; she's mostly into helping the elderly and underprivileged children.
Carole's a lover of animals, and has had various pets, including dogs, cats and horses.
One of her favorite actors is Sir David John White, and some of her favorite movies and TV series are "Only Fools and Horses", "The Darling Buds of May", and "Still Open All Hours".
Appearance and net worth
Carole's age is 68. She has brown hair and eyes, weighs around 150lbs (69kgs) and is 5ft 10ins (1.77m) tall.
Carole and her husband Michael's shared net worth's been estimated at over $70 million, as of September 2023.