Who is Mariana Seoane?
Mexican actress, model and singer Mariana Alejandra Seoane Garcia was born under the zodiac sign Gemini on 10 June 1976, in Mexico City. She has 34 acting credits, and is perhaps known best for starring as Silvana in 179 episodes of the 2015 romantic series "Until the End of Time", which also starred Diego Olivera and Marjorie De Sousa, and follows Sofia who's fallen in love with racing driver Salvador; the series won two awards.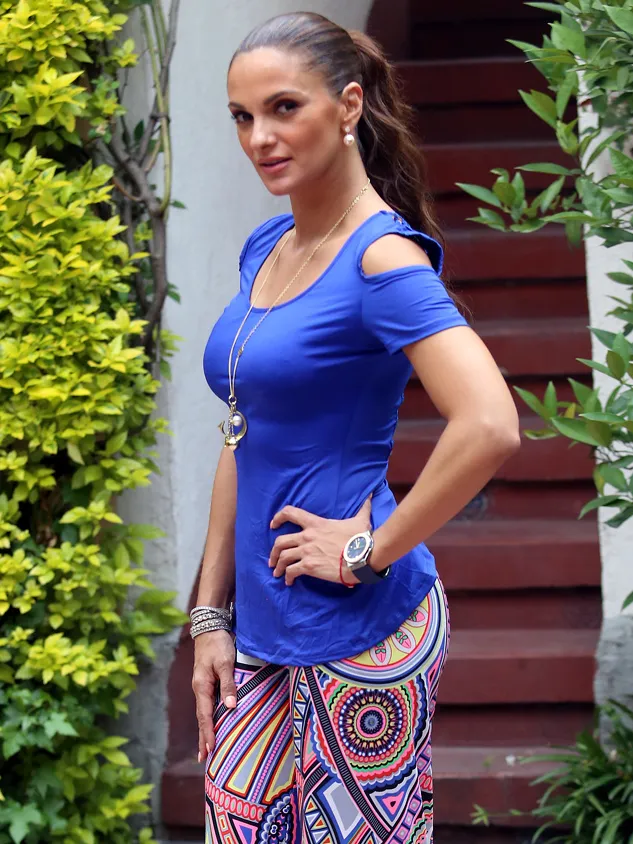 Education and early life
Mariana was raised in Mexico City alongside her sister Ximena Seoane, by their Cuban-Mexican father Jose Seoane and Argentine mother Stella Garcia; not many other details has Mariana shared about her parents, as they prefer to be left out of media.
She enjoyed singing and acting for her parents while growing up, and became serious about pursuing a career as an entertainer during her teenage years. Mariana studied at a local high school in Mexico City, and enjoyed appearing in various plays during her time there, while she was also a member of a school's band.
She matriculated in 1994, and then launched her acting career rather than enrolling at college.
Roles in TV series
Mariana's debut TV series role was playing Araceli in 83 episodes of the 1996 romantic drama "Retratorde Familia", and the same year saw her play Roxana in three episodes of the musical "Cancion de Amor", which starred Lorena Rojas and Eduardo Capetillo, and follows Lorenzo who's married Ana even though she has leukemia.
In 1997 and '98, Mariana starred as Barbara Fernandez Martinez in all 100 episodes of the romantic drama "Mi Pequena Traviesa", which also starred Enrique Rocha and Michelle Vieth, and follows Julia who has to find a job to financially support her family, now that her father's been hit by a car. The remainder of the '90s saw Mariana appear in the romantic drama "Tres Mujeres" and the romantic action "Amor Gitano".
In 2003, she starred as Rebeca Linares in all 150 episodes of the romantic drama "Rebeca", which also starred Ricardo Alamo and Victor Camara, and follows the life of hard-working young woman Rebecca, who holds two jobs and studies for college at night.
In 2008 and 2009, Mariana starred as Chelsy in the romantic drama "Manana es Para Siempre", which also starred Fernando Colunga and Lucero, and follows a man who's seeking vengeance against those who wronged him when he was younger. The remainder of the 2000s saw Mariana appear in the comedy "Adictos", another comedy "Los Simuladores", and the romantic drama "Curse by the Sea" (lead role).
In 2012, she portrayed Rebeca Oropeza in all 167 episodes of the drama "Por Ella Soy Eva", which also starred Marcelo Cordoba, Jaime Camil and Lucero, and follows a man who's been framed for theft and embezzlement, and has now faked his own death and disguised himself as the woman Eva.
In 2013, Mariana starred as Ursula in the popular romantic drama "The Tempest", which also starred Ivan Sanchez and Ximena Navarrete, and follows Marina who's been fired from her job and has now begun working in a small fishing village.
Some of Mariana's most recent roles in TV series have been in 24 episodes of the 2019 crime action "Preso No. 1", 101 episodes of the 2021 adventure comedy "Loli's Luck", and 60 episodes of the 2023 drama "Tierra de Esperanza".
Roles in movies
Mariana's appeared in only a couple of films, as she's spent her career focused on winning roles in TV series.
Her film debut was playing Pedrita in the 2005 romantic family comedy "Gretchen", which starred John Merriman and Courtney Davis, and was written and directed by Steve Collins. It follows 17 years old Gretchen who's fallen in love with problematic teenager Ricky and has now been sent to an emotional treatment center by her mother; the movie won a 2006 Los Angeles Film Festival Filmmaker Award for Best Narrative Feature.
#NuevaFotoDePerfil pic.twitter.com/oCNfqhvg4q

— Mariana Seoane (@laseoaneoficial) May 2, 2017
Also in 2005, Mariana portrayed Star Wonder in the family comedy "Feliz Navidad", which starred Giselle Blondet and Jatnna Toribio, and was written and directed by Michael Baez. It follows a family of three as they're preparing for Christmas.
Mariana's since appeared in only three movies: the 2010 action comedy "Senora Maestra", the 2014 drama "Rule: Fidelity to the Limit", and the 2017 comedy "Super Papa".
Other credits
Mariana sang the theme song "Atrevete A Mirarme De Frente" in the 2008 series "Storm Over Paradise", and various songs in the 2022 movie "Estoy Todo lo Iguana que se Puede".
Some of her recent talk-show appearances have been in "Fox Sports Radio", "Miembros al Aire" and "De Noche con Yordi Rosado".
Love life and relationships
Mariana rarely speaks about her love life in public but we know about several men whom she's dated. She dated Mexican actor Pablo Montero in 2011, and the following year saw her date both Dominican actor Carlos de la Mota and Mexican soccer player Oscar Mascorro; it's believed that she also dated famous Mexican actor Sebastian Rulli in 2012, but this remains unconfirmed.
In 2014 and 2015, Mariana was in a relationship with Julian Gil, a popular Argentine actor with 40 credits to his name, who's perhaps known best for playing Carlos Ibarra in all 183 episodes of the 2019 drama series "Por Amar sin Ley".
In 2016 and 2017, Mariana was in a relationship with Mexican actor Juan Jose Carreras, and in 2017 and 2018, she dated Mexican non-celebrity man Gibran Jimene.
Since March 2023, she's been in a relationship with Jose Alberto Castro, a Mexican film producer and director.
There are no other men whom Mariana's perhaps been with, that we know about; she's dating Jose Alberto Castro as of September 2023, hasn't married and doesn't have children.
Interesting facts and hobbies
Mariana's also a bit of a singer, having released her debut album "Rebeca" for the eponymous TV series; she's since sung in a couple of popular competition shows, including "The Masked Singer" and "¿Quién es la Máscara?"
Mariana's followed by more than 1.6 million people on Instagram and has posted over 7,500 pictures and videos onto the network, with most being about the movies and TV series in which she's appeared.
She's physically quite active and often works out at the gym, as it's important for her acting career to stay in shape.
Mariana's a lover of animals and has several pets.
She's passionate about travelling, and her acting career's taken her to various Latin American countries; she's also been to Europe on several occasions, and her favorite city is Barcelona, Spain.
One of her favorite actresses is Zoe Saldana, and some of her favorite movies include "Avatar", the trilogy "Guardians of the Galaxy" and "The Adam Project".
Appearance and net worth
Mariana's age is 47. Her hair and eyes are brown, she weighs around 120lbs (55kgs) and is 5ft 5ins (1.65m) tall.
Mariana's net worth's been estimated at over $8 million, as of September 2023.