Who Was Umaga?
Umaga was a renowned professional wrestler known for his fierce and aggressive wrestling style. He gained fame in World Wrestling Entertainment (WWE) for his Samoan savage persona and memorable feuds with top stars such as John Cena and Santino Marella. His most famous move was the Samoan Spike. Tragically, he passed away from a heart attack in 2009 at the age of 36.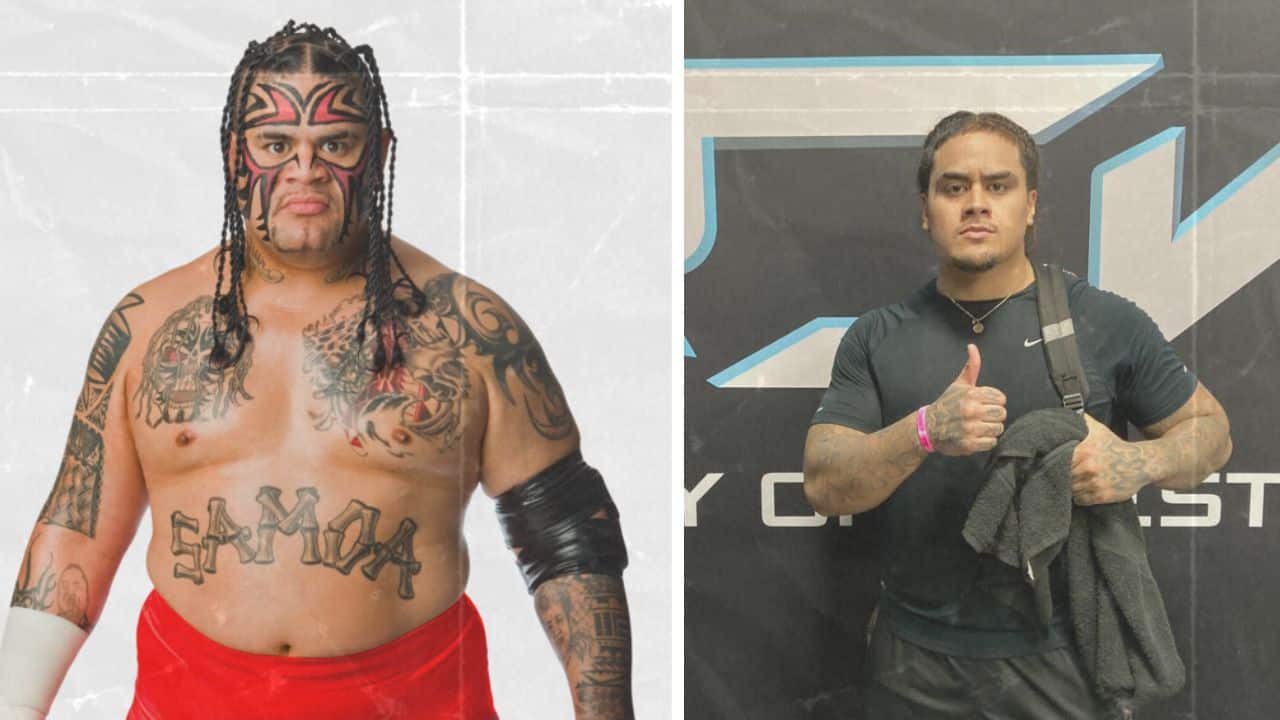 Umaga Wiki: Age, Childhood, and Education
Edward Smith Fatu was born on 28 March 1973, in American Samoa. He came from the famous Anoa'i wrestling family, which included Roman Reigns among its members. Moreover, his mother is the sister of Afa and Sika, wrestlers popularly known as the Wild Samoans. His two older brothers are Sam, also known as The Tonga Kid, and Solofa, known under the ring name Rikishi. Other wrestlers he was related to include Rosey, Yokozuna, and Solo Sikoa, among others.
Early Career
Umaga's journey in the world of professional wrestling began with his training alongside cousin Matt Anoa'i at the Wild Samoan wrestling school. He stepped into the ring for the first time In 1995, making his wrestling debut in his uncle Afa's World Xtreme Wrestling (WXW) promotion.
In the late '90s, Fatu took his skills to Japan, working with Frontier Martial-Arts Wrestling (FMW). However, it was in 2001 that he and Matt took a significant step in their careers, signing developmental contracts with the World Wrestling Federation (WWF) and were assigned to the Heartland Wrestling Association (HWA). Together, they formed a tag team known as The Island Boyz, with Fatu adopting the ring name Ekmo. Their partnership quickly proved successful, as they clinched the HWA Tag Team Championship in November 2001.
The big break came in 2002 when Fatu, now renamed Jamal, and Matt, renamed Rosey, made their way to the main roster of WWF, which later became WWE. They emerged as the formidable tag team known as 3-Minute Warning. Their role was clear – they served as enforcers for Eric Bischoff, the on-screen authority figure, executing his orders by attacking both fellow wrestlers and non-wrestlers.
One of their most memorable moments was their involvement in a storyline commitment ceremony, where they ruthlessly attacked Billy and Chuck. Adding to the mix, Rico, who had previously managed Billy and Chuck, began managing 3-Minute Warning.
However, their WWE journey was relatively short-lived. After less than a year, in June 2003, Umaga, then known as Jamal, faced an untimely exit from WWE. It was reported that this departure was linked to his involvement in a bar fight, marking the end of their impactful run in the wrestling entertainment world.
The next stop for Fatu was Total Nonstop Action Wrestling (TNA) in 2003. Under the ring name Ekmo Fatu, he made a notable entrance by helping Sonny Siaki secure a victory over D'Lo Brown in a casket match. Together with Siaki, they formed a tag team, and enjoyed success in various tag team matches. However, Fatu's journey in TNA came to an end on 11 August 2004, when he faced Alex Shelley and suffered a defeat, marking his final appearance in the promotion.
All Japan Pro Wrestling Stint
Following on, Fatu ventured into All Japan Pro Wrestling (AJPW) from 2003 to 2005. Taking on the persona of Jamal, he quickly integrated into the wrestling landscape, aligning himself with Taka Michinoku's R.O.D. stable, creating a solid foundation for his journey.
While in AJPW, Jamal predominantly teamed up with Taiyō Kea and Buchanan, forming formidable tag team combinations. However, he also aimed for success as a singles wrestler, receiving a significant push in that direction.
In 2004, Jamal set his sights on the prestigious Triple Crown Heavyweight Championship, challenging Toshiaki Kawada for the title. Despite his efforts, he faced defeat in this encounter. Nonetheless, his journey in AJPW had its moments of glory.
In December 2004, Jamal and his frequent partner Taiyō Kea emerged victorious in the World's Strongest Tag Determination League tournament, showcasing their tag team prowess. The success continued into the following year when, in January 2005, they secured the World Tag Team Championship, further solidifying their status.
Jamal's participation in the Champion Carnival highlighted his pursuit of excellence. However, despite engaging in feuds, including one with Kensuke Sasaki, he couldn't clinch the Triple Crown Championship.
Ultimately, Jamal's tenure in AJPW concluded in December 2005, marking the end of this chapter in his wrestling career.
Return to WWE
In 2006, Fatu made his highly-anticipated return to WWE with a fresh persona, embracing the name Umaga, which carried a significant meaning in Samoan tattooing, symbolizing "the end".
Umaga's character was portrayed as a relentless and destructive savage. Adding to his mystique, he was managed by Armando Alejandro Estrada, who played a pivotal role in guiding his actions.
Umaga stormed into the WWE scene by launching a brutal attack on Ric Flair, setting the stage for a fierce rivalry. At Backlash in April 2006, he demonstrated his ring dominance by defeating Flair in a match.
This Day in Pro Wrestling History:

(2009) Eddie Fatu, better known to WWE fans as Umaga, passes away. pic.twitter.com/nvolCaOhei

— Wrestlepedia (@Wrestlepedia2) December 4, 2019
What followed was a remarkable undefeated streak that captured the attention of WWE fans worldwide. Umaga went on a rampage, triumphing over some of the biggest names in the wrestling industry, including John Cena, Shawn Michaels and Triple H. This streak cemented his status as a formidable opponent within WWE.
One of the pivotal moments in Umaga's WWE run was his feud with Kane. The culmination of this feud led to a "Loser Leaves Raw" match, which saw Kane exiting the Raw brand after suffering a loss to Umaga.
Umaga's impressive performance earned him the distinction of being named the number-one contender for the WWE Championship, which designation set the stage for a memorable feud with John Cena, the reigning champion at the time.
The climax of the feud came to a head at the New Year's Revolution pay-per-view in January 2007, in which John Cena managed to do what no one had done before. Cena pinned Umaga, ending his undefeated streak that had stretched across 34 televised matches and lasted nearly a year.
In 2007, Umaga's journey in WWE took an intriguing turn as he was selected to represent Vince McMahon in the high-stakes showdown known as "Battle of the Billionaires" at WrestleMania 23. This significant event saw Umaga pitted against Donald Trump's chosen representative, Bobby Lashley.
Umaga's path to glory involved capturing the Intercontinental Championship. On 19 February he engaged in a battle with Jeff Hardy, ultimately emerging victorious and securing the title. This win not only solidified his position but also set the stage for a series of rivalries.
A prominent feud during this period was with Bobby Lashley, which began during the build-up to WrestleMania and extended beyond the wrestling event. At WrestleMania, Umaga found himself in a hair vs. hair match, facing off against Lashley. In a dramatic turn of events, Umaga was defeated, leading to Vince McMahon having his head shaved as a consequence.
Following this setback, the Intercontinental Championship became a focal point of contention. On 16 April, Bobby Lashley intervened in a match, aiding Santino Marella in defeating Umaga for the Intercontinental Championship. This turn of events intensified the rivalry between Umaga and Lashley.
At Backlash on 29 April Umaga, along with Vince and Shane McMahon, engaged in a handicap match against Lashley for the ECW World Championship. In a surprising outcome, the McMahons and Umaga emerged victorious, capturing the championship. However, this victory only fueled the ongoing animosity between Umaga and Lashley.
Their rivalry reached its peak at Judgment Day on 20 May 20, in which Lashley once again bested Umaga in a rematch. Despite his victory, Lashley did not win the ECW World Championship, as he had pinned Shane McMahon and not the reigning champion, Vince.
The feud reached a climax on 3rd June at One Night Stand, in which Umaga played a crucial role in assisting Vince McMahon in defending the ECW World Championship against Lashley in a brutal Street Fight. In the end, Vince lost the championship, marking the conclusion of this intense chapter in Umaga's WWE career.
Umaga reignited a feud with Santino Marella in June and faced him at Vengeance on 24 June; he lost the match by disqualification but remained dominant. In their rematch on 2nd July Umaga defeated Marella to reclaim the Intercontinental Championship.
For a brief period in August, Umaga turned into a "face" character and teamed up with John Cena to take on Carlito and Randy Orton in a tag team match, which they won. At SummerSlam on 26 August Umaga retained the Intercontinental Championship by defeating Carlito and Mr. Kennedy in a triple-threat match.
However, Umaga turned heel once again by assaulting Jeff Hardy on 3 September. This led to a feud between the two, culminating in Umaga losing the Intercontinental Championship to Hardy, marking the end of his championship reign.
Following his reign, Umaga's career took several turns. He teamed with Carlito in a handicap match against Triple H, but Triple H's sledgehammer strikes left Umaga injured. He then faced Triple H for the WWE Championship at No Mercy, but was defeated.
At Survivor Series on 18th November, Umaga's team faced off against Triple H's team in a Survivor Series match, but his team ended up on the losing side.
WrestleMania XXIV on 30th March 2008, saw Umaga in a match against Batista, which he lost. However, his career wasn't done yet.
On 23 June 2008, Umaga was drafted to the SmackDown brand as part of the 2008 WWE draft. Unfortunately, his journey hit a setback when he suffered a torn PCL at a live event in August 2008.
Umaga made a return to SmackDown on 30 January 2009, defeating Jimmy Wang Yang. He faced Triple H in the episode of SmackDown but lost due to interference from The Legacy.
After a two-month hiatus, Umaga returned to SmackDown, targeting CM Punk. Their rivalry culminated at Judgment Day on 17 May 2009, in which Umaga defeated CM Punk. However, their feud continued, leading to a Samoan Strap match at Extreme Rules on 7 June 2009, which Umaga lost.
Unfortunately, Umaga's WWE journey came to an end on 8th June 2009, as he was released from his WWE contract due to a violation of the Wellness Policy and his refusal to enter rehabilitation. This marked the conclusion of his WWE career.
In his final appearances in the world of professional wrestling, Umaga made a mark before his untimely passing. On 11th July 2009, he participated in a match at the World Wrestling Council (WWC) in Puerto Rico, in which he faced Mr. Anderson and secured a victory.
Later in November 2009, Umaga was part of Hulk Hogan's Hulkamania Tour of Australia, wrestling under the ring name Uso Fatu. This tour allowed him to showcase his skills and connect with fans in Australia.
However, it was on 28th November 2009 that Umaga competed in his last match. In this final bout, he faced Mr. Anderson but was defeated, marking the conclusion of his wrestling career.
Tragically, Umaga's life was cut short – before his death, there were reports of a potential return to WWE. It was speculated that he might make a comeback at the Royal Rumble in January 2010, but this possibility remained unfulfilled.
Net Worth
According to authoritative sources, Umaga's net worth was estimated at $400,000 at the time of his death.
Personal Life, Marriage, Wife, Children
Umaga was married to L.T. Fatu from 2001 until his death. They had four children, including Zilla Fatu, who is training to become a wrestler.
At the time of his passing, Umaga had several pain-killing drugs in his system, while it was also determined that he had heart and liver damage.