Who is Pablo Lyle?
Mexican actor and model Pablo Daniel Lyle Lopez was born in Mazatlán, Mexico, on 18 November 1986, making Scorpio his zodiac sign. He has 13 acting credits, and is perhaps still known best for starring in his debut TV series role as Baldomero Perea Olmos in all 120 episodes of the 2009 romantic series "Verano de Amor", which also starred Enrique Rocha and Juan Ferrara, and follows the lives of four teenagers who've never left their hometown of Tlacotalpan in Veracruz, Mexico.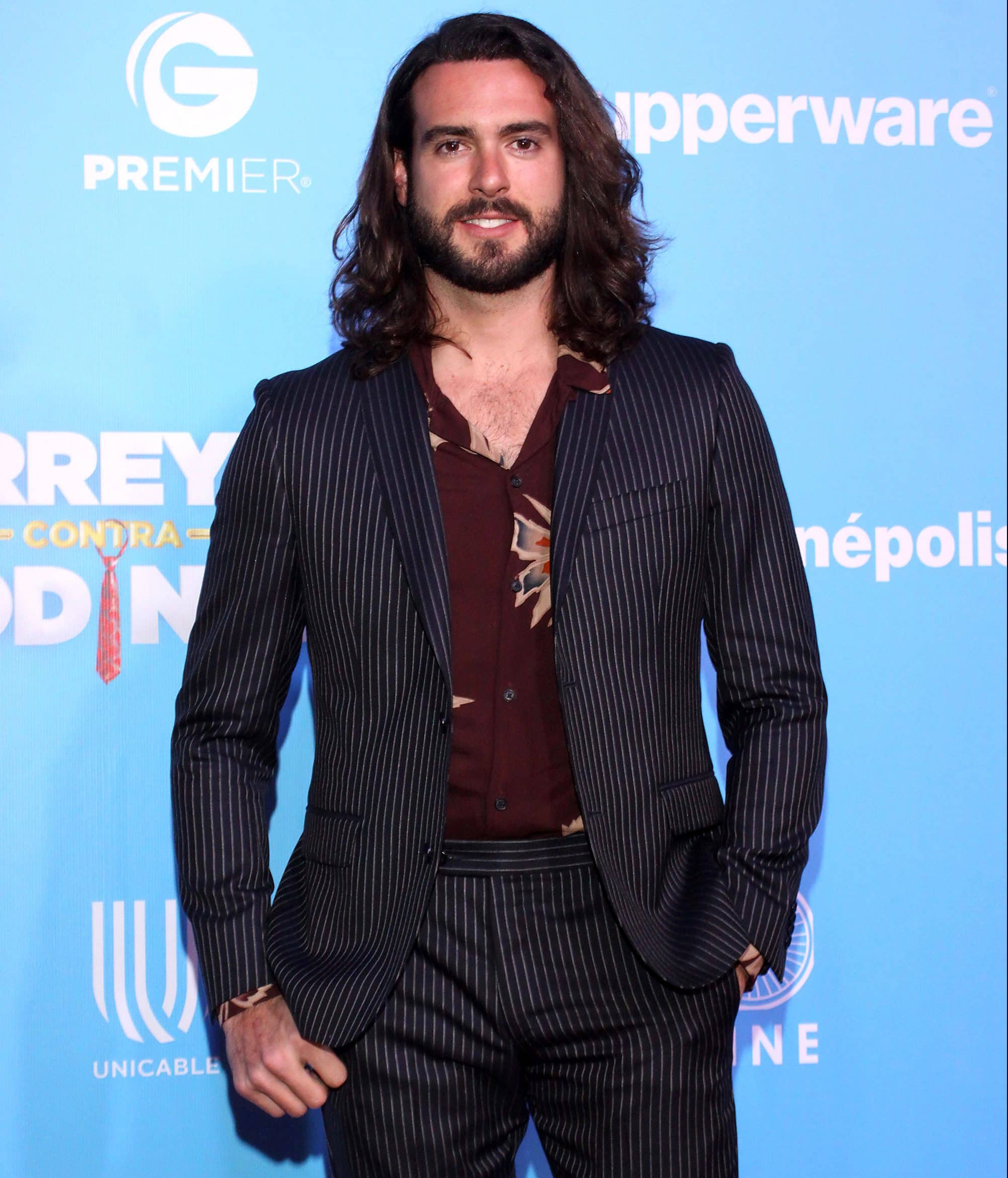 Education and early life
Pablo was raised in Mazatlán alongside his sister Silvia and brother Jorge, by their Mexican parents about whom Pablo's yet to speak in public, because he respects their privacy; it's believed that his father was a firefighter, and his mother a police officer.
Pablo studied at a Catholic school in Mazatlán and was perhaps mostly into soccer during his teenage years; he played for the school's team, and was amongst the best players there. He was 17 when he began appearing in school plays, while he launched his career as a model around the same time.
Pablo matriculated in 2005, and then chose to focus on building a name for himself in the entertainment industry rather than to pursue a college degree.
Roles in TV series
In 2010, Pablo portrayed Marcelo in the episode "Azucena, Liberada" of the crime drama "Mujeres Asesinas", and he was then cast to play Pepe Lopez Torres in two episodes of the 2011 family comedy "Una Familia con Suerte" and Cano in the 2012 episode "Encontrar el Camino" of the drama "La Rosa de Guadalupe".
His popularity rose when cast to star as Matias in all 110 episodes of the 2012 fantasy comedy "Cachito de Cielo", which also starred Pedro Fernandez and Maite Perroni, and follows the lives of two brothers who've fallen for the same girl.
The year 2013 saw Pablo play Sandro in the episode "Los Deseos se Cumplen…" of the drama "Como Dice el Dicho", and the same year saw him portray Esteban in 110 episodes of the romantic drama "Por Siempre mi Amor", which starred Susana Gonzalez and Guy Ecker, and follows Arturo De La Riva and Eugenia who've been happily married for 10 years, and have a daughter Aranza together.
#LyingHeart The cast!!Thelma Madrigal ( Age: 31yrs) as MarielaPablo Lyle (Age: 29yrs) as AlonsoDiego Olivera (Age 48yrs) LeonardoMaryin Villanueva (Age 45yrs) Lucia

Posted by StarTimes Novela E1 on Saturday, August 27, 2016
In 2014 and 2015, Pablo played Cristobal in all 137 episodes of the drama "Shadows of the Past", which also starred Alexis Ayala and Alejandra Barros, and follows a man who's left the life of crime behind him, but the past has now returned to haunt him.
He went on to portray Alonso in 63 episodes of the 2016 romantic drama "Lying Heart", which starred Alejandro Tommasi and Maria Sorte, and follows a successful businessman who's fallen for a girl from a poor family. Pablo was then cast to play Esteban in the 2017 episode "Blanca Nieves" of the family action "Erase una Vez".
In 2017, he played the main character Rodrigo Villavicencio in all 122 episodes of the romantic drama "Mi Adorable Maldicion", which also starred Renata Notni and Maya Mishalska, and follows Rodrigo who's fallen in love with Aurora, not believing the rumors that she's cursed.
Pablo's only other TV series role has been portraying the lead character Malcolm Moriarty in all 25 episodes of the 2019 drama "Yankee", which also starred Ana Layevska and Pamela Almanza, and was created by Diego Enrique Osorno; it follows a man from Arizona as he's crossed into Mexico while running away from the police, and has now become involved in drug trafficking.
Roles in movies
Pablo's appeared in only one movie: he starred as Santigo Kuri in the 2019 comedy "Mirreyes Contra Godinez", which also starred Daniel Tovar and Regina Blandon, and was directed by Chava Cartas; it follows Genaro Rodriguez as he's working at the company Kuri and Sons.
¡Poster Oficial! MIRREYES vs GODINEZ 25 de Enero, solo en cines. #mirreyesvsgodinez #soygodinez #soymirrey pic.twitter.com/7tQkxk7KzO

— Mirreyes VS Godínez (@MirreyesGodinez) November 16, 2018
Other credits
Pablo sang the song "Si Pudiera" in the 2009 episode "Buena Causa" of the series "Verano de Amor".
Some of his recent talk-show appearances have been in "Hoy", "Conan" and "Miembros al Aire".
Sentenced to five years
Pablo punched 63 years old Juan Ricardo Hernandez in the face in Miami, Florida in April 2019; the man was taken to the hospital and died four days later. Pablo was initially charged with battery, however, after Juan died, he was charged with manslaughter.
Pablo was convicted in October 2022, and was sentenced to five years behind bars in February 2023.
Love life and wife
Pablo prefers not to speak about his wife and children in media, but some details about his love life are still known.
He and Mexican model and social media star Ana Araujo exchanged vows in a small and private ceremony on 27 December 2014; Ana's followed by more than 100,000 people on Instagram and has posted more than 900 pictures and videos onto the network, with most of these being about her everyday life. She supported her husband during his murder trial, and his conviction made her burst into tears.
Ana and Pablo have two children together: twins Mauro and Arantza who were born in 2013, a year before their parents exchanged vows.
There are no other women whom Pablo's perhaps been with, that we know about; he's married to Ana Araujo as of August 2023, and they have two children together.
Interesting facts and hobbies
The magazine "People en Espanol" featured Pablo on their 2015 list 'Los 50 Mas Bellos' (50 Most Beautiful People).
The YouTube video featuring Pablo's sentencing "Veredicto en el caso del actor mexicano Pablo Lyle" was uploaded onto the channel Noticias Telemundo on 4 October 2022, and has since been watched more than 2.2 million times.
Pablo's followed by close to a million people on Instagram, and has uploaded over 750 pictures onto the network; most feature him spending time with his wife and their children, while others show him skiing, travelling and playing golf.
He's a philanthropist, and together with his wife has volunteered at a number of charity organizations.
Johnny Depp's one of Pablo's favorite actors, and some of his favorite movies include "Charlie and the Chocolate Factory", "Cry-Baby" and "Alice in Wonderland".
Height, eyes and wealth
Pablo's age is 36. His hair and eyes are brown, he's 6ft (1.83m) tall and weighs around 170lbs (78kgs).
Pablo's net worth's been estimated at over $8 million, as of August 2023.