Who is Sneako?
Sneako is a controversial American YouTuber, social media personality and occasional stand-up comedian. He is best known for his commentary and close connection with Andrew Tate, a British former kick=boxer, and now TV personality.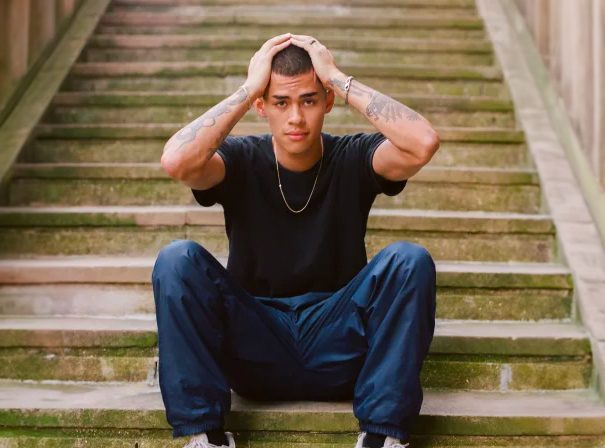 What Happened With Sneako?
Sneako was banned from YouTube in October 2022 due to repeated policy violations. Since then, he transitioned to the streaming platform Rumble, where he continued to engage with his audience and create content.
Sneako Wiki: Age, Childhood, and Education
Nico Kenn De Ballinthazy was born on 8 September 1998, in New York City, USA. Of Filipino and Haitian ancestry, he hasn't revealed the names of his parents, but according to reports, his father is a businessman and his mother a homemaker. He has a brother with whom he runs the Quality Clothing apparel brand.
Career
He began as a YouTuber, launching his channel in April 2013. Initially, he posted gaming videos featuring popular titles such as Black Ops 2. However, realizing that these gaming videos weren't propelling his subscriber count, he decided to pivot and rebrand his channel.
The turning point in his career came when he shifted his focus to commentary and motivational videos. He started discussing a wide range of topics related to life and took to the streets to conduct interviews with members of the public, giving his content a fresh and relatable angle.
One of his standout series was the "One Minute Podcast", in which he delved into sociopolitical commentary, hot takes, rants, reviews, and political commentaries. This series added depth to his content, attracting a diverse audience.
Nico Kenn De Ballinthazy didn't limit his online presence to YouTube alone, as he also ventured into TikTok and Instagram, expanding his reach across various social media platforms.
Feuds and Controversies
One of the notable aspects of his online presence is his association with controversial figures such as Andrew Tate and Nick Fuentes.
One of the most surprising developments in Sneako's journey was his conversion to Islam in April 2023. This religious transformation raised eyebrows, especially given his history of controversial comments and actions. It marked a significant shift in his personal identity and beliefs.
Throughout his career, Sneako has been involved in numerous online feuds and conflicts with fellow creators. Some of these notable clashes include disputes with HasanAbi, KSI, Brandon Buckingham, and Penguinz0, also known as MoistCr1TiKaL. These conflicts often revolved around differences in content, ideologies, or personal disagreements, leading to heated exchanges and public disputes.
One of the incidents that attracted considerable attention and criticism was Sneako's praise for the film "Cuties". His endorsement of the controversial French film, which featured young girls in provocative situations, sparked outrage and backlash from many viewers. Sneako defended the film, stating that he believed it wasn't sexualizing children, but rather criticizing the impact of social media on kids. However, this stance further fueled the controversy surrounding him.
A feud also unfolded between Sneako and YouTuber Charlie (Penguinz0) when Charlie criticized Sneako for making fun of his girlfriend, and defending the movie "Cuties". This feud escalated through online exchanges and even challenges to fight.
Additionally, Sneako faced criticism for his mocking of Islamic prayer during one of his livestreams. This behavior drew strong condemnation from the Muslim community, and led to backlash and calls for accountability. Eventually, Sneako issued a formal apology for his actions, but the incident left a lasting mark on his online persona.
I made a confession in my new vid… Cuties is my new favorite movie https://t.co/gXgqpdggdK pic.twitter.com/VfVjVd7Vx0

— SNEAKO (@sneako) September 15, 2020
Another recurring issue in Sneako's online presence has been derogatory comments about women. His controversial statements and viewpoints related to gender and relationships have garnered criticism and contributed to his divisive image within the online community.
One notable feud was with the left-wing political streamer HasanAbi; it all began when HasanAbi reacted strongly to Sneako's video entitled "HOW TO VIEW WOMEN". This disagreement quickly escalated into a war of words, marked by insults and mutual criticism, attracting attention across the online community.
Another brief but intense feud involved Sneako and the popular content creator KSI. This feud ignited when KSI tweeted about Andrew Tate's ban, prompting some heated exchanges between the two online personalities.
While the text mentions a feud with Brandon Buckingham, it lacks detailed information about the nature and extent of this dispute.
Sneako's clash with YouTuber Penguinz0, also known as Cr1TiKaL, was another noteworthy feud, sparked when Penguinz0 criticized the hosts of the Fresh&Fit Podcast, with which Sneako was associated. Online exchanges and responses from both sides intensified this feud, drawing in their respective fan bases.
Sneako also found himself at odds with Keemstar of DramaAlert. Their falling out stemmed from a voice-over recording that Keemstar deemed sub-par. This disagreement resulted in a missed opportunity for Sneako to reach a wider audience.
His association with MrBeast turned sour, leading Sneako to post a "MrBeast Exposed" video on his channel, though it was later deleted.
Sneako faced ridicule and criticism after he openly discussed his involvement in an open relationship with his then-girlfriend, and his attendance at swinger parties during a podcast.
A collaboration with right-wing political streamer Nick Fuentes and involvement with Ye24's campaign alongside Kanye West generated controversy, especially due to Fuentes' controversial statements.
Sneako faced scrutiny for misleading his audience by posting a picture with make-up from a movie set, which gave the false impression that he'd been assaulted. He later clarified the situation.
Net Worth
According to authoritative sources, Sneako's net worth is estimated at $1.5 million as of mid- 2023.
Personal Life, Dating, Girlfriend, Single
He was in a romantic relationship with Lily Fofana, but according to reports he's now single. He's been with several high-profile YouTube celebrities in the past, including Xenathewitcher.
Appearance and Body Measurements
Sneako has black hair and brown eyes. He stands at a height of 6ft 2ins (1.88m), while he weighs approximately 170lbs (77kgs). His vital statistics are unknown, but he has an athletic figure.