Who Was Doris Roberts?
Doris was an American actress, probably best known for her role as Marie Barone in the TV series "Everybody Loves Raymond", in addition to many other notable roles she had during her career.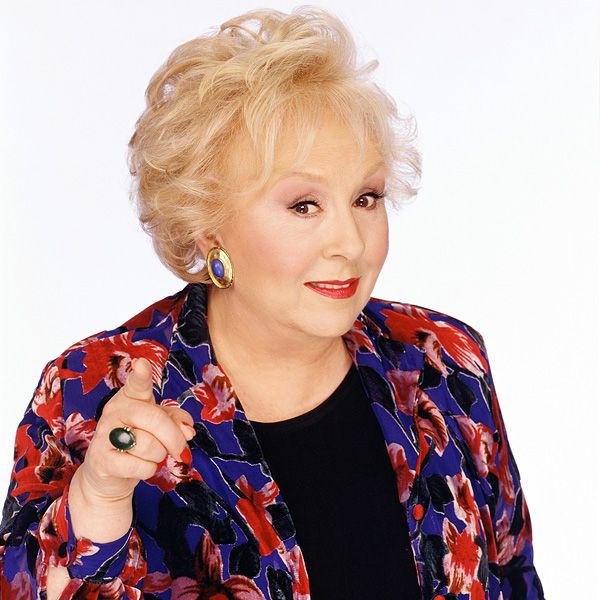 What Was the Cause of Doris Roberts's Death?
Doris Roberts passed away on 17 April 2016 at 90s years of age. She died in her sleep following a massive stroke, having suffered from pulmonary hypertension for a number of years.
Doris Roberts Wiki: Age, Childhood, and Education
Doris May Green was born on 4 November 1925 in St. Louis, Missouri USA. The daughter of Russian-Jewish immigrants, Doris was raised by her mother and maternal grandparents as her father left the family. Her mother later remarried to Chester H. Roberts and she took her stepfather's surname.
She studied acting at HB Studio and Neighborhood Playhouse School of the Theatre.
Career Beginnings
Doris Roberts began her career in the early 1950s with appearances in TV series such as "Starlight Theatre", in which she played the role of Operator in the episode "Act of God Notwithstanding" in 1951, and "Studio One in Hollywood", in which she portrayed The Madwoman in the episode "Jane Eyre" in 1952.
She then jumped into stage roles, in 1955 appearing in the play "The Time of Your Life", in which she played the role of The Streetwalker's Sidekick at CityCenter from 19 January to 30 January. Additionally, she appeared in "The Desk Set" as Miss Rumple at the Broadhurst Theatre from 24 October 1955 to 7 July 1956.
She made her film debut in 1961's "Something Wild", as Mary Ann's Co-Worker, with the main stars of the film being Carroll Baker, Ralph Meeker and Mildred Dunnock.
Doris continued her career in minor one-time appearances in several TV series, building her portfolio, then in 1970, landed her first significant role in the film "The Honeymoon Killers", portraying Bunny, with leading stars Shirley Stoler and Tony Lo Bianco. Based on a true story, the film delves into the dark and suspenseful tale of a couple who go on a killing spree, targeting lonely women they meet through personal ads.
In 1971, Doris Roberts appeared in the film "Little Murders", taking on the role of Mrs Chamberlain, co-starring Elliott Gould and Marcia Rodd. Doris next appeared in the 1972 film "The Heartbreak Kid" as Mrs Cantrow, starring Charles Grodin and Cybill Shepherd. The film tells the story of a man who falls in love with another woman on his honeymoon, leading to a series of comedic and romantic complications.
I put 2 lines in Hester Street: "You can't pee up my back and make me think it's rain" & "One tuckus can't dance at two weddings."

— Doris Roberts (@doris_roberts) February 26, 2015
In the 1975 film "Hester Street", Doris played the role of Mrs Kavarsky alongside main stars Carol Kane and Steven Keats, in a poignant drama that delves into the struggles of Jewish immigrants in New York City's Lower East Side during the early 20th century.
In the late 1970s, Doris Roberts transitioned to television roles. In 1978, she appeared in four episodes of in the TV series "Soap" as Flo Flotsky The show featured an ensemble including Katherine Helmond, Richard Mulligan and Billy Crystal.
In 1979 and 1980, she played Theresa Falco in the TV series "Angie", appearing in 36 episodes as an actress, and directing one episode. The main stars included Donna Pescow, Robert Hays and Sharon Spelman, and it centered around the life and experiences of Angie Falco, a young woman living in New York City.
The '80s
In the next decade, Doris continued to focus on television roles, beginning with her role as Loretta in the TV series "Maggie". She then played Mildred Krebs in the TV series "Remington Steele", which aired from 1983 to 1987. Her character evolved from a recurring role in Season Two to a main role in Seasons Three to Five, totaling 71 episodes. Starring alongside Stephanie Zimbalist as Laura Holt and Pierce Brosnan as Remington Steele, the series revolved around Laura Holt's role as a private detective, who creates the fictional male detective, Remington Steele, to attract clients.
Doris played the role of Mrs Bowzer in the TV movie "California Girls" in 1985, alongside Robby Benson, Martin Mull and Zsa Zsa Gabor, among others. Then in 1989 she was Frances Smith in "National Lampoon's Christmas Vacation", starring alongside Chevy Chase and Beverly D'Angelo in this classic holiday comedy about the Griswold family's hilarious attempts to create the perfect Christmas.
The '90s
She began the new decade with the role of Aunt Lonnie, starring alongside Shirley MacLaine and Marcello Mastroianni in the film "Used People" (1992).
From 1993 to 1995, Doris Roberts played Angie Pedalbee in the TV series "Dream On" for a total of six episodes, starring alongside main stars Brian Benben, Wendie Malick and Chris Demetral
Success with "Everybody Loves Raymond"
From 1996 to 2005, Doris Roberts played the iconic role of Marie Barone in the TV series "Everybody Loves Raymond". This beloved sitcom starred Ray Romano as Raymond Barone, Patricia Heaton as Debra Barone, and Brad Garrett as Robert Barone, among others. The show revolves around the daily life and humorous dynamics of the Barone family, Ray Barone, a sportswriter, living with his wife Debra and their children, often dealing with the meddling of his overbearing and manipulative mother.
Her character's constant presence and well-intentioned interference in her son's life provided a significant source of comedic tension in the series, creating a number of precious moments. Doris' portrayal of Marie Barone was a standout performance, earning her critical acclaim and several awards, including four Primetime Emmy Awards for Outstanding Supporting Actress in a Comedy Series. Her role as Marie catapulted her to stardom, and made her a beloved figure in television. Although canceled, the show remains a classic in the world of sitcoms, and Doris' character one of the most praised performances.
Although a reboot hangs on in the air as an idea, main stars think it isn't a good one.
Doris Roberts (1925–2016) was a TV icon, from ANGIE to EVERYBODY LOVES RAYMOND. See her on WALKER TEXAS RANGER — 1p ET What's your favorite role?

Posted by getTV on Tuesday, September 29, 2020
Other Projects, Later Career
After the series concluded, Doris continued her career both in film and on TV. Doris appeared in the film "Grandma's Boy" (2006), starring alongside Allen Covert and Linda Cardellini.
In "Aliens in the Attic" (2009), Doris portrayed Nana Rose Pearson, alongside stars such as Ashley Tisdale and Robert Hoffman. This family-friendly sci-fi comedy follows children discovering an invasion by miniature alien beings in their vacation home.
In 2012, Doris brought her talent to "Madea's Witness Protection", a comedy directed by Tyler Perry, in which she starred alongside Tyler Perry and Eugene Levy. Here, she played Barbara, the witty and supportive mother-in-law.
Doris worked on several films that were eventually released following her death. In "The Escort" (2016), she portrayed Margaret, alongside stars such as Jared Hillman, David Marks, Justin Hopper, Nick Echols and Quinn Feldman. Also in 2016, "JOB's Daughter" saw Doris Roberts in the role of Ruth Morrison, with actors such as Eric Roberts and Emilio Roso, then in "The Red Maple Leaf", she portrayed Mrs Samantha Adams", sharing the screen with James Caan. The film delved into a mystery involving a missing Canadian ambassador's son, with Doris' portrayal adding depth to the story.
In "Zizi and Honeyboy" (2018), she took on the character of Zizi in a short film alongside Richard Portnow and Michael Sonntag.
Stage Career
Doris Roberts' illustrious career extended beyond film and television, as she also left a significant mark on the world of theater. In "Last of the Red Hot Lovers" (1969), Doris portrayed Jeanette Fisher in a production that ran for an extended period, from 28 December 1969 to 4 September 1971.
"The Secret Affairs of Mildred Wild" (1972) saw Doris Roberts take on the role of Miss Manley, and stand by for the legendary Maureen Stapleton as Mildred Wild. The play, staged at the Ambassador Theatre from 14 November to 2 December 1972, allowed her to shine on Broadway, and earned recognition for her contributions.
She next portrayed Dolly Scupp at the Booth Theatre in the play "Bad Habits" (1974), which was yet another notable theater role, among many others.
Net Worth
According to authoritative sources, Doris Roberts' net worth was estimated at $14 million at the time of her death.
Personal Life, Married, Husband, Children
Doris Roberts was married to Michael Cannata from 1956 until 1962; they had one son together, Michael Cannata Jr. In 1963 she married writer William Goyen and their marriage lasted until 1983, when Goyen died from leukemia.
In 2002, she took a stand against age discrimination in Hollywood by testifying before a US Congressional panel, with her advocacy shedding light on the challenges faced by older actors in the entertainment industry.
Politically, Doris Roberts was a registered Democrat, aligning herself with the party's values and beliefs.
Her passion for animal rights led her to collaborate with the organization Puppies Behind Bars. In this role, she contributed to the training of guide dogs, and assistance dogs for individuals with disabilities and the elderly. Additionally, she played a part in preparing explosive detection dogs for use by law enforcement agencies, demonstrating her commitment to both animals and public safety.
Not only did Doris Roberts champion animal rights, but she also dedicated her time to the Children with AIDS Foundation, in which she held the role of chairwoman. Her involvement in this foundation highlighted her dedication to helping those in need, especially children facing health challenges.
In 2003, Doris Roberts ventured into writing, co-authoring a memoir and recipe collection entitled "Are You Hungry, Dear? Life, Laughs, and Lasagna" alongside Danelle Morton. This book not only served as a memoir of her life but also featured some of her cherished recipes, offering readers a glimpse into her personal and culinary experiences.
Doris Roberts' life was one indeed fully lived!