• Loca the Pug was born on 21 June 2009 in Belfast, Northern Ireland
• She achieved international fame thanks to viral YouTube videos her owners uploaded
• She was born with a strange brain disorder that prevented her from running
• Her first video "The pug that couldn't run" went viral and amassed 19 million views
• She published her own book, "Unbefeckinglievable" which was well-received and had a strong online presence with millions of views and followers on YouTube, Facebook, Twitter, and Instagram

Known for movies

Who is Loca the Pug?
Born on 21 June 2009, in Belfast, Northern Ireland, so under the sign of Cancer, Loca Elizabeth Orr was a British pug who achieved international fame thanks to viral YouTube videos her owners decided to upload. She made her online debut in May 2012 with the video "Loca the Pug singing……'The pug that couldn't run'" and went on to become one of the most popular dogs of the entire decade. Even after passing away in 2017, Loca's popularity still hasn't waned, and memes with her face (and quotes, too) are frequently seen on social media networks.
Early Life: A Quirky Puppy in Belfast
Loca the Pug was born in the capital of Northern Ireland, but no authoritative sources can shed light on the details of her adoption and inclusion into the household; she was owned by Malcolm and Alena Orr. The reason why Loca was considered special is a strange brain disorder she was born with. Apparently, there was a problem with the way her leg muscles respond to signals from her brain, which prevented Loca from running normally, which was peculiar to everyone who met her ever since she was a puppy. According to a comment on one of her YouTube videos, Loca 'runs more like an enraged bull at a rodeo than a dog'. Her inability to run mixed with an innate feel for the camera made Loca a star from the get-go.
Career beginnings: "Loca the Pug singing……'The pug that couldn't run'"
On 26 May 2012, Loca's owners uploaded the now-legendary video, "Loca the Pug singing……'The pug that couldn't run'", onto YouTube. In two minutes and 32 seconds, a funny, edited voice impersonates Loca, and makes it seems like the dog herself is singing the verses. The video is in autobiographical form, and was sung using the melody of an old Irish song. It describes Loca's relationship with other dogs in the house, as well as her fondness of being cuddled, and for fried chicken. Much attention was paid to her inability to run, without even explaining the actual cause, which small, quirky detail caused the video to go viral, amassing over 19 million views as of mid-2019. With this unexpected attention, Loca's family had no other choice but to grab a camera and record more adventures of their special pooch.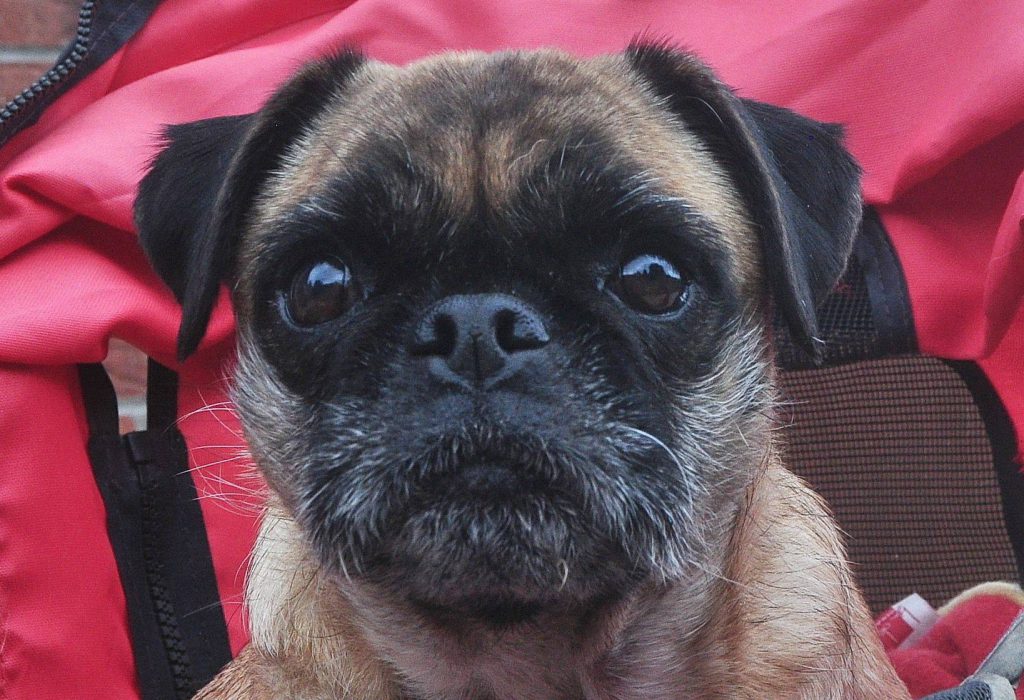 Continued Career: Riding On a Bike, Going To The Vet and More
After the initial success of the first video, Alena and Malcolm wanted to shed more light upon Loca's everyday life. On 19 June, 2012, just weeks after her YouTube debut, Loca was the star of yet another short skit, entitled "Loca the pug sings again……………."Me Da's great big trike". In this hilarious three-minute video, we follow Loca through her daily trips in a sidecar connected to her daddy's chopper – the edited voice narrates the story once again. With images of Loca wearing a fur coat and a pair of Ray-Ban Aviators, the video became an instant hit, and as of mid-2019 has attracted over 1.1 million views. That same summer, more classic videos of Loca the Pug were uploaded to YouTube – a touching five-minute clip named "Loca the pug goes to the vet" tells the tale of Loca's fears of the vet's office, and today is the second-most popular video on the channel, reaching over two million views. Also popular was the "SUPERDOGS" story, consisting of two parts.
Venture Into Literature: Loca the Pug's Very Own Book
In 2014, Loca published her first book, with the help of her human parents, Alena and Malcolm. Entitled "Unbefeckinglievable", the autobiography was filled with all sorts of funny stories from her days as a puppy, as well as her adventures on family vacations. The book received rave reviews, and was very popular with children and anyone else who follows the Internet meme culture closely.
Last Days: Hiatus from YouTube, Speculations and Death
After her big arrival on the YouTube scene in 2012, Loca uploaded only a couple more videos as the years went by. Fans all over the world became worried that something might have happened to her, and rumors about Loca's untimely death started swirling. Due to the overwhelming number of people concerned about her wellbeing, the unverified news had to be addressed. On 9 June 2016, a video by the name of  "Loca the pug is dead (I'm what?)" was uploaded to the channel. Using a funny montage (yet again!), Malcolm and Alena convinced fans that the stories of Loca's demise were untrue. Still, the long hiatus from YouTube activity seemed suspicious to some. Sadly, just 16 months after the video was uploaded, mom and dad broke the hearts of millions of fans, notifying the public that Loca had actually, finally passed away earlier that day.
When and Why Did Loca The Pug Die?
Loca the Pug left this world on 20 October, 2017, as a result of a severe brain hemorrhage. Apparently, her muscular disorder that prevented her from running wasn't the only condition she had. A lifelong epileptic, Loca had regular seizures of varying severity. On the day of her demise, a seizure occurred while she was sleeping, allowing her to depart without too much pain. The vets did everything possible, but they couldn't resuscitate her.
Due to the spread of rumours of my demise I feel obliged to set the record straight https://t.co/zG7c6cck4R pic.twitter.com/fNAC4q0C0C

— Loca#locathepug (@Locathepug) June 11, 2016
Loca The Pug's Legacy: How She Affected Internet Culture
Internet historians think of Loca as one of the first true canine celebrities of the last decade. She made it easy for other dogs to become famous, as the interest in funny dog videos rose after Loca's appearance on the scene. Thanks to purposely mispronounced words like "feckin" (f*cking), Loca's videos are considered the beginning of an entire online language centered around people's love of dogs. The so-called "pupper slang" is characterized by funnily-pronounced swear words, neologisms and other terms typical of meme culture. Thus, it's safe to say that Loca the Pug was both a social and a cultural phenomenon.
Did Loca have any siblings?
Other than her humans, Alena and Malcolm, Loca grew up with three dog and two cat siblings. Alfie, a black pug, is Loca's twin brother and is mainly described as a lazy, cuddle-loving dog in almost every one of Loca's 24 YouTube videos. Lucy, a pedigree boxer, is a calm and laid-back pooch who has a tendency to 'clear a room in 10 seconds just by farting', according to her bio on Loca's website. Layla, the "underboss" of the family is also a pedigree dog who won a puppy training class. Willie and Nelson, the two cats named after the famous American country musician, were a menace to Loca. In particular, Willie is the one who 'will give you a what with the sharp things at the end of his feet just for looking at him.'
The best pug ever ??

Posted by Lovin.ie on Thursday, January 11, 2018
What is Loca The Pug's Net Worth?
According to several reputable sources, Loca's internet fame earned Malcolm and Alena Orr a total of $100,000, mostly accumulated through video monetization, donations and the proceedings from "Unbefeckinlievable", Loca's autobiography.
Online Presence
Loca the Pug became a true star of the Internet thanks to her appearances on YouTube in 2012. As of mid-2019, her channel is still active with 200,000 subscribers, having attracted 30 million unique views. Other than YouTube, Loca also had a fan page on Facebook, which had 25,000 'likes' before it was discontinued. You can still find fans trying to contact her via Twitter, where she has 2,500 followers. Her Instagram account was also popular, with 25,000 fans wanting to stay up-to-date about their favorite pug.
Movies
Actor
| Title | Year | Status | Character |
| --- | --- | --- | --- |
| Skin of the Night | 2016 | Short | The Man in a Club |
| Moustache from the Moon | 2013 | Short | Le Commissaire |
| Mafiosa | 2010 | TV Series | Gino |
| Aliker | 2009 | | Linval |
| Les insoumis | 2008 | | Raphaël Farge |
| Un flic | 2008 | TV Series | Abel |
| La taupe | 2007 | TV Movie | Cominetti |
| David Nolande | 2006 | TV Series | Jeune gitan |
| Tristan | 2003 | | Tristan |
| Motus | 2003 | TV Movie | Amant sadique |
| Requiem | 2001/II | | Rafik |
| Le bel hiver | 2000 | Short | Hamou |
| La vie moderne | 2000 | | Poet in the garden |
| La révolution sexuelle n'a pas eu lieu | 1999 | | X |
| Avocats & associés | 1998 | TV Series | Kemal |
| Dormez, je le veux! | 1998 | | Pedro |
| For Sale | 1998 | | |
| Le secret de Polichinelle | 1997 | | |
| The House | 1997 | | |
| Je suis venue te dire | 1996 | Short | |
| Dancing nuage | 1995 | TV Movie | Kamel |
| L'éducateur | 1995 | TV Series | Serge |
| Krim | 1995 | | Slim |
| Tous les garçons et les filles de leur âge... | 1994 | TV Series | Garçon soirée |
| Hélas pour moi | 1993 | | Max Mercure |
| Jusqu'à demain | 1992 | Short | |
| Son'ogre | 1992 | Short | |
| Coup de foudre | 1992 | TV Series | |
| Tout recommencer | 1991 | Short | |
| Le dernier lien | 1991 | TV Movie | Vassal |
| Trouble | 1989 | Short | Le 2eme joueur de poker |
| 5150 | 1989 | Short | |
Source:
IMDb
,
Wikipedia