• Dorothy Hamill is a retired figure skater who won gold medals in the 1976 Olympics and World Championships in ladies' singles.
• She is married to John MacColl and struggles with depression.
• She created the skating move the "Hamill camel" and was the headliner for Ice Capades.
• Her net worth is estimated to be around $5 million.
• She is active on social media, particularly Twitter and Facebook.

Known for movies
Short Info
| | |
| --- | --- |
| Net Worth | $5 million |
| Date Of Birth | July 26, 1956 |
| Spouse | John MacColl, Kenneth Forsythe, Dean Paul Martin |
| Mark | Her hair |
| Fact | Had a difficult relationship with her parents: father, Chalmers (Chalm), drank and mother, Carolyn (Carol), was distant. |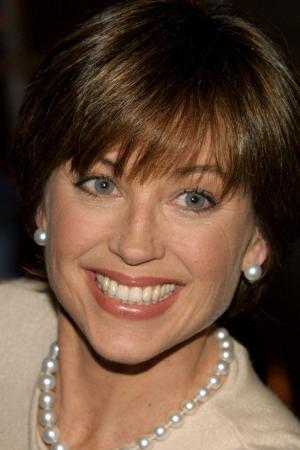 Who is Dorothy Hamill?
Dorothy Stuart Hamill was born on the 26th July 1956, in Chicago, Illinois USA, and is a retired figure skater, perhaps best known to the world for winning the gold medals in the 1976 Olympic Games and World Championship the same year in ladies' singles. Since then, Dorothy has participated in numerous ice skating shows, such as Broadway on Ice, and was also the headliner for Ice Capades, among many other differing accomplishments.
Where Is Dorothy Hamill Today?
Dorothy hasn't been seen on ice for quite some time; back in 2010, she announced that she had been diagnosed with breast cancer, and since then has recovered, though she has continued to struggle with depression which she has battled for the majority of her adult life.  Nevertheless, she still finds a way to enjoy her life with her husband John MacColl, who she married in 2009.
Dorothy Hamill Bio: Early Life, Parents, Siblings, and Education
The youngest of three children born to Chalmers and Carol Hamill, she has a sister Marcia, and a brother named Sandy; although born in Chicago, she spent her childhood in Greenwich, Connecticut as the entire family moved there soon after Dorothy's birth. Dorothy started ice skating an early age, as she was enrolled into a group class, and after only a year her interest in ice skating had increased to the point where her family hired a private coach, on which her father would spend almost $20,000. As she was becoming more focused on figure skating, this put a strain on her education, and as a result she was forced to leave regular school, but eventually matriculated from Colorado Academy. Four years after first donning ice skates, Dorothy first gained national fame when she became novice ladies champion at the US Championships. The same year, Dorothy made her first appearance at Madison Square Garden as a part of an exhibition tour, which would later become Champions on Ice.
Olympic Gold and World Champion
Dorothy progressed rapidly, being taught by Gustave Lussi and Otto Gold, and was dominant at junior level, finishing second at the 1970 Championships, and the following year becoming a professional. Her coach then became Carlo Fassi, and during the '70s, Dorothy enjoyed the most successful years of her career. Her first medal was at the World Championships in 1974 in Munich, where she won the silver, and the following year silver again, this time in Colorado Springs, while in 1976 she won gold medals at the Winter Olympics, held in Innsbruck, and a gold medal at the World Championships held in Gothenburg, so becoming a national hero. During her performance at the Winter Olympics, Dorothy became the last single skater to win the gold medal without a triple jump, however, she was credited for creating a new skating move named after her – Hamill camel – the move starts with a camel spin and then turns into a sit spin.
Here's a classic #ThrowbackThursday image of me, courtesy of my friends at @get_moving, America! #tbt pic.twitter.com/UwxmRgavCV

— Dorothy Hamill (@DorothyHamill) October 31, 2013
Ice Capades and Other Projects
Following the Olympics, Dorothy left figure skating and became a part of Ice Capades, after being asked to join the troupe by Donna Atwood. For the next seven years, Dorothy was the star of the show, but then the troupe ceased to exist and though Dorothy tried to revive it in the early '90s, she and her then-husband failed in their efforts and eventually sold the Ice Capades name to Pat Robertson's International Family Entertainment Inc. Despite the failure, Dorothy continued with her skating endeavors, and was a part of Broadway on Ice for several years, and appeared in the Brian Boitano-Barry Manilow skating extravaganza at AT&T Park in San Francisco in 2007. Since 2010, Dorothy started having health problems which hindered her performances, and until 2013 couldn't have been seen anywhere, until her appearance in the sixteenth season of the popular show "Dancing with the Stars". Unfortunately, she and her partner Tristan MacManus had to withdraw from the competition, as Dorothy severely strained her lower back, and since when Dorothy hasn't skated. Instead, she was a part of the Food Network TV show "Chopped", showcasing her cooking skills next to several other celebrities, including LaMarr Woodley, Mariel Zagunis and Paige VanZant. She was eliminated third, just one round before the finals, losing to Paige VanZant.
Do You Know How Rich Dorothy Hamill is Today?
Dorothy retired from skating some time ago, and even declared bankruptcy at one point in her life, but has managed to recover from that. According to authoritative sources, it has been estimated that Hamill's net worth is as high as $5 million dollars, which is still pretty impressive, don't you think?
Dorothy Hamill Personal Life, Marriage, Divorce, Ex-Husband Dean Paul Martin
Dorothy has been quite open about the ups and downs that happened to her; we spoke about her depression, which has followed her through the majority of her adult life, but which she manages to keep it under control through medication and therapy. Dorothy has been married three and divorced twice – her first husband was the critically acclaimed singer and actor Dean Paul Martin, the son of Dean Martin, but their marriage lasted for only two years, between 1982 to 1984. Three years later Dorothy married Kenneth Forsythe, with whom she welcomed a daughter, Alexandra, before their divorce in 1995. Since 2009 she has been married to John MacColl. You can find out more about Dorothy's life in her autobiographies "On and Off the Ice" and "A Skating Life: My Story".
Internet Popularity
Dorothy has been quite popular on social media platforms, especially Twitter and Facebook, on which thousands of people enjoy her posts. Her official Twitter account has over 11,000 followers, with whom she has shared her most recent personal endeavors, including her talk about how she survived breast cancer. Dorothy is also active on Facebook, on which she has just over 10,000 followers, with whom she has spoken about her struggles with depression and success as a figure skater and her life in the whole.
General Info
| | |
| --- | --- |
| Full Name | Dorothy Hamill |
| Net Worth | $5 million |
| Date Of Birth | July 26, 1956 |
| Height | 1.65 m |
| Weight | 55 kg |
| Profession | Actor, Figure skater |
| Nationality | American |
Family
| | |
| --- | --- |
| Spouse | John MacColl, Kenneth Forsythe, Dean Paul Martin |
| Children | Alexandra Forsythe |
| Parents | Carolyn Hamill, Chalmers Hamill |
| Siblings | Sandy Hamill, Marcia Hamill |
Accomplishments
| | |
| --- | --- |
| Awards | Young American Award, Daytime Emmy Award for Outstanding Individual Achievement in the Performing Arts - Host/Hostess |
| Movies | Blades of Glory, Romeo and Juliet on Ice, Olympic Figure Skating: Greatest Performances in History: Vol. 1 |
| TV Shows | Skating with Celebrities, Dancing with the Stars |
Social profile links
Marks
Facts
| # | Fact |
| --- | --- |
| 1 | Appeared in the infomercial, hosted by Cindy Crawford and Karyn Bryant, for Cindy's "Meaningful Beauty" anti-aging skin care system. [2007] |
| 2 | Lives in Baltimore, Maryland with her daughter, Alexandra. [2007] |
| 3 | Release of her book, "Dorothy Hamill: On and Off the Ice" by Dorothy with Elva Clairmont. [1983] |
| 4 | Release of her book, "A Skating Life: My Story" by Dorothy and Deborah Amelon. [October 2007] |
| 5 | Ex-stepmother of Alexander Martin. |
| 6 | Has been battling osteoarthritis for a decade [2013]. |
| 7 | Ex-daughter-in-law of Dean Martin and Jeanne Martin. |
| 8 | Withdrew from Dancing with the Stars (2005), due to a spinal cyst injury and her doctor's recommendation [March 27, 2013]. |
| 9 | Inducted into the World Figure Skating Hall of Fame in 2000. |
| 10 | Inducted into the U.S. Figure Skating Hall of Fame in 1991. |
| 11 | Former stepmother of Alexander Martin. |
| 12 | Undergoing treatment for breast cancer at the Kimmel Cancer Center at John Hopkins in Baltimore and her prognosis is favorable [January 4, 2008]. |
| 13 | Good friend of Brian Boitano. |
| 14 | Good friend of Deborah Amelon. They met when both were in the Ice Follies. |
| 15 | Started skating because she was painfully shy as a child. |
| 16 | Her daughter, Alexandra, also suffers from depression. |
| 17 | Has been battling depression since the end of her marriage to Dean Paul Martin. |
| 18 | Has a brother, Sandy, and a sister, Marcia. |
| 19 | Had a difficult relationship with her parents: father, Chalmers (Chalm), drank and mother, Carolyn (Carol), was distant. |
| 20 | Had owned the Ice Capades at a time but had to file bankruptcy. |
| 21 | Inducted into the U.S. Olympic Hall of Fame, 1991. |
| 22 | Has 1 child: Alexandra, a.k.a. Alex, (born 1988). Was ex-stepmother of Jennifer and Daniel, children of her ex-husband, Ken Forsythe. |
| 23 | 1 of Hamill's skating spins became her trademark, known as the 'Hamill Camel' |
| 24 | 1976 World champ. |
| 25 | 1974 & 1975 World silver medalist |
| 26 | 1974-1976 U.S. National champ. |
| 27 | silver medal, 1973 U.S. Nationals |
| 28 | Coached by Carlo Fassi, the coach of Peggy Fleming & Nicole Bobek. |
| 29 | 1970 U.S. Junior silver medalist |
| 30 | 1969 U.S. Novice champ. |
| 31 | Began skating at 8 |
| 32 | Won a gold medal in women's figure skating in the 1976 Winter Olympic Games in Innsbruck, Austria. |
| 33 | Figure skating world champion |
Pictures
Movies
Actress
| Title | Year | Status | Character |
| --- | --- | --- | --- |
| Blades of Glory | 2007 | | Federation Judge |
| The Christmas Angel: A Story on Ice | 1998 | TV Movie | Mom |
| Cinderella... Frozen in Time | 1994 | TV Movie | Cinderella |
| The Nutcracker: A Fantasy on Ice | 1983 | TV Movie | Clara |
| Romeo and Juliet on Ice | 1983 | TV Movie | Juliet |
| Fantasy Island | 1983 | TV Series | Alison Solomon / Marietta |
Self
| Title | Year | Status | Character |
| --- | --- | --- | --- |
| Home & Family | 2016 | TV Series | Herself |
| Hollywood Health Report | 2016 | TV Series | Herself - Guest |
| Oprah: Where Are They Now? | 2016 | TV Series | Herself |
| Great Performances | 2014 | TV Series | Herself - Olympic Gold Medalist |
| Steve Harvey | 2014 | TV Series | Herself |
| Rachael Ray | 2014 | TV Series | Herself |
| Fox and Friends | 2013 | TV Series | Herself |
| Entertainment Tonight | 2007-2013 | TV Series | Herself |
| Dancing with the Stars | 2013 | TV Series | Herself - Contestant |
| Good Day L.A. | 2013 | TV Series | Herself |
| Kaleidoscope on Ice | 2011 | TV Movie | Herself - Co-Hostess |
| Rise | 2011 | Documentary | Herself |
| Kaleidoscope on Ice | 2010 | TV Movie | Herself - Co-Hostess |
| Stand Up to Cancer | 2010 | TV Special | Herself |
| Be Good Johnny Weir | 2010 | TV Series | Herself |
| Kaleidoscope | 2009 | TV Movie | Herself |
| Brian Boitano Skating Spectacular Starring Barry Manilow | 2007 | TV Movie | Herself |
| The Insider | 2007 | TV Series | Herself |
| Larry King Live | 2007 | TV Series | Herself |
| Paula's Party | 2007 | TV Series | Herself |
| Skating with Celebrities | 2006 | TV Series | Herself - Judge |
| Today | 2005 | TV Series | Herself |
| Let's Talk with Gary Gellman | 2005 | TV Series | Herself |
| ABC's 50th Anniversary Celebration | 2003 | TV Special documentary | Herself |
| Jim McKay: My World in My Words | 2003 | TV Movie documentary | Herself |
| SportsCentury: The Century's Greatest Athletes | 2002 | TV Series | Herself |
| Bud Greenspan Presents: Michelle Kwan | 2002 | TV Movie documentary | Herself |
| Gershwin on Ice | 2001 | Video | Herself |
| Michelle Kwan: Princess on Ice | 2001 | TV Movie | Herself |
| E! True Hollywood Story | 1997-1999 | TV Series documentary | Herself |
| A Tribute to George and Ira Gershwin: A Memory of All That | 1998 | TV Special | Herself |
| The Legends Figure Skating Championships | 1997 | TV Mini-Series | Herself |
| Biography | 1997 | TV Series documentary | Herself |
| The Legends Figure Skating Championships | 1996 | TV Mini-Series | Herself |
| The 1996 Fox Rock 'N Roll Skating Championships | 1996 | TV Special | Herself - Host |
| Dorothy Hamill's Gold Medal Preview | 1994 | TV Special | Host |
| Super Bowl XXVI | 1992 | TV Movie | Herself - Halftime Show Performer |
| Circus of the Stars #11 | 1986 | TV Special documentary | Herself |
| Liberty Weekend | 1986 | TV Special documentary | Herself |
| Grandpa, Will You Run with Me? | 1983 | TV Movie | Herself |
| Breakaway | 1983 | TV Series | Herself |
| Diff'rent Strokes | 1983 | TV Series | Herself |
| The Snow Queen: A Skating Ballet | 1982 | TV Movie | Herself |
| Andy Williams' Early New England Christmas | 1982 | TV Movie | Herself - Skater |
| Perry Como's French-Canadian Christmas | 1981 | TV Special | Herself |
| The Big Show | 1980 | TV Series | Herself |
| Good Morning America | 1975-1980 | TV Series | Herself |
| Dorothy Hamill Presents Winners | 1978 | TV Special | Herself |
| The Mike Douglas Show | 1978 | TV Series | Herself - Figure Skater |
| The Tonight Show Starring Johnny Carson | 1977 | TV Series | Herself |
| The Dorothy Hamill Special | 1976 | TV Special | Herself |
| World Champions on Ice | 1976 | TV Movie | Herself |
| Ice'N'Easy | 1974 | TV Movie | Herself |
Awards
Won Awards
| Year | Award | Ceremony | Nomination | Movie |
| --- | --- | --- | --- | --- |
| 1984 | Daytime Emmy | Daytime Emmy Awards | Outstanding Individual Achievement in the Performing Arts - Host/Hostess | Romeo and Juliet on Ice (1983) |
Source:
IMDb
,
Wikipedia