• Greta Van Susteren is a commentator and former television news anchor, best known for her work with Fox News.
• Her net worth is estimated to be $35 million.
• She has a Juris Doctorate from the Georgetown University Law Center and a doctor of laws degree from Stetson Law School.
• She is a member of the Church of Scientology and was a co-owner of the Old Mill restaurant in Mattituck, New York from 2006 to 201•
• She is on the Board of Directors at the National Institute for Civil Discourse.

Known for movies

Who is Greta Van Susteren?
Greta Conway Van Susteren was born on 11 June 1954, in Appleton, Wisconsin USA, of Dutch and Irish descent, and is a commentator as well as a former television news anchor, perhaps best known for her work with Fox News in the show "On the Record w/ Greta Van Susteren".
The Wealth of Greta Van Susteren
How rich is Greta Van Susteren? As of mid-2018, sources estimate a net worth that is at $35 million, mostly earned through success on television, as she's also worked for CNN, NBC News, and MSNBC. As she continues her endeavors, it is expected that her wealth will also continue to increase.
Early Life and Education
Greta's parents were very close to several political names, particularly the infamous US Senator Joseph McCarthy, who even attended their wedding. Greta's siblings would also later pursue careers in either politics or journalism. She attended Xavier High School in Appleton, and after matriculating in 1972 enrolled the University of Wisconsin-Madison, and completed a degree in geography and economics. She furthered her studies by attending the Georgetown University Law Center, from which she earned a Juris Doctorate in 1979.

Greta worked as a civil and criminal attorney based in Wisconsin for several years, before returning to Georgetown University Law Center as an adjunct faculty member, while also working full-time on her legal career, which probably later on contributed to her being awarded a doctor of laws degree from Stetson Law School. Her popularity as an attorney grew thanks to her expertise and success, and she became a regular legal analyst for CNN during the coverage of the OJ Simpson murder trial, which would eventually lead her to more work on television.
Interviewed @karaswisher of @Recode today for @VOANews pic.twitter.com/RXVgnv4ue4

— Greta Van Susteren (@greta) August 13, 2018
Television Career
Van Susteren began her television hosting career with the
CNN show "Burden of Proof and The Point"
, in which she was one of the co-hosts. She could also be heard in the Cartoon Network series "Space Ghost Coast to Coast", as a celebrity guest. She served with CNN for several years before deciding to move to Fox News Channel in 2002, which was highly publicized due to a contract bidding war, and which lead to her becoming the host of the current affairs show entitled "On the Record w/ Greta Van Susteren".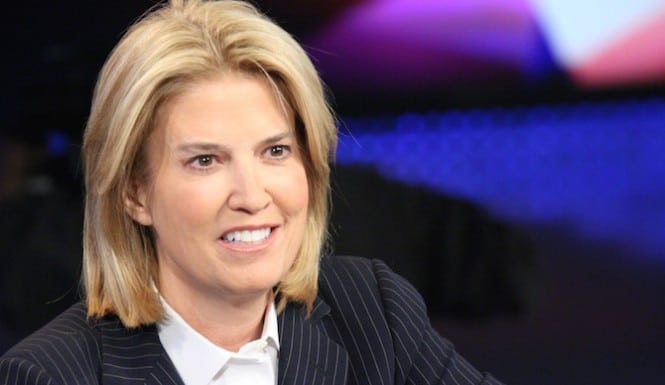 The program featured various news stories of the day, including coverage from on location correspondents as well as officials making statements about the current issues. Legal analysts from Fox also appeared regularly on the program, and "On the Record" also became known from delineating from their usual programming to follow breaking news of the day; Greta hosted the program until 2016. While working with Fox, she opened an orphanage and school called The Greta Home and Academy, which she worked on with her husband. In 2014, she criticized US Senate candidate Dwayne Stovall for running an advertisement that was insulting stating that he was a jerk. Her program with Fox received mixed reviews.

Resignation, Brief Stint with NBC, and Other Projects
In 2016, Greta made a surprising move by resigning from Fox News – she wasn't able to say 'goodbye' on-air, as her position in the show "On the Record" was immediately filled by Brit Hume. Greta went on to state that Fox had not felt like home to her for a few years, and that she decided to resign from the network immediately to take advantage of a time limited clause in her contract.
Early the following year, she signed with NBC News to become the anchor of the 6pm program on MSNBC. The program was later named "For the Record with Gretta", and she would serve as the host of the program for six months before the network let go of the show. According to a tweet, she stated that her program did not do well with ratings, leading her to be "out at MSNBC". A few months later, she joined Voice of America as a contributor. She is also on the Board of Directors at the National Institute for Civil Discourse (NICD) which was created by the University of Arizona following the 2011 Tucson shooting.
Personal Life
For her personal life, it is known that Van Susteren married tort lawyer John P. Coale in 1988. They had known each other for a long time as he worked with her as a partner during her full-time law practice. The couple is known to have subsequently worked together on numerous charitable efforts, and they are both members of the Church of Scientology. She was a previous co-owner of the Mattituck, New York restaurant called the Old Mill, from 2006 to 2014.
General Info
| | |
| --- | --- |
| Full Name | Greta Van Susteren |
| Net Worth | $35 million |
| Date Of Birth | June 11, 1954 |
| Height | 1.6 m, 1.6 m |
| Profession | Journalist, TV Personality, Presenter, Lawyer, Commentator, Lawyer, Journalist, Commentator, Presenter, TV Personality |
| Education | Georgetown Law, Georgetown University, Xavier High School, University of Wisconsin-Madison, University of Wisconsin-Madison, Georgetown Law, Georgetown University, Xavier High School |
| Nationality | American, American |
Family
| | |
| --- | --- |
| Spouse | John P. Coale, John P. Coale |
| Parents | Margery Van Susteren, Urban Van Susteren, Urban Van Susteren, Margery Van Susteren |
| Siblings | Lise Van Susteren, Dirk Van Susteren, Lise Van Susteren, Dirk Van Susteren |
Accomplishments
| | |
| --- | --- |
| Nominations | News & Documentary Emmy Award for Outstanding Instant Coverage of a News Story - Programs, News & Documentary Emmy Award for Outstanding Instant Coverage of a News Story - Programs |
| TV Shows | On the Record, For the Record with Greta, Crime Scene, For the Record with Greta, On the Record, Crime Scene |
Social profile links
Salary
Facts
| # | Fact |
| --- | --- |
| 1 | Her first job was to take the coins from the cash register and put them in paper containers, before the coins were then taken to the bank. |
| 2 | Friend of Tony Snow and Hilary Rosen. |
| 3 | Graduate of the University of Wisconsin-Madison with a Bachelor's degree in Economics in 1976. |
| 4 | She is an attorney by trade as is her husband, who is a Baltimore native. The former also went into journalism, while the latter is a legal analyst for Fearless (1993). |
| 5 | Owns Stock with the Green Bay Packers, her favorite football team. |
| 6 | Her older sister, Lise Van Susteren, also lives in Washington D.C. and is a forensic psychologist with her own practice. Her brother, Dirk Van Susteren, is a journalist and author. |
| 7 | Her father was one of 13 kids. |
| 8 | Her dad Urban Van Susteren passed away in 1989. |
| 9 | Family talked about and debated politics as she grew up at the dinner table. |
| 10 | Her mom lived with her and husband, John P. Coale, in Washington D.C. the last few years of her life. |
| 11 | Her mother, Margery Van Susteren, passed away in 2001. |
| 12 | She enjoyed living a rural lifestyle as a child. |
| 13 | Liked Jefferson Airplane as a teenager. |
| 14 | Youngest of 3 daughters |
| 15 | Her father was a judge who served under Senator Joseph McCarthy. He died in 1989. |
| 16 | Older sister, Lise Van Susteren, is a well known psychologist in Washington D.C.; has her own private practice. |
| 17 | Owns 2 dogs and 3 cats. One of her cats was given to her by Ozzy Osbourne and Sharon Osbourne and named "Ozzy". |
| 18 | Her father was of one half Dutch, one quarter German, and one quarter Luxembourgian, ancestry. Her mother, born in New York, was of entirely Irish descent. |
| 19 | She attended Appleton Xavier Catholic High School in Appleton, Wisconsin. |
| 20 | Is a die-hard fan of the Green Bay Packers. |
Movies
Actress
| Title | Year | Status | Character |
| --- | --- | --- | --- |
| Notorious | 2016 | TV Series | Greta Van Susteren |
Writer
| Title | Year | Status | Character |
| --- | --- | --- | --- |
| For the Record | 2017 | TV Series | |
Producer
| Title | Year | Status | Character |
| --- | --- | --- | --- |
| For the Record | 2017 | TV Series executive producer | |
Self
| Title | Year | Status | Character |
| --- | --- | --- | --- |
| For the Record | 2017 | TV Series | Herself - Host / Herself - Hostess |
| Meet the Press | 2017 | TV Series | Herself - Panelist |
| On the Record w/ Brit Hume | 2002-2016 | TV Series | Herself - Host / Herself - Hostess / Herself |
| Media Buzz | 2014-2016 | TV Series | Herself - Hostess, On the Record / Herself |
| This Week | 2012-2016 | TV Series | Herself - Powerhouse Roundtable Panelist / Herself |
| Fox and Friends | 2013-2014 | TV Series | Herself - Hostess, On the Record / Herself |
| Fox Files | 2014 | TV Series | Herself |
| Rake | 2014 | TV Series | Herself |
| Fox News | 2013 | TV Series | Herself |
| Inside Edition | 2013 | TV Series documentary | Herself |
| Larry King Now | 2013 | TV Series | Herself |
| PoliticKING with Larry King | 2013 | TV Series | Herself - guest |
| The Five | 2013 | TV Series | Herself |
| Hannity | 2009-2012 | TV Series | Herself |
| Keeping Up with the Kardashians | 2011 | TV Series | Herself |
| Mayor Cupcake | 2011 | | Herself |
| Bill Moyers' Journal | 2010 | TV Series documentary | Herself |
| The Late Late Show with Craig Ferguson | 2009 | TV Series | Herself |
| Entertainment Tonight | 2008-2009 | TV Series | Herself |
| Dinner: Impossible | 2009 | TV Series | Herself |
| The Strategy Room | 2009 | TV Series | Herself |
| Damages | 2007-2009 | TV Series | Herself |
| The Audacity of Democracy | 2009 | Video documentary | Herself |
| The View | 2005-2008 | TV Series | Herself |
| The O'Reilly Factor | 2005-2008 | TV Series | Herself |
| Just In with Laura Ingraham | 2008 | TV Series | Herself |
| America's Pulse | 2008 | TV Series | Herself |
| Girl 27 | 2007 | Documentary | Herself - Fox News Channel Anchor |
| Crime Scene | 2006 | TV Series | Herself |
| Hannity & Colmes | 2005 | TV Series | Herself |
| The Big Story | 2005 | TV Series | Herself |
| The Tonight Show with Jay Leno | 2002-2005 | TV Series | Herself |
| Geraldo at Large | 2005 | TV Series documentary | Herself |
| Late Night with Conan O'Brien | 2004 | TV Series | Herself |
| American Justice | 2004 | TV Series documentary | Herself |
| Miss America Pageant | 2003 | TV Special | Herself - Judge |
| The Osbournes | 2002 | TV Series | Herself |
| Intimate Portrait | 2002 | TV Series documentary | Herself |
| The Daily Show | 2000-2002 | TV Series | Herself |
| 60 Minutes | 2001 | TV Series documentary | Herself - CNN Host (segment "Here Comes the Judge") |
| Larry King Live | 1999 | TV Series | Herself |
| Space Ghost Coast to Coast | 1998 | TV Series | Herself |
Archive Footage
| Title | Year | Status | Character |
| --- | --- | --- | --- |
| Media Buzz | 2014-2016 | TV Series | Herself - Hostess, On the Record / Herself |
| CBS News Sunday Morning | 2016 | TV Series | Herself - Hostess, On the Record |
| Extra | 2016 | TV Series | Herself |
| The Greg Gutfeld Show | 2015 | TV Series | Herself - Hostess, On the Record |
| Inside Edition | 2015 | TV Series documentary | Herself - Hostess, On the Record |
| Stossel | 2014-2015 | TV Series | Herself - Hostess, On the Record |
| Mad As Hell | 2014 | Documentary | Herself |
| Miss Representation | 2011 | Documentary | Herself |
| Glenn Beck | 2009 | TV Series | Herself |
| The O'Reilly Factor | 2008 | TV Series | Herself |
| Independent Intervention | 2006 | Documentary | Herself |
| Outfoxed: Rupert Murdoch's War on Journalism | 2004 | Documentary | Herself |
Source:
IMDb
,
Wikipedia