• Marta Victoria Moya Peggo Burges is an actress, now American and adopting the stage name of Linda Cristal
• She has a net worth of over $9 million
• She grew up in Buenos Aires and studied at Conservatoria Franklin
• She gained fame through roles in films like "The Perfect Furlough", "Comanche", and "Two Rode Together"
• She was married three times and is currently retired, staying away from the spotlight and online social media
 
Who is Linda Cristal?
Marta Victoria Moya Peggo Burges was born on 23 February 1934, in Buenos Aires, Argentina. She is an actress, now American and adopting the stage name of Linda Cristal, and best known for her Golden Globe award winning performance in the comedy film entitled "The Perfect Furlough" in 1958. She also worked on numerous Western films during that decade.
The Net Worth of Linda Cristal
How rich is Linda Cristal? As of late-2019, sources inform us of a net worth that is over $9 million, earned through a successful career in acting in the entertainment industry from the 1950s up to the 1990s, but she has since laid low.
Despite that, all of her achievements helped put her in her current financial position.
Early Life and Acting Beginnings
Linda grew up in Buenos Aires, and is of Italian descent from her mother, while of French descent from her father. Her father worked as a publisher, but after getting into a bit of political trouble, the family decided to move to Montevideo, Uruguay to be in a more peaceful situation. During her time there, Linda took up her education at Conservatoria Franklin.
It is not known how she developed an interest towards an acting career, and began working on films in Mexico as well as in Argentina. In 1956, she gained her first English language role as Margarita in the Western entitled "Comanche"; the film starred Dana Andrews and had the theme song "A Man Is As Good As His Word" which was recorded by The Lancers. This opened the door for her into Hollywood, and two years later she gained her breakthrough role in "The Perfect Furlough", which got her the Golden Globe Award for New Star of the Year.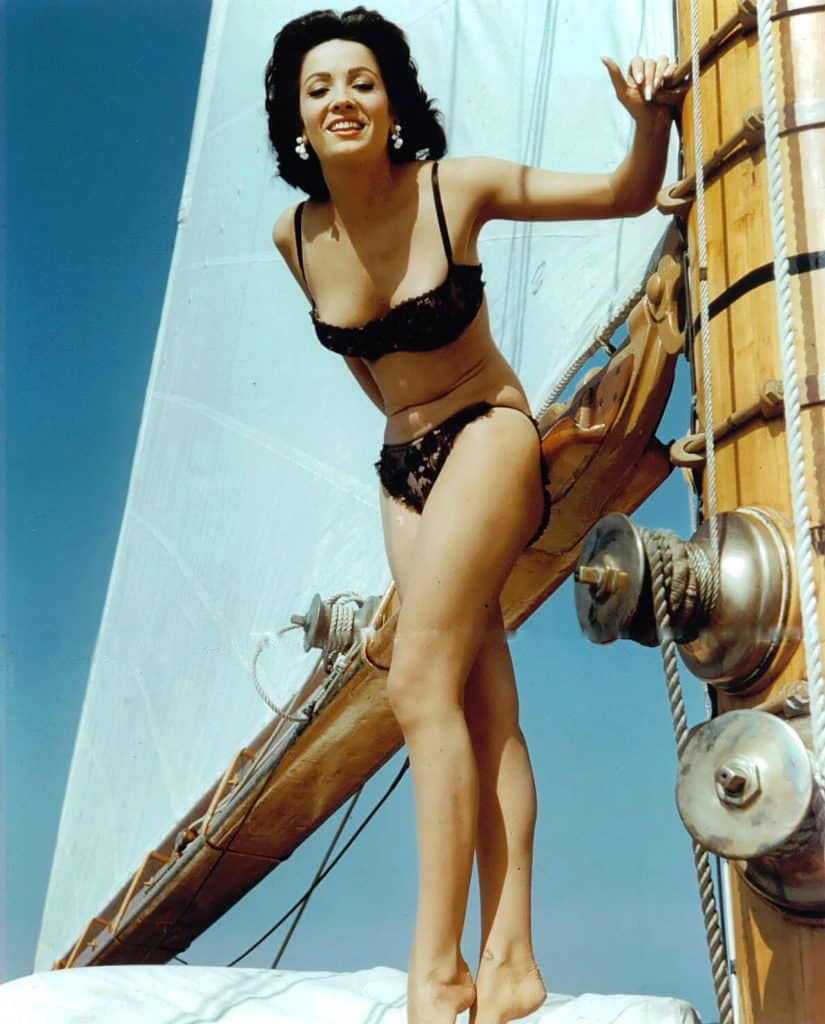 Rise to Fame
"The Perfect Furlough" is a romantic comedy film written by Stanley Shapiro and directed by Blake Edwards. It was their first collaboration, and the two would later work on the film "Operation Petticoat". More films came Cristal's way, and she had roles in "Cry Tough" as well as in "Legions of the Nile", an epic adventure film and a collaborative work between Italy, Spain and France. In 1960, she was also given a role in "The Pharoah's Woman", which is a historical film set in Ancient Egypt during the 31st century BC.
With her fame increasing continuously, she was approached by John Wayne for work on the film "The Alamo", as the title denotes about the 1836 Battle of the Alamo, in which she played the part of Flaca. In 1961, she was cast in a key role for another Western entitled "Two Rode Together", which starred James Stewart and Shirley Jones.
Other Roles and Retirement
While she had a lot of film work during this period, she was also offered numerous television roles, some of which she took. She appeared in an episode of the series "Rawhide" opposite Clint Eastwood as a kidnapped countess.
Linda continued her television work as her career progressed to its later stages, playing a female matador in "The Tab Hunter Show" which starred the titular actor, making it his first recurring role in a television show. She also made a guest appearance in an episode of "Voyage to the Bottom of the Sea". In 1964, she started to take fewer projects, and was considered in semi-retirement due to her focusing more on raising her children.
However, three years later, she returned to acting by becoming a regular cast member of the TV series "The High Chaparral". The Western-themed show how ran from 1967 to 1971, and she portrayed the character Victoria Cannon, earning a Golden Globe win as well as two Emmy Award nominations for her performance. With the end of the show, she continued acting, appearing in the 1974 release entitled "Mr. Majestyk", an action film based on a screenplay written by Elmore Leonard, who would later produce a novel based on the movie.
#CriminallyUnderratedActors: in an alternate universe these are the biggest movie stars of their world: Red-hot Argentinian firecracker #LindaCristal – MR. MAJESTYK, TWO RODE TOGETHER, THE ALAMO pic.twitter.com/GNMzFEWWn0

— Cesare Augusto (@RanesHook) January 9, 2018
She also appeared in the television disaster movie entitled "Condominium", which was broadcast through HBO. One of her last starring projects was in the television series "Rosse" which aired in 1985.
Personal Life and Social Media
For her personal life, it is known that Cristal's first marriage was in 1950, spouse unknown as it was annulled after just five days. Eight years later she married businessman Robert Champion, but they stayed together for less than a year before divorcing. In 1960, she married former actor Yale Wexler, who would later become a real estate developer. They had two children and stayed together for six years before divorcing. Since then, there have been no reports of any new relationships on her part.
It is known that she was with both of her parents when they passed away, as the trio were involved in a road accident that killed both. She speaks fluent English, French, and Italian.
One of the reasons there is very limited information about her is due to the lack of any strong online social media presence. She used to be active on the website Facebook, but in 2011 announced that she was taking an indefinite leave of absence from the site. Since then, she has not returned nor has created any new social media accounts, preferring to stay away from the spotlight and enjoy her retirement.