• Born in Edmonton, Alberta, Canada in 1971
• Voice actor and actor, best known for playing Richard Castle in "Castle" and Captain Malcolm Reynolds in "Firefly"
• Became popular in the 2000s with roles in "Dracula 2000," "Slither," and "Waitress"
• Net worth estimated to be around $18 million
• Currently in a relationship with Krista Allen

Known for movies
Short Info
| | |
| --- | --- |
| Net Worth | $18 million |
| Date Of Birth | March 27, 1971 |
| Mark | Known for playing unusual but highly likeable characters |
| Fact | Originally auditioned for the role of Angel for Joss Whedon's first television series, Buffy the Vampire Slayer (1997). However, never met Joss Whedon until he auditioned for the part of Mal on Firefly (2002). |
| Payments | Earned $100,000 per episode from Castle (2009) |

Who is Nathan Fillion?
Born Nathan Christopher Fillion on the 27th March 1971, in Edmonton, Alberta Canada, he is an actor, voice actor, best known to the world from playing Richard Castle in the crime-drama series "Castle" (2009-2016), and previously as Captain Malcolm 'Mal' Reynolds in the short-lived TV series "Firefly" (2002-2003).
Early Life, Family, and Education
The younger son born to June and Robert Fillion, who both were English teachers, Nathan has an older brother, Jeff, with whom he spent his childhood in Mill Woods, a residential area in Edmonton. Nathan went to Holy Trinity Catholic High School, and later enrolled at Concordia University of Alberta and the University of Alberta, during which time he was a part of the Kappa Alpha Society.
Career Beginnings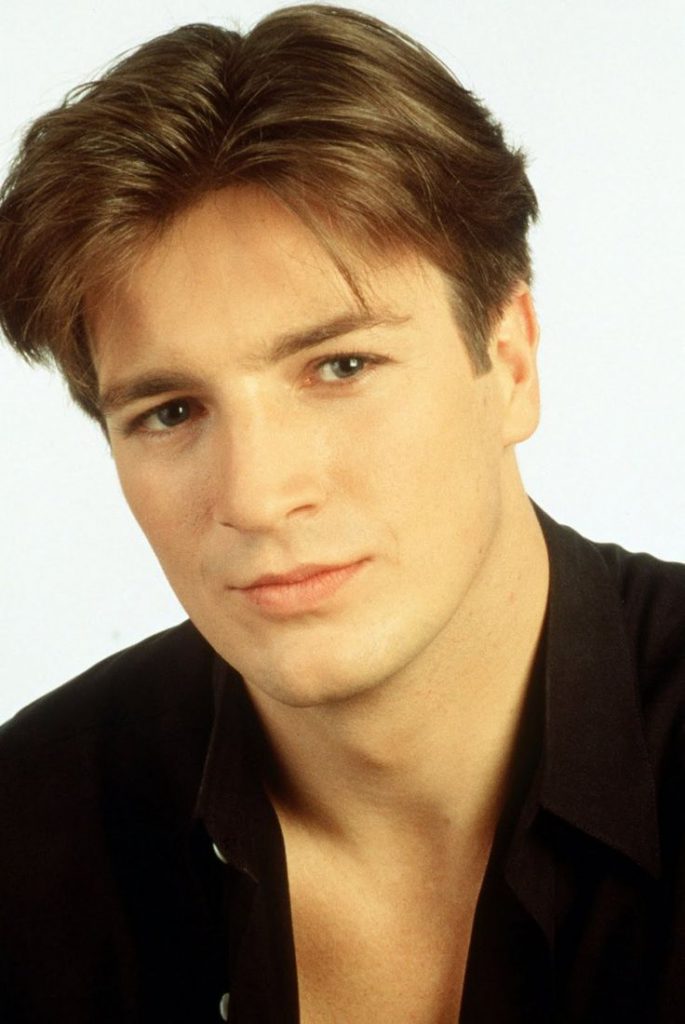 Nathan moved to the USA, settling in New York City in 1994, but not before he worked in several theatre, film, and television projects in his native Canada. He was a part of the improvisational theater Theatresports with Rapid Fire Theatre, and also appeared in the improvisational soap opera entitled "Die-Nasty".
Once he moved to New York, Nathan started auditioning for various parts, and got a pat on the back with the role of Joey Buchanan in the soap opera "One Life to Live" (1995-1997), when he left the show to pursue other projects, though he eventually returned for a brief guest appearance in 2007.
Throughout the '90s, Nathan made several notable appearances, such as in the part of Johnny Donnelly in the TV series "Two Guys, a Girl and a Pizza Place" (1998-2001).
He started the new millennium with the role of Father David in the critically-acclaimed fantasy horror film "Dracula 2000", starring Gerard Butler, Justine Waddell and Johnny Lee Miller.
Rise to Prominence
As the 2000s developed, Nathan became more popular as an actor, and as a result was cast in the lead role in the highly-acclaimed TV sci-fi action series "Firefly", which although airing for only one season, won a number of prestigious awards, including a Primetime Emmy Award. Nathan then got the lead role in the action-adventure film "Serenity", starring next to Gina Torres and Chiwetel Ejiofor, and continued in the same manner in the second half of the 2000s, starring in the sci-fi horror "Slither" in 2006, a film directed and written by James Gunn, and in 2007 starred with Keri Russell in the drama film "Waitress".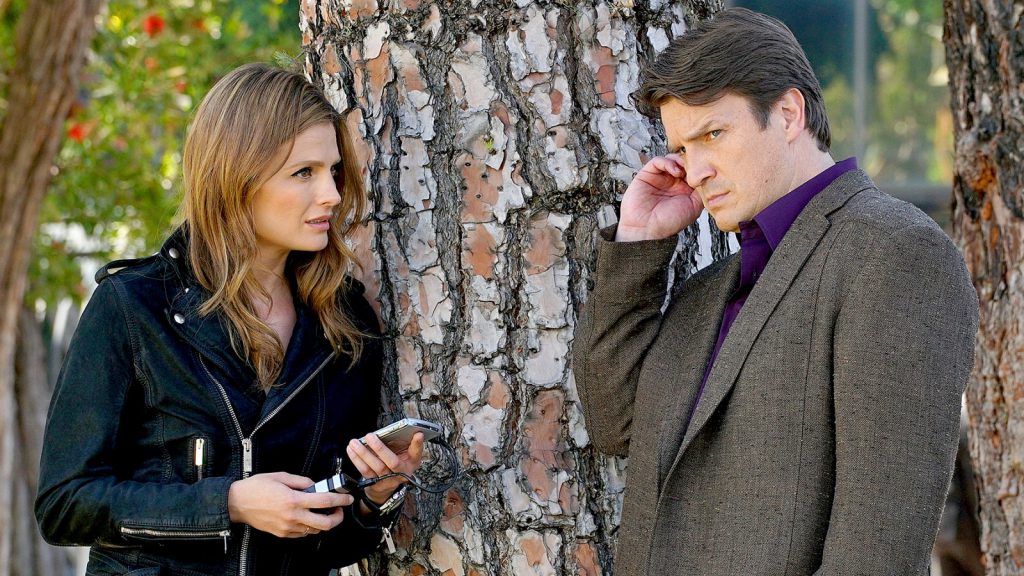 "Castle"
In 2009 Nathan got his most prominent role so far, as Richard Castle in the crime-drama series "Castle". In the series, Nathan is seen portraying the titular character, a best-selling mystery writer who joins the NYPD and becomes extremely close to Kate Beckett, an NYPD detective portrayed by Stana Katic. At first, Becket is quite irritated by the very thought of Castle working with her, but as the series develops, the two become rather close. The show aired for eight seasons on ABC, before being canceled in an abrupt ending. Nathan won a number of awards for his performance, including four People's Choice Awards. The role of Richard Castle certainly launched him to real stardom, and increased his wealth to a large degree, as he was eventually receiving $100,000 per episode.
Continual Success
Concurrently with working on "Castle", Nathan had many other projects, and also started a career as a voice actor. He featured in the epic-drama film "Percy Jackson: Sea of Monsters" in 2013, then from 2015 until 2017 he portrayed Jack Moore in the TV series "Con Man", while in recent years, Nathan played Gary West in the TV comedy-horror series "Santa Clarita Diet" (2017-2018), and Jacques Snicket in the new take on the famous children's books "A Series of Unfortunate Events" (2018). He is currently working on several projects, including the film "Nomis", and the new TV series "The Rookie", in which he will portray John Nolan.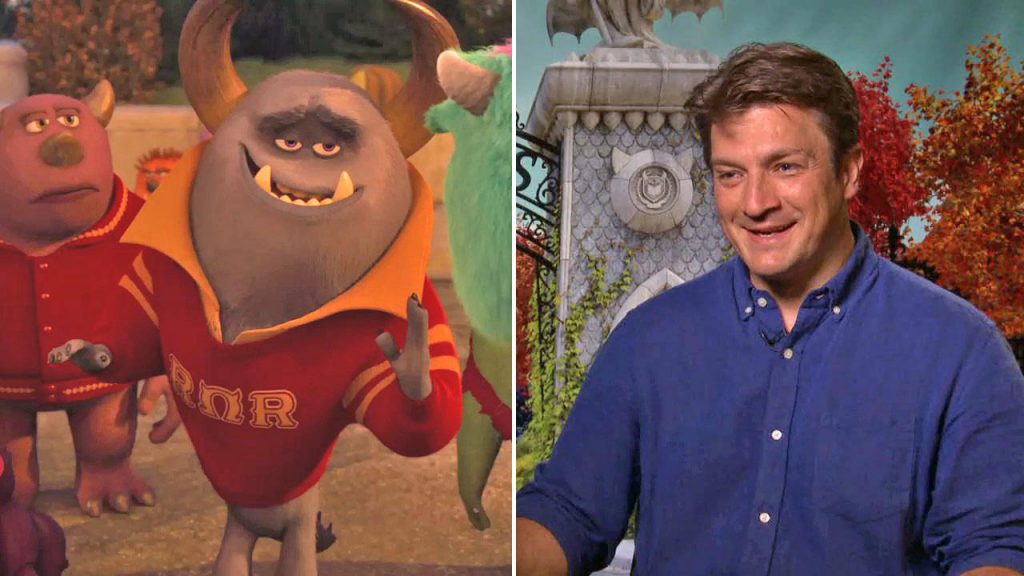 Voice Acting Career
Nathan is recognized for his deep manly voice, and has used it to gain recognition as a voice actor as well. Back in 2013, he gave voice to Johnny in the animated film "Monsters University", and in 2015 started giving voice to Green Lantern in a number of animated films from DC Universe. He is also recognized as the voice of Monstrous Inmate in the highly-acclaimed film "Guardians of the Galaxy" (2014). Most recently, he was the voice of Sterling in the third installment of the popular animated film franchise "Cars" in 2017.
Do You Know How Rich Prominent Actor, Nathan Fillion Is?
Since launching his career in the early '90s, Nathan has reached prominence with a few high-paying roles that have increased his wealth to a large degree. So, have you ever wondered how rich Nathan Fillion is, as of mid- 2018? According to authoritative sources, it has been estimated that Fillion's net worth is now as high as $18 million – pretty decent, don't you think? Some of his best-paying projects are of course "Castle", and the film "Guardians of the Galaxy" (2014), which grossed over $770 million at the box office.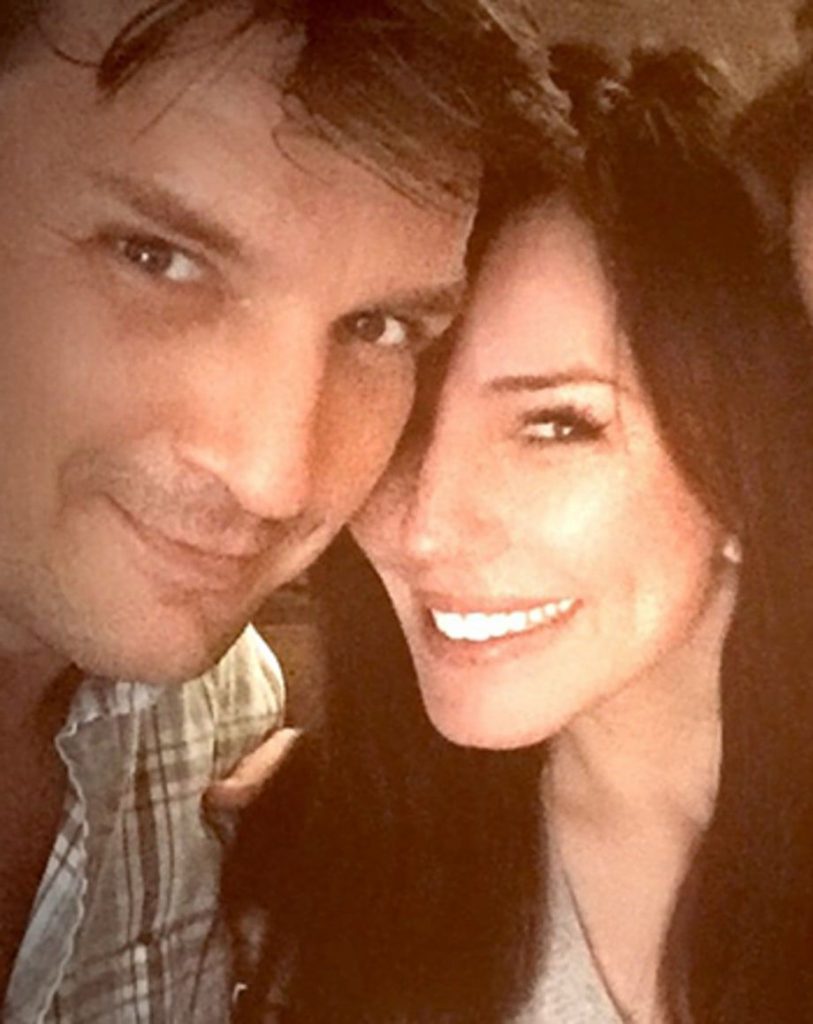 Do You Know About His Relationship Status, Affairs, Marriage, Children?
When it comes to his personal life, Nathan has been seen with a couple of gorgeous Hollywood actresses, including Krista Allen, with whom he has been in a relationship since 2015. The couple has failed to share their future plans, and fans are wondering whether the couple is ready to tie the knot at some point. In the past, Nathan was seen with such beauties as Mikaela Hoover, Christina Ochoa and Vanessa Marcil.
Internet Popularity
Nathan has become quite popular on social media platforms, with over five million followers on the top three social media networks. His official Facebook page has close to 700,000 followers, with whom he has shared some of the most interesting details from his personal life, such as his visit to Disneyland. He can also be found on Instagram, on which he has around 900,000 fans, but his largest fan base is on Twitter, on which he has over 3.5 million followers, with whom he has shared his personal opinions, ideas, and events from both career and personal life. So, if you aren't already a fan of this prominent actor, then this is a fantastic opportunity for you, just skip over to his official pages.
General Info
| | |
| --- | --- |
| Full Name | Nathan Fillion |
| Net Worth | $18 million |
| Date Of Birth | March 27, 1971 |
| Height | 1.87 m |
| Profession | Voice Actor |
| Education | Holy Trinity Catholic High School, University of Alberta, Concordia University of Edmonton |
| Nationality | Canadian |
Family
| | |
| --- | --- |
| Parents | Cookie Fillion, Bob Fillion |
| Siblings | Jeff Fillion |
Accomplishments
| | |
| --- | --- |
| Awards | People's Choice Award for Favorite Dramatic TV Actor, People's Choice Award for Favorite Crime Drama TV Actor, Shorty Award for Best Actor, Shorty Award for Best Celebrity |
| Nominations | People's Choice Award for Favorite TV Duo, People's Choice Award for Favorite On-Screen Chemistry, Teen Choice Award for Choice TV Actor - Drama/Action Adventure, Daytime Emmy Award for Outstanding Younger Actor in a Drama Series, Satellite Award for Best Actor – Television Series Drama, Screen Ac... |
| Movies | Serenity, Guardians of the Galaxy, Slither, Waitress, Percy Jackson: Sea of Monsters, Saving Private Ryan, White Noise: The Light, Much Ado About Nothing, Monsters University, Justice League: Doom, Green Lantern: Emerald Knights, Blast from the Past, Dracula 2000, Ordeal in the Arctic, Super, Justic... |
| TV Shows | Castle, James Gunn's PG Porn, Dr. Horrible's Sing-Along Blog, Drive, Justice League, Buffy the Vampire Slayer, Firefly, Two Guys and a Girl, Maggie Winters, Total Security |
Social profile links
Marks
| # | Marks / Signs |
| --- | --- |
| 1 | Known for playing unusual but highly likeable characters |
Salary
| Title | Salary |
| --- | --- |
| Castle (2009) | $100,000 per episode |
Quotes
| # | Quote |
| --- | --- |
| 1 | [describing how he blew his chance at serving on a jury] We're talking to this judge who belonged on TV. He was handsome, had good hair. He was telling us about the importance of jury duty. I was riveted. He was funny, and at one point they call you back into the room and they're gonna decide whether or not they're gonna use you. I walk in. They're all charming, they're all nice, and one of them says, 'Hey, you're an actor!' I decided to have a little fun and I said, 'Yes, I'm a very good actor, which brings me to the point: I don't know which juror I'm playing. I still didn't get my script.' The judge didn't get it. He looks at me and he says, 'There's no script', I said, 'Oh, improv. Good. Let me give you a little back story to my character. I'm the guy, when they sequester the jury in the hotel, I tie the bedsheets together, I come out the window and I pit the plaintiffs against the defence attorney'. I got excused. |
| 2 | [on the DVD commentary for Dr. Horrible's Sing-Along Blog (2008), talking about his skill at portraying "Joey Buchanan" on One Life to Live (1968)] The only question you have to ask yourself is 'How good a Joey Buchanan was I?' A man's 'Buchananity' is what separates him from reptiles and lawn furniture. |
| 3 | [on Firefly (2002)] - It was my favorite job ever. What wasn't great about it? I got to wear a low-slung holster. I got to ride horses. I got to have a spaceship. I got to act mean and curmudgeonly. [Creator Joss Whedon] is really good at kicking characters in the nuts so the other characters would have laughs at my expense and that was great too. ... If I got $300 million from the California Lottery, the first thing I would do is buy the rights to Firefly, make it on my own, and distribute it on the Internet. ... We're the most story-literate society the world has ever seen. What Joss tends to do is twist story conventions into reality. Whereas the story goes like this, real life goes like this, and that's what Joss has mastered. |
| 4 | (When asked if he would go back and do a Firefly (2002) TV series again after Serenity (2005)): I hope so. Daddy's got bills to pay! |
| 5 | (When asked what makes Caleb unique and threatening): His accent. Never trust a southerner. No, I'm kidding. They're wonderful. You want to believe in his niceness and his charm, but he's an evil kind of crazy man who's righteous. Fear the righteous. |
| 6 | (When asked what he likes about playing a villain): Being able to be evil. You can't do the evil things that you want to do in real life. You certainly can't because it's against the law and society says all that they have to say about being evil. You want to be bad everyday. You want to do the bad evil things that you can't get away with and now I'm able to be bad and super strong. It's a fantasy. |
| 7 | (About Serenity (2005)): There is nothing like a major motion picture to make you feel a little bit better about having your TV show canceled. |
| 8 | (When asked about his relationship with Joss Whedon): I'll tell you this. No one has ever shown the kind of faith in me that Joss Whedon has shown, in both giving me a lead on his sci-fi show Firefly (2002) and in letting me play a villain for the very first time. No one's ever let me play a villain before. So, I would say that I think he's done great things for my career and certainly my confidence in general. |
| 9 | (On Firefly fans attempts to save the show) It's very Jehovah's Witness. I'm not sure if anyone's actually going door to door, but it's not far off. |
| 10 | (Talking about the cancellation of Firefly (2002)): I broke the cardinal rule of don't fall in love with what you're doing, because the rug can get yanked out from underneath you, and when it did, I was heartbroken. |
| 11 | My favorite villains are the ones you don't see coming. What I enjoyed about playing Caleb was that he was so very, very clever, so very, very sweet, and so very, very twisted. I liked that he's not a typical villain. He's soft and sweet and righteous, and yet he's perverted and twisted in his head. |
| 12 | I've always fantasized about being on TV. And I was. Then I fantasized about being in the movies. What could be better than captain of a space ship? I get to ride horses, shoot guns, have adventures ... |
Facts
| # | Fact |
| --- | --- |
| 1 | "Castle: Flowers for Your Grave (2009)", the series premiere of Castle (2009), aired a couple of weeks before he turned 38. In 2016, "Castle: Crossfire (2016)", the series finale, aired a couple of weeks after Stana Katic turned 38. |
| 2 | Before Stana Katic was ultimately cast, he read with 125 actresses auditioning for the role of Kate Beckett. |
| 3 | Is an avid fan of video games and collects comic books. |
| 4 | Has voiced Hal Jordan/Green Lantern in three different animated features: Green Lantern: Emerald Knights (2011), Justice League: Doom (2012), Justice League: The Flashpoint Paradox (2013) And Justice League: Throne of Atlantis (2015). |
| 5 | He is deaf in his left ear. He lost his hearing in that ear in 1977. |
| 6 | Was a popular fan choice for the role of the heroic pilot Hal Jordan in Green Lantern (2011), but the role went to Ryan Reynolds instead. Fillion voiced Jordan in the animated feature Green Lantern: Emerald Knights (2011) as a replacement for Christopher Meloni, who had voiced Jordan in Green Lantern: First Flight (2009), but was unable to reprise the role due to scheduling conflicts. |
| 7 | He considers his time on Firefly (2002) to be the most fun he had on a TV series. |
| 8 | Auditioned for the role of Michael in Dawn of the Dead (2004). |
| 9 | Claims to be descended from Confederate Lieutenant General Jubal A. Early. When told this, Joss Whedon created a bounty hunter by the name of "Jubal Early" for the Firefly (2002) episode Firefly: Objects in Space (2002). |
| 10 | One of four actors from Firefly (2002) who voiced superheroes on Justice League (2001). He voiced the Western-themed "Vigilante" while Adam Baldwin voiced "Hal Jordan," the Silver Age-Green Lantern; Gina Torres voiced "Vixen"; and Morena Baccarin voiced "Black Canary.". |
| 11 | Attended Concordia University College of Alberta and the University of Alberta. |
| 12 | Has an older brother, Jeff Fillion, who decided to go into teaching. He taught in schools in Edmonton, Alberta, and became a principle at St. Richards Edmonton catholic school where he made a movie with the kids and got his brother Nathan to do the introduction. It was about the school going into space. |
| 13 | Parents are Cookie and Bob Fillion, both of whom are retired English teachers. |
| 14 | When he won Best Actor at the 2006 SyFy Genre Awards for his portrayal of Captain Malcolm Reynolds in Firefly (2002), the show had been off the air for around three years. |
| 15 | Originally auditioned for the role of Angel for Joss Whedon's first television series, Buffy the Vampire Slayer (1997). However, never met Joss Whedon until he auditioned for the part of Mal on Firefly (2002). |
| 16 | Wanted to be a high school drama teacher. In college he majored in art and minored in drama while pursuing an acting career on the side. |
Pictures
Movies
Actor
| Title | Year | Status | Character |
| --- | --- | --- | --- |
| Pasadena | 2002 | TV Series | Rev. Glenn Collins |
| Two Guys, a Girl and a Pizza Place | 1998-2001 | TV Series | Johnny Donnelly |
| King of the Hill | 2001 | TV Series | Frisbee Guy |
| Dracula 2000 | 2000 | | Father David |
| The Outer Limits | 1999 | TV Series | Michael Ryan |
| Blast from the Past | 1999 | | Cliff |
| Maggie Winters | 1998 | TV Series | Ronald |
| Saving Private Ryan | 1998 | | Minnesota Ryan |
| Total Security | 1997 | TV Series | Troy Larson |
| Strange and Rich | 1994 | | Walter Hoade |
| Ordeal in the Arctic | 1993 | TV Movie | Master Warrant Officer Tom Jardine |
| Guardians of the Galaxy Vol. 2 | 2017 | post-production | Simon Williams |
| Yamasong: March of the Hollows | 2016 | post-production | Shojun |
| Henchmen | | post-production | Captain Superior (voice) |
| Modern Family | 2016 | TV Series | Rainer Shine |
| Con Man: The Game | 2016 | Video Game | Jack Moore (voice) |
| Castle | 2009-2016 | TV Series | Richard Castle Joe Flynn |
| Gravity Falls | 2014-2016 | TV Series | Preston Northwest |
| Con Man | 2015-2016 | TV Series | Jack Moore |
| Drunk History | 2015 | TV Series | Wernher Von Braun |
| Halo 5: Guardians | 2015 | Video Game | Edward Buck (voice) |
| Destiny: The Taken King | 2015 | Video Game | Cayde-6 (voice) |
| Community | 2014-2015 | TV Series | Bob Waite |
| Thrilling Adventure Hour Live | 2015 | | Cactoid Jim |
| Kroll Show | 2015 | TV Series | Mountie McMinniman |
| The Big Bang Theory | 2015 | TV Series | Nathan Fillion |
| Saints Row: Gat Out of Hell | 2015 | Video Game | God (voice) |
| Justice League: Throne of Atlantis | 2015 | Video | Green Lantern (voice) |
| Assassin Banana | 2015 | TV Mini-Series | Chick del Monte / Assassin Banana |
| Destiny | 2014 | Video Game | Cayde-6, Hunter Vanguard (voice) |
| Robot Chicken | 2007-2014 | TV Series | Bionic-1 Lieutenant Stone Lumiere ... |
| Guardians of the Galaxy | 2014 | | Monstrous Inmate (voice) |
| Family Guy: The Quest for Stuff | 2014 | Video Game | Nathan Fillion (voice) |
| Party Central | 2014 | Short | Johnny (voice) |
| Percy Jackson: Sea of Monsters | 2013 | | Hermes |
| Justice League: The Flashpoint Paradox | 2013 | Video | Green Lantern Hal Jordan (voice) |
| Monsters University | 2013 | | Johnny (voice) |
| Neil's Puppet Dreams | 2012 | TV Series | Dr. Mayfair |
| American Dad! | 2012 | TV Series | American Businessman Klaus / Liver / Joel Larson |
| Robot Chicken: DC Comics Special | 2012 | TV Movie | Green Lantern Mr. Freeze (voice) |
| Much Ado About Nothing | 2012/I | | Dogberry |
| Justice League: Doom | 2012 | Video | Green Lantern (voice) |
| The Daly Show | 2012 | TV Series | |
| Husbands | 2011 | TV Series | Anchor |
| The Morning After | 2011 | TV Series short | Nathan Fillion |
| The Guild | 2011 | TV Series | Nathan Fillion |
| Green Lantern: Emerald Knights | 2011 | Video | Hal Jordan Green Lantern (voice) |
| The Venture Bros. | 2010 | TV Series | Brown Widow |
| Halo: Reach | 2010 | Video Game | Gunnery Sgt Buck (voice) |
| Super | 2010/I | | The Holy Avenger |
| Halo 3: ODST | 2009 | Video Game | Buck (voice) |
| Wonder Woman | 2009 | Video | Steve Trevor (voice) |
| PG Porn | 2008 | TV Series short | Chris |
| Dr. Horrible's Sing-Along Blog | 2008 | TV Mini-Series | Captain Hammer |
| Desperate Housewives | 2007-2008 | TV Series | Dr. Adam Mayfair |
| Trucker | 2008 | | Runner |
| Halo 3 | 2007 | Video Game | Sergeant Reynolds (voice) |
| One Life to Live | 1995-2007 | TV Series | Joey Buchanan |
| Drive | 2007 | TV Series | Alex Tully |
| Waitress | 2007 | | Dr. Jim Pomatter |
| White Noise 2: The Light | 2007 | | Abe Dale |
| Lost | 2006 | TV Series | Kevin Callis |
| Slither | 2006 | | Bill Pardy |
| Justice League | 2005-2006 | TV Series | Vigilante Greg Saunders Spy Smasher ... |
| Serenity | 2005 | | Mal |
| Jade Empire | 2005 | Video Game | Gao the Lesser (voice) |
| Hollywood Division | 2004 | TV Movie | Det. Tommy Garrett |
| If Dad Only Knew | 2004 | | Luke Riley |
| Water's Edge | 2003 | | Robert Graves |
| Firefly | 2002-2003 | TV Series | Captain Malcolm 'Mal' Reynolds |
| Buffy the Vampire Slayer | 2003 | TV Series | Caleb |
| Alligator Point | 2003 | TV Movie | Bill |
| Miss Match | 2003 | TV Series | Adam Logan |
Producer
| Title | Year | Status | Character |
| --- | --- | --- | --- |
| Castle | 2015-2016 | TV Series producer - 22 episodes | |
| Con Man | 2015-2016 | TV Series executive producer - 13 episodes | |
Soundtrack
| Title | Year | Status | Character |
| --- | --- | --- | --- |
| Castle | 2010-2015 | TV Series performer - 3 episodes | |
| The 65th Primetime Emmy Awards | 2013 | TV Special performer: "The Number in the Middle of the Show" | |
| Commentary! The Musical | 2008 | Video short performer: "Better Than Neil", "Ninja Ropes" | |
| Dr. Horrible's Sing-Along Blog | 2008 | TV Mini-Series performer - 2 episodes | |
Thanks
| Title | Year | Status | Character |
| --- | --- | --- | --- |
| Lust for Love | 2014 | special thanks | |
| Lost: The Final Season - Beginning of the End | 2010 | TV Movie special thanks | |
| The ABC Fall Preview Open House | 2009 | TV Movie special thanks | |
Self
| Title | Year | Status | Character |
| --- | --- | --- | --- |
| A Place Among the Undead | 2016 | TV Series documentary | Himself (2016) |
| IMDb at San Diego Comic-Con | 2016 | TV Series | Himself |
| HarmonQuest | 2016 | TV Series | Himself / Tetter Spice |
| Talking Dead | 2013-2016 | TV Series | Himself - Guest |
| The Late Late Show with James Corden | 2016 | TV Series | Himself |
| The Soup | 2015 | TV Series | Himself - Guest |
| Robot Chicken DC Comics Special 3: Magical Friendship | 2015 | TV Special | Green Lantern (voice) |
| Jimmy Kimmel Live! | 2009-2015 | TV Series | Himself / Himself - Castle |
| Last Call with Carson Daly | 2015 | TV Series | Himself - Guest |
| The 67th Primetime Emmy Awards | 2015 | TV Special | Himself - Pre-Recorded Segment |
| GeekRockTV | 2015 | TV Series | Himself |
| Being Canadian | 2015 | Documentary | Himself |
| Highway of Tears | 2015 | Documentary | Narrator (voice) |
| Larry King Now | 2014 | TV Series | Himself - Guest |
| Late Show with David Letterman | 2011-2014 | TV Series | Himself / Himself - Guest |
| The Real History of Science Fiction | 2014 | TV Mini-Series documentary | Himself |
| Conan | 2011-2014 | TV Series | Himself - Guest |
| Robot Chicken DC Comics Special II: Villains in Paradise | 2014 | TV Special | Green Lantern Black Adam (voice) |
| Dinner at Tiffani's | 2014 | TV Series | Himself |
| American Music Awards 2013 | 2013 | TV Special | Himself - Presenter |
| The 65th Primetime Emmy Awards | 2013 | TV Special | Himself - Performer |
| NerdHQ | 2011-2013 | TV Series | Himself / Himself - Moderator / Himself - Host / ... |
| Made in Hollywood | 2013 | TV Series | Himself |
| 2013 Writers Guild Awards | 2013 | TV Special | Himself |
| 70th Golden Globe Awards | 2013 | TV Special | Himself - Presenter |
| The 39th Annual People's Choice Awards | 2013 | TV Special | Himself |
| Firefly 10th Anniversary: Browncoats Unite | 2012 | TV Movie | Himself |
| unCONventional | 2012 | TV Series | Himself |
| Comic Con 2012 Live | 2012 | TV Movie | Himself |
| Speakeasy: With Paul F. Tompkins | 2012 | TV Series | Himself |
| Cocktails with Stan | 2012 | TV Series | Himself |
| Good Morning America | 2011-2012 | TV Series | Himself - Guest |
| Late Night with Jimmy Fallon | 2012 | TV Series | Himself - Guest |
| Live with Kelly and Michael | 2011-2012 | TV Series | Himself - Guest |
| Durch die Nacht mit... | 2012 | TV Series documentary | Himself |
| The 38th Annual People's Choice Awards | 2012 | TV Special | Himself |
| The Nerdist: End of the Year Special | 2011 | TV Movie | Himself |
| The Nerdist: Year in Review | 2011 | TV Special | Himself |
| A Sneek Peak at Justice League: Doom | 2011 | Video documentary short | Himself |
| Kevin Pollak's Chat Show | 2011 | TV Series | Himself |
| Spike TV VGA Video Game Awards | 2010 | TV Special | Himself |
| 2010 American Music Awards | 2010 | TV Special | Himself - Presenter |
| The 62nd Primetime Emmy Awards | 2010 | TV Special | Himself - Co-Presenter: Outstanding Supporting Actress in a Drama Series |
| Modern TV Dads: Father Doesn't Know Best | 2010 | TV Movie documentary | Himself |
| A Night of 140 Tweets: A Celebrity Tweet-A-Thon for Haiti | 2010 | Video | Himself |
| The View | 2009-2010 | TV Series | Himself |
| Lost: The Final Season - Beginning of the End | 2010 | TV Movie | Himself |
| Dancing with the Stars | 2009 | TV Series | Himself - Audience Member / Himself - Guest Appearance |
| Write-Along with Nathan Fillion | 2009 | Video short | Himself |
| The 61st Primetime Emmy Awards | 2009 | TV Special | Captain Hammer |
| The Late Late Show with Craig Ferguson | 2007-2009 | TV Series | Himself |
| The Bonnie Hunt Show | 2009 | TV Series | Himself |
| Entertainment Tonight | 2009 | TV Series | Himself |
| Commentary! The Musical | 2008 | Video short | Himself (voice) |
| The Making of Dr. Horrible's Sing-Along Blog | 2008 | Video documentary short | Himself |
| Secret's Out | 2008 | TV Series | Himself - Guest |
| Ellen: The Ellen DeGeneres Show | 2007 | TV Series | Himself |
| Up Close with Carrie Keagan | 2007 | TV Series | Himself |
| The Morning Show with Mike & Juliet | 2007 | TV Series | Himself |
| The Fringe: Acting Up | 2006 | TV Movie documentary | Narrator |
| Done the Impossible: The Fans' Tale of 'Firefly' and 'Serenity' | 2006 | Video documentary | Himself |
| HypaSpace | 2006 | TV Series documentary | Himself |
| The King of Cult Lloyd Kaufman's Video Diary | 2006 | Video documentary short | Himself |
| A Filmmaker's Journey | 2006 | Video documentary short | Himself |
| Take a Walk on 'Serenity' | 2006 | Video short | Himself |
| Joss Whedon: The Master at Play | 2006 | Video | Himself |
| Re-Lighting the Firefly | 2005 | Video documentary short | Himself |
| GMTV | 2005 | TV Series | Himself |
| Film '72 | 2005 | TV Series | Himself |
| Sci Fi Inside: 'Serenity' | 2005 | TV Movie | Himself |
| Best Week Ever with Paul F. Tompkins | 2005 | TV Series | Himself / Panelist |
| Here's How It Was: The Making of 'Firefly' | 2003 | Video short documentary | Himself |
| The Arrogant Worms: Three Worms and an Orchestra | 2003 | TV Movie documentary | Himself |
Archive Footage
| Title | Year | Status | Character |
| --- | --- | --- | --- |
| Halo: The Master Chief Collection | 2014 | Video Game | Sergeant Reynolds |
| Desperate Housewives | 2012 | TV Series | Dr. Adam Mayfair |
Awards
Won Awards
| Year | Award | Ceremony | Nomination | Movie |
| --- | --- | --- | --- | --- |
| 2016 | People's Choice Award | People's Choice Awards, USA | Favorite Crime Drama TV Actor | Castle (2009) |
| 2015 | People's Choice Award | People's Choice Awards, USA | Favorite Crime Drama TV Actor | |
| 2014 | TV Guide Award | TV Guide Awards | Favorite Actor | Castle (2009) |
| 2013 | People's Choice Award | People's Choice Awards, USA | Favorite Dramatic TV Actor | |
| 2013 | TV Guide Award | TV Guide Awards | Favorite TV Couple | Castle (2009) |
| 2013 | BTVA People's Choice Voice Acting Award | Behind the Voice Actors Awards | Best Vocal Ensemble in a TV Special/Direct-to-DVD Title or Theatrical Short | Justice League: Doom (2012) |
| 2013 | BTVA Special/DVD Voice Acting Award | Behind the Voice Actors Awards | Best Vocal Ensemble in a TV Special/Direct-to-DVD Title or Theatrical Short | Justice League: Doom (2012) |
| 2012 | People's Choice Award | People's Choice Awards, USA | Favorite TV Drama Actor | |
| 2012 | TV Guide Award | TV Guide Awards | Favorite TV Couple | Castle (2009) |
| 2011 | TV Guide Award | TV Guide Awards | Favorite Couple Who Should | Castle (2009) |
| 2007 | Feature Film Award | Newport Beach Film Festival | Acting | Waitress (2007) |
| 2005 | SFX Award | SFX Awards, UK | Best Actor | Serenity (2005) |
| 2003 | Cinescape Genre Face of the Future Award | Academy of Science Fiction, Fantasy & Horror Films, USA | Male | Firefly (2002) |
Nominated Awards
| Year | Award | Ceremony | Nomination | Movie |
| --- | --- | --- | --- | --- |
| 2015 | People's Choice Award | People's Choice Awards, USA | Favorite TV Duo | Castle (2009) |
| 2015 | Teen Choice Award | Teen Choice Awards | Choice TV Actor: Drama | Castle (2009) |
| 2014 | People's Choice Award | People's Choice Awards, USA | Favorite On-Screen Chemistry | Castle (2009) |
| 2014 | TV Guide Award | TV Guide Awards | Favorite Duo | Castle (2009) |
| 2014 | BTVA Feature Film Voice Acting Award | Behind the Voice Actors Awards | Best Vocal Ensemble in a Feature Film | Monsters University (2013) |
| 2012 | BTVA Special/DVD Voice Acting Award | Behind the Voice Actors Awards | Best Male Vocal Performance in a TV Special/Direct-to-DVD Title or Theatrical Short | Green Lantern: Emerald Knights (2011) |
| 2010 | Streamy Award | The Streamy Awards | Best Guest Star in a Web Series | PG Porn (2008) |
| 2009 | Satellite Award | Satellite Awards | Best Actor in a Series, Drama | Castle (2009) |
| 2009 | Streamy Award | The Streamy Awards | Best Male Actor in a Comedy Web Series | Dr. Horrible's Sing-Along Blog (2008) |
| 2008 | Fright Meter Award | Fright Meter Awards | Best Actor | White Noise 2: The Light (2007) |
| 2008 | Actor | Screen Actors Guild Awards | Outstanding Performance by an Ensemble in a Comedy Series | Desperate Housewives (2004) |
| 2007 | EDA Special Mention Award | Alliance of Women Film Journalists | Best Seduction | Waitress (2007) |
| 2006 | Chainsaw Award | Fangoria Chainsaw Awards | Dude You Don't Wanna Mess With (Best Hero) | Slither (2006) |
| 2006 | OFCS Award | Online Film Critics Society Awards | Best Breakthrough Performance | Serenity (2005) |
| 2006 | Empire Award | Empire Awards, UK | Best Newcomer | Serenity (2005) |
| 2005 | Golden Schmoes | Golden Schmoes Awards | Breakthrough Performance of the Year | Serenity (2005) |
| 1996 | Soap Opera Digest Award | Soap Opera Digest Awards | Outstanding Younger Leading Actor | One Life to Live (1968) |
| 1996 | Daytime Emmy | Daytime Emmy Awards | Outstanding Younger Actor in a Drama Series | One Life to Live (1968) |
Source:
IMDb
,
Wikipedia