• Daniela Sofia Korn Ruah is an American actress with a net worth of over $7 million.
• She is of Jewish descent and her parents are both doctors in Portugal.
• She started her career in the United States by appearing in the series "Guiding Light" & "NCIS".
• She is most famous for her role in the CBS series "NCIS: Los Angeles" playing the character NCIS Special Agent Kensi Blye.
• She is married to fellow actor David Paul Olsen, and they have two children together.

Known for movies
Short Info
| | |
| --- | --- |
| Date Of Birth | December 2, 1983 |
| Spouse | David Paul Olsen |
| Mark | Has a distinguishable birthmark in her right eye; her other eye is hazel. |
| Fact | Gave birth to her 1st child at age 30, a son named River Isaac Ruah Olsen on December 30, 2013. Child's father is her fiancé (now husband), David Paul Olsen. |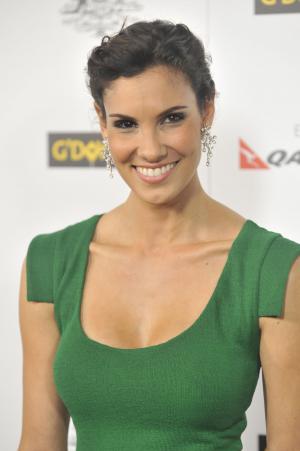 Who is Daniela Ruah?
Daniela Sofia Korn Ruah was born on 2 December 1983, in Boston, Massachusetts USA, and is an actress, probably best known for her role in the CBS series "NCIS: Los Angeles" playing the character NCIS Special Agent Kensi Blye.
The Riches of Daniela Ruah
How rich is Daniela Ruah? As of late-2018, sources estimate a net worth that is over $7 million, earned through a successful career in acting. She's also been involved in numerous other television projects, along with feature films, short films and animated projects. As she continues her career, it is expected that her wealth will also continue to increase.
Early Life and Education
Daniela is of Jewish descent, with her parents originally residing in Portugal, of Portuguese-Moroccan Jewish and Russian-Ukrainian Jewish. Her father is an ENT (ears, nose, and throat) surgeon while her mother is an otologist, a doctor of the same field. At five years of age, Daniela's family returned to Portugal where she attended St. Julian's School. Her acting career began during her teens, appearing in various telenovelas, and she also won a Portuguese television dance competition, the Portuguese version of "Dancing with the Stars".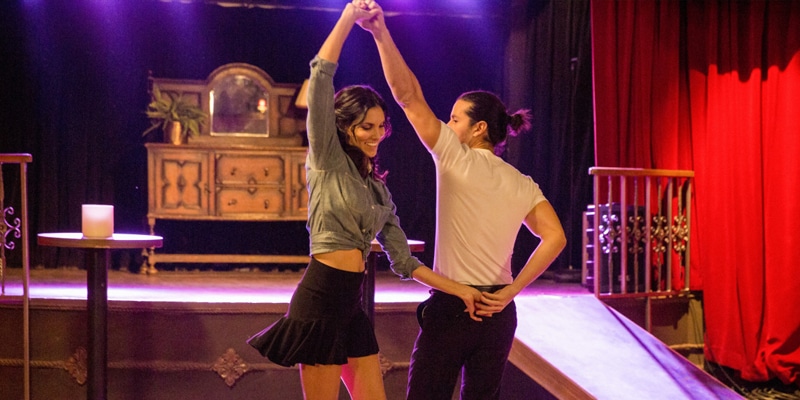 At 18 years old she moved to England, and enrolled at the London Metropolitan University where she completed a degree in performing arts. She then returned to Portugal to continue acting, before eventually moving to New York City in 2007 to study at the Lee Strasberg Theatre and Film Institute. She was already popular in Portugal due to her roles in soap operas – one of her most popular projects was in "Jardins Proibidos" or "Forbidden Gardens".
New episode tonight! #whosthemole #insidejob #heftheftyhefty pic.twitter.com/PRjvbMcuQ7

— Daniela Ruah (@DanielaRuah) November 24, 2014
NCIS: Los Angeles
In 2009, Ruah started her acting career in the US, beginning with guest appearances in the series "Guiding Light", and "NCIS" with other guest stars including Chris O'Donnell, LL Cool J, and Barrett Foa. This would lead to the spin-off show entitled "NCIS: Los Angeles", which is the first spin-off of "NCIS", and follows the exploits of the Office of Special Projects based in Los Angeles, which is an elite division of the Naval Criminal Investigative Service specializing in undercover assignments.
She started in the show as a Junior Field Agent coming from a US Marine Corps family, having been taught most of the things she knows through her father. She is fluent in several languages having been stationed in Tokyo, Norfolk Naval Base, and the Washington DC Office. The show has been running for a total of 10 seasons, and has crossed-over with other shows including "Hawaii Five-0" and "Scorpion". It has received mixed reviews, but has won several awards including Teen Choice Awards in numerous categories since 2010. Its viewership has also continued to help it rank highly with its fourth season peak having over 17 million viewers.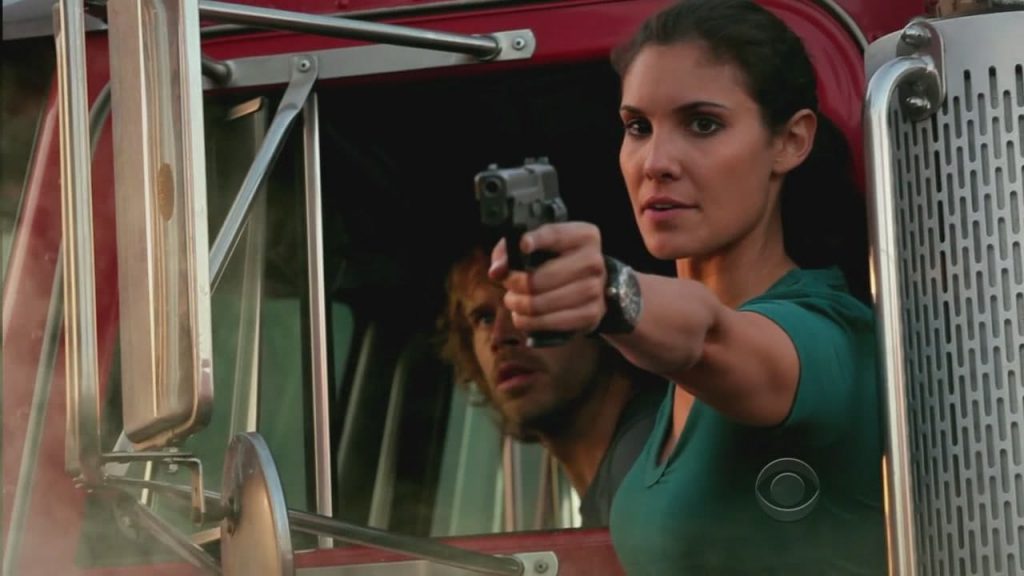 Other Projects
Aside from Daniel's work in "NCIS: Los Angeles", she has also been involved in other projects, both on television and in film. In 2018, she was the host of the "Eurovision Song Contest 2018" the 63rd annual edition of the show, with 43 countries participating, competing for best song with the winner being the song "Toy" by Netta from Israel, making it Israel's fourth victory. She has also done several short film projects, including "Tu & Eu" which won an Asians on Film Festival Award for Best Ensemble Cast – Short Film, and another short film "Excuse", playing the character Brenda.
She also has two feature films to her credit, including "Red Tails" which is a war film starring Terrence Howard and Cuba Gooding Jr. following the Tuskegee Airmen, a group of African-American Air Force servicemen during World War II. She also voiced the main character Merida in the Portuguese version of the film "Brave", which is a Pixar animated film, the first Pixar film to use the Dolby Atmos sound format, and the first time that Pixar rewrote their animation system in 25 years.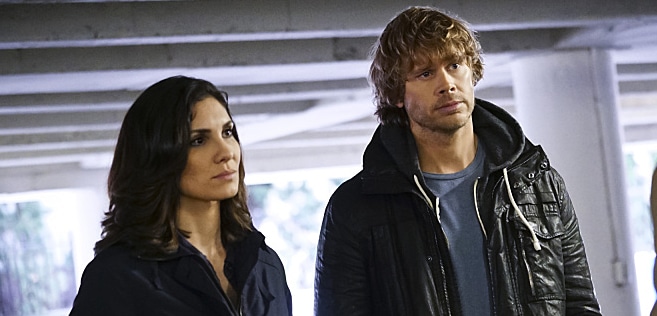 Personal Life
For her personal life, it is known that Ruah has been married to David Paul Olsen since 2014, though not many details have been shared in regards to their relationship and marriage, but They have two children together. David is also an actor, known for his work in films such as "G-Force", "Swiss Army Nun", and "The Nun" which was released in 2018. Similar to numerous actresses, Daniela is highly active online through various accounts on social media, with accounts on Instagram, Twitter and Facebook on which she promotes some of her recent and upcoming projects.
General Info
| | |
| --- | --- |
| Full Name | Daniela Ruah |
| Date Of Birth | December 2, 1983 |
| Height | 1.77 m |
| Weight | 123.5 lbs |
| Profession | Actor |
| Education | Lee Strasberg Theatre and Film Institute, Saint Julian's School, London Metropolitan University |
Family
| | |
| --- | --- |
| Spouse | David Paul Olsen |
| Children | Sierra Esther Ruah Olsen, River Isaac Ruah Olsen |
| Parents | Moisés Carlos Bentes Ruah, Catarina Lia Katia Azancot Korn |
Accomplishments
| | |
| --- | --- |
| Nominations | Teen Choice Award for Choice TV Actress: Action |
| Movies | Red Tails, Tu & Eu, Safe Haven, Midnight Passion, Blind Confession, Canaviais, Querida Mãe |
| TV Shows | Filha do Mar, Jardins Proibidos, NCIS: Los Angeles, Dei-te Quase Tudo, Tu e Eu |
Social profile links
Marks
| # | Marks / Signs |
| --- | --- |
| 1 | Has a distinguishable birthmark in her right eye; her other eye is hazel. |
Quotes
| # | Quote |
| --- | --- |
| 1 | [on being a Portuguese Jew] There's I'd say between four- and five-hundred [Portuguese Jews]. Not a lot out of 10½ million to 11 million people. My family is probably the biggest family there. But coming from a small community makes you want to follow the traditions of your family much more. |
Facts
| # | Fact |
| --- | --- |
| 1 | Gave birth to her 2nd child at age 32, a daughter named Sierra Esther Ruah Olsen on September 4, 2016. Child's father is her husband, David Paul Olsen. |
| 2 | Sister-in-law of Eric Christian Olsen. |
| 3 | Daughter-in-law of Jeanne D. Olsen. |
| 4 | Daughter of Caterina Korn Broder. |
| 5 | Gave birth to her 1st child at age 30, a son named River Isaac Ruah Olsen on December 30, 2013. Child's father is her fiancé (now husband), David Paul Olsen. |
| 6 | (June 19, 2014) Married her boyfriend of 4 years and father of her 5-month-old son, River, David Paul Olsen. |
| 7 | Has nevus of Ota in her right eye. |
| 8 | Daniela's paternal grandparents, Samuel Allenby Bentes Ruah and Esther Buzaglo Bensusan, were both Sephardi Jews (their families lived in Portugal and Gibraltar). Daniela's maternal grandfather, Max Joachim Korn, was an Ashkenazi Jew (born in Wroclaw, Poland). Daniela's maternal grandmother, Vera Jacob Muginstein Azancot, was of Sephardi Jewish and Spanish descent on her own father's side, and of Ashkenazi Jewish descent on her own mother's side (Daniela's matrilineal great-grandmother, Simy Sophie Muginstein, was from Odessa, in the Russian Empire). |
| 9 | Los Angeles: Currently shooting season 4 of NCIS: Los Angeles (2009). [April 2013] |
| 10 | Currently shooting season 2 of NCIS: Los Angeles (2009). [August 2010] |
| 11 | Attended the "Lee Strasberg Theatre Institute" with Josh Bowman and Christiane Seidel. |
| 12 | She has played the same character (Kensi Blye) in three different series: NCIS (2003), NCIS: Los Angeles (2009) and Hawaii Five-0 (2010). |
| 13 | Winner of Dança Comigo (2006) - season 1 (Portuguese version of Dancing with the Stars (2005)). |
| 14 | Hosted 'Cinebox' for the Portuguese network TVI. |
Pictures
Movies
Actress
| Title | Year | Status | Character |
| --- | --- | --- | --- |
| NCIS: Los Angeles | 2009-2017 | TV Series | Kensi Blye |
| Excuse | 2016 | Short | Brenda |
| Pivot | 2016 | Short | Pregnant Woman |
| Red Tails | 2012 | | Sofia |
| Hawaii Five-0 | 2011 | TV Series | Kensi Blye |
| Tu & Eu | 2011 | Short | Sofia |
| Safe Haven | 2009 | Short | Angela Bowery |
| NCIS | 2009 | TV Series | Kensi Blye |
| Midnight Passion | 2009 | Short | Sophie |
| Guiding Light | 2009 | TV Series | Gigi |
| Casos da Vida | 2008 | TV Series | Rita |
| Blind Confession | 2008 | Short | Woman |
| Tu e Eu | 2006-2007 | TV Series | Daniela Pinto |
| Dei-te Quase Tudo | 2005-2006 | TV Series | Rita |
| Canaviais | 2006 | Short | Margarida |
| Inspector Max | 2004 | TV Series | Verónica Botelho |
| Filha do Mar | 2001-2002 | TV Series | Constança Valadas |
| Elsa, uma Mulher Assim | 2001 | TV Mini-Series | Mónica |
| Querida Mãe | 2001 | TV Movie | Zezinha |
| Jardins Proibidos | 2000-2001 | TV Series | Sara |
Thanks
| Title | Year | Status | Character |
| --- | --- | --- | --- |
| Burning Daylight | 2010 | thanks | |
Self
| Title | Year | Status | Character |
| --- | --- | --- | --- |
| The Insider | 2014-2017 | TV Series | Herself - NCIS: Los Angeles / Herself |
| Super Bowl's Greatest Commercials 2017 | 2017 | TV Movie | Herself - Host |
| The Talk | 2012-2016 | TV Series | Herself / Herself - NCIS: Los Angeles / Herself - Guest |
| NCIS: Los Angeles - Season 7: Celebrating 150 | 2016 | Video short | Herself |
| NCIS: Los Angeles - Season 7: Getting Personal | 2016 | Video short | Herself |
| NCIS: Los Angeles - Season 7: Hot Property | 2016 | Video short | Herself |
| NCIS: Los Angeles - Season 7: What's in a Name? | 2016 | Video short | Herself |
| Entertainment Tonight | 2010-2016 | TV Series | Herself |
| Sociedade Recreativa | 2016 | TV Series | Herself |
| Prémios Sophia 2016 | 2016 | TV Movie | Herself - Presenter |
| NCIS: Los Angeles - Season 6: The World on a String | 2015 | Short | Herself |
| NCIS: Los Angeles - Season 6: Too Close for Comfort | 2015 | Video short | Herself |
| NCIS: Los Angeles - Season 6: Yippee Ki-Yay | 2015 | Short | Herself |
| The Queen Latifah Show | 2014-2015 | TV Series | Herself |
| The 41st Annual People's Choice Awards | 2015 | TV Special | Herself |
| NCIS: Los Angeles: Season 5 - Crafting Afghanistan | 2014 | Video documentary short | Herself |
| NCIS: Los Angeles: Season 5 - Happy 100th | 2014 | Video documentary short | Herself |
| NCIS: Los Angeles: Season 5 - The Write Staff | 2014 | Video documentary short | Herself |
| NCIS: Los Angeles: Season 5 - Unexpected Developments | 2014 | Video documentary short | Herself |
| Só Visto! | 2013-2014 | TV Series | Herself |
| The Arsenio Hall Show | 2014 | TV Series | Herself - Guest |
| The 15th Annual 'A Home for the Holidays' | 2013 | TV Special | |
| NCIS: Los Angeles: Season 4 - Chris at the Helm | 2013 | Video short | Herself |
| NCIS: Los Angeles: Season 4 - Sound Off | 2013 | Video short | Herself |
| NCIS: Los Angeles: Season 4 - Un4Gettable: Season Four of NCIS: Los Angeles | 2013 | Video short | Herself |
| The Late Late Show with Craig Ferguson | 2010-2012 | TV Series | Herself |
| The Jeff Probst Show | 2012 | TV Series | Herself |
| NCIS: Los Angeles - Season 3: Aligning the Stars | 2012 | Video short | Herself |
| NCIS: Los Angeles - Season 3: Investigating Season 3 | 2012 | Video short | Herself |
| Janela Indiscreta | 2012 | TV Series | Herself |
| Golden Globes, Portugal | 2011 | TV Special | Herself - Presenter |
| Episódio Especial | 2010 | TV Series | Herself |
| Companhia das Manhãs | 2010 | TV Series | Herself |
| Lado B | 2010 | TV Series | Herself |
| Globos de Ouro 2009 | 2010 | TV Movie | Herself - Winner: Revelation of the Year |
| Fama Show | 2009-2010 | TV Series | Herself |
| The 36th Annual People's Choice Awards | 2010 | TV Special | Herself - Audience Member (uncredited) |
| Vida Nova | 2009 | TV Series | Herself (2010) |
| Dança Comigo | 2006-2007 | TV Series | Herself / Audience Member / Herself (Winner) |
| Você na TV! | 2006 | TV Series | Herself |
| Gala de Natal TVI 2005 | 2005 | TV Movie | Herself |
| Lux | 2000 | TV Series | Herself (2000) |
Archive Footage
| Title | Year | Status | Character |
| --- | --- | --- | --- |
| Extra | 2015 | TV Series | Herself |
| Jardins Proibidos | 2014-2015 | TV Series | Sara |
| Fama Show | 2010 | TV Series | Herself |
| Gala do 15º aniversário da TVI | 2008 | TV Movie | Sara (segment "Jardins Proibidos") |
Awards
Won Awards
| Year | Award | Ceremony | Nomination | Movie |
| --- | --- | --- | --- | --- |
| 2010 | Golden Globe | Golden Globes, Portugal | Revelation | NCIS: Los Angeles (2009) |
Nominated Awards
| Year | Award | Ceremony | Nomination | Movie |
| --- | --- | --- | --- | --- |
| 2011 | Festival Prize | Short Shorts Film Festival & Asia | | Tu & Eu (2011) |
| 2010 | Teen Choice Award | Teen Choice Awards | Choice TV Actress: Action | NCIS: Los Angeles (2009) |
Source:
IMDb
,
Wikipedia