Just a simple reminder that article is created and owned only by biographytribune.com. Article cannot be re-published in any other pages or documents. Copyright is protected by DMCA. All found copies will be reported.
Original source: https://biographytribune.com/who-is-actress-jayne-mansfield-how-did-she-die-her-wiki-death-children-car-spouse-husband-story/
Who is Jayne Mansfield?
Jayne Mansfield, born Vera Jane Palmer on the 19th of April, 1933, was an American actress, singer, entertainer, who became famous as one of the prominent sex symbols during the '50s. Aside from her career in movie and television, Mansfield also became known for her publicity stunts that often included nudity; she became the first American actress to appear nude in films.
https://www.instagram.com/p/BoI5PP5hkSS/?hl=en&taken-by=onlyjaynemansfield
Jayne Mansfield's Early life
Mansfield was born in Bryn Mawr, Pennsylvania, the only child of Herbert William Palmer, an attorney and musician who came from English and German ancestry, and Vera Jeffrey Palmer, a school teacher of English descent. Mansfield spent most of her time growing up in Philipsburg, New Jersey where her father worked with Robert B. Meyner who was then running for governor, but when she was three, Mansfield's father died of a heart attack while driving with the family. Her mother remarried, tying the knot with sales engineer Harry Lawrence Peers in 1939. Mansfield and her family then moved to Dallas, Texas where she continued her education, attending Highland Park High School, where she also took violin, viola, and piano lessons. After matriculating in 1950, she continued her studies at Southern Methodist University, studying acting, then moved to Austin, Texas to attend the University of Texas, and studying dramatics.
Jayne Mansfield's Career
Mansfield's career started in the early 1950s, but it was not an easy progress towards stardom. She and her family moved to Los Angeles to pursue her passion for acting, but no one hired her. She then resorted to various jobs while waiting for her acting dreams to come true; these included selling popcorn at the Stanley Warner Theater and candy in a movie theater, and teaching dance lessons.
Although Mansfield appeared in small stage productions, breaking out into the mainstream proved hard because of her voluptuous body, particularly her large breasts. Eventually, she was able to land her first acting gig in "
Lux Video Theater
", a television series that aired on CBS. Her exposure on the show then led her to become one of the earliest models of Playboy magazine, featuring in the magazine's February 1955 issue that eventually launched her career. Her early years in the entertainment industry helped establish her career and also her net worth. After her success with Playboy, Mansfield eventually received a steady stream of acting opportunities, including appearing in "Pete Kelly's Blues", "Illegal", and "Hell on Frisco Bay."
https://www.instagram.com/p/BmEF1Pqh3J3/?hl=en&taken-by=onlyjaynemansfield
Jayne Mansfield's Rise and Fall
In 1955, Mansfield became a contracted actress with Warner Bros., that launched her to mainstream stardom, soon starring in the Broadway production of "Will Success Spoil Rock Hunter?". Mansfield had her first starring film role in the movie "The Girl Can't Help It", which became the year's biggest success, and was well-received by both fans and critics. She also had a more dramatic role, and starring in "The Wayward Bus," which despite enjoying moderate success, her performance earned her a Golden Globe in 1957 for New Star of the Year. The same year, Mansfield reprised her role in "Will Success Spoil Rock Hunter" when it was turned into a movie, and a string of successful movies she then appeared in included "Kiss Them for Me" and "The Sheriff of Fractured Jaw", which tremendously increased her wealth.
https://www.instagram.com/p/Bb297u6lWsd/?hl=en&taken-by=onlyjaynemansfield
Unfortunately, blonde bombshells like Mansfield eventually receive a backlash due to excessive publicity. This affected her career in a major way as studio productions decided to also lessen her projects. Films such as "The Challenge", "Too Hot to Handle" and "It Happened in Athens" failed to top the box office, unlike Mansfield's earlier movies.
Despite being the first American actress to appear nude in the film "Promises! Promises!", it still failed to reignite her career. Some of Mansfield's final projects before her unfortunate death included "Single Room Furnished", "The Las Vegas Hillbillys",and "A Guide for the Married Man."
Jayne Mansfield's Body Measurement
As one of the sex symbols of the '50s, it's no surprise that Mansfield was known for her curvaceous body. She was 5 ft. 6 in. (1.68 m) tall with vital statistics of 40-21-35.
https://www.instagram.com/p/Bon6s4IBks4/?hl=en&taken-by=onlyjaynemansfield
Jayne Mansfield's Net Worth
As of 2018 and based on authoritative sources, Mansfield's net worth is reported to be over $1 million, acquired from her years working as an actress, singer, model, and overall entertainer.
Jayne Mansfield's Personal Life
In terms of her personal life, Mansfield was married three times and had five children. She met her first husband, Paul Mansfield, when she was just 16; the two had a secret relationship and married even before she matriculate from high school. They eventually had a daughter together named Jayne Marie, but they went their separate ways in 1955. In 1958 she married Mickey Hargitay, a former Mr. Universe. They had three children together and even co-starred in a couple of films including "Promises! Promises!", but their relationship also ended in divorce, in 1964. Mansfield's last marriage was later the same year, to director Matt Cimber. They had one child together, but divorced in 1966.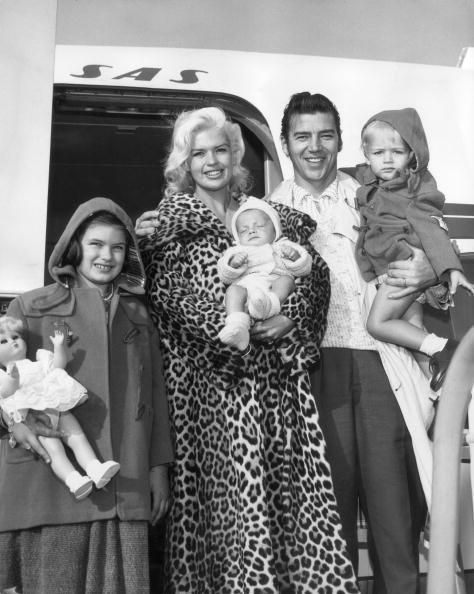 Jayne Mansfield's Death
On 29 June 1967, Mansfield died in an horrific car crash. She was on her way to a morning TV interview with her then boyfriend, Sam Brody, along with her three children, from Biloxi, Mississippi on their way to New Orleans, Louisiana. Their car crashed into a slow tractor trailer, and only the three children survived the accident. She died at the age of 34.