Just a simple reminder that article is created and owned only by biographytribune.com. Article cannot be re-published in any other pages or documents. Copyright is protected by DMCA. All found copies will be reported.
Original source: https://biographytribune.com/who-is-gordon-haywards-wife-robyn-hayward-her-wiki-age-height-wedding-daughter-college-bio/
Who is Robyn Hayward?
Robyn Van Vliet is best known as Robyn Hayward, the spouse of American professional basketball player, the small forward of National Basketball Association's (NBA) Boston Celtics.
Robyn was born on the 8th April 1994 in Indiana, USA, and was raised in a family of philanthropists – both of her parents work in Magdalena, Guatemala with both children and adults, teaching them various useful skills such as carpentry, baking and art among others. When she was still a baby, her parents adopted a young Guatemalan girl, but there aren't any further details about her parent's background and sibling. Robyn is of American nationality and white ethnicity, while her zodiac sign is Aries. Robyn attended the Catholic Bishop Chatard High School in Indianapolis, Indiana, from which she matriculated in 2013, and where she was also heavily involved in the school's volleyball team. Being a genuine defensive specialist, she massively helped her team to win Indiana's Class 3a 2012 State Championship, and although she was ranked among the top five volleyball players in her senior year by the maxpreps.com, she decided not to pursue a collegiate volleyball career, instead enrolling in cosmetology studies, but further information about her qualifications hasn't been publicly disclosed.
Robyn and Gordon Hayward
Details about how they met remain vague, but it is supposed that they met during Robyn's senior year of high school. Only five months after her matriculation, on Christmas Day 2013 Gordon popped the question, and they became engaged. The wedding ceremony took place on the 24
th
May 2014 at The Apostolic Christian Church in Indianapolis, Indiana, and in June 2015 they welcomed their daughter, Bernadette Marie. In July 2016, the couple was blessed with their second daughter, Charlotte Margaret.
Robyn's husband Gordon Hayward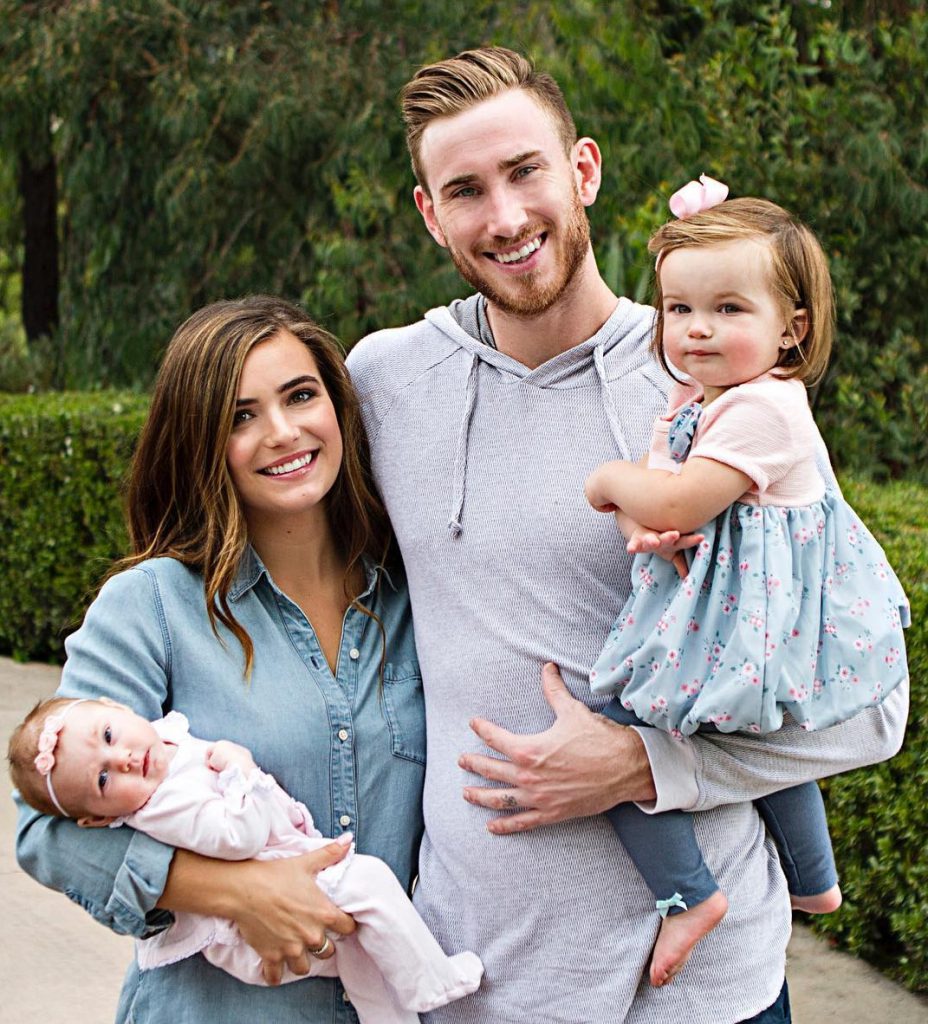 Gordon Daniel Hayward and his twin sister were born on the 23rd March 1990 in Indianapolis, Indiana, USA, to Jody and Gordon Scott Hayward. Interested in sports since his early childhood, Gordon first excelled at tennis, and even appeared at the 2005 Indiana State Open Championships in the mixed doubles alongside his sister. He attended Brownsburg High School where he guided his athletic talents towards playing basketball.
In 2008, Gordon Hayward enrolled at Butler College, where he played for its basketball team, the Bulldogs. His professional basketball career began when at the 2010 NBA Draft he was selected in the first round as the pick No. 9 overall by the Utah Jazz. During the following seven seasons spent in Utah, Hayward was honored with several prestigious accolades including the Horizon League Player of the Year and First-team All-Horizon League in 2010. In January 2017, he appeared at the NBA All-Star Game.
In July 2017, Hayward signed a four-year playing contract with the Boston Celtics, with a total worth of $128 million.
Robyn's Height
Robyn sports a slim and toned figure, with a total height of 5 ft 5 inches, while her husband stands at 6 ft 8 inches. However, the height difference obviously does not affect their relationship.
— Robyn Hayward (@robynmhayward) October 27, 2017
Robyn Hayward on Social Media
She is active on popular social media sites such as Twitter, on which she has been followed by over 1,000 followers, regularly posting updates from her everyday life. Robyn's official Instagram @robynmhayward account is abundant with photos of her and her family members, and currently counts over 800 posts, being followed by almost 100,000 fans. According to pictures with her husband Gordon Hayward, their love is blooming.
Robyn Hayward's Net Worth
Have you ever wondered how much wealth this famous athlete's wife has accumulated so far? How rich Robyn is? Due to incomplete information about her professional career, the exact amount of Robyn's net worth is unknown, however, taking into consideration her husband's net worth, which has been estimated at $185 million as of mid-2018, it can be concluded that Robyn's lifestyle could be pretty lavish. The Haywards' wealth also includes assets such as luxury Lamborghini Aventador, Range Rover and $80,000 worth Tesla Model S P85 cars, as well as several properties, including a $700,000 valued home in Sandy, Utah, and an estate in Rancho Santa Fe, California valued at $3.35 million.