• Lindsey Stirling (born 1986) is an American violinist and dancer
• She rose to fame from her appearance on "America's Got Talent" in 2010
• Her success as a violinist and performer is thanks to her albums, tours and collaborations with other artists
• She has also ventured into writing and joining "Dancing with the Stars"
• Stirling is estimated to have a net worth of $12 million as of 2018

Known for movies
Short Info
| | |
| --- | --- |
| Date Of Birth | September 21, 1986 |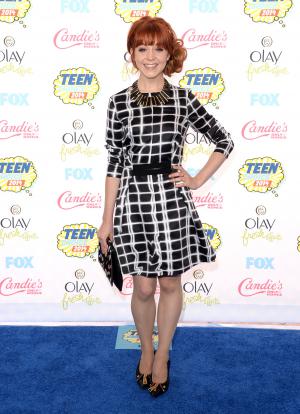 Who is Lindsey Stirling?
Born Lindsey Stirling on the 21st of September, 1986, she is an American violinist and dancer who became famous when she joined the reality TV show and talent competition series "America's Got Talent" in 2010. She's gone on to have a successful career as a violinist and performer, releasing multiple studio albums, and touring worldwide.
Lindsey Stirling Childhood and Early Life
Stirling grew up in a modest home in Gilbert, Arizona with her sister named Brooke, the daughter of Stephen and Diane Stirling. Despite having limited finances, her parents worked hard to pay for her violin classes, which she started taking when she was five.
Stirling first attended Greenfield Junior High, then later on Mesquite High School where she joined the school's rock band called Stomp on Melvin. During one of their performances, she performed a rock song on solo violin that she had written, it in front of the school's audience. Her composition also later on helped her win the title of Arizona's Junior Miss, as well as the Spirit Award in America's Junior Miss Finals competition.
Springtime colors #flowerchild #TBT pic.twitter.com/Uw6OFbZUIg

— Lindsey Stirling (@LindseyStirling) April 13, 2018

Stirling also attended Brigham Young University in Provo, Utah where she studied recreational management.
How did Lindsey Stirling Became Famous?
In 2010, Stirling stepped into the limelight when she joined the reality TV show and talent competition "America's Got Talent". She became known in the show as a hip hop violinist, incorporating classical music with pop, hip-hop and electronic dance music in her performances. Although she didn't win the competition she was able to reach the quarter finals, and so helped establish her career as a performer, and also established her net worth.

After the competition, Stirling was contacted by cinematographer Devin Graham, and they decided to collaborate on a YouTube video. Their production of "Spontaneous Me", a music video of one of her songs, became a huge hit on the video-sharing platform, and so helped to really kick-start her career. She decided to shift to YouTube, and made her channel Lindseystomp active again.
One of Stirling's most popular music videos on YouTube to date is her "Crystallize" video, which was uploaded onto her channel in 2012 and became the year's eighth-most watched video on YouTube, and has currently attracted over 193 million views. Her transition to creating videos for YouTube also helped continue her career as a performer and significantly increased her wealth.
Lindsey Stirling Albums
Stirling decided to release a self-titled album in 2012 containing all-original songs, which became a massive hit, which led her to undertake an international tour. The following year, she signed a deal with Lady Gaga and her management firm, Atom Factory, which helped her to re-release her first album.

In 2014, Stirling released her second album – "Shatter Me" – which was the first to include vocals in her composition, and in collaboration with various artists including Jesse J, Joy Enriquez, and Pentatonix, was once again a massive success, and led to a world tour in 2015.
In 2016, Stirling released her third album entitled "Brave Enough", featuring collaborations with artists including Lecrae, Christina Perri, and Raja Kumari. The album was positively received by her fans and even won the Top Dance/Electronic Album at the Billboard Music Awards in 2017. The success of her albums and world tours is what has helped her net worth tremendously.
I saw one of my best friends get married last week. She and her husband have been searching for each other for years and while they were searching, they both worked on themselves and built the lives they wanted.
t reminds me that of course there is someone who can understand me. pic.twitter.com/usPYmxAoaN

— Lindsey Stirling (@LindseyStirling) April 16, 2018

Stirling's most recent album was "Warmer in the Winter", a holiday album she released in October 2017, the success of which is still to be assessed.
Lindsey Stirling's Other Ventures
Aside from music, Stirling has also ventured into other endeavours. In 2015, she started writing her autobiography, "The Only Pirate at the Party", which was released in January the following year, and reached number 10 at The New York Times best-sellers list for hardcover non-fiction. The title of the book was inspired by her diagnosis of cross-dominance during her second grade, and required her to wear an eye patch making her look like a pirate. The pirate symbolism also inspired her to pursue her dreams without asking for others opinions.


Stirling also joined the reality TV show and dancing competition "Dancing with the Stars" in 2017. She and partner Mark Ballas finished in second place, certainly helping her exposure and net worth.
Lindsey Stirling Net Worth
As of early 2018, based on authoritative sources it is reported to be $12 million, acquired from her years as a performer. The sales of her studio albums, worldwide tours, and collaborations with various artists have all helped add to her net worth.
Lindsey Stirling Personal Life
Shout out to this guy @zachfelber has been my partner in crime for the last few years and he is the sanity and organization behind my creations. He and @adinaf are literally the dream team management. Thank you @tystiklorius and the whole @friendsatwork team for believing in me. pic.twitter.com/DkTK4NR2ny

— Lindsey Stirling (@LindseyStirling) April 13, 2018

Stirling was known to date cinematographer Devin Graham after their collaboration in the video "Crystallize," but she is currently officially single.  She is also now over previous problems she had with anorexia, and appears in good health.
General Info
| | |
| --- | --- |
| Full Name | Lindsey Stirling |
| Date Of Birth | September 21, 1986 |
| Height | 1.61 m |
| Profession | Author, Actor, Dancer, Composer, Singer, Violinist, Crystallize, Radioactive, Shatter Me, Scottsdale, AZ, United States, Stockholm, Sweden, Oslo, Norway |
| Education | Brigham Young University, What Child Is This?, What Child Is This, What Child is This? |
| Nationality | American |
Family
| | |
| --- | --- |
| Parents | Diane Stirling, Stephen Stirling, Scottsdale, AZ, United States, Stockholm, Sweden, Oslo, Norway, Crystallize, Radioactive, Shatter Me |
| Siblings | Brooke Passey |
Accomplishments
| | |
| --- | --- |
| Awards | YouTube Music Awards Response of the Year, Billboard Music Award for Top Dance/Electronic Album, Shorty Award for Best YouTube Musician, Echo Award for Best Crossover Artist, YouTube Music Award, Crystallize, Radioactive, Shatter Me, Scottsdale, AZ, United States, Stockholm, Sweden, Oslo, Norway |
| Nominations | Billboard Music Award for Top Dance/Electronic Artist, Echo Award for Best International Newcomer, Teen Choice Award for Choice Web Star: Music, Goodreads Choice Awards Best Memoir & Autobiography, Crystallize, Radioactive, Shatter Me, Scottsdale, AZ, United States, Stockholm, Sweden, Oslo, Norway |
| Movies | Breaking Through |
Social profile links
Quotes
| # | Quote |
| --- | --- |
| 1 | A lot of these reality-TV shows people go on, they come off and nothing happens. You never hear from them again. Fifteen seconds of fame is not the name of the game. No matter how big you break, or how many people you break in front of, you still have to slowly build a fan base to have anything loyal and lasting from people. |
| 2 | I never liked feeling like the world needed to have labels on everything, whether it's people or categories of music. I think everyone should be what they want to be, and you shouldn't have to look a certain way in order to fit this mold or that mold. |
Pictures
Movies
Soundtrack
| Title | Year | Status | Character |
| --- | --- | --- | --- |
| Dirty Dancing | 2017 | TV Movie performer: "Wipe Out" | |
| Conan | | TV Series performer - 1 episode, 2016 writer - 1 episode, 2016 | |
| Pete's Dragon | 2016 | performer: "Something Wild" / writer: "Something Wild" | |
| 2015 Billboard Music Awards | 2015 | TV Special performer: "See You Again" | |
| Todd's Pop Song Reviews | | TV Series documentary performer - 1 episode, 2015 writer - 1 episode, 2015 | |
| Dancing with the Stars | 2013 | TV Series performer - 1 episode | |
Actress
| Title | Year | Status | Character |
| --- | --- | --- | --- |
| Convos with My 2-Year Old | 2016 | TV Series | Lindsey |
| Sing It! | 2016 | TV Series | Guest Judge |
| Breaking Through | 2015 | | Phelba |
| Lindsey Stirling: Take Flight | 2015 | Short | The Girl |
| Lindsey Stirling: Les Misérables Medley | 2015 | Short | Lindsey Stirling |
| John Legend Feat. Lindsey Stirling: All of Me - Color Version | 2013 | Video short | |
Composer
| Title | Year | Status | Character |
| --- | --- | --- | --- |
| Transcendance | 2015 | Video short | |
| Lindsey Stirling: Live from London | 2015 | Video | |
| Lindsey Stirling: Shatter Me | 2014 | Video short original music by | |
| Worldvision Song Contest | 2013 | TV Series documentary Crystallize | |
| The Mask | 2012 | Documentary | |
Editor
| Title | Year | Status | Character |
| --- | --- | --- | --- |
| Lindsey Stirling: Shatter Me | 2014 | Video short co-editor | |
| John Legend Feat. Lindsey Stirling: All of Me - Color Version | 2013 | Video short | |
Director
| Title | Year | Status | Character |
| --- | --- | --- | --- |
| John Legend Feat. Lindsey Stirling: All of Me - Color Version | 2013 | Video short | |
Writer
| Title | Year | Status | Character |
| --- | --- | --- | --- |
| Lindsey Stirling: Shatter Me | 2014 | Video short story | |
Music Department
| Title | Year | Status | Character |
| --- | --- | --- | --- |
| Pete's Dragon | 2016 | featured violinist | |
Producer
| Title | Year | Status | Character |
| --- | --- | --- | --- |
| Brave Enough | 2017 | Documentary executive producer | |
Thanks
| Title | Year | Status | Character |
| --- | --- | --- | --- |
| Krásno | 2014 | thanks | |
Self
| Title | Year | Status | Character |
| --- | --- | --- | --- |
| Good Morning America | 2017 | TV Series | Herself - Guest |
| Dancing with the Stars | 2013-2017 | TV Series | Herself - Contestant / Herself - Musical Guest |
| Entertainment Tonight | 2017 | TV Series | Herself |
| Extra | 2017 | TV Series | Herself |
| Access Hollywood | 2017 | TV Series | Herself |
| Nerdy Nummies | 2015-2017 | TV Series | Herself |
| Live with Kelly and Ryan | 2017 | TV Series | Herself - Musical Guest |
| Jimmy Kimmel Live! | 2017 | TV Series | Herself - Musical Guest |
| Not Too Deep with Grace Helbig | 2017 | TV Series | Herself - Guest |
| E! Live from the Red Carpet | 2017 | TV Series | Herself |
| Brave Enough | 2017 | Documentary | Herself |
| Radio Disney Music Awards | 2017 | TV Movie | Herself - Performer |
| Lollapalooza Berlin | 2016 | TV Series | Herself |
| Salut les Terriens | 2016 | TV Series | Herself |
| Conan | 2013-2016 | TV Series | Herself - Musical Guest |
| Today | 2014-2016 | TV Series | Herself - Musical Guest |
| Ro's Life | 2016 | TV Series short | Herself |
| Lindsey Stirling: The Arena | 2016 | Video short | Herself |
| Collector's Café | 2016 | Video short | Herself - Guest |
| A Trip to Unicorn Island | 2016 | Documentary | Herself |
| YouTubers React | 2014-2015 | TV Series | Herself |
| 2015 MTV Video Music Awards | 2015 | TV Special | Herself |
| 2015 Billboard Music Awards | 2015 | TV Special | Herself - Performer |
| Pop Culture Underground | 2015 | TV Series | Herself |
| Good Mythical Morning | 2015 | TV Series | Herself |
| The View | 2015 | TV Series | Herself - Musical Guest |
| Lindsey Stirling: Live from London | 2015 | Video | Herself |
| Evening Urgant | 2014 | TV Series | Herself |
| The Meredith Vieira Show | 2014 | TV Series | Herself - Musical Guest |
| Teen Choice Awards 2014 | 2014 | TV Special | Herself |
| America's Got Talent | 2014 | TV Series | Herself - Guest Performer |
| 2014 CMT Music Awards | 2014 | TV Special | Herself |
| 2014 Billboard Music Awards | 2014 | TV Special | Herself - Presenter |
| Lindsey Stirling: Shatter Me | 2014 | Video short | Herself |
| Lindsey Stirling: Beyond the Veil | 2014 | Video short | Herself |
| Random Acts of Violin | 2014 | Video short | Herself |
| Grace's Faces | 2013 | TV Series | Herself |
| Marie | 2012 | TV Series documentary | Herself |
| The Mask | 2012 | Documentary | |
| Larry King Now | 2012 | TV Series | Herself - Guest |
| Dr. Fubalous | 2012 | TV Series | Herself |
Archive Footage
| Title | Year | Status | Character |
| --- | --- | --- | --- |
| Entertainment Tonight | 2017 | TV Series | Herself |
| Extra | 2017 | TV Series | Herself |
| Ro's Life | 2016 | TV Series short | Herself |
Source:
IMDb
,
Wikipedia