Summary of Tim Kaine:
• Born on 26 February 1958 in Saint Paul, Minnesota USA
• Served as the junior US Senator from Virginia since 2013 and the state's 70th Governor from 2006 to 2010
• Net worth of ~$1.5 million, earned through a career in politics and as an attorney in private practice
• Has Scottish descent, attended Rockhurst High School and graduated from the University of Missouri with a degree in economics
• Married to Anne Bright Holton with one son and two daughters; enjoys playing the harmonica and is the first ever member of a presidential ticket to deliver a speech in fluent Spanish

Known for movies
Short Info
| | |
| --- | --- |
| Spouse | Anne Holton |
| Fact | Governor of the Commonwealth of Virginia (USA) (January 14, 2006 - January 16, 2010). |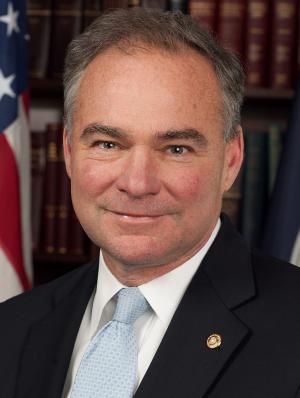 Who is Tim Kaine?
Timothy Michael Kaine was born on 26 February 1958, in Saint Paul, Minnesota USA, and is an attorney as well as a politician, best known for serving as the junior US Senator from Virginia since 2013. Prior to that post, he served as the state's 70th Governor from 2006 to 2010.
The Net Worth of Tim Kaine
How rich is Tim Kaine? As of late-2019 it's at ~$1.5 million, earned largely through a career in politics. He has also served in other positions throughout his career, and worked as an attorney in private practice.
Early Life and Education
Tim was born the eldest of three sons, and is of Scottish descent. His father was the owner of a small iron working shop, and his mother was a home economics teacher. He attended Rockhurst High School and during his time there, was elected as student body president. After matriculating, he then enrolled into the University of Missouri to study for a degree in economics which he completed in 1979, and graduating as summa cum laude. During the same year, he entered Harvard Law School, but suspended his law studies to work in Honduras for a year, running a vocational center which taught welding and carpentry, while also helping Jesuit missionaries in the area. He learned how to speak Spanish thanks to his time there, and then returned to Harvard to complete his J.D. in 1983. After graduating, he moved to Richmond, Virginia, and was admitted to the Virginia Bar the following year.
Legal Career and Political Beginnings
Kaine initially worked as a law clerk for Judge R. Lanier Anderson III, before joining the law firm Little, Parsley & Cluverius, P.C. In 1987 he became a director of the law firm Mezzullo & McCandlish, P.C., and over the next 17 years continued practicing law while based in Richmond, specializing in fair housing while also representing clients discriminated against due to disability or race. He became a board member of Housing Opportunities Made Equal's Virginia chapter, and one of his most notable endeavors was prosecuting a lawsuit against Nationwide Mutual insurance Co., which resulted in a $17.5 million settlement.
He also taught at the University of Richmond School of Law as an adjunct professor, and wasn't really interested in politics until later in his life. However, due to the influence of his wife and attending Richmond city council meetings, he was elected onto Richmond's city council, and after two years was then elected as mayor of Richmond, succeeding Larry Chavis, becoming the city's first white mayor in more than 10 years. During his tenure, the homicide rate in the city fell by 55%, and he consequently garnered a lot of political support thanks to his policies.
I'm so proud to call @MarkWarner my *senior* Senator and a close friend of 38 years. There's no one I'd rather serve Virginia with. Happy Birthday, Mark! pic.twitter.com/Ij5Ey9tb3O

— Tim Kaine (@timkaine) December 15, 2018
Political Rise
In 2001, Tim ran for Lieutenant Governor of Virginia and won, serving in the position for the next four years. He then ran for governor of Virginia and despite being considered an underdog during the race, he ultimately prevailed. As Governor, he made numerous moves to preserve large environmental areas of the state ,while also pursuing various health-related issues, as well as stabilizing the state during the financial crisis. In 2007, he announced his support for Senator Obama's presidential bid, and was initially considered for a vice-president run but ultimately wasn't chosen by Obama.
In 2009, he became the chair of the Democratic National Committee, but kept a low profile for most of his time there. Three years later, he ran for Senate and was able to win the election. He became a member of the Senate Committee on Foreign Affairs, and later tried his hand in a vice presidential campaign endorsing Hillary Clinton. However, he lost his bid, making it the only election he ever lost. He recently announced that he would run for a re-election to the Senate in 2018.
Personal Life
Kaine married Anne Bright Holton in 1984. Anne is the daughter of the 61st Governor of Virginia – A. Linwood Holton Jr. The couple met while both were students at Harvard Law School. Anne serves as a judge on the Virginia Juvenile and Domestic Relations District Court, and is a former Virginia's secretary of education, but stepped down during his husband's bid for vice-president. Tim enjoys playing the harmonica, and has been playing it for over 20 years, even travelling with several harmonicas at a time. He is also the first ever member of a presidential ticket to deliver a speech in fluent Spanish.
Over the past 32 years, my wonderful wife has been the best partner I could have hoped for. I'm so lucky to have her by my side. Happy Valentine's Day, Anne!

Posted by Tim Kaine on Tuesday, February 14, 2017
General Info
| | |
| --- | --- |
| Full Name | Tim Kaine |
| Height | 1.78 m |
| Profession | Lawyer, Missionary, Politician |
| Education | Harvard Law School, University of Missouri, Harvard University |
| Nationality | American |
Family
| | |
| --- | --- |
| Spouse | Anne Holton |
| Children | Woody Kaine, Annella Kaine, Nat Kaine |
| Parents | Albert Alexander Kaine Jr., Mary Kathleen Burns |
Social profile links
Quotes
| # | Quote |
| --- | --- |
| 1 | [on Donald Trump] his been able to get away with some things that Hillary couldn't, and frankly nobody could. He doesn't release his tax returns, and only asking us to trust him. Don't get tricked by him. |
Facts
| # | Fact |
| --- | --- |
| 1 | On July 22, 2016 he was announced as Hillary Clinton's vice presidential running mate for the 2016 election. |
| 2 | U.S. Senator (D-Virginia) (2012 - present). |
| 3 | Member, U.S. Senate Armed Services Committee. |
| 4 | His wife, Anne Holton, is a former Richmond Juvenile Court judge and the daughter of former Virginia governor A. Linwood Holton, Jr. |
| 5 | Graduated from the University of Missouri with a B.A. in Economics in 1979 and from Harvard Law School in 1983 with a Juris Doctor and was admitted to the Virginia Bar. |
| 6 | Father of Nat Kaine, Woody Kaine and Annella Kaine. |
| 7 | Chairman of the Democratic National Committee (January 21, 2009 - April 5, 2011). |
| 8 | Governor of the Commonwealth of Virginia (USA) (January 14, 2006 - January 16, 2010). |
Movies
Thanks
| Title | Year | Status | Character |
| --- | --- | --- | --- |
| American Experience | 2010 | TV Series documentary special thanks - 1 episode | |
| Evan Almighty | 2007 | special thanks | |
Self
| Title | Year | Status | Character |
| --- | --- | --- | --- |
| Erin Burnett OutFront | 2017 | TV Series | Himself |
| Morning Joe | 2016-2017 | TV Series | Himself |
| Meet the Press | 2013-2017 | TV Series | Himself / Himself - Democratic Vice-Presidential Nominee / Himself - Democratic Vice Presidential Nominee / ... |
| Good Morning America | 2010-2016 | TV Series | Himself - Democratic Vice Presidential Nominee / Himself - Guest / Himself - Democratic National Committee Chairman |
| Face the Nation | 2014-2016 | TV Series | Himself - Democratic Vice Presidential Nominee / Himself - Democratic Vice-Presidential Nominee / Himself |
| Fox News Sunday | 2013-2016 | TV Series | Himself - Democratic Vice Presidential Nominee / Himself - Senate Armed Services Committee / Himself - Guest |
| This Week | 2016 | TV Series | Himself - Democratic Vice Presidential Nominee / Himself - Democratic Vice-Presidential Nominee |
| The View | 2016 | TV Series | Himself - Democratic Vice-Presidential Nominee |
| New Day | 2016 | TV Series | Himself - Democratic Vice-Presidential Nominee |
| 2016 Vice Presidential Debate | 2016 | TV Special | Himself - Candidate |
| Extra | 2016 | TV Series | Himself - Vice Presidential Nominee |
| Ellen: The Ellen DeGeneres Show | 2016 | TV Series | Himself - Democratic Vice-Presidential Nominee |
| The Circus: Inside the Greatest Political Show on Earth | 2016 | TV Series documentary | |
| Today | 2012-2016 | TV Series | Himself - Democratic Vice Presidential Candidate / Himself - Democratic Vice Presidential Nominee / Himself - Senator Elect, Virginia |
| The Late Show with Stephen Colbert | 2016 | TV Series | Himself - Vice Presidential Nominee |
| CBS This Morning | 2016 | TV Series | Himself - Democratic Vice-Presidential Candidate |
| 60 Minutes | 2016 | TV Series documentary | Himself - Democratic Vice Presidential Candidate (segment "The Democratic Ticket") |
| America's Election HQ | 2016 | TV Series | Himself - Vice-Presidential Candidate |
| Charlie Rose | 2015 | TV Series | Himself - Guest |
| Congressional Hearing on Military Sexual Assault | 2014 | TV Movie | Himself - Senator |
| Congressional Hearing on Sexual Assault in the Military | 2013 | TV Special | Himself - Senator |
| The War Room with Michael Shure | 2012 | TV Series | Himself - Guest |
| The Daily Show | 2008-2010 | TV Series | Himself |
| Larry King Live | 2010 | TV Series | Himself |
| Real Time with Bill Maher | 2008 | TV Series | Himself |
| Tavis Smiley | 2008 | TV Series | Himself |
| Moviemaking in Virginia: Take 3 | 2008 | Video documentary | Himself - Interviewee |
Archive Footage
| Title | Year | Status | Character |
| --- | --- | --- | --- |
| Breakfast | 2016 | TV Series | Himself - Democratic Vice-Presidential Candidate |
| Extra | 2016 | TV Series | Himself |
| The Tonight Show Starring Jimmy Fallon | 2016 | TV Series | Himself - Convention Speech / Himself - Miami Speech |
| Late Night with Seth Meyers | 2016 | TV Series | Himself - Convention Speech |
| Frontline | 2010 | TV Series documentary | Himself - Governor, Virginia |
| US Election Night | 2008 | TV Special | Himself |
Source:
IMDb
,
Wikipedia