Christian Serratos
• Actress known for her portrayal of Rosita Espinosa in AMC's "The Walking Dead" and Angela Weber in the "Twilight Saga" series
• Has a net worth of $3 million
• Highly popular on social media; has over 1.8 million followers on Instagram and over 334,000 followers on Twitter
• Awarded a Young Artist Award for Best Performance in a Feature Film • Supporting Young Actress
• Animal activist; promotes a vegan lifestyle and has posed for PETA campaigns

Known for movies
Short Info
| | |
| --- | --- |
| Date Of Birth | September 21, 1990 |
| Fact | Trained in Tae Kwon Do and Hapkido. |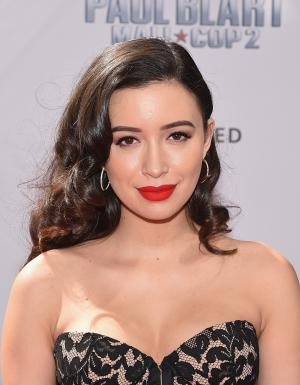 How Did Christian Serratos Become Famous?
Christian Marie Serratos is an actress, best known for her portrayal of the character Rosita Espinosa in the AMC television series "The Walking Dead", which is based on the comic book of the same name. She also played Suzie Crabgrass in the Nickelodeon series entitled "Ned's Declassified School Survival Guide". She initially got a lot of popularity with her role in "The Twilight Saga" series which she played the role of Angela Weber. "The Twilight Saga" is a series of five films based on the four novels by author Stephenie Meyer. It has become commercially successful and helped increase the popularity of actors Kristen Stewart, Robert Pattinson, and Taylor Lautner. In the films, Angela is a friend of main character Bella who is described as a very kind and quiet girl. She is one of the only friends of Bella who don't exploit her popularity to their advantage. She also respects other people's space and was initially just a minor character in the series until she became Bella's best human friend. She also has boyfriend in the series, Ben Cheney. She initially made her appearance in the film "Twilight" and would continue to reprise her role in "The Twilight Saga: New Moon", and "The Twilight Saga: Eclipse". She only had a small role in "The Twilight Saga: Breaking Dawn" which she catches Bella's bouquet at Bella and Edward's wedding. For her performance in "Twilight", she was awarded a Young Artist Award for Best Performance in a Feature Film – Supporting Young Actress.
What is Christian's net worth, and career successes?
How rich is Christian Serratos? As of early-2018, sources inform us of a net worth that is at $3 million, mostly earned through a successful career in acting. She's also done a lot of other films and television series projects over the course of her career. She's also won a Young Artist Award and as she continues her career, it is expected that her wealth will also continue to increase.
Social networks
Serratos is highly popular on social media as well which she posts some of her work and daily endeavors. She has over 1.8 million followers on Instagram and over 334,000 followers on Twitter. She often posts set photos of her alongside various cast members of "The Walking Dead" and also posts some of her daily endeavors. Her Twitter feed is often filled with jokes and other daily thoughts she has. She also has a personal website which promotes her skills and work.
The Walking Dead
Another project that boosted Christian's net worth and popularity is the AMC series "The Walking Dead". She was initially cast as the recurring character Rosita Espinosa during the fourth season of the show and she started to become a series regular during the following season. Eventually, she got featured in the main credits since the seventh season. "The Walking Dead" is a post-apocalyptic horror series based on the comic book series of the same name created by Robert Kirkman, Tony Moore, and Charlie Adlard. It follows the main character, sheriff's deputy Rick Grimes who wakes up from a coma to discover he is in a world overrun by zombies. He eventually reunites with his family and becomes the leader of a group of survivors.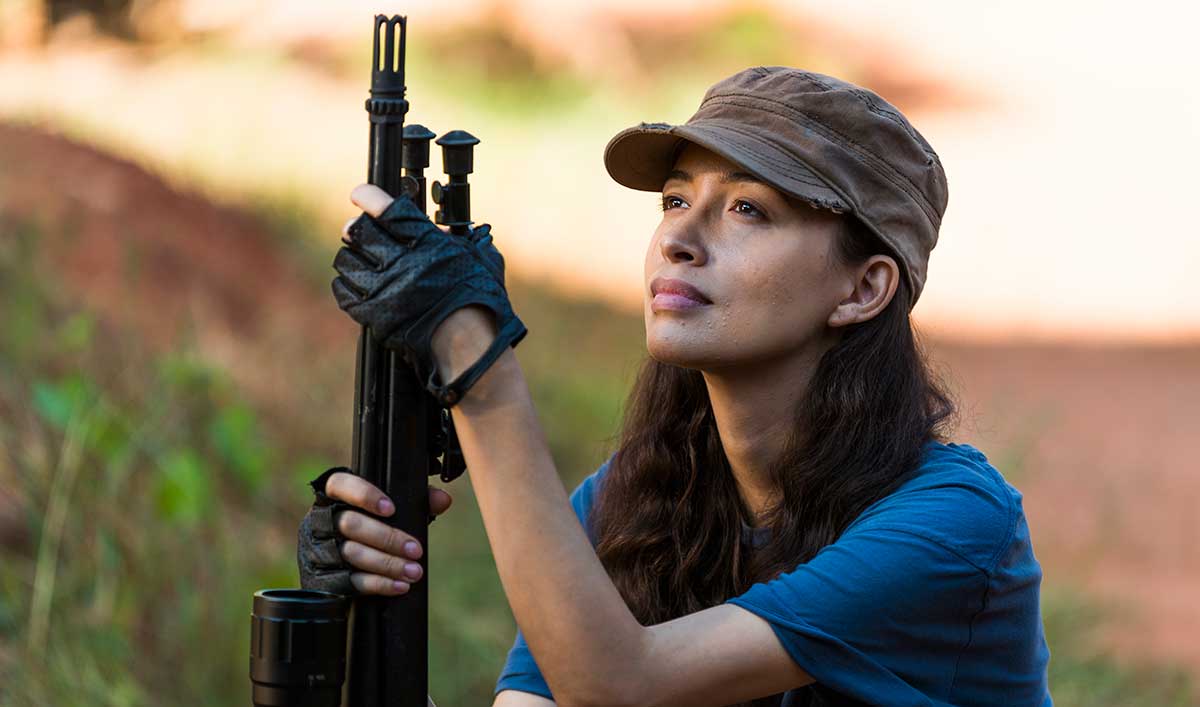 The first part of the show focused a lot of on Atlanta, Georgia while latter parts of the show was now set in Alexandria, Virginia. The show has won numerous awards over the course of its run and has been well received by critics. It also broke numerous television records. Christian plays the character Rosita Espinosa who was initially introduced as a part of a group consisting of Abraham Ford and Eugene Porter. The group was initially on a mission to Washington DC but the trio eventually joins Rick Grimes' group. After their Washington mission was abandoned, the group then found their way to the Alexandria Safe-Zone. The show has deviated away from the story of the comics to maintain a fresh perspective but some aspects are expected to be retained as the television show continues. Since joining the show, she has not taken in any other film or television project.
Christian Serratos age, parents and private life
https://twitter.com/cserratos/status/843154521408786432
Serratos was born on 21 September 1990, in Pasadena, California USA. She was raised in Burbank, California and is of part-Mexican descent through her mother, and part-Italian through her father, who worked as a set construction worker. She initially began with aspirations to become a competitive figure skater, and was even thought a prospect for the Olympics by her coaches. However, she now only does skating casually. She also did modelling work when she was younger. She is in a relationship with long-time boyfriend David Boyd, who is known to be the singer of the group New Politics; they have a child together who was born in 2017. Serratos is also an animal activist, promoting a vegan lifestyle, and she has also posed for a number of PETA campaigns.
General Info
| | |
| --- | --- |
| Full Name | Christian Serratos |
| Date Of Birth | September 21, 1990 |
| Height | 1.7 m |
| Profession | Actor, Model |
| Nationality | American |
Accomplishments
| | |
| --- | --- |
| Awards | Young Artist Award for Best Performance in a Feature Film - Supporting Young Actress |
| Movies | Cow Belles, Twilight, The Twilight Saga: New Moon, The Twilight Saga: Eclipse, The Twilight Saga: Breaking Dawn – Part 1, 96 Minutes, The Twilight Saga: Breaking Dawn – Part 2, Lip Service, 7500, Broken Doll |
| TV Shows | Ned's Declassified School Survival Guide, The Walking Dead |
Social profile links
Quotes
| # | Quote |
| --- | --- |
| 1 | I've been designing my own pieces for a long time. My mother's a jewelry designer, so we knew at some point we were going to do a line and dive into the fashion world. |
| 2 | My first on-screen kiss was lame: Nickelodeon. But my first real-life kiss was super cute and nice, but still very awkward. It was with this hot skateboarder with dreadlocks. He was my little Rasta man. |
| 3 | Some days, I know beauty techniques like it's my job, and other days I can't do my makeup for the life of me. So I find it easiest to just put on mineral veil and a little mascara and call it a day. I use Physician's Formula and Bare Minerals every day of my life. |
| 4 | When I stopped eating meat, I noticed that it was easier for me to focus, and I was really proud of myself for being green also... I had a plethora of reasons for going vegetarian. |
| 5 | You can get fake fur, which, if that's what you want - if you want that fur look - it looks just the same. It's really unnecessary to skin an animal when you can get something that looks just the same without hurting anything. |
| 6 | I listen to the Mars Volta and Fiona Apple every day. I feel if you do write music, you write what you listen to, and you couldn't possibly write in another genre. So those are the two that I usually use. |
| 7 | I usually go to Lush for hair products. I had no idea that this existed, but they have a shampoo rock, and it looks like a bar of soap, and I was tripping out when they told me it was a shampoo, so that's pretty sweet. |
| 8 | I was a serious competitive figure skater and still ice-skate as much as I can. Anyway, I once brought a date to the rink to have him experience what I was into. So all is going fine, and then - bam! - he bit it extremely hard! Skate time was over. His bruises were scary. I felt so bad. |
| 9 | I'd love to play someone who's insane or something, just so I can go flake out. I like a superhero. I know that's ironic. That's where we are, but seriously, it'd be really cool to play a superhero. |
| 10 | I'm not a really big comic book person. I know the typical ones - 'Spider-Man' and 'Wonder Woman' and 'Storm' and that stuff. But don't quiz me, because I'm not good at things like that. |
| 11 | Dia de Los Muertos is a holiday that pays tribute to the dead and also celebrates life. So I thought, what better of an idea to bring it in with PETA and let people know how we can respect the living and the dead. Going vegetarian could be an incredible option for people if they would just educate themselves. |
| 12 | I have a lot of 'Twilight' gear. I love the hoodies that say 'vampires' and 'werewolves,' but I refuse to get one because I can't choose; I have to have them both. I have the Team Edward T-shirt, but I also have Team Jacob. |
| 13 | I have a terrible, terrible fear of knives. I only buy food that I don't need to cut... I haven't cut my food in years! Like, I won't even touch a plastic knife or anything sharp. And if I'm in a kitchen and somebody picks up a knife, I leave. |
| 14 | I have little weird things that aren't really specific but are just kind of odd. I write my 5's backwards, and I don't know if anyone would even care, at all. |
| 15 | I know a lot of people who don't wash their makeup off of their face at night, and I think that's the worst thing ever. So my thing is, if you ever have a day that you get dolled up, you have to wash all of that makeup off. |
| 16 | I make a fabulous tofurkey for Thanksgiving. My Mexican-Italian family can't tell the difference. |
| 17 | I've always been opposed to slaughtering, eating, and wearing carcasses. |
| 18 | It'd be fun to do a comedy with someone like Sandra Bullock. |
| 19 | 'Twilight' has been a great opportunity, and it's been great fun. Hey, if I'm 50, and someone still wants an autograph for 'Twilight,' OK, cool. |
| 20 | We've been programmed to think meat is protein and you need meat. No, we are not cavemen. There are plenty other ways. |
Facts
| # | Fact |
| --- | --- |
| 1 | She is of Italian and Mexican ancestry. |
| 2 | Ranked #65 on the Maxim magazine Hot 100 of 2010 list. |
| 3 | One of People Magazine's 100 Most Beautiful People 2009. |
| 4 | Trained in dance: ballet, jazz, hip hop. |
| 5 | Is a fan of Jayne Mansfield. |
| 6 | Has a miniature poodle named 'Gigi' named after the cat in 'Kiki's Delivery Service'. |
| 7 | Trained in Tae Kwon Do and Hapkido. |
| 8 | Favorite movies are Tristan + Isolde (2006), A Little Princess (1995), Practical Magic (1998) and The House of Yes (1997). |
| 9 | Her mini poodles Johnny Cash and Gigi had four pups Polar and Gibson who have found homes with her friends. Uffie (named after the singer), and Gorrilla stayed with Gigi and Cash. |
| 10 | An avid animal lover. |
| 11 | She started as a model at age 7 and moved onto acting and commercial work at age 8. |
| 12 | She does competitive figure skating. |
Pictures
Movies
Actress
| Title | Year | Status | Character |
| --- | --- | --- | --- |
| The Walking Dead | 2014-2017 | TV Series | Rosita Espinosa |
| Flight 7500 | 2014 | | Raquel Mendoza |
| Pop Star | 2013 | | Roxie Santos |
| The Twilight Saga: Breaking Dawn - Part 2 | 2012 | | Angela Weber (credit only) |
| The Secret Life of the American Teenager | 2011-2012 | TV Series | Raven |
| The Twilight Saga: Breaking Dawn - Part 1 | 2011 | | Angela |
| 96 Minutes | 2011 | | Lena |
| American Horror Story | 2011 | TV Series | Becca |
| The Black Keys: Howlin' for You | 2011 | Video short | Cleo |
| The Twilight Saga: Eclipse | 2010 | | Angela |
| The Twilight Saga: New Moon | 2009 | | Angela |
| Twilight | 2008/I | | Angela |
| Ned's Declassified School Survival Guide | 2004-2007 | TV Series | Suzie Crabgrass |
| Hannah Montana | 2007 | TV Series | Alexa |
| 7th Heaven | 2006 | TV Series | Receptionist |
| Cow Belles | 2006 | TV Movie | Heather Perez |
| Zoey 101 | 2005 | TV Series | Girl #1 |
| Mrs. Marshall | 2004 | Short | Jillian Marshall |
Thanks
| Title | Year | Status | Character |
| --- | --- | --- | --- |
| The Walking Dead: The Journey So Far | 2016 | TV Movie documentary special thanks | |
Self
| Title | Year | Status | Character |
| --- | --- | --- | --- |
| Talking Dead | 2014-2016 | TV Series | Herself / Herself - Guest / Herself - 'Rosita' |
| The Walking Dead: The Journey So Far | 2016 | TV Movie documentary | Herself / Rosita Espinosa |
| 2012 ALMA Awards | 2012 | TV Special | Herself |
| 13th Annual Young Hollywood Awards | 2011 | TV Special | Herself |
| Teen Choice Awards 2010 | 2010 | TV Special | Herself |
| 2010 MTV Movie Awards | 2010 | TV Special | Herself |
| Nickelodeon Kids' Choice Awards 2009 | 2009 | TV Special | Herself |
| Nickelodeon Kids' Choice Awards '05 | 2005 | TV Movie documentary | Herself |
Awards
Won Awards
| Year | Award | Ceremony | Nomination | Movie |
| --- | --- | --- | --- | --- |
| 2009 | Young Artist Award | Young Artist Awards | Best Performance in a Feature Film - Supporting Young Actress | Twilight (2008) |
Source:
IMDb
,
Wikipedia