• Steven Suptic is an American YouTuber born in 1993 with an estimated net worth of $400,000.
• He started his own YouTube channel in 2012 and went on to join several YouTube groups, including Team MVG and BAHMLounge.
• He then moved to Los Angeles to run the channel Super Panic Frenzy with another YouTuber, Reina Scully.
• After Super Panic Frenzy was shut down, he rebranded his personal channel to The Steven Suptic Experience and later Sugar Pine 7.
• He is engaged to Alyssa Terry and they reside in Los Angeles.
 
Who is Steven Suptic?
Steven Suptic was born on 2 May 1993, in Illinois, USA, and is a YouTube personality, best known for his YouTube channel called Sugar Pine 7 which has amassed over a million subscribers. He was previously a part of the collaborative channel called Team MVG.
The Net Worth of Steven Suptic
How rich is Steven Suptic? As of late-2018, sources inform us of a net worth that is over $400,000, earned largely through a successful career on YouTube, on which he's been active since 2011. As he continues his endeavors, it is expected that his wealth will also continue to increase.
YouTube Beginnings
Steven launched his own YouTube channel in 2012, during the time that the website was starting to gain a lot of traction due to the success of several content creators. He created his channel under the name MlgHwnT, and began posting videos mainly consisting of animations and commentaries of video games such as "Minecraft". Eventually, as the popularity of his channel grew, he started collaborating with other YouTubers such as BurtGasm, SkyDoesMinecraft, and AviatorGaming. His fame also grew when he joined several YouTube groups as a contributor, including with Team MVG and BAHMLounge. Two years after joining YouTube, he started a second channel called HWNTwo, which would start to deviate his content away from "Minecraft". In 2015, he took an opportunity from Discovery to run his own YouTube gaming channel based in Los Angeles, moving to the city and starting the channel called Super Panic Frenzy, along with another popular YouTuber, Reina Scully. The channel was created by Philip DeFranco who is also known to run the channel SourceFed.
Super Panic Frenzy and Rebranding
The channel featured various gaming videos, with a large portion of its content focused on Japanese video games, thanks to Reina being bilingual. The duo also started a weekly podcast, while Suptic continued to do "Minecraft" videos. That ended in a few months, however, as he addressed in a video that he was already 22 years old and it feels wrong to still be doing "Minecraft" videos for a living, which led him to focus on other types. Eventually, he rebranded his personal channel to The Steven Suptic Experience which does more challenging and vlog-type videos.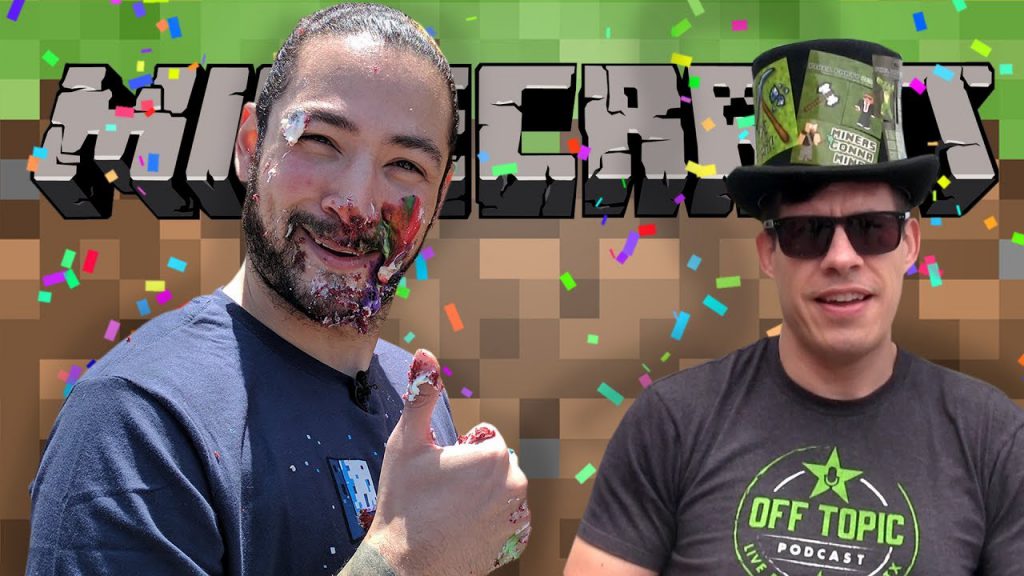 Super Panic Frenzy didn't become as successful as initially hoped for, and they handled numerous copyright issues leading to the channel shutting down in August 2016; the channel is still on YouTube with its old videos but is inactive. After a few months of inactivity, Suptic returned and was re-hired to host the main channel, which he worked on until it was finally shut down the following year. He then focused on his personal channel, which has also gone through multiple rebranding efforts. His videos mostly consist of improv acting and vlogs, often featuring Reina whom he remained friends with after Super Panic Frenzy.
https://www.facebook.com/photo.php?fbid=105416877149005&set=pb.100030420791746.-2207520000.1543584957.&type=3&theater
Sugar Pine 7
Other YouTubers featured on his channel include ParkerGames, CaptainSparklez, and Cib. Steven also hired his own crew, consisting of cameraman/director James and editor Autumn who at times are featured in videos. Steven also started his own podcast called the "Boys Only Club", which later transitioned to its own channel, with the format resembling that of Super Panic Frenzy. The latest iteration of his channel eventually became Sugar Pine 7, which is associated with the companies Rooster Teeth and Lets Play. He continues to produce vlog content, and a podcast called "Beyond the Pine".
https://twitter.com/StevenSuptic/status/976601070276198400
His content called Alternative Lifestyle won a Streamy Award for Show of the Year in 2017, then leading him to work on the channel's first short film entitled "The Woods", which is marketed as a cheesy horror story. The channel has been acclaimed by various publications, and is handled by both Steven and Clayton "Cib" James. His Alternative Lifestyle show has been described as a hyper surrealistic improv-based comedy, which uses a vlog format to help drive its story. The name of the channel is derived from a cabin that the original founders once stayed in.
Personal Life
For his personal life, it is known that Suptic is engaged to Alyssa Terry, who has been featured in several of his videos. The couple got engaged while on a trip to Iceland. The couple own two dogs together, and reside in Los Angeles. He mentioned in an interview that a lot of his content is based on his career and life, which often depicts business as well as personal struggles, however, he did clarify that most of them are jokes. Aside from his YouTube channel, he is also highly active on other social media websites, akin to most YouTubers.
General Info
Social profile links
Movies
Director
| Title | Year | Status | Character |
| --- | --- | --- | --- |
| Golem's Revenge | 2012 | Short | |
| Buttons | 2012/II | Short | |
Writer
| Title | Year | Status | Character |
| --- | --- | --- | --- |
| Golem's Revenge | 2012 | Short | |
| Buttons | 2012/II | Short | |
Animation Department
| Title | Year | Status | Character |
| --- | --- | --- | --- |
| Golem's Revenge | 2012 | Short animator | |
| Buttons | 2012/II | Short animator | |
Editor
| Title | Year | Status | Character |
| --- | --- | --- | --- |
| Golem's Revenge | 2012 | Short | |
| Buttons | 2012/II | Short | |
Actor
| Title | Year | Status | Character |
| --- | --- | --- | --- |
| Buttons | 2012/II | Short | Steve |
Self
| Title | Year | Status | Character |
| --- | --- | --- | --- |
| Nerd Wars | 2013 | Video short | Himself |
| SourceFed | 2012 | TV Series | Himself |
Source:
IMDb
,
Wikipedia