Jacqueline Bisset
Winifred Jacqueline Fraser Bisset is a British actress, born on 13th September 1944 in Weybridge, Surrey, England.
The famous brunette was brought up by general practitioner George Maxwell Fraser Bisset, who passed away in 1982, and Arlette Alexander, a housewife and former lawyer who died in 1999. Although Jacqueline's father was of Scottish descent, her mother had French and English heritage – and memorably escaped Paris during the 1940 Battle of France by boarding a British troopship.
Jacqueline was raised in Tilehurst, a sleepy suburb near Reading, Berkshire, and still resides in her childhood home for several months of the year. The Golden Globe winner has two brothers: Max, a business consultant who lives in Florida and is in his 80s, and Nick, who was born in 1981 from George's second marriage and became a half-orphan in his infancy. (George and Arlette divorced in 1968).
As Arlette taught her children to speak French fluently, Jacqueline studied at London's Lycée Francais de Londres. During her childhood, she also studied ballet, later taking acting lessons and paying for them by working as a fashion model.
1960s – 1990s
Jacqueline's first credited movie role was in the 1966 Roman Polanski psychological thriller "Cul-de-sac". The following year, she played Albert Finney's love interest in the romcom "Two for the Road", and signed a contract with 20th Century Fox. She also portrayed Miss Giovanna Goodthighs in "Casino Royale", a James Bond movie satire which allowed her more screentime.
A year before her breakthrough role, Fox cast Jacqueline in her first lead part in the low-budget spy movie "The Cape Town Affair", which was filmed in South Africa and starred James Brolin, another actor on the verge of becoming famous. In 1968, the course of Jacqueline's career changed through a combination of luck and hard work, when she replaced Mia Farrow in "The Detective", starring opposite Frank Sinatra.
Her second big role of the year, playing Vickie Cartwright in "The Sweet Ride", garnered her a Golden Globe nomination in the Most Promising Newcomer category; last but not least, she played Steve McQueen's girlfriend in one of the highest-grossing films of the year, "Bullitt".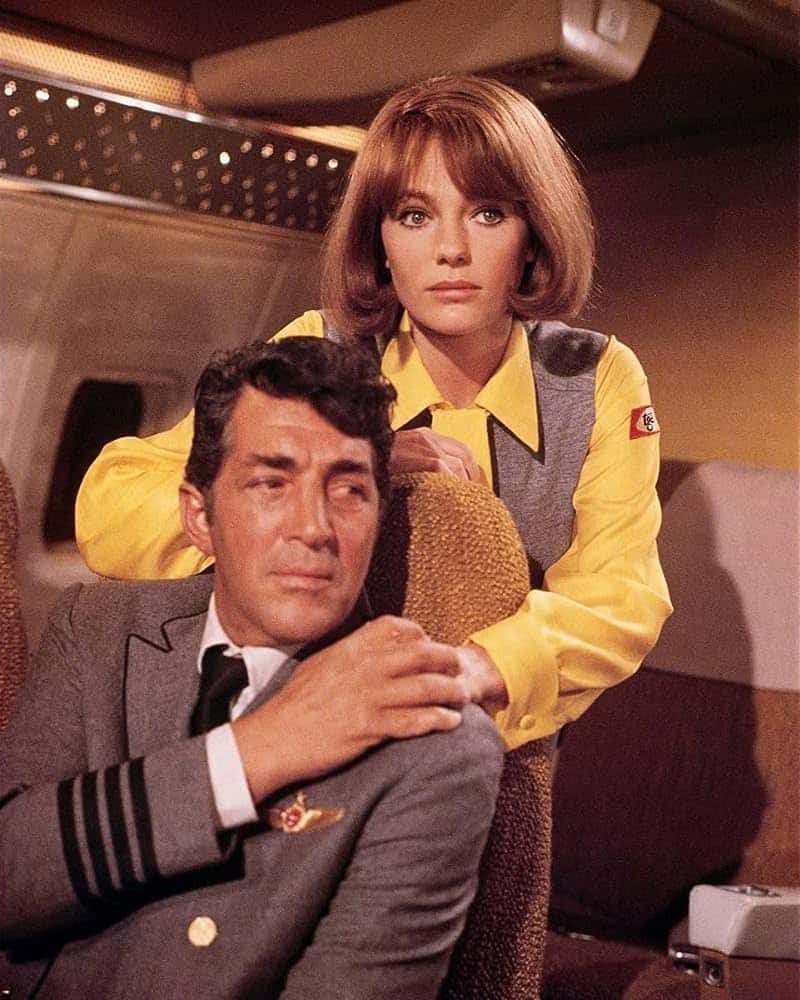 The actress got the 1970s off to a strong start with a notable role in "Airport", a disaster film in which she played a pregnant stewardess. Later, she played Paula Clarkson in "The Mephisto Waltz", starred alongside her then boyfriend Michael Sarrazin in "Believe in Me", and played Paul Newman's daughter in "The Life and Times of Judge Roy Bean".
Although Jacqueline had already made a name for herself, she attracted the attention of European cinephiles and critics portraying Julie Baker in the romantic comedy-drama "Day for Night", which was filmed in France. A year later, she starred as Countess Elena Andrenyi in "Murder on the Orient Express". The whodunnit was a huge success, making over 30 times its budget, and racking up five Academy Awards nominations across various categories.
In 1975, Jacqueline travelled to Germany and Italy, where she filmed "End of the Game" and played the main character in "The Sunday Woman". Two years later, the thespian received mainstream recognition in the US, thanks to her role in "The Deep", directed by Peter Yates, with whom she had already worked in "Bullitt". The movie's marketing strategy was based around Jacqueline being filmed underwater in a white t-shirt with nothing underneath; the actress would later be credited with the popularization of wet t-shirt contests, which disappointed her no end.
Due to Jacqueline's newfound notoriety in the States, a UK movie that she starred in in 1971, "Secrets", was re-released in the country. Cinemagoers flocked to see it, given that it contained the only extensive nude scenes of the actress's career.
By this point Jacqueline was a household name, and was nominated for a Golden Globe in the Best Actress – Motion Picture Comedy category thanks to her performance in "Who Is Killing the Great Chefs of Europe?". She ended the 1970s with the Italian movie "Together?", starring alongside Maximilian Schell and Terence Stamp.
Although Jacqueline's film career slowed down in the 1980s, at the beginning of the decade she was charging around $1 million a movie. Despite some of her movies flopping – "When Time Ran Out" and "Inchon" to name two – other projects of hers, such as "Rich and Famous" and "Class", were huge hits. In 1984, the actress received her third Golden Globe nomination, this time in the Best Supporting Actress category, for her role as Yvonne Firmin in "Under the Volcano".
Over the next few years, Jacqueline was nominated for Best Actress at the CableACE Awards after starring in the wartime drama "Forbidden". She also made her TV debut, playing the title role in "Anna Karenina" and with a leading role in the abortion drama "Choices". Shortly afterwards, she co-starred alongside Armand Assante in the miniseries "Napoleon and Josephine: A Love Story", playing Josephine de Beauharnais.
Jacqueline, now in her 40s, was now aging out of sex symbol roles; however, she played the lead in popular comedies such as "Scenes from the Class Struggle in Beverly Hills" and "High Season". During the early 1990s, the actress travelled to Italy, France, the Netherlands, and Australia for work, namely the filming of "Rossini! Rossini!", "The Maid", "Les Marmottes", and "Crimebroker" respectively.
After returning to the US in 1994, Jacqueline did period pieces "End of Summer" and "Dangerous Beauty", and more TV projects, with roles as Isabelle d'Arc in "Joan of Arc", and the Virgin Mary in "Jesus", which were both highly-regarded. Jacqueline's performance in the former earned her a first Primetime Emmy Award nomination for Best Supporting Actress.
2000s – 2020s
At the beginning of the 2000s, Jacqueline played Sarah in the Biblical movie "In the Beginning" and portrayed a terminally ill woman in "The Sleepy Time Gal", which was voted one of the year's best undistributed films, and has been referred to by the actress as her best work. Shortly afterwards, she played Jacqueline Onassis in the 2003 TV movie "America's Prince: The John F. Kennedy Jr. Story", and guest-starred in "Law & Order: Special Victims Unit" and "Hey Arnold!".
In 2005, Jacqueline worked alongside Keira Knightley in the biographical movie "Domino, and made a cameo appearance in "Mr. & Mrs Smith"; however, her footage was cut from the movie during editing. During six episodes of "Nip/Tuck", Jacqueline played extortionist James LeBeau, who was written out of the show after dramatically killing herself.
In 2008, Jacqueline starred in "Death in Love", winning the Best Actress award at the Boston Film Festival for her portrayal of an erratic Holocaust survivor. Months later, she was nominated once again for Best Actress, this time at the Satellite Awards for her starring role in the Hallmark movie "An Old Fashioned Thanksgiving".
2010 was the year Jacqueline was awarded the Legion of Honor insignia, and described as a movie icon by French President Nicolas Sarkozy, undoubtedly one of the many highlights of her career. In the same year, she reprised her role of Isabella in "An Old Fashioned Christmas", the sequel to "An Old Fashioned Thanskgiving".
After playing Constance Isles in three episodes of "Rizzoli & Isles", Jacqueline filmed for the jazz drama series "Dancing on the Edge" in England. Her role as Lady Lavinia Cremone earned her a Golden Globe Award in the Best Supporting Actress – Series, Miniseries, or Television Film category.
In 2015, Jacqueline worked alongside Toni Collette and Drew Barrymore in the tearjerker "Miss You Already", and also received a Stanislavsky Award at the 37th Moscow International Film Festival. By now, the actress was mainly doing independent movies – "Asher", "Backstabbing for Beginners", and "Head Full of Honey", to name three.
2020 saw the actress travel to Budapest for the filming of "Birds of Paradise", an Amazon dance drama film. As for upcoming projects, Jacqueline will be starring alongside Dominic Monaghan in the Western movie "Last Dollar", which has no confirmed release date for the time being.
Personal Life
Despite having been in various long-term relationships with prominent men, Jacqueline has never married. In the 1970s, she told the press: "I couldn't in all conscience do what I do and have children… I've heard such horror stories about the children in Hollywood." However, it's important to note that she has never given a reason for not wanting to walk down the aisle.
Jacqueline's first serious relationship that we know of lasted from 1967 to 1973, when she was dating Canadian actor Michael Sarrazin. Following a year of singledom, she embarked on another six-year relationship, this time with the entrepreneur and nightclub owner Victor Drai. When that relationship ended, Jacqueline began dating the Russian dancer and actor Alexander Godunov, whom she broke up from in 1988 after seven years.
From 1988 to 1992, Jacqueline was also in a committed relationship with the Swedish actor Vincent Perez. Lastly, she dated the Turkish martial arts instructor Emin Boztepe from 1994 to 2005; the couple got back together two years later but broke up again in 2008, since when she's been officially single.
Jacqueline, who has always been known for her slim physique, weighs about 140lbs (64kgs) and is 5ft 7in (169cm) tall.