Who is Yolandi Visser?
Yolandi Visser, commonly referred to as just Yolandi, is a multifaceted artist from South Africa, known for her musical talent, acting chops, and controversial persona. Born Anri du Toit on 1 December 1984, she is the lead vocalist of the rap-rave group Die Antwoord. Over the years, Yolandi has become an iconic figure in the alternative music scene, recognized for her unique and high-pitched rapping style.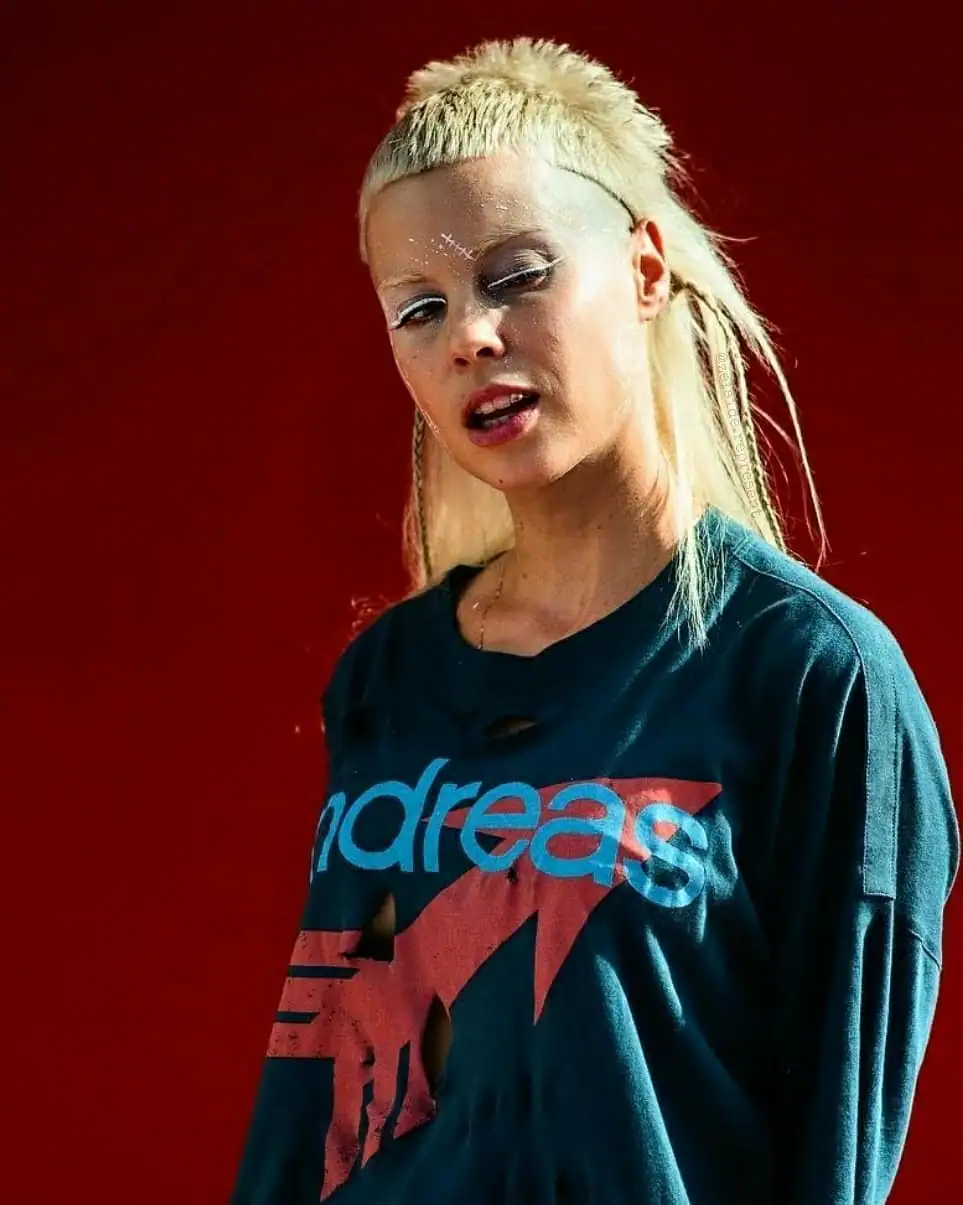 Early Life and Education
Yolandi was born in Port Alfred, a small town on the eastern coast of South Africa. Her parents divorced when she was young, and she was sent to an all-girls boarding school, Menolpark High School, in Gauteng, South Africa. Yolandi has often described her childhood as being quite troubled and has said that she felt like an outsider during her school years. Despite this, she developed an interest in music and the arts from a young age. After finishing school, Yolandi attended the Lady Grey Arts Academy, where she developed her passion for music and performance.
Career Beginnings
Yolandi's career began in the music industry when she joined the South African music and art collective The Constructus Corporation in the early 2000s. The group was formed by Watkin Tudor Jones, who goes by the stage name Ninja, and Justin De Nobrega, who later became DJ Hi-Tek. Yolandi was initially involved in the background visuals and artwork for the group, but eventually became one of the vocalists. The Constructus Corporation released a concept album entitled "The Ziggurat" in 2003, but the group disbanded shortly afterwards.
After The Constructus Corporation, Yolandi and Ninja formed a new group called MaxNormal.TV, a hip-hop act that combined music with multi-media and performance art; Yolandi adopted the stage name 'Anica The Snuffling' during this period, while MaxNormal.TV gained some popularity in South Africa, but disbanded in 2008.
Die Antwoord
In 2008, Yolandi, Ninja, and DJ Hi-Tek formed Die Antwoord, a group that would catapult them to international fame. Die Antwoord, which means 'The Answer' in Afrikaans, is a rap-rave group that combines elements of hip-hop, electronic, and dance music with provocative and often controversial lyrics. Yolandi adopted the stage name 'Yolandi Visser' and became known for her unique, high-pitched rapping style.
Before forming Die Antwoord, both Ninja and Yolandi were involved in other musical projects. Ninja had been part of the South African music scene since the 90s, involved in projects such as The Original Evergreens, MaxNormal.TV, and The Constructus Corporation. DJ Hi-Tek, the group's producer, has been a long-time collaborator with Ninja and Yolandi.
Die Antwoord's debut album '$O$' was released in 2009, and made available as a free download on their official website. The album featured tracks in both English and Afrikaans and included songs such as "Enter the Ninja", "Wat Pomp", and "Zef Side". The music video for "Enter the Ninja" went viral on the Internet, drawing international attention to the group and eventually leading to a record deal with Interscope Records.
After signing with Interscope Records, in 2011, Die Antwoord released their second studio album, "Tension". However, they later left the label due to creative differences, and formed their independent label, Zef Recordz. "Tension" included song such as "I Fink U Freeky" and "Fatty Boom Boom", both of which became popular and received considerable attention for their proocative music videos. Although the album received mixed reviews from the critics, it reached a wide audience worldwide and the trio were invited to perform in American TV shows and were featured in an Alexander Wang ad.
Die Antwoords have since remained relevant, especially among fans of alternative music, thanks to their unique music style. Since 2012, they've released three studio albums – "Donker Mag" (2014), "Mount Ninji and da Nice Time Kid" (2016), and "House of Zef" (2020).
Die Antwoord's music is a fusion of various genres, including electronic, hip-hop, and rave. They describe their style as 'Zef,' which they define as 'you're poor but you're fancy. You're poor but you're sexy, you've got style'. Their music often includes references to South African culture, politics, and social issues. Ninja and Yolandi's lyrics are a mix of English and Afrikaans, and their visuals often feature imagery from South African subcultures.
Both Ninja and Yolandi have cited various influences on their music, including bands such as The Prodigy, Cypress Hill, and Aphex Twin. They have also mentioned being inspired by South African musicians Brenda Fassie and Koos Kombuis.
In addition to their music, Die Antwoord has also ventured into other forms of art. In 2014, they released a short film called "Umshini Wam", directed by Harmony Korine, and in 2015, both Ninja and Yolandi starred in Neill Blomkamp's film "Chappie".
In recent years, there have been rumors about the group disbanding, as Ninja mentioned in an interview that Die Antwoord would disband in 2017. However, as of 2023, the group is still actively astrongnd working on new music.
#4K #wallpaper Chappie Yo Landi Yolandi Visser https://t.co/2wOZP0zxAI pic.twitter.com/WKATrhStnm

— HDwallpapers.pro (@hdwallpapersdot) October 31, 2017
Acting Career
Aside from her music career, Yolandi has also dabbled in acting. She made her acting debut in the 2015 film "Chappie", directed by Neill Blomkamp, who is known for directing other sci-fi films such as "District 9" and "Elysium".
The plot of "Chappie" is set in a near-future version of Johannesburg, South Africa, where crime is patrolled by a mechanized police force manufactured by Tetravaal, a technology company. Deon Wilson (played by Dev Patel), a Tetravaal engineer, creates an artificial intelligence that mimics human thought and emotions. Despite being rejected by his boss, Michelle Bradley (played by Sigourney Weaver), Deon decides to test the AI on a damaged robot scheduled for destruction.
Yolandi played a fictionalized version of herself alongside Ninja and actor Sharlto Copley. Their characters are gangsters who kidnap Deon and end up raising Chappie. Their performances received mixed reviews, with some critics finding them distracting, while others praised their energy and unique presence. Both members of Die Antwoord also contributed to the film's soundtrack.
Controversies
Yolandi has been involved in several controversies over the years, both as a part of Die Antwoord and as an individual. One of the most notable controversies occurred in 2019 when a video surfaced online showing Yolandi and Ninja involved in a physical altercation with actor Andy Butler. Yolandi and Ninja were accused of homophobia as a result of the incident, but they denied the allegations and claimed that the altercation was in response to Butler harassing them.
Die Antwoord has also been criticized for their use of blackface in music videos and performances. Yolandi and Ninja have defended their use of blackface, stating that it is a part of their artistic expression and not intended to be offensive.
Yolandi's bandmate and former partner, Ninja, has been accused of sexual assault on multiple occasions. In 2019, the Australian rapper Zheani Sparkes released a diss track on him entitled "The Question", alleging that Ninja trafficked her to South Africa in 2013, and sent her explicit photos to his "Chappie" co-stars. She further said that Jones told her that he was interested in her since she reminded him of his daughter, who was eight years old at the time.
In April 2022, Gabriel 'Tokkie' du Preez accused Yolandi and Ninja of emotional and physical abuse. He met the couple for the first time at the age of nine, and entered a foster arrangement with them three years later. He further stated that the couple used him as a 'prop' in their art projects, due to his unique looks, and at one point, convinced him to stab his brother and congratulated him for doing so. In response, Die Anwoord released a statement saying that they 'don't agree with Tokkie's statements'.
Personal Life
Yolandi has a daughter named Sixteen Jones, whom she had with her former partner Ninja. Sixteen has followed in her parents' footsteps and is pursuing a career in music. Yolandi and Ninja have had an on-again, off-again relationship over the years, but they have continued to collaborate professionally.
Net Worth
As of September 2023, Yolandi's net worth is estimated to be around $10 million. Her wealth comes from her music career, acting, various business ventures. Die Antwoord's music, merchandise sales, and international tours have contributed significantly to her net worth.