Who is Paolo Guerrero?
Paolo is a Peruvian professional soccer player, known for his prolific goal-scoring abilities and his leadership on the field. Guerrero has had a successful club career, playing for teams such as Bayern Munich in Germany and Flamengo in Brazil.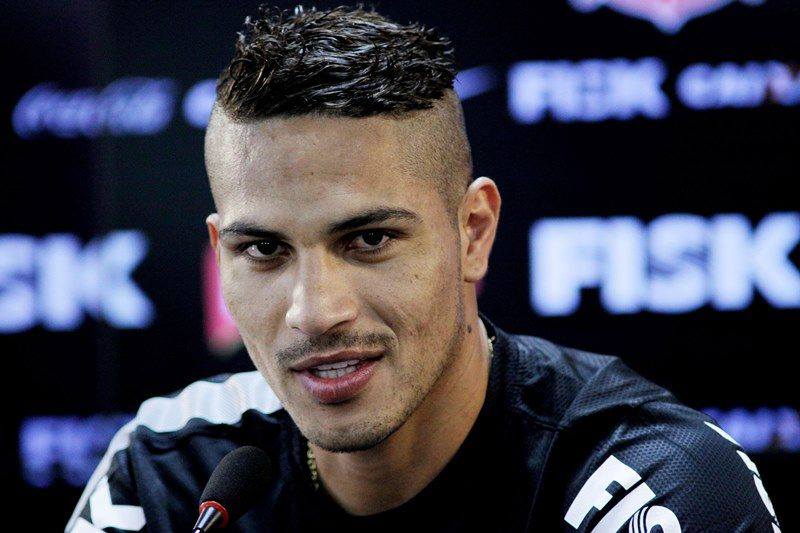 Paolo Guerrero Wiki: Age, Childhood, and Education
José Paolo Guerrero Gonzales was born on 1 January 1984 in Lima, Peru. He was raised in a family with a strong footballing legacy. His parents, Petronila and José Guerrero, instilled a passion for the sport in him from a young age. Paolo shared this love for soccer with his older brother, Pablo Rivera Guerrero, who was also a footballer for the Peru national team, following in the path of their uncle, who had represented Alianza Lima and the Peru national team before them.
Paolo's journey in football began in 1992 when he joined the youth ranks of Alianza Lima. Over the years, he honed his skills and showed immense potential, catching the attention of football enthusiasts. He dedicated himself to developing as a player, and his hard work paid off as he progressed through the ranks of the club. In 2002, he left a mark on Alianza Lima as a talented and promising prospect, ready to take on new challenges and make a name for himself on a bigger stage.
Career Beginnings
Paolo Guerrero made a significant step in his soccer career in 2003, by signing a contract with the renowned club Bayern Munich. His performance during the 2003-04 season in the Regionalliga Süd was remarkable, scoring an impressive 21 goals in just 23 games. The following year, he was promoted to the Bayern first team, joining Claudio Pizarro, another talented player from his home country.
In June 2006, Guerrero transferred to Hamburger SV, and inked a contract that spanned until 2010. Unfortunately, his initial season at HSV was plagued by an injury, limiting him to just 5 goals in 20 games.
However, he made a strong comeback during the 2007-08 season, emerging as a key player with 9 goals and 4 assists in 29 Bundesliga games, proving his worth. Guerrero also showcased his prowess in the UEFA Cup and qualification matches, scoring 5 goals and assisting 3 times. One of his memorable moments came when he achieved a hat-trick against Karlsruher SC, leading his team to a resounding 7-0 victory, and securing fourth place in the Bundesliga, thereby qualifying for the UEFA Cup.
Heading into the 2008-09 season, Guerrero cemented his position as the first-choice striker for Hamburger SV, earning praise and trust from the coach, Martin Jol.
However, there was a setback when Guerrero found himself involved in an incident with a Hamburg fan during a league game against Hannover 96 in April 2010. As a consequence, he faced a substantial fine and a five-game suspension imposed by the German Football Association (DFB).
Move to Brazil
Following his ten-year stint in Germany, on 13 July 2012, Paolo Guerrero made a significant move to Brazil's Corinthians. The transfer marked a new chapter in his career, and he quickly became a standout player for the club. His exceptional performance during the 2012 FIFA Club World Cup showcased his goal-scoring prowess, as he netted crucial goals in both the semi-final against Al Ahly SC and the final against Chelsea, helping Corinthians secure the prestigious title.
Guerrero's impact in Brazil extended beyond the pitch. In May 2013, he achieved an historic milestone as the first Peruvian footballer to grace the cover of Placar, Brazil's most prominent football magazine. The cover portrayed him as a warrior, resembling his namesake "guerrero" (meaning "warrior" in Spanish), holding a Corinthians flag and displaying battle wounds, symbolizing his dedication and passion for the sport.
July 2013 saw Corinthians continue their successful streak, winning the 2013 Recopa Sudamericana with Guerrero playing a pivotal role in the first leg, contributing to a 2-1 away victory against their city rivals São Paulo FC.
Despite his remarkable contributions to Corinthians, contract negotiations in 2015 hit a roadblock, resulting in his departure from the club. Guerrero's final appearance for Corinthians was against Fluminense on May 24, after which he bid farewell three days later, ending his memorable journey with the club.
On May 29, 2015, it was announced that Guerrero's next destination would be Flamengo. The move to the prestigious Brazilian club showcased his continued ambitions and desire to excel on the South American football stage.
At Flamengo, Guerrero further solidified his reputation as a top striker. The 2017 Campeonato Carioca, one of Brazil's most important regional tournaments, witnessed Guerrero's brilliance once again. He scored crucial goals in the semi-final against Botafogo, helping Flamengo secure a 2-1 victory, and continued his goal-scoring form in the final against Fluminense, adding another goal to secure a 3-1 aggregate victory at the iconic Maracanã stadium.
Paolo Guerrero's journey in Brazil demonstrated his resilience and consistent goal-scoring abilities, making him a beloved and influential figure in both Corinthians and Flamengo's football history.
After leaving Flamengo, Paolo Guerrero signed with S.C. Internacional in August 2018 on a three-year contract. However, his debut was delayed as his FIFA ban was upheld, and he couldn't play until April 2019. He wore the number 79 at Internacional to honor their past triumphs.
In 2019, Guerrero's number changed to 9 due to a player departure, and he finally made his debut for Inter in the Campeonato Gaúcho, scoring in a 2-0 semi-final win against Caxias and impressed further by scoring twice in his Copa Libertadores debut against Palestino.
In October 2021, Guerrero left Internacional on mutual agreement. He then joined Brazilian Série A side Avaí in July 2022 for the remainder of the 2022 season. After a brief stint at Avaí, Guerrero moved to the Argentine Primera División side Racing Club in January 2023, marking his presence by scoring his first goal in the 89th minute of a Copa Argentina match against San Martín.
Most recently, he signed with the Ecuadorian side LDU Quitto and has already proven his goal-scoring abilities.
🚨 ÚLTIMO MOMENTO 🚨

Paolo Guerrero se fue de Racing 🔵⚪

▶ ¿Qué te pareció su paso por la Academia? pic.twitter.com/cardUdE3GF

— TNT Sports Argentina (@TNTSportsAR) July 6, 2023
International Career
Throughout his national career, Paolo Guerrero has left a significant mark on Peruvian football with his exceptional performances and leadership on the pitch. He made his debut for the senior team during the 2006 FIFA World Cup qualification campaign, and scored two crucial goals for his country. His first international goal came in a memorable match against Chile at Lima's Estadio Nacional, where his winning goal secured a vital victory.
Guerrero's impact continued to grow in subsequent tournaments. In the 2007 Copa América held in Venezuela, he played a key role as Peru achieved a memorable 3-0 win over Uruguay, propelling them to the quarter-finals. His contributions during the tournament were widely recognized, showcasing his stature as a top striker for the national team.
In the 2011 Copa América, Guerrero truly flourished, emerging as the tournament's top scorer with five goals. He took on the responsibility of leading the team as the starting striker, and scored in crucial matches, including one against Uruguay and a hat-trick against Venezuela in the third-place play-off, which Peru won convincingly.
His journey with the national team has not been without challenges. In the lead-up to the 2018 FIFA World Cup, Guerrero faced a suspension due to a positive doping test. However, his ban was temporarily lifted, allowing him to play in the tournament. At the 2018 World Cup, Guerrero once again demonstrated his class by assisting in Peru's first goal in 36 years and scoring another against Australia.
In the 2019 Copa América held in Brazil, Guerrero's experience and goal-scoring prowess proved vital for Peru. He scored crucial goals, including one in the semi-final against defending champions Chile, propelling Peru to the final for the first time since 1975. In the final against Brazil, Guerrero netted from the penalty spot, finishing as the tournament's joint-top scorer, although losing the final.
Throughout his national career, Paolo Guerrero has displayed dedication, skill, and a deep love for representing Peru. His goal-scoring records and leadership on the field have cemented his status as one of the nation's all-time football greats, inspiring generations of Peruvian players to come.
Doping Ban
Paolo Guerrero's doping ban scandal unfolded during the 2018 FIFA World Cup qualifiers. After testing positive for benzoylecgonine, a metabolite of cocaine, he received a one-year ban from FIFA, later reduced to six months. Appeals were filed by Guerrero and WADA, resulting in the CAS increasing his suspension to 14 months, claiming some degree of negligence on his part. The Swiss Federal Tribunal temporarily lifted the ban, allowing him to play in the World Cup. However, the ban was eventually re-imposed after the tournament. The CAS ruled that the AAF was caused by coca tea ingestion at the Swiss hotel, questioning Guerrero's actions and hotel management's cooperation. Despite the challenges, Guerrero remained a prominent figure in Peruvian football.
Net Worth
According to authoritative sources, Paolo Guerrero's Net Worth is estimated at $2.5 million, as of mid- 2023.
Personal Life, Marriage, Wife, Children
Paolo Guerrero has led a rather rich personal life. He has three children from his previous relationships, but hasn't married. According to sources, he is currently dating Ana Paula Consort.
Appearance and Body Measurements
Paolo Guerrero has black hair and dark brown eyes. He stands at a height of 6ft 1ins (1.85m), while he weighs approximately 170lbs (77kgs). He has an athletic figure.