Who was Sean Taylor?
Sean was a National Football League (NFL) star who played as a safety for the Washington Redskins. However, his career was tragically cut short when he was fatally shot in 2007.
Sean Taylor Wiki: Age, Childhood, and Education
Sean Taylor was born on 1 April 1983, in Florida City, Florida USA to parents Pedro Taylor and Donna Junor. He grew up in a low-income Miami neighborhood, and was initially raised by his great-grandmother, Aulga Clarke, before moving to his father's home at age 11. Sean was baptized at the Bethel Seventh-day Adventist Church in Florida City.
He attended Gulliver Preparatory School, where he excelled in football, track, and basketball, playing various positions in football, including running back, defensive back, and linebacker. His high school achievements included contributing to Gulliver's 2000 Florida Class 2A State Championship win, where he recorded impressive stats with 1,400 rushing yards, 44 touchdowns, and over 100 tackles. In track & field, he won the state 2A 100-meter dash in 2000.
Sean's outstanding skills earned him recognition as the No. 1 prospect in Miami-Dade County, and the nation's top skill athlete. He received numerous accolades, including being named to various All-American and Super Team selections. In 2007, he was honored by being named to the Florida High School Association All-Century Team. Gulliver Prep paid tribute to him by renaming their football field as Sean Taylor Memorial Field on September 5, 2009, in his honor.
College Career
He committed to the University of Miami where he played football and was on the track and field teams – in his freshman season in 2001, he made an impact in Miami's secondary, and was recognized as Big East Special Teams Player of the Week. That year, the Miami Hurricanes claimed the national championship.
Moving forward to 2002, Taylor earned a starting role and received the honor of being named second-team All-Big East. He showcased his defensive prowess with 85 tackles, 15 pass break-ups, 4 interceptions, 1 forced fumble, and a memorable punt return touchdown.
In the 2003 season, Taylor reached new heights. He became a unanimous first-team All-American and secured the title of Big East Conference Defensive Player of the Year. His extraordinary performance included leading the nation with 10 interceptions, equaling a season record for the Hurricanes. Taylor also recorded 77 tackles, with 57 being solo, and made a significant impact with three interception returns for touchdowns.
Notably, he didn't limit himself to football, excelling in track & field as well, participating in the 100-meter and 200-meter events and contributing to the 4×100 relay team.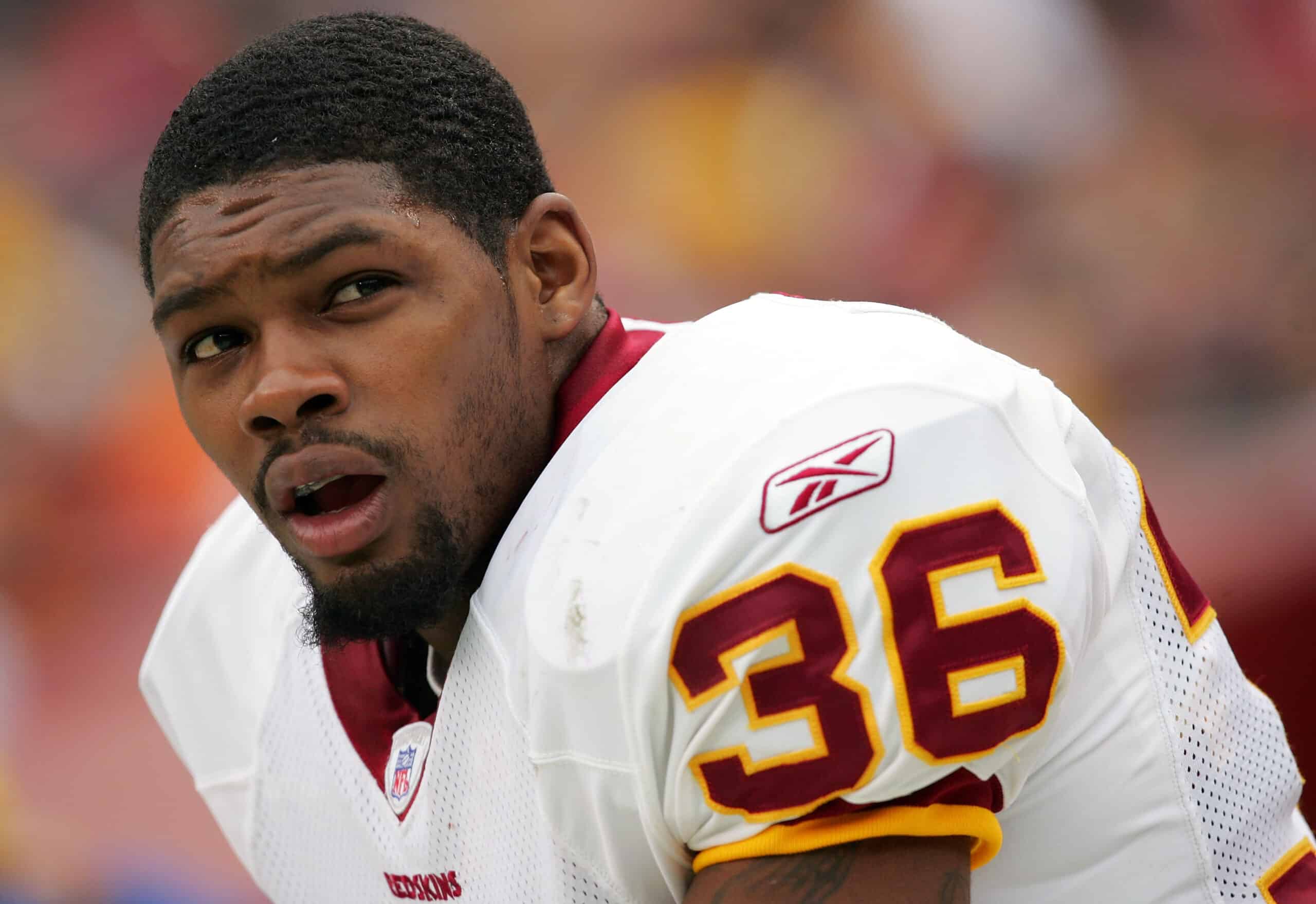 Professional Career
The Washington Redskins drafted Taylor in the first round of the 2004 NFL Draft as the fifth overall pick. He signed a substantial six-year contract with an $18.5 million value, including a $13.4 million signing bonus.
He made his NFL debut during the Redskins' 2004 pre-season opener, where he impressed with two interceptions, one returned for a touchdown. Initially a back-up, Taylor quickly became a starter during his rookie season.
In 2004, he wrapped up his debut NFL season with impressive stats, including 76 tackles, nine pass deflections, four interceptions, two forced fumbles, and a sack. Taylor changed his jersey number from 36 to 21 before the 2005 season.
In 2005, he recorded 70 tackles, ten pass deflections, two interceptions, two forced fumbles, and a sack. The Redskins made the play-offs that year, and Taylor made a significant impact, scoring a fumble recovery touchdown in his first play-off game.
During a playoff game, Taylor was ejected for spitting on an opponent.
He continued to excel as the Redskins' free safety in the 2006 season, tallying 111 tackles, six pass deflections, three forced fumbles, and an interception.
Named the first alternate to the NFC's 2007 Pro Bowl team, Taylor eventually earned a spot due to another player's injury. His reputation as the hardest-hitting player in the NFL, as recognized by Sports Illustrated in 2007, was well-deserved.
In his remarkable 2007 season, Taylor managed five interceptions, 42 tackles, nine passes defended, and a forced fumble before his tragic passing. In December 2007, he was posthumously voted to his second Pro Bowl, becoming the first deceased player in NFL history to receive such an honor.
#tbt – Former Redskins safety Sean Taylor flying in for a tackle on Larry Johnson at the 2007 Pro Bowl. pic.twitter.com/m5eQSLQNYf

— NFL on ESPN (@ESPNNFL) January 22, 2015
Robbery, Shooting, and Death
In November 2007, Sean Taylor found himself at his Miami home when five men from the Fort Myers area attempted to break in. Unaware of his presence due to a knee injury that kept him from a Redskins game against the Tampa Bay Buccaneers, the burglars entered his house.
Taylor confronted these intruders, brandishing a machete, but the situation took a tragic turn when he was shot. Fortunately, his fiancée and their daughter, who were also in the house at the time, remained unharmed.
However, the gunshot wound to Taylor's upper leg resulted in severe blood loss due to a severed femoral artery. Despite being rushed to the hospital, he tragically succumbed to his injuries on 27 November, a day following the accident.
Following the incident, four men were swiftly arrested. They faced several charges, including felony second-degree murder, armed burglary, and home invasion robbery with a firearm. Later, a fifth suspect was apprehended and charged with first-degree murder and burglary, which led to upgraded charges for all involved.
Although the death penalty was a possibility in this case, it wasn't pursued because the shooter, Eric Rivera, was only 17 years old at the time. Rivera was eventually convicted of second-degree murder and armed burglary, receiving a 57-year prison sentence, because of his ineligibility for the death penalty.
Aftermath and Legacy
NFL players paid tribute to Sean Taylor's memory by displaying No. 21 decals on their helmets during Week 13 games, and holding moments of silence, honoring his legacy on the field.
After his untimely passing, Sean Taylor was posthumously recognized as the starting free safety for the NFC team in the 2008 Pro Bowl and was acknowledged as a second-team All-Pro, demonstrating his lasting impact on the sport.
The Washington Redskins expressed their tribute to Taylor by painting the number 21 on various significant locations, including the field, a parking lot entrance, and the Redskins Ring of Fame, ensuring his memory remained an integral part of the team's identity.
Additionally, the Redskins incorporated the number as a patch on player uniforms, warmup shirts, and coaching staff jackets, further emphasizing his enduring presence within the organization.
A poignant banner bearing Sean Taylor's name and number was publicly unveiled, while his locker at Redskins Park was preserved exactly as he had left it, serving as a solemn reminder of his absence.
To secure a brighter future for Sean Taylor's daughter, Jackie, the team established a trust fund.
In the first game following Taylor's tragic death, the Redskins defense took the field with only 10 players, a poignant gesture that resonated with fans and teammates alike. Players frequently paid tribute by signaling to the sky with the numbers two and one, honoring his memory during each play.
Fans were encouraged to arrive early for the games, where they witnessed a heartfelt remembrance video and participated in a moment of silence. Commemorative towels featuring Taylor's iconic number were distributed, allowing supporters to carry his memory with them.
Teammates Chris Cooley, Chris Samuels, and Ethan Albright donned No. 21 jerseys during the 2008 Pro Bowl. The proceeds from the auction of these jerseys were directed to the Sean Taylor Memorial Trust Fund, demonstrating their commitment to honoring his legacy.
The tragic murder case that claimed Sean Taylor's life was covered in an episode of the Investigation Discovery show "The Perfect Murder," ensuring that the story of his untimely passing reached a wider audience.
In a fitting tribute to his lasting impact, the Washington Football Team retired Sean Taylor's jersey number in October 2021, making him only the third player in the franchise's history to receive this honor. The ceremony also included the naming of a road to the stadium in his honor, solidifying his legacy within the organization.
Sean Taylor's enduring impact on the Washington Redskins was immortalized when he was posthumously inducted as the 43rd member of the Washington Redskins Ring of Fame on November 30, 2008.
In a heartfelt tribute to Taylor, several players chose to honor him by donning the jersey numbers associated with different stages of his remarkable career. During his college years at the University of Miami, Taylor proudly wore No. 26. As a rookie in 2004, he began with No. 36 before ultimately adopting the iconic No. 21, which would become synonymous with his name throughout his NFL journey. One of Taylor's former teammates and fellow safety, Ryan Clark, demonstrated his respect for Sean by wearing No. 21 during practices upon his return to the Washington Redskins in 2014. Similarly, Su'a Cravens, the Redskins' second-round pick in the 2016 NFL Draft, initially chose No. 36 as a heartfelt tribute to Taylor. However, in 2017, Cravens transitioned to No. 39. Another safety, D. J. Swearinger, who joined the Redskins as a free agent, specifically requested No. 36 as a way to pay homage to Taylor, as it was a number that Taylor had proudly worn throughout his professional career with multiple teams.
However, it was on 27 November 2022 that the Washington Commanders unveiled a display at FedEx Field dedicated to honoring Sean Taylor. This statue-like tribute was unveiled amidst controversy, as some criticized its design and the absence of a physical statue. These developments sparked spirited discussions among fans and the wider public, showcasing the enduring influence of Sean Taylor's memory on the world of football.
Net Worth
At the time of his death, Sean Taylor's net worth was estimated at $30 million at the time of his death.
Personal Life, Married, Wife, Children
At the time of his death, Taylor wasn't married, but he lived with his then-fiancee Jackie Taylor and they had a daughter together.
According to sources, Jackie married music producer Shay Haley in 2010.