Who was Antonio Aguilar?
The late Mexican actor, singer-songwriter and equestrian Jose Pascual Antonio Aguilar Marquez Barraza, was born in Villanueva, Zacatecas, Mexico, on 17 May 1919, meaning that Taurus was his zodiac sign. He appeared in 122 movies and TV series, and is perhaps still remembered best for starring as Emiliano Zapata in the 1970 biographical action movie "Zapata", which also starred Armando Costa and David Alejandro, and was directed by Felipe Cazals. It follows peasant Emiliano Zapata who became a leading figure in the revolutionary uprising in Mexico, and the movie won six awards.
Antonio died from pneumonia on 19 June 2007, aged 88.
Education and early life
Antonio was raised in Villanueva alongside his six siblings (three deceased), by their mother Angela Marquez Barraza Valle and father Jesus Aguilar Aguilar, both of whom were originally from Villanueva.
Antonio spent the first 10 years of his life on the hacienda La Casa Grande de Tayahua, and it was there that he became passionate about riding horses. He was attending a local high school when he became interested in music and acting, and Antonio acted and sang in a number of school plays.
He matriculated in 1937 and then didn't enroll at college; it remains unknown what Antonio did for the following 13 years, prior to launching his career in the music industry.
Music career
Antonio launched his career in 1950, when he released his debut album "Exitos de Antonio Aguilar", and he went on to release more than 150 albums, which sold over 250 million copies worldwide. He was the first Mexican singer to mix concerts and rodeos, and some of his most popular songs were "Un Puno de Tierra", "Albur de Amor" and "Caballo Prieto Azabache".
He was mostly popular for his corrido songs, although he was also known for bringing the genre tambora back to life with his hit single "Triste Recuerdo".
Roles in movies
Antonio's debut film role was playing Catrin in the 1952 comedy "Un Rincon Cerca del Cielo", and some of his following roles were in the 1953 romantic comedy "Amor de Locura", the 1954 comedy "El Casto Susano" and the 1955 musical adventure comedy "Musica, Espuelas y Amor".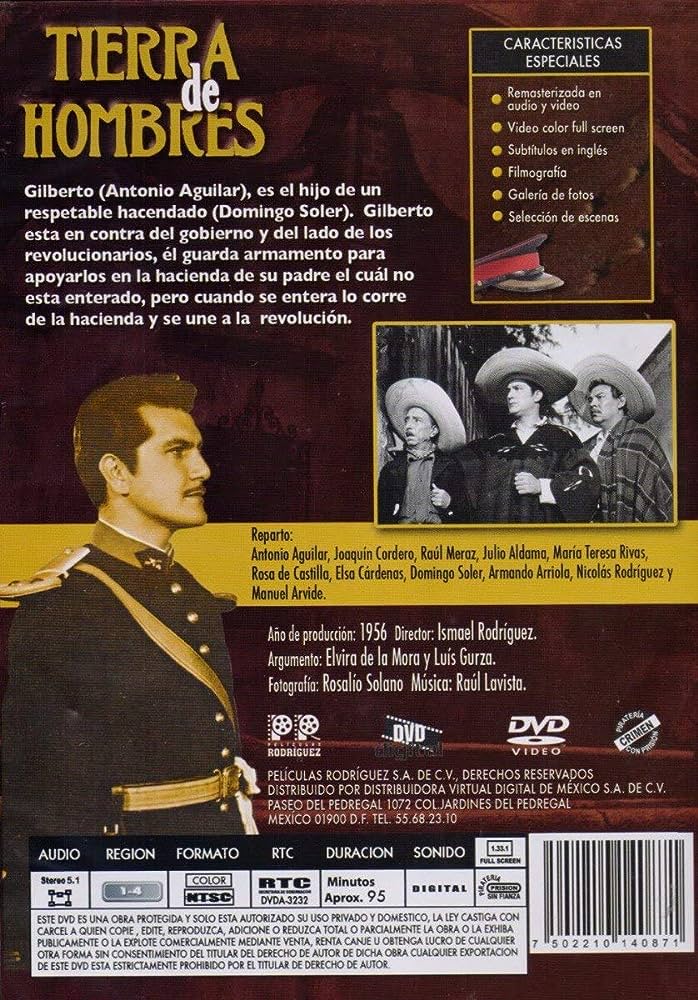 In 1957, Antonio played the lead character Gilberto in the historical action "Tierra de Hombres", which also starred Joaquin Cordero and Domingo Soler, and was directed by Ismael Rodriguez. It follows the work of the police during the agrary reform. Some of Antonio's appearances in the remainder of the decade were in the 1958 adventure western "La Cama de Piedra", the 1958 historical action "El Rayo de Sinaloa (La Venganza de Heraclio Bernal)" and the 1960 historical romantic drama "La Sombra del Caudillo".
What perhaps marked the '60s for him was playing Ramon in the 1964 action adventure "El Evolver Sangriento", which starred Luis Aguilar and Lola Beltran, and was directed by Miguel M. Delgado; the movie follows the life of a gunslinger. The remainder of the decade saw Antonio appear in the 1966 biographical musical "La Vida de Pedro Infante", the 1968 action adventure "Valentin de la Sierra" and the action adventure comedy "Vuelve el Ojo de Vidrio".
The year 1974 saw him star as Pancho Villa in the biographical action "La Murte de Pancho Villa", which also starred Jaime Fernandez and Ana Luisa Peluffo, and was written and directed by Mario Hernandez. It follows the life of Mexican revolutionary Pancho Villa, and the movie was nominated for only a single award. Antonio was then cast to star in the 1976 action adventure "El Rey", the 1977 musical sports comedy "El Moro de Cumpas" and the 1980 romantic drama "Albur de Amor".
He appeared in only a couple of movies in the '80s, with the most popular amongst these having perhaps been the 1987 crime action "Lamberto Quintero", in which he starred alongside Angelica Aragon and Marcela Rubiales, and which was directed by Mario Hernandez. It follows the life of wealthy rancher Don Lamberto Quintero, whom everybody seeks when they need help.
Some of Antonio's final roles were in the 1991 romantic action "Triste Recuerdo", the 1992 musical comedy "El Chivo", and the 1993 war action "La Sangre de un Valiente".
Roles in TV series
Antonio spent his career focused on appearing in movies and didn't have a single TV series role.
Other credits
Antonio produced 30 movies, while some of his final work was the 1988 crime action adventure "Domingo Corrales", the 1991 romantic action "Triste Recuerdo", and the 1994 action "La Guera Chabela".
Some of his final talk-show appearances were in "Los Triunadores", "Mala Noche… No!" and "Aplausos".
Love life and marriages
Antonio was married twice. His first wife was popular Mexican dancer and actress Otilia Larranaga; she had 16 acting credits; she died aged 89 in 2021. Antonio and Otilia married on 27 June 1958, but divorced in the following year.
His second wife was famous Mexican singer and actress Guillermina Jimenez Chabolla, aka Flor Silvestre; the two married on 29 October 1959 and were together until Antonio's death. Flor had 72 acting credits, and died aged 90 on 25 November 2020.
Antonio had two children with Flor, Jose 'Pepe' Aguilar and Antonio Aguilar; Jose's today a popular American singer.
There are no other women whom Antonio had perhaps been with, that we know about; he was married to his second wife Flor Silvestre at the time of his passing, and they had two children together.
Interesting facts and hobbies
Antonio was honored with his own star on the Hollywood Walk of Fame on 7 September 2000.
He was the grandfather of Jose's children Angela, Leonardo, Aneliz and Emiliano, and Antonio's children Flor Susana and Maria Jose.
Antonio's coffin was carried through the Zacatecas streets with numerous people following, and his memorial service at the church was attended by hundreds. Before he was buried at his family's ranch El Soyate, residents of Tayahua were allowed to approach to bid him final farewell; numerous magazines in various countries reported on his death, including Colombia, Guetamala and Costa Rica (amongst over 10 others).
Antonio revealed later on in his career that he had many 'hungry days' prior to succeeding in the entertainment industry, and he credited those days with motivating him to push forward.
He was dissatisfied with the movies that Hollywood offered him to appear in, because these all had the same formula: the hero kills the bad Mexican and the Indian to win the heart of the girl.
Appearance and net worth
Antonio would've been 104 today. He had black hair and brown eyes, was 5ft 9ins (1.74m) tall and weighed around 180lbs (82kgs).
Antonio's net worth, at the time of his passing was estimated at over $20 million.