Who is Bianca Drăgușanu?
Romanian model, TV personality and social media star Bianca Drăgușanu, was born under the zodiac sign Pisces in Bucharest, Romania on 6 March 1982. She's perhaps known best for being the host of the Romanian reality show "Splash! Vedete la Apa", which has been airing since July 2013, and features various celebrities as they're learning about diving.
Bianca's also known for her 'career' on the internet, as she's popular on various social media networks and is followed by millions of people.
Education and early life
Bianca was raised alongside her younger sister Oana Dragusana who's today also a model and social media star, by their Romanian parents Madi and Radu Dragusanu; their father's a businessman and mother a homemaker.
Bianca studied at a local high school in Bucharest, and was passionate about being physically active during her years there, as she wanted to stay fit and pursue a modeling career. Some of the sports which she enjoyed playing the most were tennis, soccer and volleyball, and she also enjoyed running track and practicing gymnastics.
Bianca matriculated in 2000, and was then persuaded by her parents to continue her education; she thus enrolled at Universitatea din Bucuresti, graduating with a Bachelor's degree in 2004.
Bianca's career
Bianca's been working as a model since her college days, and she's today also an entrepreneur, having launched her own online clothing store.
She's since also ventured into hosting TV shows, including the 2017 talk-show "Bravo, ai Stil!" and the 2022 "ZigZag Podcast", while she's also made a guest appearance in a number of Romanian talk-shows.
Bianca mostly became popular after having been linked with several famous men, whom we'll cover below.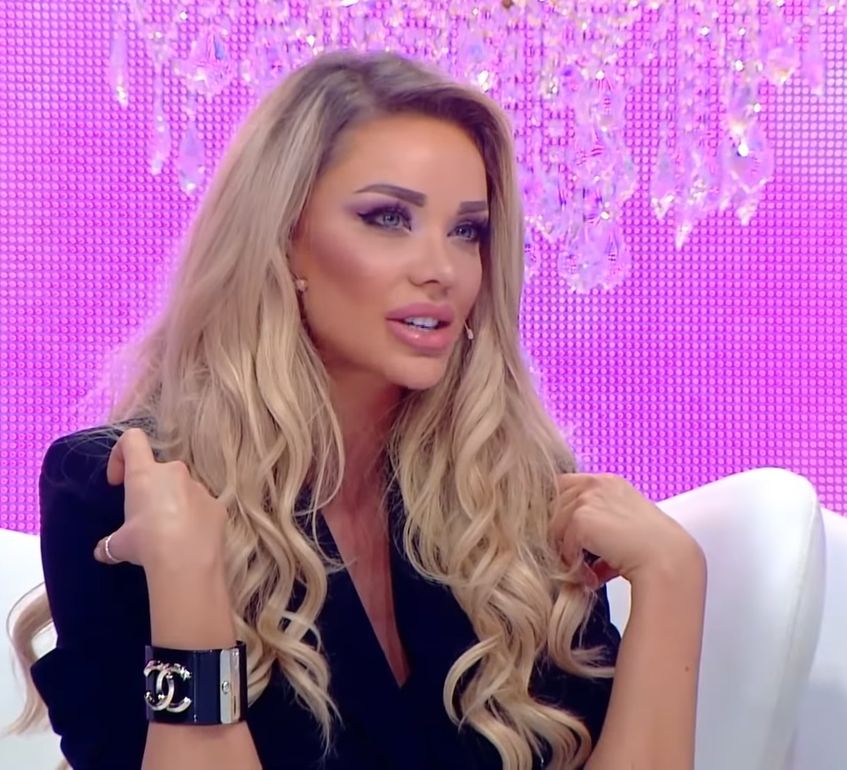 Most watched YouTube videos
Bianca doesn't have a YouTube channel, but is nevertheless popular on the network as numerous videos featuring her have been posted by other users, and most have been watched millions of times; the majority are about her relationship with former boyfriend Tristan Tate, who's an American businessman and social media star, and others are about her everyday life. We'll be covering Bianca's three most watched videos, as these have made her even more popular on the internet.
Her #1 video "Tristan Tate WHIPS HIS WOMAN then buys her shoes" was posted by Tate – The Legend of Wudan on 5 July 2022, it's since been watched over 12 million times, and numbers close to 220,000 likes. The video features Tristan whipping Bianca's leg and then buying her shoes.
Bianca's second most popular video "Tate MOCKS Reporter on National TV" was posted by WealthRidge on 2 June 2023, has since been watched over 3.2 million times, and has amassed over 160,000 likes; it features Tristan mocking an interviewer who's asking him inappropriate questions about Bianca.
Her #3 video "How Tate got FAMOUS in Romania" was posted by WealthRidge on 2 June 2023 and has since been watched close to three million times, while it numbers close to 160,000 likes; it features Andrew Tate being asked about his brother Tristan and his girlfriend Bianca.
Bianca's active on various social media networks and is followed by over a million people on Instagram, while she's posted nearly 4,500 pictures and videos; most of these feature her showing off her clothes, as well as her large breasts, spending time with her family and travelling around the world. Bianca's Instagram account's also one of her sources of income as she promotes various brands in her content.
She launched her Twitter account in August 2013 but has since posted only 31 times; her inactivity on the network's why only 38 people are following her.
Bianca's Facebook profile's followed by close to 900,000 people and she tends to update it at least once a week; most of the pictures which she uploads onto Facebook feature her showing off her clothes, while she's recently begun modelling for a popular Romanian dress store.
She's recently launched her TikTok account, and has already attracted close to 350,000 followers, while all her videos combined have amassed more than 3.1 million likes; most feature her showing off her large breasts.
Love life and relationships
Bianca nowadays prefers to keep her love life away from media, but we know about three men whom she's been with. She married Romanian model and TV personality Victor Slav in 2013; he's probably known best for hosting the reality shows "Beauty on a Knife's Edge" and "I Like Dancing!" Bianca gave birth to their daughter Sofia Natalia Slav a couple of months after the wedding, but she and Victor divorced in 2014.
It was after the divorce that Bianca began dating Tristan Tate, and they could've been seen attending numerous events together, while they also often featured one another in their Instagram pictures; Bianca and Tristan split in 2018.
She was then in a short-lived relationship with Alex Bodi, an entrepreneur and social media star who's followed by over 300,000 people on Instagram.
Bianca seems to be unattached as of September 2023, hasn't married and doesn't have children.
Interesting facts and hobbies
There are rumors circulating the internet, claiming that Bianca's enhanced her breasts; these are most likely to be true, especially judging by some of the 'before and after' pictures which her fans have uploaded, but Bianca's yet to address these rumors. It's also believed that she's undergone other surgery, as well, including a nose job and enhancing her lips, but this hasn't been confirmed either.
Bianca's passionate about travelling and has been to many countries around the world, with one of her favorite cities to visit being Honolulu, Hawaii USA.
She's a huge lover of animals, and cats are her favorites, especially tigers.
Julia Roberts is one of Bianca's favorite actresses, and some of her favorite movies include "Eat Pray Love", "America's Sweethearts" and "Full Frontal".
Appearance and net worth
Bianca's age is 41. She has blue eyes and brown hair, weighs around 130lbs (58kgs) and is 5ft 9ins (1.75m) tall.
Bianca's net worth's been estimated at over $600,000, as of September 2023.