• Brittany Favre is a successful lawyer and daughter of famous former American Football quarterback Brett Favre and American author Deanna Favre.
• She has a younger sister, Breleigh Favre, and grew up in Mississippi.
• Her parents had marital problems due to Brett's addiction issues, and her mother Deanna was diagnosed with breast cancer in 2004.
• Brittany graduated from Loyola University College of Law, Mississippi in 2015 and specializes in sports and entertainment law.
• She has two sons, Parker and AJ, and a net worth of over $200,000.
 
Who is Brittany Favre?
Brittany Favre was born in Mississippi, USA on 6th of February 1989, of American ethnicity. This successful lawyer is one of two daughters of famous former American Football quarterback Brett Favre, who spent twenty years in the National Football League (NFL), and Deanna Favre, American author. and founder and CEO of the Deanna Favre Hope Foundation.
Brittany Favre's Bio: Early Life and Education
Brittany has lived in Mississippi her entire life. Being a celebrity's child, her life has been under a spotlight ever since she was a little girl. Her parents met in High School and started dating when her mom was a senior and her dad was a freshman. Brittany has a younger sister Breleigh Favre, who is a volleyball player, born on 13th of July, 1999. Her parents started living together in 1995. At the beginning they had many problems, as Brett was sometimes ignoring Brittany and her, probably due to his newly found NFL fame. They managed to overcome obstacles and marry in 1996. Before that Brittany's mother considered leaving her father but decided not to, as she was afraid his addiction problems will only worsen.
Although she had a mostly happy childhood, her father struggled with Vicodin and alcohol addiction which endangered her parents' marriage once again, even leading to her mom threatening to divorce her father in 1999. Brittany's father went into rehab and hasn't consumed alcohol since. In 2004, her mother suffered from breast cancer but managed to recover completely after five months in chemotherapy, and afterwards started the Deanna Favre Hope Foundation to support breast cancer education, and diagnosing services for all women, regardless of their financial status. She did this as she was receiving letters from women all over the country who suffered from the same problems she had. The main focus of her organization is to help under-insured and uninsured women.
This was a tough year for Brittany's mom and their family, as her uncle Casey Tunes died in an all-terrain vehicle accident at the age of 24. Her dad, Brett played for the Green Bay Packers through most of his career, as well as for the Minnesota Vikings, New York Jets and Atlanta Falcons. He is a Pro Football Hall of Famer, who held records in most passing touchdowns, quarterback wins and most pass yards.
In 2005 their home was damaged by the Katrina hurricane but luckily no one was injured.
Brittany had the desire to become a lawyer ever since she was a young girl, and attended Loyola University College of Law in Mississippi, from which she graduated in 2015, and subsequently specialized in sports and entertainment law. Of course her parents supported her decision as something she'd always wanted, and considered it to be a good career choice too. Brittany also wanted to distance herself from her parent's success, and create something of her own.
Private life
Although her life circumstances did not allow Brittney to live a completely anonymous life, she does try to keep it as secretive as possible. For the first two years of her studies she was not too focused on studying but more on partying and enjoying herself – at the age of 21, she gave birth to her son, Parker on 2nd of April 2010. This life-changing experience made her realize how selfish she was, by her own words, and her son became her strongest motivation. She dedicated herself fully to her studies. In 2011, she divorced Patrick Valkenburg, stating that in that moment her life reached rock bottom.
She would feel guilty for leaving her son alone and considered quitting law school, but after she met Alex Mallion, her life changed as he calmed her down, and reminded her why she was studying. The couple married when Brittany was in her second year of studies, and had a son named AJ when she was in her third year. After finishing college, Brittany realized she had grown up and that she no longer felt self-pettiness for herself every time things didn't work out as she planned. Brittany does not have any social platforms, at least not public ones, and continues to live with her family in Mississippi.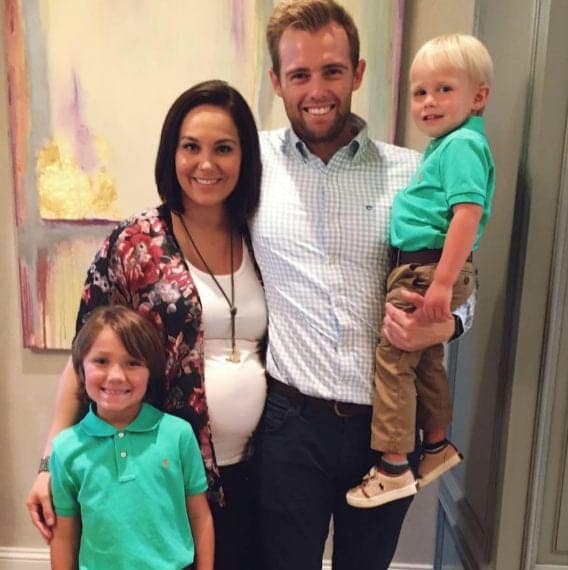 Career and Net Worth
Upon graduation, Brittany joined a small company in Hattiesburg, Mississippi as she liked the fact that it was a newly created company, as she also wanted to build something for herself from scratch. Brittany also appeared in the TV series documentary 'A Football Life'.
Through her career as a professional lawyer it is estimated that Brittany earns a minimum of $70,000 per year, and her net worth is over $200,000 as of mid-2019.
Brittany Favre's Body Measurements, Height and Weight
Brittany has blonde hair and eyes. Her height and weight are currently unknown.
Source:
IMDb
,
Wikipedia