• Alexis Maas became the center of attention after marriage to Johnny Carson in 1987.
• They had no children together, but lived with his three children from a previous marriage.
• After Carson's death in 2005, Maas sold all of his possessions, donating half to the charity foundation he established and keeping the other half.
• She opted for a reserved, far from the media life and is not involved in any romantic relationships.
• She does not use social media and is not known to have any recent activities.
 
Life after Carson's death
In the series of the women that are behind successful men, there is Alexis Maas, who after the unfortunate event in 2005, took a step back from the public eye, and it seemed that she was enjoying her single life in her privacy. No social media accounts, few public appearances, just the communal memory of a long, and seemingly strong relationship which death put an end to.
Today is Johnny Carson's Birthday, we remember him on what would have been his 90th birthday. Thanks for all the laughs and good times and Happy Birthday Johnny!

Posted by Johnny Carson on Friday, October 23, 2015
Alexis Biography
Born in Pittsburgh, Pennsylvania in 1952, Alexis Maas grew-up in a simple decent family, far from being in the public eye. Therefore, specific details about her childhood, family, education, and qualifications are unknown. If we were to follow some media speculations, one of her first jobs was as a stock broker, working for Johnny Carson's company.  Supposedly, she was a secretary at the time she first met Carson in the mid-'80s. All these, however, remain just rumors.
Alexis started being in the center of attention only after becoming Carson's fourth wife, in 1987. He was undoubtedly a worldwide known comedian, producer and TV-host, and her constant association with him automatically meant fame. She switched from being the simple girl from a little city to being the wife of an important and respected man in the domain of entertainment.
Wife for the first time – husband for the forth
After four years of dating, Johnny finally made another big step, and on 20 June 1987 they tied the knot, having a small private wedding in California, in the presence of their closest relatives and friends. Of great importance is the fact that he came after a third failed marriage – his relationship with Joanna Holland, his third wife, began in an intensive way – they married discreetly, shocking everyone around them – and ended on the same high note – with a two-year long divorce process. Holland announced the separation in 1983, and it was officially completed only in 1985 when an 80-pages long settlement was signed, stipulating that she should receive $20 million from her ex-husband. Besides this tremendous story, Johnny also has three children from his first marriage, with Jody Wolcott, to whom he also has some responsibilities.
Alexis' and Johnny's story
By and large, he managed to strike the balance between a thriving and demanding career and his family obligations. Despite the fact that the public made an entire controversy on the 26 years difference between their ages, Carson and his wife proved through their relationship the old cliché that 'age is just a number'. The honeymoon was another thing that created a stir around their relationship – reportedly, their holiday in the Mediterranean cost around $6.5 million.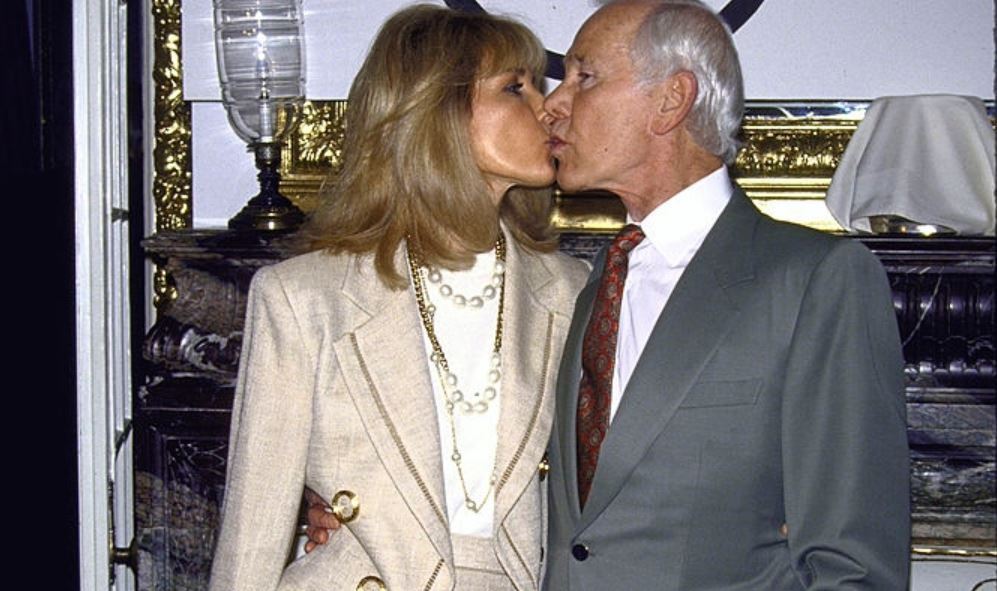 The coupled started living with Johnny's three children after the honeymoon, but had no children together, despite their long marriage of 18 years. On several occasions they were spotted together by the journalists' cameras, appearing to be a happy, loving couple. Alexis accompanied her husband everywhere – to musical events and festivals, award ceremonies, cruising and sports events. New and interesting stories from behind the scenes of their relationship appeared in the book "Johnny Carson", by Henry Bushkin, edited in 2013. Some of them are quite emotional and very cute, for instance, Alexis recalls a moment when Johnny lost his temper with Alexis during the fourth week of their honeymoon, and she calmly stated that if he wanted the marriage to have a beautiful future, such outbursts shouldn't be repeated. On a different note, some remarks from Bushkin's book raise serious questions as to the happiness of their marriage.
Alexis' life after Carson's death
In 2005, after a rough fight with Emphysema, a respiratory disease mainly caused by his addiction to smoking, Johnny passed away from heart failure. He was 75 years old and Maas was at his side 'til the last moment of his life. Being the best paid comedian and TV host of his generation, Johnny's salary was around $25 million annually. Consequently, his net worth went up to $300 million in cash and property. According to some authoritative sources, Maas sold all Carson's possessions – she didn't even keep their cars and houses collections – and half of the resultant money was donated to the charity foundation he established – the Johnny Carson Foundation. The other $150 million added up to Alexis' total income.
However, Carson's death marked the beginning of a new period in Mass' life. She opted for a reserved, far from the media life. One of her few appearances was in the documentary film "Johnny Carson: King of Late Night" in 2012. The film depicted some of the reasons behind Carson's success, and maybe Alexis' presence in it has an interesting significance.
Alexis' passions
She has apparently chosen to enjoy a single life in privacy, without involvement in any other romantic relationships after Carson's death. Other recent activities from her life are difficult to find out, as she doesn't use social media at all.
Source:
IMDb
,
Wikipedia