• Cecilia Vega is an American journalist, reporter, commentator and anchor best known for being the senior White House correspondent for ABC News.
• She grew up in San Francisco and attended Salesian High School in Richmond, California and the American University School of Communication.
• She worked as a writer for the San Francisco Chronicle, a reporter for KGO-TV, and a correspondent and anchor for ABC News.
• She is married to Ricardo Jimenez, a California Highway Patrol officer.
• Her net worth is estimated at $2 million.

Known for movies

Who is Cecilia Vega?
Born on 7 January 1977, in San Francisco, California, under the earth sign of Capricorn, Cecilia Marcellina Vega is a 42-year-old American journalist, reporter, commentator and anchor. She is best known for being the senior White House correspondent for ABC News. Cecilia is certainly a member of the highest echelon of journalists, having earned her spot by working as an anchor on "ABC World News Tonight", together with Tom Llamas. In 2010, she won a local Emmy Award as a member of KGO-TV, a San Francisco affiliate in her hometown. As the senior White House correspondent, Vega has been a part of several iconic exchanges, often showing no fear when arguing with Donald Trump himself, as well as Sarah Sanders and Sean Spicer, the press secretaries of the White House.
Early Life and Education: Growing Up in San Francisco
As a kindergartner, she would watch the news with her parents, and marvel at the talent displayed by news reporters and anchors. As for her education, she first attended Salesian High School in Richmond, California, from which she matriculated in 1995. Afterwards, she relocated to Washington D.C. to enroll at the American University School of Communication, where she obtained her Bachelor's degree.
During her freshman year, she tried applying for several internships related to broadcasting, but was rejected by CNN, FOX and several other networks. After completing her studies, she would return to her hometown to try a different approach, to show people her wide array of skills.
Humble Beginnings: The San Francisco Chronicle, KGO-TV and More
Cecilia was immediately hired by the San Francisco Chronicle, but instead of appearing on air, she wanted to build a strong resume as a writer, and hhroughout her nine-year career with this Californian publication, she covered many of the region's most important stories. No niche was foreign to her, as we could see her name next to articles and exposés related to sports, finance, politics and more. During her time with the paper, many awards were bestowed upon her.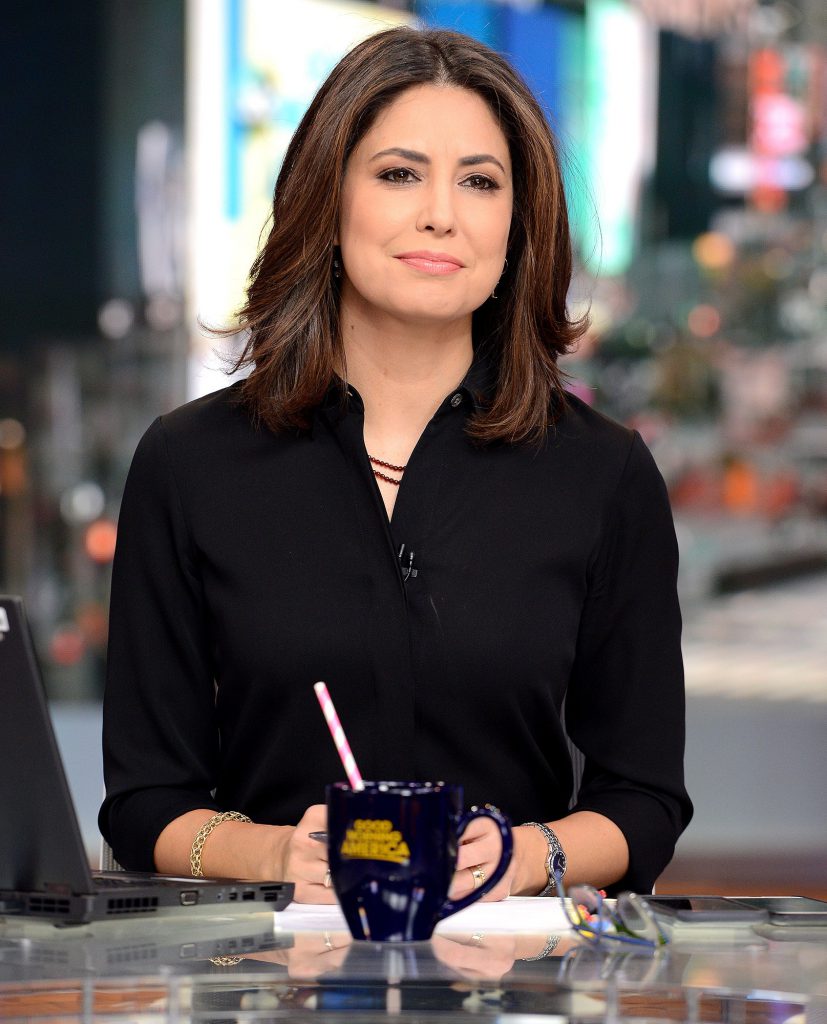 The New York Times, the East Bay Press Club, the California Newspaper Publishers Association and the Hearst Corporation, amongst others, have endowed her with honors for her writing prowess.
In 2008, she filled in for a reporter on KGO-TV, an ABC affiliate. The station's main focus is providing the latest information related to the Bay Area. She surprised the station's management with her performance and was offered a full-time job. Although she was reluctant at first, Vega decided to go for it and never looked back. In her three years with the station, she covered a wide variety of stories. In 2010, she received the biggest honor of her career so far – a local Emmy Award.
Becoming a Star: ABC News
In 2011, Cecilia was amongst the most talked-about reporters in the nation. A correspondent's position was offered to her by ABC News, and she gladly accepted. Her job was the same, but with many new responsibilities. Based in the city of Angels she broke and covered numerous stories pertaining to celebrities, conspiracies, sports and even "serious" subjects such as politics, humanitarianism and more. Her role at ABC News also included traveling around the globe – she was present at the site of the Fukushima power plant disaster, you could also see throughout the Rio 2014 Olympics, as well as during the selection of Pope Francis in Rome. Whenever ABC News needed a representative at the scene of an important event, Vega was one to all.
Some of her journeys were more unconventional, such as the time she travelled to the Arctic Circle in a submarine, or the occasion when she petted whales near the coast of California. In 2012, she covered the Democratic Party primary elections, as well as the inauguration of President Obama.
Traveling and Covering Important Events
Vega had the honor of being one of the first reporters to cover some of the most important events in the last decade. She was the first journalist to personally interview Ebola patients in the US, as well as finding out more about the sexual assault allegations against comedian Bill Cosby. News outlets credit her for being the first to report on the Sony hacking incident, where Guardians of Peace, a collective of hackers, stole information from Sony Studios.
Amongst the data released to the public were employee emails, private conversations, salaries of executives and much more. Cecilia's report sparked a lot of debate about privacy and the actual safety of personal computers in this decade.
ABC World News Tonight
As a reward for her stellar reporting, Cecilia became the co-anchor of "ABC World News Tonight". Using her associates and sources, she gave viewers a comprehensive recap of all that happened each week. Vega also developed great chemistry with Tom Llamas; interestingly, Llamas was tasked with covering mainly Republican primary elections, but never once disrespected Vega's preference for Democrats. Their time together was marked with many debates, which fans deemed to be 'amazing contributions to an already amazing show'.
Cecila worked as the co-anchor of the show from March 2015 to January 2017, when she received yet another "promotion".
ABC's Senior White House Correspondent
Cecilia's investigative skills, eloquence and experience were the main reasons why she was named senior White House Correspondent for ABC. During White House press conferences, news networks have the right to send one or more reporters to ask both the President and the press secretary questions. Cecilia never saw eye to eye with Donald Trump, which resulted in a rather unpleasant incident. On 1 October 2018, the President stopped the conference and asked Cecilia in particular to pose a question to him. He would then proceed to state: 'She's shocked that I picked her. She's, like, in a state of shock.' Already acquainted with Trump's love of conflicts and arguing with reporters, Vega remained calm.
'I'm not. Thank you for that, Mr. President!', she responded. Instead of proceeding with the conference, Trump proceeded to insult her, saying: 'That's okay. I know you're not thinking. You never do.' This exchange was the result of several other clashes in the past, when Cecilia posed sensitive questions to Trump, who usually avoided answering them. Vega's arguments with press secretary Sarah Huckabee Sanders, also produced several viral moments, such as the time when she smiled and asked Sanders: 'Did President Trump commit a crime?'
Personal Life: Is Cecilia Vega Married? Does She Have Children?
As for her romantic involvements, there is not much to talk about. She has always been a private person, refusing to talk about anything not related to her career. However, we do know that Cecilia Vega is married to Ricardo Jimenez, a California Highway Patrol officer.
The two tied the knot on 4 May 2008, at a private ceremony attended only by family and friends. Jimenez is an esteemed member of the force, as he received a medal for saving the life of a suicidal man; this occured in 2015, when Ricardo was driving across the Bay Bridge in San Francisco, and saw a man sitting on the ledge, ready to jump. Without hesitation, he exited his car and started talking to the poor fellow. They chatted for a little more than an hour, before the man finally agreed to give life one more chance. Ricardo and Cecilia have shown no intentions of expanding their family. Their current place of residence is Washington, D.C.
Net Worth: How Rich is Cecilia Vega?
Her net worth is estimated of $2 million, as of August 2019.
See you in four years @miseleccionmx I still wear my jersey with pride!!! ????⚽️⚽️ (ps- I'm now accepting recommendations for a Plan B team) pic.twitter.com/387jzVSNYz

— Cecilia Vega (@CeciliaVega) July 2, 2018
Her salary hasn't been disclosed to the public, and as such, has been a topic of discussion amongst her fans and social media followers. If she continues to pose interesting questions to whoever is sitting in The Oval Office next year, Donald Trump or someone else, we should expect her net worth to rise in the near future.
Movies
Actress
| Title | Year | Status | Character |
| --- | --- | --- | --- |
| All Age Squirts 2 | 2009 | Video | |
| European Vacation | 2009 | Video | |
| Anal Prostitutes on Video 7 | 2009 | Video | |
| Big Butts Like It Big 4 | 2009 | Video | |
| I Love It Rough 4 | 2009 | Video | |
| Public Disgrace | 2008-2009 | TV Series | |
| Sex and Submission | 2008-2009 | TV Series | |
| Big Butts Like It Big | 2009 | TV Series | |
| Slutty & Sluttier 9 | 2009 | Video | |
| Device Bondage | 2009 | TV Series | |
| Raw | 2009 | Video | |
| All About Me 3 | 2009 | Video | |
| Anal Cavity Search 7 | 2009 | Video | |
| Ass Titans 2 | 2009 | Video | |
| Bitchcraft 6 | 2009 | Video | |
| Hand to Mouth 8 | 2009 | Video | |
| Housewives Gone Black 9 | 2009 | Video | |
| I Came in Your Mom 2 | 2009 | Video | |
| Salvajemente Tratada | 2009 | Video | |
| The Brother Load | 2009 | Video | |
| Two Big, Black & on the Attack | 2009 | Video | |
| Der König von Mösien | 2008 | Video | |
| Bienvenue chez les Ch'tites coquines | 2008 | Video | |
| Ass Traffic 5 | 2008 | Video | |
| Baise Eternelle | 2008 | Video | |
| Eskade: The Submission | 2008 | Video | Pornstar |
| Evil Anal 6 | 2008 | Video | |
| French Angels | 2008 | Video | |
| Les castings de Fred Coppula 2 | 2008 | Video | |
| Les majorettes | 2008 | Video | |
| Ludivine | 2008 | Video | Cecilia (as Cécilia Véga) |
| MILF Thing 3 | 2008 | Video | |
| Rocco: Puppet Master | 2008 | Video | |
| Rocco: Puppet Master 2 | 2008 | Video | |
| Rocco's Dirty Dreams 8 | 2008 | Video | |
| Sperm Swap 5 | 2008 | Video | |
| Le sanctuaire | 2007 | Video | |
| Taxi de nuit | 2007 | Video | |
| Le demon | 2006 | Video | |
| Innocent Until Proven Filthy 9 | 2011 | Video | |
| Scent of Pleasure | 2011 | Video | |
| All Internal 15 | 2011 | Video | |
| Glamour Dolls 2 | 2011 | Video | |
| Du hard ou du cochon! | 2010 | TV Series | La soubrette |
| A l'école des soubrettes | 2010 | Video as Cécilia Véga | |
| Gangbang Squad Vol 18 | 2010 | Video | |
| My Evil Sluts 5 | 2010 | Video | |
Thanks
| Title | Year | Status | Character |
| --- | --- | --- | --- |
| I Love It Rough 4 | 2009 | Video special thanks | |
Archive Footage
| Title | Year | Status | Character |
| --- | --- | --- | --- |
| The Best of Raw | 2011 | Video | |
| All-Star Anal Sluts | 2010 | Video | |
| Butt Sex Bonanza | 2010 | Video | |
Awards
Won Awards
| Year | Award | Ceremony | Nomination | Movie |
| --- | --- | --- | --- | --- |
| 2009 | Hot d'Or | Hot d'Or | Best French Female Performer | |
Nominated Awards
| Year | Award | Ceremony | Nomination | Movie |
| --- | --- | --- | --- | --- |
| 2010 | AVN Award | Adult Video News Awards | Best Double Penetration Sex Scene | Slutty & Sluttier 9 (2009) |
| 2010 | AVN Award | Adult Video News Awards | Best Sex Scene in a Foreign-Shot Production | Raw (2009) |
| 2010 | AVN Award | Adult Video News Awards | Best Group Sex Scene | The Brother Load (2009) |
Source:
IMDb
,
Wikipedia