• Charly Caruso is an announcer for World Wrestling Entertainment (WWE) and NXT, with a net worth of over $400,000.
• She grew up in Indianapolis, Indiana and played flag football. After college, she became a sports broadcaster in Indianapolis.
• She was hired by WWE and is seen on Monday Night Raw and other WWE broadcasts.
• Charly dabbles in stand-up comedy, has a YouTube talk show, and has been featured in "Ms Health & Fitness" magazine.
• She is active on social media and has accounts on Instagram, Twitter, and Facebook.
 
Who is Charly Caruso?
Charly Caruso was born on 14 July 1987, in Indianapolis, Indiana, USA, and is an announcer, best known for her work with World Wrestling Entertainment (WWE) and NXT. She is often seen as a part of the show "Monday Night Raw", either in the ring or during backstage segments conducting interviews.
The Net Worth of Charlie Caruso
How rich is Charlie Caruso? As of mid-2019, sources inform us of a net worth that is over $400,000, earned through a successful career as an announcer. Aside from professional wrestling, she has also been an announcer for other professional sports. As she continues her endeavors, it is expected that her wealth will also continue to increase.
Early Life and Career Beginnings
There is very limited information when it comes to Charly's life before her rise to fame as an announcer in WWE. She grew up in Indianapolis, but later moved to Orlando, Florida with her parents. There are very few details about them or her education. Growing up, she was a very athletic person, and desired a career in professional sports, specifically beach volleyball.
She wanted to become a professional athlete, but later realized that she wouldn't be cut out for it due to her short stature. Despite that, her love for sports continued, and she played a lot of flag football. After completing her college education, she developed into a career in broadcasting, and worked as a weekend sports anchor for the Indianapolis station WXIN-TV. While she wouldn't be able to pursue sports as an athlete, she was determined to keep her passion alive through entering the sports broadcasting industry. Eventually, she gained enough experience to start working with other big stations.
Broadcasting Career and Move to WWE
After Caruso's run with WXIN, she then worked for other stations under the name Charly Arnolt. Some of the stations included WDAF-TV, WSAZ-TV, and WTTG-TV. She began doing announcer work, reports and interviews covering several major sports leagues. She covered games and big events in the National Football League (NFL) while also doing broadcasts following the National Basketball Association (NBA).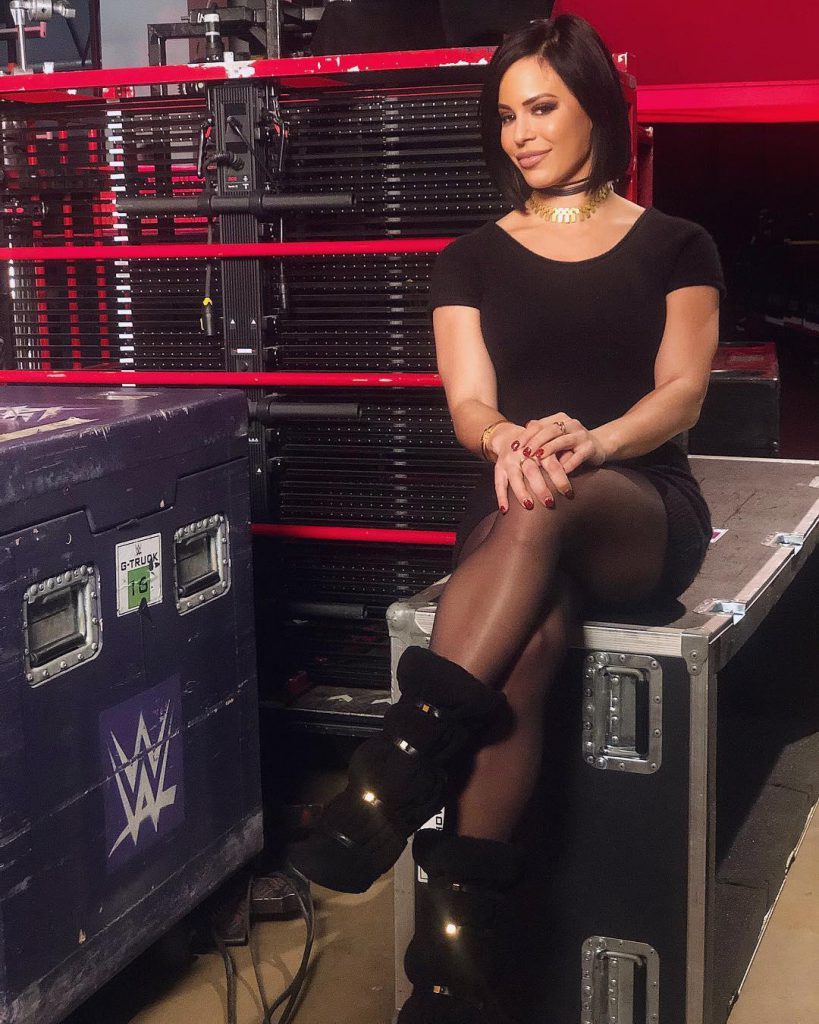 Eventually, she was hired to do interviews and announcer duties for the company WWE, primarily known for being one of the biggest brands in professional wrestling, though the company itself has delved into other business ventures such as real estate and films. According to several sources, it is the largest wrestling promotion in the world, holding over 500 events a year and a large roster that is divided into several travelling brands. Their broadcasts are available to over 150 countries, and they have an average of 36 million viewers from around the world. Similar to other professional wrestling promotions, matches in WWE are not legitimate contests but are driven by storyline and choreography for the entertainment of the crowd. Despite this, wrestlers often perform at the risk of injury if they do not perform their moves correctly.
Other Projects
Aside from her work with WWE, Charly has pursued other projects during her free time. In recent years, she's dabbled with stand-up comedy, and officially established herself as a comedian during 2015. Her first performance was held at the Crackers comedy club located in Broad Ripple Village, Indianapolis. She also created her own channel on YouTube, hosting her own talk show called "BackTalk Ball" in which she discusses the professional basketball scene. However, as the months progressed, she didn't really have enough time to manage it, and ultimately decided to shut it down.
She's also spent a lot of her free time developing her body, as she continues to be athletic and inspired thanks to her work which often has her dealing with people who spend a lot of time on fitness. This led her to be featured in the magazine "Ms Health & Fitness" in which she competes for a chance at a $20,000 prize. She has also been working with the company Entertainment and Sports Programming Network (ESPN), and is often seen doing work in the program "SportsCenter". Despite that, she has not left her post on WWE, with the company allowing her to work both jobs.
Personal Life and Social Media
For her personal life, not much is known in terms of Caruso's romantic relationships. She has not been public about this aspect of her life, and several sources state that she is single due to the lack of any evidence proving otherwise. She mentions that despite being from Indianapolis, she considers New York City as her home. She often spends her free time at the gym, working out and maintaining her body.
WRESTLEMANIA MOOD pic.twitter.com/rRf9YGmaE9

— Charly Caruso // Arnolt (@CharlyOnTV) April 7, 2019
Similar to numerous television personalities, she is highly active online through accounts on social media. She has an account on Instagram which has over 550,000 followers. She uses the platform to post personal photos, often those taken behind the scenes while she is at her various jobs. There are also photos taken of her while at work, even while she is on the air during WWE broadcasts. She also has a Twitter account with over 80,000 followers, and uses the platform to post some of her day to day thoughts, while also interacting with her followers. She has a Facebook page as well with over 8,000 fans, and it has a few photos of her showing off her bikini body.
Source:
IMDb
,
Wikipedia