Christopher Schwarzenegger
It's not easy being a celebrity child, especially when your dad is "Terminator" star and former Governor of California, Arnold Schwarzenegger. However, Christopher Sargent Shriver Schwarzenegger and his three siblings – Katherine, Christina, and Patrick – have always taken their family name in their stride, even in 2011, when the A-list actor revealed that he'd fathered a child named Joseph Baena (who was 25 at the time) with his longtime housekeeper.
Christopher was born on 27th September 1997 in Los Angeles, California, USA, mere days before his half-sibling Joseph. Unlike his siblings, Christopher has largely remained out of the spotlight, although we do know that he graduated from the University of Michigan in 2020.
At the time, Arnold praised his second son, saying: "You are a champion and I love you… What makes me so proud of you [is] your compassion, your hard work, your vision, your critical thinking, and your selflessness. I can't wait to watch you keep climbing and succeeding." Due to the coronavirus restrictions that were in place at the time, Christopher's graduation ceremony took place via Zoom and was nothing like the ceremony he'd been dreaming of for years.
It was one of the first times Christopher made headlines, and soon enough, various gossip blogs and netizens were cruelly calling him "Arnold's fat son" due to his rotund physique. This inspired Christopher to go on a years-long weight loss journey, that saw him start a diet and exercise regime and eventually shed 65lbs (30kgs).
An August 2023 Men's Health article includes photos of a much slimmer-looking Christopher, and it's clear that he's been working hard to maintain his new – and healthier – body. According to Arnold, Christopher has several athletic hobbies such as cycling, weightlifting, boxing and stretching classes.
As far as we're aware, Christopher doesn't have any public social media profiles; nor has he been linked to anyone romantically. Although he may change his mind and decide to become a public figure in later years, for now, Christopher is content to live in anonymity: so much so that there's no information regarding his job, where he lives, or what he likes doing in his free time.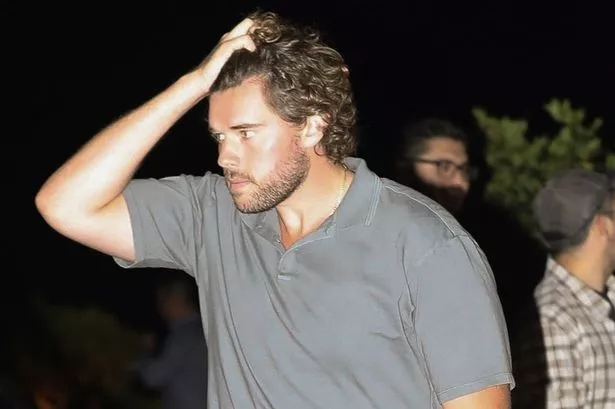 Schwarzenegger Siblings
Katherine Eunice Schwarzenegger Pratt was born on 13th December 1989 and is the actor's oldest child. Her middle name, Eunice, comes from her maternal grandmother Eunice Kennedy, who was President John F. Kennedy's younger sister. In 2016, Katherine denied being interested in politics; by then, she was already a New York Times best-selling author thanks to her first book, "Rock What You've Got: Secrets to Loving Your Inner and Outer Beauty from Someone Who's Been There and Back".
In 2012, two years after publishing her first book, Katherine graduated from the University of Southern California, and used her experiences to pen "I Just Graduated… Now What?", another self-help tome that received rave reviews from critics and readers. Katherine, who also champions animal rights and works closely with nonprofit organizations such as the Best Friends Animal Society, followed the work up with a children's book about her rescue dog, "Maverick and Me". Her last book to date was released in 2020 and is entitled "The Gift of Forgiveness".
The authoress met actor Chris Pratt at church in 2018 and was married to him a year later after a whirlwind engagement. They have since welcomed two daughters: Lyla, born in 2020, and Eloise in 2022. Although Katherine has yet to write about her motherhood journey, she recently participated in a panel geared towards working moms, in which she discussed the importance of asking for help when juggling childrearing and career.
Christina Maria Aurelia Schwarzenegger was born on 23rd July 1991. Aged 22, she graduated from Georgetown University – her mother's alma mater – with a bachelor's degree in English. Later, she furthered her studies with an interior architecture degree from the prestigious Parsons School of Design, which served her well during her three-year job in the health and wellness department of Gwyneth Paltrow's lifestyle brand Goop.
Like her sister, Christina is a charitable soul and part of the Special Olympics Founder's Council. In 2018, she and her mother co-executive produced the Netflix documentary "Take Your Pills", in which Christina detailed her past Adderall addiction, which was allegedly provoked by "societal pressures". The brunette, like the rest of her siblings, shares a very close relationship with her father and often features on his social media feed.
Next up is Patrick Arnold Shriver Schwarzenegger, who was born on 18th September 1993 and is a budding actor and model. After making his big-screen debut with a non-speaking cameo in the 200t6 movie "Benchwarmers", Patrick has gone on to participate in HBO Max and Netflix shows and movies.
With over a million Instagram followers and a considerably higher public profile than most of his siblings, Patrick is also known for his brief relationship with pop star Miley Cyrus, which ended in 2015. The exact timeline is difficult to pinpoint, but it would appear that Patrick and Miley first dated in 2011; when they broke up a second time, Miley went back to her long-term boyfriend Liam Hemsworth, who is now her ex-husband.
Next is Arnold's love child Joseph Baena, whose identity was kept a secret by his mother Mildred for the first eight years of his life, when his resemblance to his father became apparent. Arnold's bombshell 2011 revelation turned his life upside down, and led to Maria Shriver divorcing him after a 25-year-long marriage, but the "Terminator" star has a fantastic relationship with Joseph, whom he grew close to later in life.
Arnold made the most of his 2023 Netflix miniseries to detail his clandestine affair with his housekeeper. "I don't want to make Joseph feel that he is not welcomed in this world," he declared. "I love him and he has turned out to be an extraordinary young man." Meanwhile, Joseph took advantage of his father's connections to share his side of the story in a 2022 podcast interview, in which he bared his soul to fellow celebrity kids Sophia and Sistine Stallone and divulged details of his relationship with the actor.
Joseph, who graduated from Pepperdine University in 2019, is also a fan of sports and bodybuilding. Although he works as a real estate agent, he participated in the 2021 movie "Bully High" and is currently filming alongside Morgan Freeman and Luke Hemsworth for the upcoming movie "Gunner".
Arnold has an estimated net worth of $450 million thanks to his many successful careers, leaving each child to inherit $90 million if he were to split his nine-figure fortune equally.