Who is Geraldine James?
British actress Geraldine James was born under the zodiac sign Cancer on 6 July 1950, in Maidenhead, Berkshire, England. She has 110 acting credits, but is perhaps still known best for playing Marie in the 2003 comedy "Calendar Girls", which starred Julie Walters and Helen Mirren, and was directed by Nigel Cole. It follows a group of women working for the Women's Institute as they're posing nude for a calendar to raise money for a local hospital; the film won two of its 18 award nominations.
Geraldine's currently shooting for the upcoming movie "Now & Then" and the series "This Town".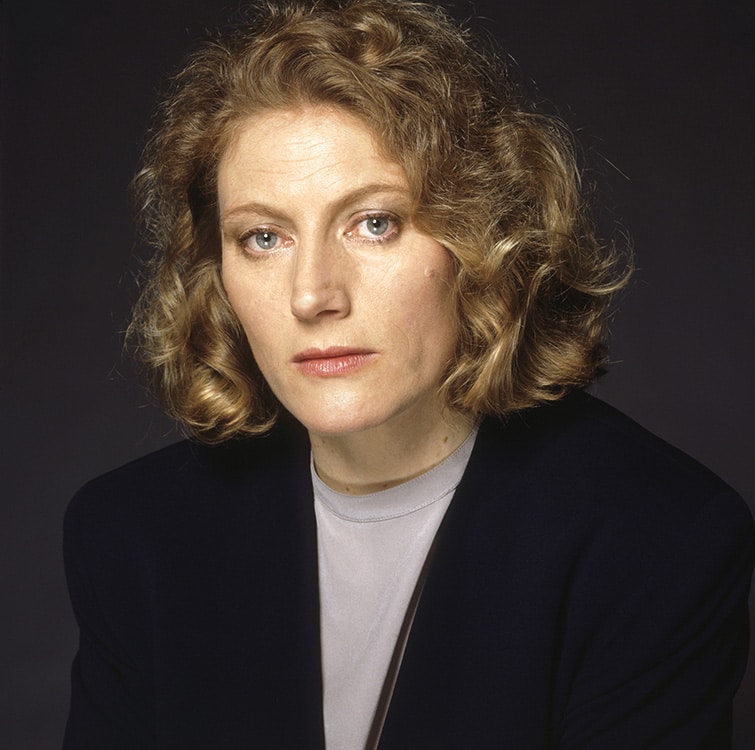 Education and early life
Geraldine was raised in Maidenhead as an only child, by her mother Annabella James who was a nurse and father Gerald Thomas who was a cardiologist; not many other details have been shared about Geraldine's family as she respects their privacy.
She studied at the all-girl independent school Downe House but failed her 11 plus exam; Geraldine thus matriculating in 1969, a year later than her peers, and then enrolled at Drama Centre London, from which she graduated with a Bachelor's degree in acting in 1973. It was during her time at Drama Centre that she began appearing in theatre plays and knew for sure that she wanted to pursue a career in the film industry.
Roles in TV series
Geraldine's debut TV series appearance was playing Shirley Glass in the 1976 episode "Pay Off" of the crime action "The Sweeney", and the remainder of the decade saw her appear in the drama "Crown Court", the romantic drama "Love Among the Artists" and the comedy "Play for Today".
In 1981, she played one of the lead characters, Barbara Kirk in all four episodes of the drama mini-series "The History Man", which also starred Isla Blair and Antony Sher, and follows the life of a left-wing professor; the mini-series won one of its two award nominations. A couple of Geraldine's following roles were in the biographical adventure mini-series "I Remember Nelson", the drama "BBC2 Playhouse" and the historical romantic drama "The Jewel in the Crown". What also marked the '80s for her was portraying the lead character Angela O'Hara in all four episodes of the 1988 romantic mini-series "Echoes", which also starred Barbara Brennan and Bernie Downes, and follows the lives of people from the Irish town Castle Bay in the '50s.
Geraldine had only a couple of TV series roles in the '90s, while the most popular amongst these was perhaps the crime drama "Band of Gold", in which she starred as Rosa Garrity alongside Cathy Tyson and Barbara Dickson. It follows the lives of several streetwalkers from Bradford, England, the series aired from 1995 through 1997 and was nominated for two awards. The remainder of the '90s saw Geraldine appear in the crime drama "Seesaw", the crime mystery "Kavanagh QC", and the crime mini-series "The Sins".
In 2006, she portrayed Lorraine Hall in five episodes of the comedy "Jane Hall", which starred Sarah Smart and Daniel Lapaine, and follows Jane who sees herself as a useless, boring and ugly girl. Some of Geraldine's other notable performances in the 2000s were in the crime mystery "Poirot", the historical documentary mini-series "Ancient Rome: The Rise and Fall of an Empire", and the comedy "The Amazing Mrs Pritchard".
In 2013 and 2014, she played Milner in eight episodes of the popular mystery science fiction "Utopia", which starred Adeel Akhtar and Paul Higgins, and was created by Dennis Kelly. It follows a group of people who've met online and have discovered a bizarre graphic novel, and the movie won five of its 20 award nominations.
Geraldine's most recent roles in TV series have been in five episodes of the 2020 crime drama "The Beast Must Die", 12 episodes of the 2021 comedy "Back to Life" and three episodes of the 2023 mystery science fiction "Silo".
Roles in movies
Geraldine's debut film role was playing the lead character Sandra in the 1977 drama "Dummy", which also starred Wenda Brown and Keith Buckley, and was directed by Franc Roddam. It follows a deaf girl who's begun working as a prostitute on the streets of Bradford, and the film won one of its three award nominations. Some of Geraldine's following roles were in the 1978 short drama "Wings of Ash: A Dramatization of the Life of Antonin Artaud", the 1979 short horror thriller "The Dumb Waiter" and the 1980 drama "Bloody Kids".
In 1982, she played Mirabehn in the critically acclaimed biographical historical drama "Gandhi", which starred John Gielgud and Ben Kingsley, and was directed by Richard Attenborough. It follows a lawyer who became the leader of the Indian revolt against the British rule, and the movie won 35 of its 56 award nominations, including eight Oscar wins, which include for Best Picture, Best Director and Best Actor in a Leading Role (Ben Kingsley). Some of Geraldine's notable performances in the remainder of the '80s were in the 1985 drama "Time and the Conways", the 1988 romantic war drama "Freedom Fighter" and the 1989 romantic comedy "The Tall Guy".
In 1993, she played Anne O'Dwyer in the family drama "No Worries", which starred Geoff Morrell and Amy Terelinck, and was directed by David Elfick. It follows an Australian family who've been forced to leave their farm due to drought and move to Sydney, and the film won one of its three award nominations. Geraldine could then have been seen appearing in the 1996 war comedy "Over Here", the 1996 romantic drama "Moll Flanders" and the 2000 romantic drama "The Luzhin Defence".
In 2003, she starred as Elizabeth Powell in the popular romantic drama "Hearts of Gold", which also starred Kate Jarman and Jeremy Sheffield, and was directed by Richard Laxton. It follows Doctor Andrew John who's joined his father's infirmary, and the movie won two awards. Some of Geraldine's notable performances in the remainder of the 2000s were perhaps in the 2004 drama "The Fever", the 2006 biographical historical drama "A Harlot's Progress" and the 2010 adventure family fantasy "Alice in Wonderland".
The year 2015 saw her portray Lena in the romantic drama "45 Years", which starred Tom Courtenay and Charlotte Rampling, and was written and directed by Andrew Haigh. It follows a married couple who are about to celebrate their wedding anniversary but have now received horrible news, and the movie won 21 of its 83 award nominations, including an Oscar nomination for Best Performance by an Actress in a Leading Role (Charlotte Rampling).
Some of Geraldine's most recent film roles have been in the 2019 romantic drama "Downton Abbey", the 2020 drama "Shakespeare Live: The Tempest" and the 2021 biographical historical drama "Benediction".
Other credits
Geraldine sang three songs in three episodes of the 2018 series "Anne with an E".
Some of her recent talk-show appearances have been in "Hollywood Insider", "CFF Talks TV Series" and "Love Your Weekend with Alan Titchmarsh".
Awards and nominations
Geraldine's won two of her 11 award nominations: a 1989 Volpi Cup Award for Best Actress, for her performance in the episode "She's Been Away" of the series "Screen One" and a 2019 Canadian Screen Award for Best Supporting Actress, Drama for "Anne with an E".
She's also been nominated for four BAFTA TV Awards for Best Actress, including in 1978 for "Dummy", in 1985 for "The Jewel in the Crown" and in 1996 for "Band of Gold".
Love life and spouse
Geraldine rarely speaks about her love life in public but we know that she's today a married woman.
She met British actor, editor and director Joseph Blatchley at a party on 17 January 1977, and they exchanged vows in a small and private ceremony in June 1986; Joseph has 35 acting credits and is perhaps known best for starring as Lachlan MacMartin in five episodes of the 1976 drama series "The Flight of the Heron".
Geraldine gave birth to her and Joseph's daughter Ellie in 1985, a year before they exchanged vows.
There are no other men whom Geraldine's perhaps been with, that we know about; she's married to Joseph Blatchley as of September 2023 and they have a daughter together.
Interesting facts and hobbies
Geraldine's niece Zoe Buckman's married to famous British actor David Schwimmer, known for playing Ross in the evergreen sitcom "Friends".
In 2003, she became an Officer of the Order of the British Empire (OBE).
Geraldine resembles British actress, producer and director Vanessa Redgrave but the two aren't related; they appeared alongside in the 2004 movie "The Fever".
More than 220,000 people are following Geraldine on Instagram today, and she's posted over 60 pictures and videos onto the network, with most showing her acting.
One of Geraldine's favorite actors is Pierce Brosnan, and some of her favorite movies include "Tomorrow Never Dies", "The Ghost Writer", and "The World Is Not Enough".
Appearance and net worth
Geraldine's age is 73. She has blue eyes and brown hair, weighs around 135lbs (61kgs) and is 5ft 7ins (1.7m) tall.
Geraldine's net worth's been estimated at over $500,000, as of September 2023.