Who is Martha Plimpton?
In the dazzling realm of Hollywood, where stars shine bright and tales of talent and perseverance abound, one name that stands out is Martha Plimpton. With a career spanning decades, and over 85 acting credits to her name, Martha has captivated audiences with her acting prowess. Some of her most notable roles were in movies such as "The Goonies", "The Mosquito Coast", and "Parenthood", while TV series lovers will probably recognize her as Virginia Chance in the family comedy "Raising Hope".
Let us tell you more about Martha's career, her personal life, and her plans for the future.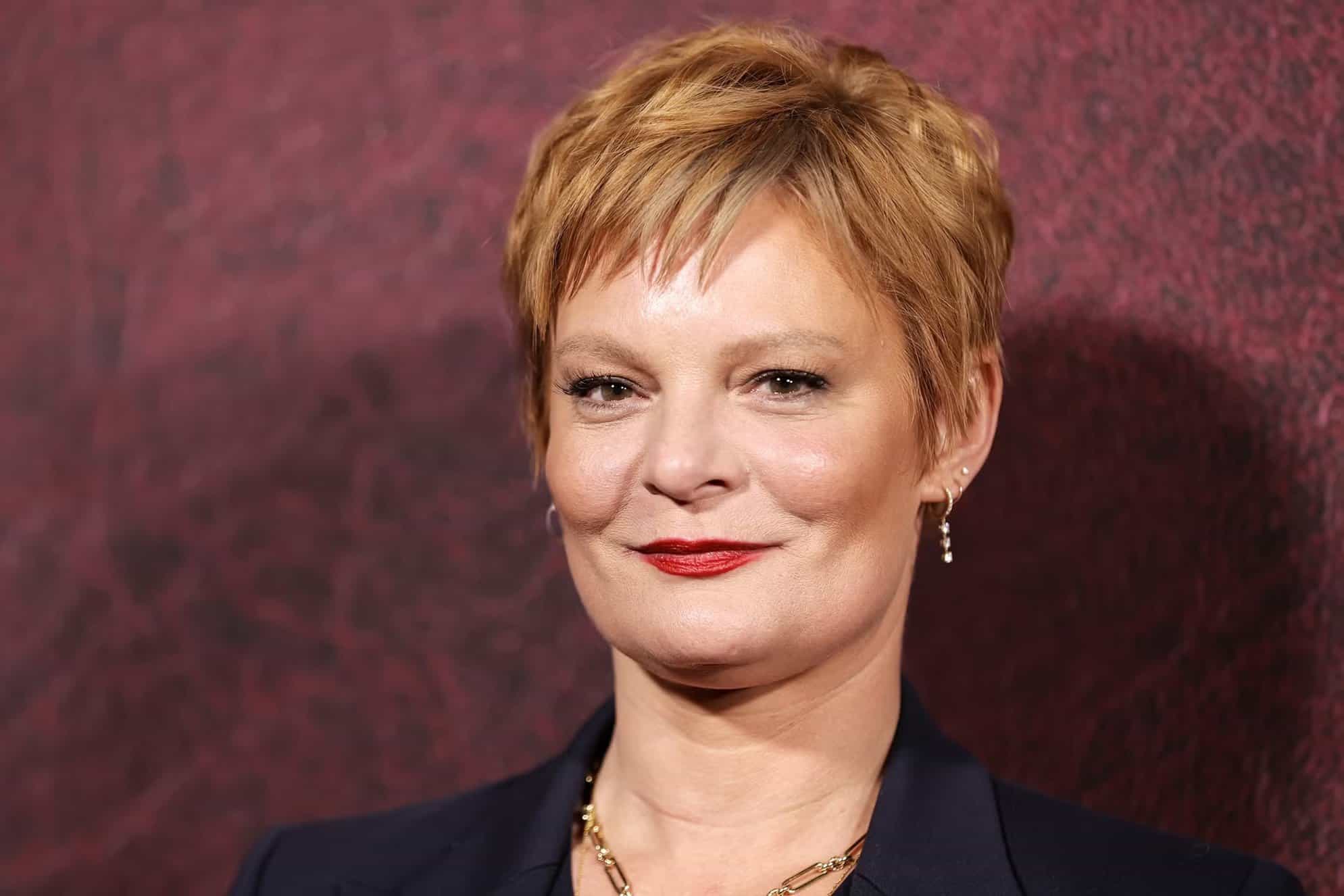 Early life, family, and education
Born Martha Campbell Plimpton under the zodiac sign of Scorpio on 16 November 1970, in New York City USA, she holds American nationality and comes from a family of Danish, German, Irish, English and Dutch descent. Her parents are Keith Carradine, an esteemed actor and musician, and Shelley Plimpton, a renowned actress and model. Her parents had an affair while working together on Broadway – at the time, Shelley was married to Steve Curry. Keith only met Martha for the first time when she was four years old, after her mother and Steve divorced.
Martha has half-siblings from her father's marriage to Sandra Will. The couple had two children, Cade Richmond and Sorel Johannah, who is also an actress.
It's no surprise that the world of acting was second nature to young Martha. Growing up in a creative household, she found herself drawn to the stage from an early age. When it comes to her educational background, she attended Professional Children's School.
Entry into Acting
Martha's acting journey began when she was just a child, with her debut performance at the age of 11 in the 1981 movie "Rollover". Her undeniable talent quickly gained notice, and she continued to build her career, starring in various television shows and films throughout her teenage years. She made her first TV series appearance as Rhona in an episode of the series "ABC Afterschool Specials" in 1983.
In the following year, she was cast to play Jonsy in "The River Rat", an adventure crime-drama, in which she starred opposite Tommy Lee Jones. One of her breakthrough moments came in the 1985 movie "The Goonies", in which she portrayed Stef, a smart and adventurous teenager. Her natural charisma and on-screen presence earned her a special place in the hearts of audiences, and Martha's performance brought her a nomination for the Young Artist Award for Exceptional Performance by a Young Actress – Motion Picture.
Most notable roles
Martha followed with her role as Emily Spellgood in the 1986 adventure thriller drama "The Mosquito Coast", also starring Harrison Ford, River Phoenix and Helen Mirren. Based on the novel of the same title by Paul Theroux, follows the story of a brilliant inventor who takes his family to live in the Honduran jungle. Her performance in the movie earned Martha her second Young Artist Award nomination, this time for Best Young Female Superstar in Motion Pictures.
As she transitioned into adulthood, Martha's roles became more complex and nuanced, embracing projects that challenged societal norms and pushed creative boundaries. Notably, her performance in "Running on Empty" in 1988, showcased her ability to tackle emotionally charged roles with grace, earning her critical acclaim and a nomination for the Young Artist Award – Best Young Actress in a Motion Picture – Drama.
The late '80s saw Martha in "Parenthood", starring opposite the great actors Steve Martin and Dianne Wiest in this comedy drama, which had two Academy Award nominations (Best Music, Original Song, and Best Actress in a Supporting Role – D. Wiest), winning the Young Artist Award for Best Family Motion Picture – Comedy, in 1990.
The early '90s saw Martha starring in the 1991 comedy "Samantha", about the girl who finds out that she's adopted, and now with the help of her friends, she goes on a search to find her biological parents. Martha followed with her roles in "Inside Monkey Zetterland" (1992), "Mrs. Parker and the Vicious Circle" (1994), "I Shot Andy Warhol" (1996), and "Music from Another Room" (1998), among many others.
The list of Martha's roles is too long, so we'll mention some of her most notable. In the 2000s, Martha's acting journey continued on both big and small screens. When it comes to her television work, in 2002, Martha was seen as Claire Rinato in an episode of the series "Law & Order: Special Victims Unit", and was nominated for the Primetime Emmy Award for Outstanding Guest Actress in a Drama Series.
She was seen in movies such as "Dante's Inferno" (2007) and "Remember Me" (2010), among others, before she landed the role of Virginia in the series "Raising Hope". From 2010 through 2014, Martha was seen in 88 episodes of this comedy, which follows Jimmy, a single parent of the baby girl Hope, with Martha playing the baby's grandmother, being nominated for Primetime Emmy Award for Outstanding Lead Actress in a Comedy Series.
Stef / Martha Plimpton

Hija de actores, Keith Carradine y Shelley Plimpton, Martha ha tenido una carrera muy solida tanto en cine: Mosquito Coast, Beautiful Girls y poniendo voz en Frozen II; y mucho mas en televisión: The Good Wife, Raising Hope, The Blacklist… pic.twitter.com/ZeOEpE12rl

— Mr.Freaki 🎃 (@MisterFreaki) September 25, 2023
Concurrently, Martha had a recurring role as Patti Nyholm in the series "The Good Wife", which earned her a Primetime Emmy Award for Outstanding Guest Actress in a Drama Series, in 2012.
In 2015, Martha was heard as the voice of Olivia in the popular video game "Minecraft: Story Mode – A Telltale Games Series", which brought her the National Academy of Video Game Trade Reviewers (NAVGTR) Award nomination – Performance in a Comedy, Supporting.
During 2016 and 2017, Martha played Eileen O'Neal in the comedy series "The Real O'Neals", about a family whose bond is strengthened after the youngest son comes out as gay. The series was nominated for the GALECA: The Society of Lesbian, Gay, Bisexual, Transgender, and Queer (LGBTQ) Entertainment Critics Dorian Award for LGBTQ TV Show of the Year.
In 2021, Martha made her great come back to the big screen, playing Gail in the drama "Mass", starring opposite Jason Isaacs and Ann Dowd, the movie gaining significant success, having 83 award nominations, including one for the British Academy of Film and Television Art (BAFTA) Award, and won 44.
Martha and the rest of the cast won the Gold Derby Award for Ensemble Cast, while Martha was nominated for the GALECA's Dorian Award – Supporting Film Performance of the Year, and won the Dias de Cine Award for Best Foreign Actress.
When it comes to her future work, Martha will be seen in the announced TV series "The Regime", which is expected to premiere in 2024.
Love life and relationships/ Husband and children?
The late '80s and early '90s witnessed the rise of two incredibly talented young actors, Martha Plimpton and River Phoenix, who starred together in "The Mosquito Coast". Martha was just 15 years old at the time, and co-star River was 16. The chemistry between the two was instant, and a genuine friendship began to blossom. Subsequently, the two began dating, and they were in a relationship from 1986 until 1989. They separated due to River's substance abuse, but stayed close friends.
Tragically, the world lost River Phoenix on 31 October 1993 from an overdose, and Martha spoke openly about her grief and the enduring pain of losing her close friend.
There have been rumors saying that Martha married Jon Patrick Walker, a fellow actor, in 1995. The couple seemingly shared a deep bond and supported each other's careers, but the truth is that they were engaged, however, they later parted ways and broke off their engagement in 2002.
Martha later dated actor Fred Armisen from 2005 through 2006, but in the following years, has kept her romantic life secret.
Despite the rumors, Martha hasn't married and doesn't have children, but it's known that she had two abortions as a young actress; she's a passionate abortion advocate and activist. Martha has lobbied Congress on behalf of Planned Parenthood, and is a board member of the women's rights organization, called 'A Is For'.
Age, height, and net worth
Martha's age is 52; her trademarks are her blonde hair, brown eyes, and petite figure. Martha is 5ft 5ins (1.65m) tall and weighs around 120lbs (54kgs), with vital statistics of 34-24-32.
When it comes to her wealth, according to sources as of August 2023, her net worth has been estimated at over $4.5 million.