Who is Amelia Warner?
A former actress, and turn-out musician, Amelia Warner hasn't only graced both big and small screens with her talent, but has also enriched the entertainment industry with the enchanting gift of music. She is perhaps known best for her roles in movies such as "The Echo", "Quills", and "Æon Flux", among others, however, her work as a composer for the movie "Wild Mountain Thyme" brought her numerous accolades and praise. In 2019, Amelia won the International Film Music Critics Award (IFMCA) Award for Breakthrough Film Composer of the Year,.
Join us as we embark on the captivating story of Amelia's career and life.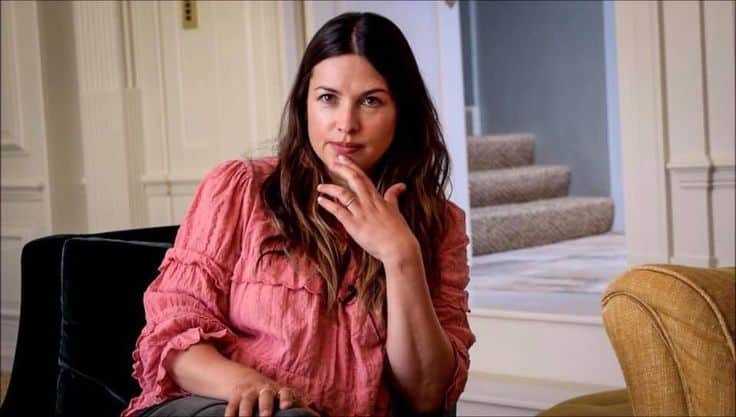 Early life, parents, and education
Born Amelia Catherine Bennet under the zodiac sign of Gemini on 4 June 1982, in Birkenhead, Merseyside, England, she holds British nationality, and comes from a family of Welsh and English descent. Amelia is the only child of actors, Alun Lewis Bennet and Annette Kate Ekblom – Alun is perhaps still known best for his roles in the series "Emmerdale" and "Birds of a Feather", while Annette rose to prominence for her portrayal of Linda in the musical drama "Blood Brothers". It isn't clear when Amelia's parents married, but what is known is that they divorced in 1986; Amelia was then raised by her single mother in London, England.
When it comes to Amelia's educational background, she attended The Royal Masonic School for Girls, and upon matriculating in 2000, enrolled at Hampstead Fine Arts College, from which she graduated with a BA degree in 2004.
Acting career
Amelia made her acting debut as Gaynor Deans in an episode of the series "Kavanagh QC" in 1998. In the following year, she made her first big-screen appearance as Teenage Fanny in the comedy-drama "Mansfield Park", starring Frances O'Connor and Jonny Lee Miller.
Amelia was next cast to play Simone in the 2000 biographic drama "Quills", which had 45 award nominations, including three for Oscars (Best Art Direction-Set Decoration, Best Costume Design, and Best Actor in a Leading Role – Geoffrey Rush), and 18 wins. The movie was based on the life of the Marquis De Sade, an infamous writer, and starred Kate Winslet and Joaquin Phoenix.
Later that year, Amelia was seen as Sheila Torkingham in the TV mini-series "Take a Girl Like You", while her next notable role came in the 2004 movie "Love's Brother", written and directed by Jan Sardi. In the following year, Amelia was seen in the movies "Winter Passing" and "Stoned", before she landed the role of Una Flux in the science-fiction adventure "Æon Flux", also starring Charlize Theron, Sophie Okonedo and Frances McDormand.
The movie followed the story of Æon Flux, a mysterious assassin sent on a mission to kill The Chairman. Although poorly rated by the audience (5.4/10), it had five award nominations, including one for the Scream Award – Best Science Fiction Movie, in 2005.
Amelia followed with her roles in the movies "Alpha Male" (2006), "The Seeker: The Dark Is Rising" (2007), and "The Echo" (2008), in which she landed her first lead role, playing Alyssa in this horror drama about an ex-convict who finds himself entrapped in a domestic violence problem with his neighbors, a cop, his wife and their daughter.
Most recently, Amelia was seen as Rachel in the 2012 short mystery horror "The Other Side".
Music career
Amelia began her professional music career releasing her debut single "Beasts" in August 2009, under the name 'Slow Moving Millie"; Amelia's second single, "Rewind City", was released later that year. In October 2011, she signed with Island Records, and her debut album entitled "Renditions", was released two months later.
When it comes to her work as a composer, her first major score was for the 2010 short movie "Mam". Six years later, she composed the music for "Acres and Acres", while in the following year, Amelia gained huge success as a composer for the biographic drama "Mary Shelley", based on the life of Mary Wollstonecraft Godwin, the author of "Frankenstein". For her work, Amelia won the World Soundtrack Award for Discovery of the Year, and the aforementioned IFMCA Award.
In 2018, she composed the music for the short TV drama "Leading Lady Parts", and then she again achieved success with her work for the comedy-drama "Wild Mountain Time", earning her nominations for the ASCAP Film and Television Music/Composer's Choice Award for Film Score of the Year, and IFMCA Award for Best Original Score for a Comedy Film, among others.
Amelia Warner e Jamie Dornan no 'Warner Music Group Post BRIT Party' (HQ) http://t.co/C4ojSjL8Vm #Jamelia pic.twitter.com/CTVTGIJnNg

— Amelia Warner Brasil (@AmeliaWarnerBR) July 23, 2014
The 2022 movie "Mr. Malcom's List" brought Amelia a nomination for the Girls on Film Award – Best Composer. Her newest project is composing music for the announced biographic drama about Trudy Ederle, the first woman who swam the English Channel, entitled "Young Woman and the Sea".
How she met her now-husband, Jamie Dornan
Perhaps you didn't know that before she met Jamie, back in 2001, Amelia was in a relationship with the actor, Colin Farrell. Some media outlets claimed that the two married, however, the truth is that they had a beach ceremony in Tahiti which wasn't legal; they broke up in 2002.
In one of his interviews, the famous "Fifty Shades of Grey" actor, Jamie Dornan, spoke about his and Amelia's first encounter in 2010, saying that their joint friend told him that Amelia is at a house party held that night and that she was single. As Jamie put it, he literally ran to that party to meet her, adding that they immediately hit it off and chatted all night.
Two years later, Jamie proposed to her on the doorstep of that same house where they first met, and the couple exchanged their wedding vows on 27 April 2013. Their first daughter, Dulcie, was born on 21 November of that same year, the second, Elva on 16 February 2016, while the youngest, Alberta was born on 31 March 2019.
The couple often attend red-carpet events together, and if we could judge by their social media posts, they are supportive of each other's careers.
Age, height, and net worth
Amelia recently celebrated her 41st birthday; her dark brown hair and brown eyes are her trademark. If you've wondered how tall Amelia is, she stands at the height of 5ft 6ins (1.68m) and weighs around 115lbs (53kgs).
When it comes to her net worth, as of August 2023, it has been estimated at $3 million, while her husband, Jamie Dornan, has a net worth estimated at $18 million.
Briefly about Jamie Dornan
Born James Peter Maxwell Dornan under the zodiac sign of Taurus on 1 May 1982, he's today aged 41. Jamie is a native of Belfast, Northern Ireland, UK, and was raised by his parents, Jim and Lorna, who sadly died of cancer when Jamie was 16 years old. Jamie is the youngest child, and has two older sisters, Liesa and Jessica.
He has nearly 30 acting credits to his name, however, Jamie rose to prominence playing Christian Grey in the "Fifty Shades of Grey" movie franchise, which earned him the People's Choice Award nomination for Drama Movie Star. However, his role as Pa in the 2021 critically acclaimed movie "Belfast", brought him numerous accolades and praise. The movie, written and directed by Kenneth Branagh, had 251 award nominations and 58 wins, including the Oscar for Best Original Screenplay.
Jamie was nominated for the British Academy of Film and Television Arts (BAFTA) Award for Best Leading Actor, and for the Golden Globe – Best Performance by an Actor in a Supporting Role in a Motion Picture, among many others.
Just to name of few of his notable TV series roles, he starred in "The Fall" and "The Tourist", and besides the aforementioned movies, Jamie was seen in the 2006 drama "Marie Antoinette", which was his acting debut. He followed with roles in "Shadows in the Sun" (2009) and "Racing Hearts" (2014) before he starred as Christian Grey in the first part of "Fifty Shades of Grey" in 2015.
When it comes to Jamie's personal life, he was in a relationship with the actress Keira Knightley from 2003 through 2005. In the following year, he began dating the famous British model, Kate Moss, and after they separated in 2007, Jamie was in a short relationship with actress Mischa Barton.