Who is Danny Ramirez?
Danny is an American actor, probably known best for his role as Joaquín Torres in the Marvel Cinematic Universe, appearing in "The Falcon and the Winter Soldier". He's also recognized for his performance in "Assassination Nation" and "On My Block", in addition to many other projects on which he's worked so far in his career.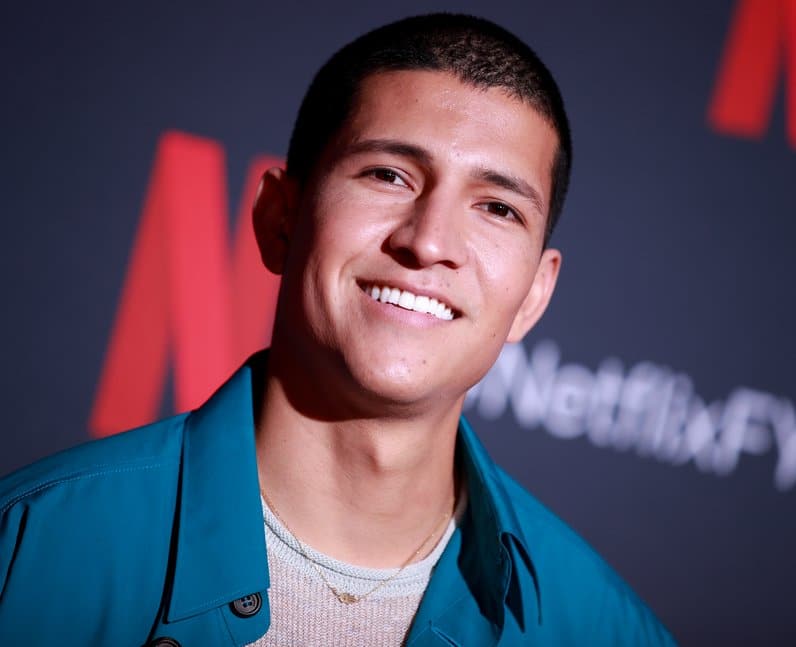 Wiki: Age, Childhood, and Education
Danny Ramirez was born on 17 September 1992 in Chicago, Illinois USA. Of Mexican and Colombian ancestry, he went to Miami Coral Park Senior High School. While in high school he played American football and soccer, but was often injured, which forced him to pursue other interests as a career. He later acquired his Bachelor of Arts degree from Tisch School of The Arts.
Career Beginnings
In 2016, Danny Ramirez started his career with one-time roles in TV series. He appeared as the Moving Kid in an episode of "The Affair", a drama series starring Dominic West and Ruth Wilson, exploring the impact of an extramarital affair on two families. Additionally, he played the role of a Panicked Student in an episode of "Blindspot", a thriller series featuring Sullivan Stapleton and Jaimie Alexander, centered around a mysterious tattooed woman with no memory.
In 2017, Danny Ramirez continued his television journey. He portrayed Paolo in an episode of "Orange Is The New Black", a dramedy starring Taylor Schilling, depicting life in a women's prison. He also appeared as Wes in three episodes of "The Gifted", a series featuring Stephen Moyer and Amy Acker, showcasing the lives of mutants in a world in which they are persecuted.
Rise to Stardom
In 2018, Danny Ramirez had a pivotal moment in his career, starring as Mario Martinez in four episodes of "On My Block", a coming-of-age comedy-drama featuring Sierra Capri and Jason Genao, following a group of friends navigating the challenges of high school life in a rough neighborhood.
Additionally, he made his film debut as Diamond in "Assassination Nation", a thriller centered around a town's chaos following a cyber attack, starring Odessa Young and Hari Nef.
In 2019, Danny Ramirez expanded his filmography with various roles. In "Tone-Deaf", he portrayed Rodrigo in a dark comedy-horror film exploring generational divides, starring Amanda Crew and Robert Patrick. He appeared as Jake in "Lost Transmissions", a drama following a music producer's mental health journey, featuring Simon Pegg and Juno Temple. In "The Giant", Ramirez played Brady in a drama-mystery, delving into the life of a young woman returning to her hometown, starring Odessa Young.
THIS IS NOT A WAR STORY dir. Talia Lugacy pic.twitter.com/xoDWtFUS6F

— Danny Ramirez (@DannyRamirez) June 15, 2021
Furthermore, he portrayed Daniel 'Lucha' Mendoza in "Silo", co-starring Jeremy Holm, Jim Parrack, and Jill Paice, among others. The film revolves around the residents of a rural farming town who must unite to save Cody, a local teenager trapped in a towering 50-foot grain silo.
In 2020, Danny Ramirez continued to build his film career, portraying LCpl Timothy Reyes in "This is Not a War Story", written and directed by Talia Lugacy who also starred in the film alongside Sam Adegoke. Additionally, he appeared as Chip in "Valley Girl", a musical romantic comedy starring Jessica Rothe, which follows a modern-day Valley girl's love story while incorporating 1980s nostalgia.
Success as Joaquin Torres/ Falcon
In 2021, Danny Ramirez achieved significant success by portraying Joaquin Torres in the TV series "The Falcon and the Winter Soldier". This role marked his entry into the Marvel Cinematic Universe (MCU), alongside main stars Anthony Mackie as Sam Wilson / Falcon, and Sebastian Stan as Bucky Barnes / Winter Soldier.
The series follows the aftermath of "Avengers: Endgame", in which Sam Wilson grapples with taking on the mantle of Captain America. Joaquin Torres, played by Ramirez, is a supporting character who eventually takes up the mantle of Falcon in the comics. His portrayal in the series introduced him to a wide audience, and his involvement in the MCU played a crucial role in launching him into stardom.
Danny is set to continue his role as Joaquin Torres / Falcon in "Captain America: Brave New World", the fourth installment in the Captain America franchise, scheduled for release in 2024. The film's plot is shrouded in secrecy, but it promises to contribute to the legacy of the Captain America story. The movie is directed by Julius Onah and features stars such as Harrison Ford, Rosa Salazar, and Liv Tyler.
Other Projects
In 2022, Danny Ramirez maintained a busy schedule with multiple film roles. He appeared as Ash Garver in "No Exit". Ramirez then joined the cast of "Top Gun: Maverick" as Lieutenant Mickey "Fanboy" Garcia, a sequel to the iconic action film "Top Gun", starring Tom Cruise. He also portrayed Gabe in "Look Both Ways". The film, helmed by director Wanuri Kahiu, follows Natalie on the cusp of her college graduation as her life takes two distinct paths, co-starring Lilly Reinhardt and Aisha Dee.
Moving on, he played Carlos Alvarez, an impoverished teen navigating a fragmented family background. The film, under the direction of Sonja O'Hara, centers around Carlos's journey after receiving a desperate note from his pen pal, Sarah in the film "Root Letter", sharing the screen with Keana Marie and Lydia Hearst.
Moreover, in this enigmatic film "Stars at Noon", set in 1984 Nicaragua, Ramirez assumed the role of a Costa Rican Cop., with Margaret Qualley, Joe Alwyn, and Benny Safdie in the lead roles.
Danny Ramirez's career continues to thrive as he appears in a series of popular projects. In the TV series "Tales of the Walking Dead" (2022), he joined a star-studded cast for an episodic anthology set in The Walking Dead universe. Created by Scott M. Gimple and Channing Powell, the series follows individual characters, both new and old, in this post-apocalyptic world.
In the film "Chestnut" (2023), Ramirez shared the screen with Natalia Dyer and Rachel Keller. Directed and written by Jac Cron, the movie centers on a recent graduate who becomes entwined in a complex relationship with a man and a woman during her post-college summer.
Moreover, Ramirez's journey led him to a notable appearance as Hector in the acclaimed anthology series "Black Mirror" (2023).
Net Worth
According to authoritative sources, Danny Ramirez's net worth is estimated at over $5 million as of mid-2023.
Personal Life, Married, Wife, Children
Danny Ramirez is very secretive about his personal life. According to sources, he's currently single and solely focused on his rising career.
Appearance and Body Measurements
Danny Ramirez has dark brown hair and brown eyes. He stands at a height of 5ft 11ins (1.8m), weighs approximately 165lbs (75kgs), with vital statistics of 40-32-14.