Georgia Hassarati
The reality TV star Georgia Hassarati was born in Brisbane, Queensland Australia, on 5th December 1996 and is a woman of many talents, from clothes modelling to delivering babies. The certified mid-wife shot to fame when she was contacted to appear in the hit Netflix show "Too Hot to Handle" ("THTH"),  a creative dating game show in which a group of young, attractive contestants who typically engage in sexually promiscuous behavior, but who are unable to form long-lasting relationships are thrown together and are forbidden from kissing or other types of physical contact.
Georgia's and her three sisters (Emma Jayne, Priscilla, and Savannah Louise) are mixed-race with a Lebanese father. The striking brunette, who is 5ft 6ins (167cm) tall and spent five years studying midwifery, became famous practically overnight when season three of "Too Hot to Handle" aired, gaining over half a million followers in just three days.
Career/Dating
Although Georgia would like to return to midwifery one day, she is currently more interested in the entertainment industry and everything it has to offer. In her intro video, she described herself as "extremely sexual", and shared that bad boys and narcissists were her ideal type. Viewers immediately warmed up to the Aussie, and as the show progressed, she opened up about her past and confessed that she had at one time searched for a serious relationship, but had little luck.
The dog mom, who regularly posts pics with her adorable furry friend named Sponge, placed third in the show but has had a fantastic social media career since. With brand endorsements from the likes of White Fox Boutique and Princess Polly, as well as her own YouTube channel which has thousands of subscribers despite her only uploading one video to date, Georgia has proved herself a force to be reckoned with in the competitive world of influencers.
As Georgia made a name for herself on a dating show, it's only natural that her followers are interested in her personal life, which is intertwined with her career. In mid-2022, she went public with "THTH" season one star Harry Jowsey, but their relationship didn't last long due to the distance between them – Georgia still lives in Australia, Harry currently resides in Los Angeles.
Harry and Georgia had a great deal in common, as their love languages are physical touch and quality time, but as the TV stars lived in different countries, it became harder and harder for them to progress and become more serious. Speaking to Page Six, Harry shared after the split that they had many problems in their relationship which Georgia, who is more image-conscious, didn't want him to tell the public about.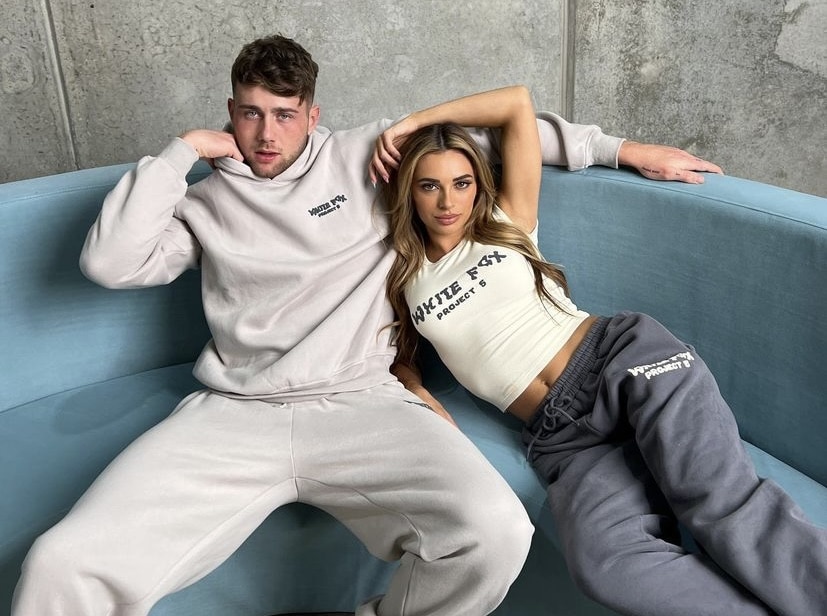 The male reality star's behavior during their relationship was another contributing factor to its demise, as while he was with Georgia, he shared a humorous TikTok video in which he posted screenshots of singer Hailee Steinfeld rejecting his romantic advances when he flirted with her via Instagram private messages.
Harry, who is enamored with the press and loves to give tell-all interviews, confirmed in November 2022 that he and Georgia were no longer a thing. "My relationship with her was nothing short of amazing," Harry gushed. "Georgia is such an incredible human being… I am beyond grateful we crossed paths."
In July 2023, Georgia broke her silence regarding the situation with Harry, and claimed that their relationship had not, in fact, been amazing. Months prior, the former couple had sparked rumors of a reconciliation after sharing photos with matching bouquets on Valentine's Day. Shortly afterwards, they were spotted together in Hawaii, and posted several TikToks together. After a joint visit to Universal Studios, Georgia and Harry suddenly stopped acknowledging each other, with the brunette proclaiming herself single in June.
During a podcast appearance with YouTuber Sofia Franklyn, Georgia told her side of the story, saying that Harry had lied about them sleeping together on the first day they met, which made it seem like she had cheated on her ex-boyfriend Dom Gabriel to be with him.
If you have no idea who Dom is, he and Georgia met on the Netflix dating show "Perfect Match" filmed in early 2022, but wasn't released on the platform until 2023. Throughout 12 episodes, Dom and Georgia's fledgling relationship blossomed into something potentially beautiful, as they went on romantic dates and shared countless cute moments.
The couple's fellow cast members voted Dom and Georgia as the "perfect match", winning them an all-expenses paid vacation to the destination of their choice. However, shortly after the finale aired, they shared in an interview with People magazine that they were no longer together, citing distance as the main factor behind their split – Dom is from Canada.
Of course, Georgia's followers were already aware that she'd been in a relationship with Harry, and Harry's claims of them sleeping together on the first day they met gave the impression that she had been two-timing Dom due to the overlapping timelines. It doesn't help that Dom claims that he and Georgia were indeed together and still talking when she went on a podcast, and discussed how she met Harry and why their relationship worked so well. To add insult to injury, the episode was entitled "Georgia and Harry Jowsey Fall in Love".
Georgia shot back at Dom and claimed that while she was on the podcast, he was having a cozy dinner with fellow "Perfect Match" cast member Ines Tazi. The former lovebirds went back and forth several times on social media, and the situation spiraled out of control until Georgia announced that she would be taking a break from the internet.
Back to Harry, Georgia claimed that he was jealous and insecure, and even asked her to send him videos and photos of herself to prove that she wasn't cheating on him. According to Georgia, she once sent Harry a pic of herself eating pasta in her PJs, but the blue-eyed blond was unconvinced because she hadn't filmed the room she was in, and could possibly be hiding another guy. "I couldn't leave the house, I couldn't sleep, I was having panic attacks," she elaborated.
Although Georgia's personal life has been nothing short of chaotic since she became a public figure, the brunette hasn't given up on finding love. In October 2023, she posted photos of herself with her new "mystery" man, who was turned away from the camera but identifiable thanks to his distinctive neck tattoo. For now, all we know is that his name is Jesse Baer, and he appears to be of French heritage.