Who is Olivier Martinez?
Olivier is a French actor, probably best known for his role in the film "Unfaithful" (2002) and for his appearance in the film "S.W.A.T." (2003), in addition to numerous other roles that he's had in his career.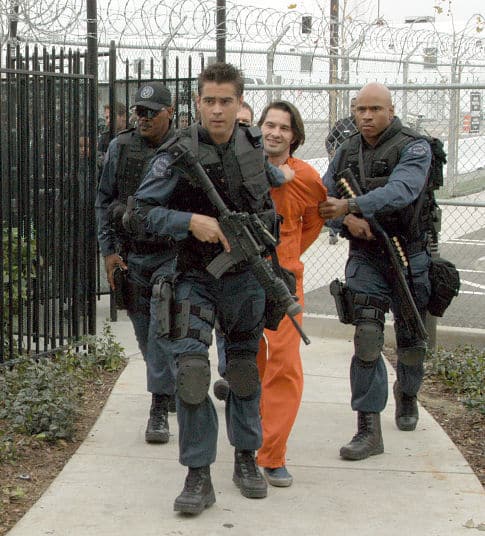 Wiki: Age, Childhood, and Education
Olivier Martinez was born on 12 January 1966, in Paris, France, the son of Robert Martinez, a Spanish professional boxer, and Rosemarie Martinez, who was a secretary, of French ancestry. He studied acting at the National Academy of Dramatic Arts (CNSAD) in his native Paris, after which he launched his career.
Career Beginnings and Initial Success
Olivier Martinez initiated his career with roles in French television. His debut was as Rollo in the French TV series "Navarro" in 1990.
He then ventured into film, with roles such as Pascal in "Plein Fer" (1990) and Tony in "IP5: L'île aux pachydermes" (1992). The following year, he appeared in the film "1, 2, 3", which earned him a César Award as Most Promising Actor. Two years later, Olivier portrayed Angelo Pardi in the French film "The Horseman on the Roof"; the film also stars Juliette Binoche and Olivier's performance in this romantic drama set during a cholera epidemic in 19th-century France catapulted him to fame. It follows Angelo's journey and his encounters with a beautiful woman as they navigate through a perilous and disease-ridden landscape.
After his breakthrough role as Angelo Pardi in "The Horseman on the Roof" (1995), Olivier Martinez continued his successful career in the world of French cinema. He showcased his talent with several notable roles in films.
In 1996, he played Jean-François in "My Man", a French romantic drama exploring the complexities of love and desire, starring Anouk Grinberg and Gerard Lanvin.
The following year Martinez portrayed Horty in "The Chambermaid on the Titanic", another French film that delves into themes of obsession, fantasy, and the blurred lines between reality and imagination, co-starring Romane Bohringer and Aitana Sanchez-Gijon.
After a few Spanish film appearances, he made his English-speaking film debut in biopic "Before Night Falls" about Cuban poet, Reinaldo Arenas. The film stars Javier Bardem as Reinaldo Arenas, a Cuban writer and poet who faces persecution in Fidel Castro's Cuba due to his open homosexuality and political views. Olivier Martinez's character, Lázaro Gómez Carriles, is a fellow inmate who develops a close relationship with Reinaldo while they are both imprisoned.
Unfaithful and Other Projects
Continuing his career in English-language films in the early 2000s, Olivier Martinez expanded his international presence. In 2000, he appeared in "Bullfighter" as Jack, starring alongside Willem Dafoe. The film is an action-comedy that tells the story of an American bullfighter's unexpected rise to fame in Spain, blending humor and action.
In 2002, Martinez took on the role of Quemada in "Semana Santa", alongside actors such as Mira Sorvino and Alida Valli. This English-language film is a suspenseful and dramatic exploration of intrigue and betrayal set against the backdrop of Holy Week celebrations in Seville, Spain.
Olivier Martinez's career reached a significant milestone with his role of Paul Martel in the 2002 film "Unfaithful", becoming entangled in a passionate extramarital affair with Connie Sumner, played by Diane Lane, who is married to Edward Sumner, portrayed by Richard Gere. The film delves into the complexities of love, desire, and infidelity, and received critical acclaim and marked a pivotal moment in Olivier Martinez's career.
Following this breakout role, Olivier Martinez's career in English-language films flourished. In 2003, he portrayed the cunning criminal mastermind Alex "Le Loup Rouge" Montel in "S.W.A.T.", alongside Colin Farrell and Samuel L. Jackson. The film is an action-packed thriller in which an elite S.W.A.T. team attempts to capture Montel after his daring escape from custody.
In 2004, Martinez took on the role of Inspector Joseph Paquette in "Taking Lives", a psychological thriller starring Angelina Jolie as an FBI profiler. The movie unravels a suspenseful cat-and-mouse game as they chase a serial killer.
In 2007, Olivier Martinez played Gabriel in "Blood & Chocolate", a supernatural romance film, the story revolving around a young woman from a secret werewolf clan who falls in love with a human, leading to a clash between love and tradition within the supernatural world, co-starring Agnes Bruckner and Hugh Dancy.
In 2012, Olivier Martinez starred as Jeff Mathieson in "Dark Tide", sharing the screen with Halle Berry. The film follows the story of a shark expert and her husband, who undertake a dangerous expedition to swim with great white sharks, facing life-threatening challenges in the process.
In 2013, he played Shah Ala ad-Daula in "The Physician", an historical drama in which he worked alongside Tom Payne and Stellan Skarsgård. The film is set in the 11th century, and revolves around a young apprentice who disguises himself as a Jew to study medicine with a Persian physician.
In the TV series "Revenge" (2014), Olivier Martinez took on the role of Pascal LeMarchal, appearing in a recurring role across five episodes, sharing the screen with Madeleine Stowe, Emily VanCamp, and Gabriel Mann, among others.
In 2015, Olivier Martinez portrayed General Antonio López de Santa Anna in the English miniseries "Texas Rising". The series stars Bill Paxton, Jeffrey Dean Morgan, and Cynthia Addai-Robinson, among others, and is an historical drama that depicts the Texas Revolution against Mexico, and the rise of the Texas Rangers.
In 2016, Olivier Martinez appeared as Ed Grann in the English-language TV series "Mars", which includes a mix of documentary-style interviews and scripted drama. This series delves into the challenges and experiences of a group of astronauts on a mission to colonize Mars in the not-so-distant future.
In 2018, Olivier Martinez portrayed Mauritius in the English film "Paul, Apostle of Christ". The film, which also stars Jim Caviezel and James Faulkner, focuses on the Apostle Paul's final days in a Roman prison and his interactions with Mauritius, a Roman prefect, exploring themes of faith, forgiveness, and the early Christian community's resilience.
In 2020, Olivier Martinez played Edward Werner in the film "Mosquito State". This psychological thriller delves into the world of a data analyst, who becomes obsessed with the behavior of mosquitoes and the stock market.
In the TV series "Loot" (2022–), Olivier Martinez took on the role of Jean-Pierre in a recurring capacity. The show revolves around the life of billionaire Molly Novak, portrayed by Maya Rudolph, who enjoys a lavish lifestyle. However, after divorcing her husband and receiving an $87 billion settlement, Molly decides to re-engage with her charitable foundation and reconnect with the real world. The series, created by Matt Hubbard and Alan Yang, also stars Michaela Jaé (MJ) Rodriguez and Joel Kim Booster.
Olivier Martinez is set to star in the upcoming film "L'Inverno", directed by Roland Joffé and written by Sharron Aubrey. The film explores the theme of first love and asks if its innocence can be reignited when an SS officer and a Jewish violinist find themselves on opposing sides of the war. Olivier Martinez will share the screen with actors Klaus Maria Brandauer and Tobias Moretti in this thought-provoking and emotionally charged story.
Net Worth
According to authoritative sources Olivier Martinez's net worth is estimated at $10 million, as of mid- 2023.
Personal Life, Married, Wife, Children
Olivier dated Australian singer and actress Kylie Minogue from 2003 to 2007, the couple having met at the Grammy Awards ceremony.
Olivier Martinez and Halle Berry Relationship – Timeline:
Olivier Martinez's next chapter in his love life unfolded when he crossed paths with American actress Halle Berry. Their romance blossomed in 2010 while working together on the set of the action thriller film "Dark Tide" (2012). The connection between them grew stronger, leading to the confirmation of their engagement in March 2012.
However, their relationship faced a tumultuous period in November 2012. A physical altercation occurred between Martinez and Gabriel Aubry, Berry's former partner and the father of her daughter, which resulted in Martinez being treated at a Los Angeles hospital.
The incident was intertwined with a custody battle between Berry and Aubry, who contested Berry's desire to relocate with their daughter and Martinez to his native France. A judge had denied Berry's request just before the altercation.
Despite the challenges, Berry and Martinez went on to marry in a private ceremony in France on 13 July 2013. Their union was further cemented with the birth of their son in October 2013. However, the marriage eventually faced difficulties, leading to the announcement of their filing for divorce in 2015, which reportedly began in 2016, but as of November 2020, the case was still unresolved. It wasn't until August 2023 that issues related to custody and child support were settled, ultimately finalizing their divorce.
Appearance and Body Measurements
Olivier Martinez has dark brown hair and green eyes. He stands at a height of 5ft 11ins (1.8m), while he weighs approximately 170lbs (76kgs). His vital statistics are unknown, but he has an average figure.