Tom Kaulitz is a name that strikes a chord with music enthusiasts and devoted fans of the renowned German rock band Tokio Hotel. Their music, complemented by their distinctive style, resonated deeply with audiences, particularly during the mid-2000s. Tom achieved substantial success, both within his home country and on the global music stage. Adding to his fame, his marriage to the multi-talented icon in fashion and entertainment Heidi Klum, with a notable 16-year age gap, became a captivating focal point of extensive media coverage and public fascination.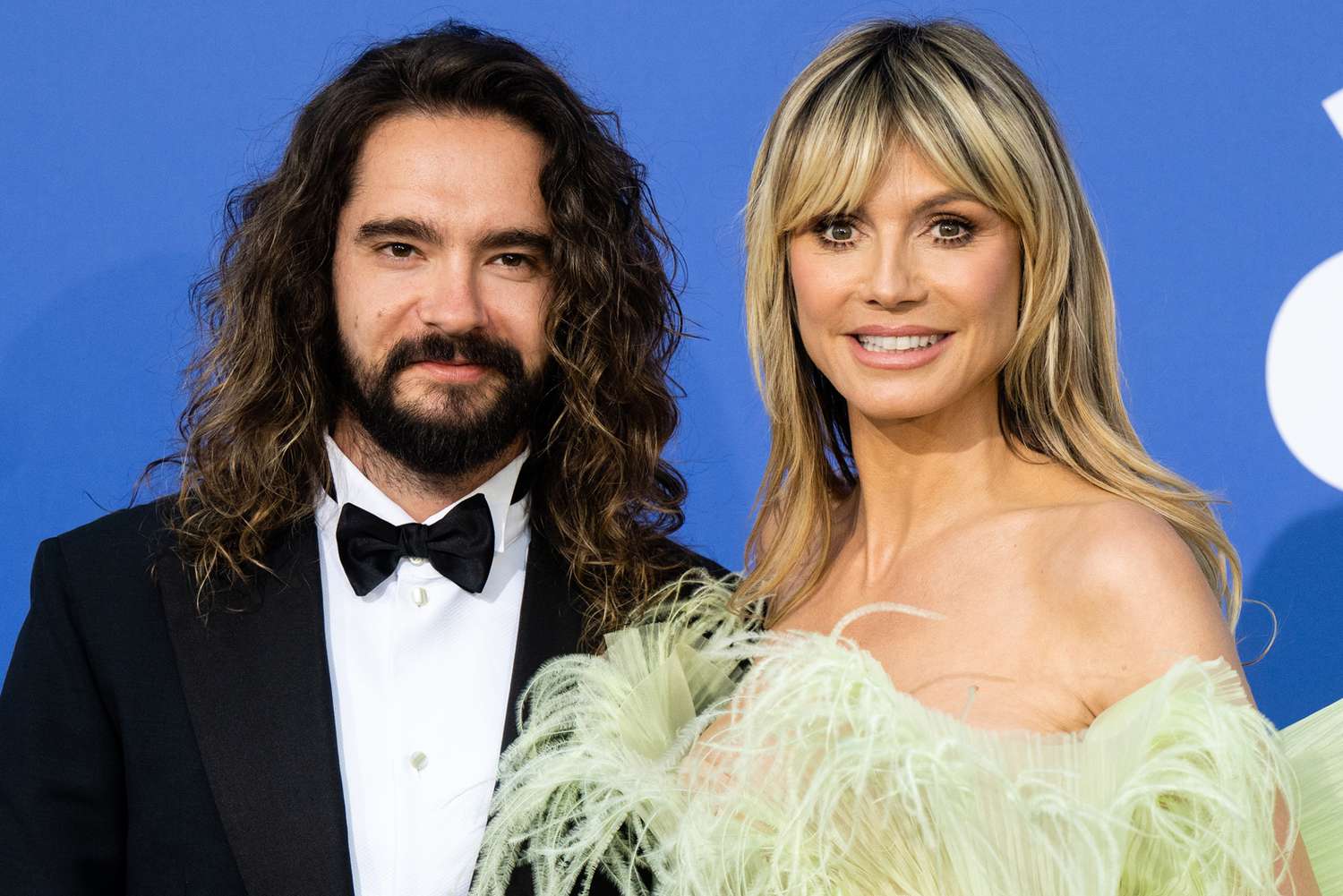 Early Life and Family
Born on 1 September 1989, in Leipzig, then East Germany, Tom Kaulitz is one-half of a unique pair – he has an identical twin brother named Bill Kaulitz. The twins share an incredibly close bond, and have been creative collaborators since they were young. They were seven when their parents, Simone Kaulitz and Jörg W., parted ways. Their mom found love anew in the arms of Gordon Trümper, the talented guitarist of the renowned German rock band Fatun.
It was evident early on that Tom had a natural talent for playing the guitar, while Bill had a penchant for singing. This musical inclination didn't go unnoticed by their stepfather, Gordon Trümper, who recognized their potential. His support and mentorship were instrumental in igniting the twins' musical aspirations.
Career
From a young guitarist with a dream to his meteoric rise as a pivotal force behind the iconic German rock band Tokio Hotel, Tom Kaulitz has etched his mark on the rock music scene.
The Band's Genesis: A Tale of Passion, Fate, and Musical Destiny
Tom's journey into the world of music began at an early age. His stepfather, a seasoned rock musician who also ran a music school, gifted him a guitar, igniting Tom's passion for the instrument. Young Tom was quite sure that the most attractive women were drawn to guitar players, so it felt like it was his destiny to play this instrument. Meanwhile, Bill had a deep-seated desire to sing, a passion he pursued from when he was six. By the time he was nine, he was already composing his own songs.
Gustav, another integral member of the band, received his first drum set and began taking lessons at the age of six. His innate connection to rhythm was undeniable; he would start drumming with his fingers whenever music filled the air, a habit he carried with him wherever he went. Georg, the bassist, caught the music bug at around the age of 12. When some of his friends sought to form a band and needed a bass player, Georg, intrigued by the idea, decided to pick up the bass and join them.
Tom and Bill wasted no time taking their musical aspirations to the stage, performing live shows in clubs even at a young age. Their early performances consisted of Tom on the guitar and Bill providing vocals and keyboard accompaniment. It was during one of these club gigs at Gröninger Bad that their future bandmates, Georg and Gustav, already acquainted with each other from music school, witnessed their performance. After their set, Georg and Gustav approached them, and thus the foundation of their musical journey as a group was laid.
From "Devilish" to "Tokio Hotel"
Tom Kaulitz shed light on the origins of the band's name, "Tokio Hotel." After securing their record deal, the band felt it was time for a fresh start, moving away from their previous name, "Devilish", initially chosen as a reflection of their youthful and somewhat rebellious spirit at the time. The name was intended to convey a sense of edginess and evoke intrigue.
However, as the band's music style and image evolved, they decided to rebrand themselves with a new name, "Tokio Hotel", which aligned better with the direction they wanted to take in their music career. Their shared fondness for vibrant, cosmopolitan metropolises inspired the choice of a name that encapsulated their aspirations. Among these cities, Tokyo stood out as a beacon of coolness, a place they hoped to visit and perform in someday.
The name also carried a symbolic weight, reflecting the lifestyle they were about to embrace. With their music career taking off, the band found themselves frequently residing in hotels, a nomadic existence that the name "Tokio Hotel" perfectly captured.
Tokio Hotel's Breakthrough
Formed in 2001, the band's distinctive blend of rock and pop garnered attention, both in Germany and internationally. Their breakthrough came four years later with the release of their 2005 debut album "Schrei" (Scream), under the record label Universal Music Germany. It went platinum, boasting global sales exceeding 1.5 million copies, and spawned hits including their first single "Durch den Monsun" (Through the Monsoon), "Rette mich" (Rescue Me), and the title track. Tokio Hotel's unique sound and Tom's impressive guitar skills contributed to their meteoric rise to fame, particularly among teenage audiences.
Tokio Hotel's Quest for Global Connection
Their lyrics hold immense significance for the band members, and they are deeply committed to ensuring that their music resonates with a global audience. As their music began to capture the ears of listeners from diverse corners of the world, the idea of creating English versions of select songs from their two German albums took root. In an unexpected turn, they realized that people were already translating their lyrics, a revelation that fueled their determination to provide English versions for their dedicated fans. In 2007 Tokio Hotel unveiled their debut English-language album, "Scream," across Europe. By 2008, it reached its peak position at No. 5 on Billboard's Alternative Albums chart.
Rocking the World: Awards and International Acclaim
Over the years, Tokio Hotel continued to release successful albums and singles, cementing their status as one of Germany's most iconic musical exports. The band has been consistently earning recognition and accolades. Notable among their achievements is their victory at the 2007 MTV Europe Music Awards from which they secured the title of Best International Act. The following year, in September 2008, they further solidified their standing by clinching the coveted MTV Video Music Award for Best New Artist. This marked a historic moment as Tokio Hotel became the first German band ever to receive an accolade at the MTV VMAs.
Tom's Unwavering Support For His Brother's Solo Album
In 2016, Bill Kaulitz took a bold step by launching a solo project, a move fully supported by his bandmates, including his brother Tom. Growing up together as a teen band, their bond ran deep, and they were there for each other through thick and thin. Tom played a pivotal role in Bill's EP album titled "I'm Not Ok." Given his versatility in music, dabbling in electronic sounds and various genres, Tom was actively engaged in the creative process. He not only contributed to the music but also co-produced the album.
The heart of the album lay in Bill's personal experiences, particularly his reflections on a past relationship that had gone awry. During the creative process, it became clear that the material he was producing wasn't material for the band. Most songs didn't even have real instruments. Visually and sound-wise, it's distinctly different from the Tokio Hotel brand.
Personal Life
Beyond the pulsating rhythms of his music career, Tom Kaulitz's personal life has been a subject of intrigue and fascination. As the guitarist of the internationally acclaimed rock band Tokio Hotel and the husband of Heidi Klum, Tom has adeptly navigated the intricacies of fame, romnce and family.
Quiet Marriage and Swift Separation From First Wife
Tom Kaulitz was married to Ria Sommerfeld, a German model and the 2004 Miss Philippines Germany, who is six years older than him. They kept the details of their relationship well-guarded, and secretly tied the knot in 2015. However, the union proved brief, as they initiated divorce proceedings the following year, citing irreconcilable differences. This came as a surprise to the public, who had been unaware of their marital status, the divorce was finalized in 2018.
BRAVO – Russia. Tom Kaulitz & Ria Sommerfeld. pic.twitter.com/53cz0Ti

— Aliens Kautiäfer. (@THFansWorld) September 4, 2011
Found Love with Heidi Klum
Beyond the world of music, Tom Kaulitz made headlines for his high-profile relationship with Heidi Klum. Their love story defies conventions and age boundaries.
Born in 1973 in Germany, Heidi Klum rose to international fame in 1998 when she graced the cover of the "Sports Illustrated" Swimsuit issue. She made history as the first model from her home country to become a Victoria's Secret Angel, spending 13 years with the iconic lingerie brand and participating in highly anticipated fashion-show television specials. Transitioning from modeling, Klum took on roles as a host and judge on "Germany's Next Top Model" and "Project Runway." She further expanded her career by joining "America's Got Talent" as one of its esteemed judges.
Blossoming romance
Tom Kaulitz and Heidi Klum's love story had a serendipitous beginning. The two were introduced in February 2018 by a mutual friend on the set of "Germany's Next Top Model" in which Heidi served as host, executive producer, and lead judge. Their connection was swift and genuine, and dating rumors began circulating the following month when the two attended a glamorous event hosted by jewelry designer Lorraine Schwartz in West Hollywood. Additionally, they were spotted sharing a kiss on the set of "America's Got Talent" in Pasadena, California, further fueling speculation about their relationship.
From there, their romance blossomed and their love story unfolded in the public eye, as they were frequently spotted holding hands and openly displaying their affection for each other. Their chemistry was undeniable, and they exuded happiness during their red carpet debut at the 2018 amfAR Gala in Cannes. Heidi Klum was radiant in a Zuhair Murad gown, while Tom Kaulitz looked sophisticated in an all-black suit.
As the year progressed, Tom Kaulitz and Heidi Klum continued to capture the public's attention. Their shared vacations and intimate moments, often captured by paparazzi, painted a vivid picture of a deeply loving couple. From cozy moments on sun loungers in Mexico to countless snapshots of kisses and cuddles, their romance became a source of joy for fans and admirers alike.
Age knows no bounds in love
Their unexpected connection, marked by a significant age difference of 16 years, has sparked conversations, raised eyebrows, and, most importantly, shown that love knows no bounds. Heidi Klum admitted that she often feels more conscious of her age due to comments and questions from others, rather than her own self-awareness. She explained that her boyfriend, who is significantly younger than her, has led to many people inquiring about their age gap. It's during these moments that her age becomes a prominent topic of conversation, and she finds herself having to address it. However, the German model went on to say that she doesn't dwell on this issue much otherwise. She believes that the key to a happy life is not to overly concern oneself with people's opinions, as excessive worry only leads to more wrinkles.
A breakfast-in-bed proposal
Tom went above and beyond in planning his proposal to Heidi, and made sure to involve her children from her previous relationships, seeking their blessing for this significant step. The heartwarming journey began during a trip to Mexico around Thanksgiving, when Tom started sharing his secret plans with the kids. Keeping this exciting news to themselves was quite the challenge; they were bursting with anticipation and happiness for their mom. On the magical Christmas Eve of 2018, Tom, along with the kids, orchestrated a beautiful surprise: a breakfast-in-bed proposal for Heidi. Together, they crafted a breakfast tray adorned with fresh flowers, coffee, and a ring box – Heidi joyfully shared the news on Instagram. Alongside a black-and-white portrait featuring herself and Tom, she captioned it with, 'I SAID YES,' proudly displaying her stunning new engagement ring.
Exchanged "I Dos" Twice
The couple discreetly secured a marriage certificate in California in February 2019. However, they opted to keep this news under wraps for some time. It wasn't until August 2019 that they celebrated their wedding in grand style. Following Tom's three-day-long bachelor party in Vegas, Heidi and the rock star hosted a lavish wedding celebration in the picturesque setting of Capri, Italy, surrounded by their closest family and friends. The event unfolded aboard the opulent yacht named Christina O., once owned by Aristotle Onassis himself.
Life with Heidi Klum
As they celebrate their four-year anniversary in 2023, this couple continues to bask in the joy of their marriage. Heidi once said in an interview that she's hoping that the saying, "third time's the charm" holds true, as she has been married twice before. She can't speak highly enough of Tom, describing him as the sweetest, kindest, and most loving person she's ever known. His wonderful qualities have truly enriched her life. Heidi also notes that their understanding of each other, perhaps due to their shared German background, adds a unique depth to their connection.
Heidi Klum is absolutely delighted to have her husband, Tom Kaulitz, in her life. She openly expresses that she's now a much happier person thanks to him. This is the first time in her life that she has a partner with whom she can discuss absolutely everything, someone who readily shares the responsibilities that come with life's journey. In the past, she often found herself handling things on her own. Now, she's relishing the experience of having a true partner by her side. Heidi shares that she knows him incredibly well, and their connection is seamless. It feels as if she has finally found "the one." While things are going well so far, she hopes that this beautiful partnership remains just as wonderful in the future.
Appearance
Tom Kaulitz is often recognized for his unique sense of style and fashion. He typically has long, dark hair, which he sometimes styled in a variety of ways, including straight and wavy. He has a lean and tall physique, standing at approximately 6ft 2ins (188cms) tall, and weighing (176lbs (80kgs). His facial features include striking brown eyes and a well-defined jawline. Tom often sported various tattoos and piercings, which added to his edgy and rockstar image.
Tom Kaulitz's Net Worth
Tom Kaulitz has built an impressive net worth, estimated at $25 million, primarily stemming from his prolific music career, plus various other ventures. Much of his income has been derived from Tokio Hotel's remarkable success, including album sales, concert tours, and merchandise.
The band has achieved remarkable milestones, having sold over 10 million albums and earned over 120 gold and 70 platinum awards. Their 2022 album, "2001," pays homage to the year the band was founded; while it made its mark on Austrian, Belgian, and Swiss album charts, its performance, though solid, didn't match their earlier albums. Nevertheless, it reached an impressive No. 10 on the German album chart. In 2023, Tokio Hotel embarked on a grand "Beyond The World" tour across Europe, starting in April.
His marriage to Heidi Klum opened doors to a world of opulence and high-profile commitments. The couple currently resides in a luxurious Los Angeles estate, showcasing the glamorous lifestyle they enjoy.
From his early days as a musician in Tokio Hotel to his romance with Heidi Klum, his journey continues to capture the imagination of fans and admirers around the world. While his net worth may have evolved over the years, one thing remains clear: Tom Kaulitz is a multi-talented artist who has left a mark on the music industry and found enduring happiness in his personal life.